July, 11, 2012
7/11/12
1:25
PM PT
ESPN.com's series on FBS coaches continues today with this question: Which coach in the Pac-12 provides the biggest bang for the buck?
That's tough to answer for a number of reasons.
There are four new coaches in the Pac-12 this season.

There were two new coaches last year.

USC and Stanford, as private schools, don't provide salary information for their coaches, though USA Today reported that Lane Kiffin made $2.4 million in 2010, way less than had been widely reported.
Two years ago, it would have been easy to say that Oregon State's Mike Riley provided the most bang for buck. Riley won 36 games from 2006-2009 before the Beavers tumbled to consecutive losing seasons. And he did that with a
fairly modest salary
.
[+] Enlarge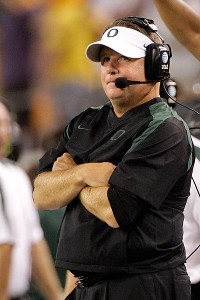 AP Photo/Tony GutierrezChip Kelly may be the Pac-12's highest-paid coach, but he's worth the money.
Here are the latest numbers.
Chip Kelly, Oregon, $2,800,000

Lane Kiffin, USC, $2,400,000*

Jim Mora, UCLA, $2,400,00 million**

Jeff Tedford, California, $2,300,000

Steve Sarkisian, Washington, $2,250,000

Mike Leach, Washington State, $2,250,000

Todd Graham, Arizona State, $2,000,000

Kyle Whittingham, Utah, $2,000,000

Rich Rodriguez, Arizona, $1,910,000

Mike Riley, Oregon State, $1,313,471

Jon Embree, Colorado, $725,000
*It's perfectly reasonable to posit that Kiffin made more than this in 2011 and also will in 2012.

**Mora's number is an average of his five-year, $12 million contract. He'll likely make less than this figure this season.
By the way, David Shaw's salary at Stanford has been
estimated at $1.75 million
. It seems, in any event, that it's too early to rate Shaw or Colorado's Jon Embree as second-year coaches. And it makes no sense to look at the track record of the four new coaches because the past doesn't mean anything for the new schools, though you could say that Arizona got Rodriguez at below market value.
So who provides the most bang for the buck? I've got two answers: Utah's Kyle Whittingham and Oregon's Chip Kelly.
Why? Well, name the two coaches on the above list who have won BCS bowl game at their present job.
Whittingham is 66-25 (.725) at Utah, including double-digit wins in three of the past four seasons. His worst season in seven years is 7-5 in 2005. After an 0-4 start in Pac-12 play last fall, he rallied his team behind a backup QB who'd transferred from Nebraska-Omaha, and the Utes nearly won the South Division. Oh, and he's 7-1 in bowl games.
Further, Whittingham has been loyal to Utah. He's had opportunities to leave but he's stuck around.
Kelly is the Pac-12's highest paid coach by a fairly wide margin. He was guaranteed $2.8 million in 2011 and will make $3.5 million this season,
according to USA Today
. So why does he rate highly in terms of bang for the buck? Well, there's a 34-6 (.850) record, including a 25-2 mark in Pac-12 games (.926). And there's three consecutive conference titles. And an undefeated regular season in 2010 when the Ducks fell just short of beating Auburn for the national title. And there's the Rose Bowl victory over Wisconsin last January.
Kelly has delivered a super-elite level of performance in his three seasons. If you were to name the nation's best coaches, you wouldn't have to wait long after Nick Saban and Urban Meyer to get to Kelly.
He gets big bucks, yes, but he's delivered unprecedented bang to the Ducks program.
Any Oregon fans think he's overpaid?
November, 22, 2011
11/22/11
9:35
PM PT
As USC quarterback Matt Barkley's Heisman Trophy campaign heats up this week with the Trojans days away from concluding their 2011 regular season, it's interesting to see where he stands with a number of college football figures who don't have a vote but have plenty of opinions.

USC coach Lane Kiffin has already said he'd vote for Barkley to win the Heisman.

And a number of Pac-12 coaches said Tuesday on the conference's weekly conference call they would vote for him as at least a finalist. All who answered said he at least deserved consideration for the award.

Colorado coach Jon Embree, Oregon State coach Mike Riley, Arizona interim coach Tim Kish and California coach Jeff Tedford gave him glowing endorsements. Arizona State coach Dennis Erickson, Washington State coach Paul Wulff, UCLA coach Rick Neuheisel and Stanford coach David Shaw said he undoubtedly deserved to be in the conversation.

Washington coach Steve Sarkisian and Oregon coach Chip Kelly said they'd need to look into the other candidates more to properly comment but continued to speak highly of him. Utah coach Kyle Whittingham wasn't available for comment.

"I'm one of those guys that doesn't think the Heisman goes to the best player on the best team," Embree said Tuesday. "I think it goes to the best player. And he definitely needs to be in that conversation. He's put that team on his back and has taken them to a very good year. What he has done and how he has matured through this season and career says a lot about the kid.

"He's one of those guys that has always been overshadowed. He doesn't go away."


November, 15, 2011
11/15/11
9:42
PM PT
By
Pedro Moura
| ESPNLosAngeles.com
Every Tuesday morning, all of the Pac-12 coaches talk to reporters across the region for a designated 10-minute period on a conference call open to all conference media members.
Certain coaches --
Lane Kiffin
,
Chip Kelly
,
Steve Sarkisian
-- use the full 10 minutes each week. Certain other coaches --
Jon Embree
,
Paul Wulff
,
Kyle Whittingham
-- almost never do.
Tuesday, Kiffin learned how it felt to be a member of the latter group. Always the last one to go each week, he was asked just one question during his segment, leading the whole call to end before he was even due to start.
"That's what happens when you're 18-point underdogs," Kiffin said in response to the lack of interest. "Nobody cares about you."
He was joking, obviously. But there is something to be said about USC's underdog status heading into this weekend's game against Oregon. For quite some time under former coach
Pete Carroll
, the Trojans were
never
underdogs, no matter the opponent, no matter whether they were playing at home or on the road.
Now, they've been projected to lose a number of times in Kiffin's 23 games as the head coach. But they haven't been 14 or 15 point underdogs -- like they are this weekend, according to most sports books -- in a long, long while.
Las Vegas Sports Consultants
said it's been 14 years since a USC opponent was favored to beat the Trojans by that much in any given game.
Does that matter? Kiffin says no -- despite the fact that he brought it up, unprompted, during the conference call.
"Oh I don't know," Kiffin said earlier Tuesday to that very question, speaking to the media after the Trojans' practice. "Those things are wrong, right, whatever. I can see why it would be like that. Look at what they've done at home to almost everybody.
"It is what it is."
In fact, Kiffin spinned it off as a positive -- as in, the Trojans will have less pressure on them because of their underdog status. And there's some truth to that: It's typically easier to play under zero pressure than under a ton.
And USC has beaten the spread in each of its last five games, dating back to the October road win over Cal. Notre Dame was favored by more than a touchdown against the Trojans last month in South Bend, but USC won that game pretty handily, 31-17.
Kiffin brought that game up as an example of what being an underdog can do for a team.
"We've been pretty heavy underdogs a few weeks ago when we went to the Midwest so sometimes you can take it as motivation," Kiffin said. "Also, the pressure is off in those types of games. Like I told our team today, when we were here before with the great runs and the 34-straight, the pressure was always on us. We were the No. 1 team and we were the ones that had to play well to stay up there.
"So, a lot of times in these games, the pressure goes the other way with the team that's got a chance to go to the national championship still. We just go up there and have some fun and see what happens."
November, 3, 2011
11/03/11
3:46
PM PT
By
Pedro Moura
| ESPNLosAngeles.com
1. The conditions and a potential letdown
. Weather.com projects it to be 47 degrees at kickoff Friday night in Boulder. But it won't be snowing, and the weather, in general, won't be much worse than it was two weeks ago in South Bend -- except for the altitude, which could make for some easily-tired players and big boots from USC kicker
Andre Heidari
. And Buffaloes fans can get loud, and they typically turn out in big numbers for big-time opponents. Colorado nearly sold out Folsom Field two weeks ago when Oregon visited and Friday's game is reportedly approaching sellout status as well. This game definitely shows signs of the prototypical letdown game, but it's
Lane Kiffin
's job to prevent that from happening.


2. Putting it behind them
. That brings us to what happened last week, because that's the biggest reason why everybody's talking about this game as a letdown chance. USC came thisclose to beating the fourth-ranked team in the country. They were within a second (or correctly called timeout) of kicking a potential game-winning field goal and went into triple overtime against
Andrew Luck
and the Stanford Cardinal. But the Trojans didn't win the game, and Kiffin made a big fuss about some apparent officiating gaffes in the following days, forcing the conversation away from Colorado and onto Stanford. We'll see whether that was the right decision for his team on the field against the Buffaloes.
3. Richardson-Stewart
. Colorado expects its two best offensive players to come back this week, a rarity in sports but a likelihood for USC. Receiver
Paul Richardson
(four games) and running back
Rodney Stewart
(two games) have been out of late, but coach
Jon Embree
said he expects them both back. Richardson spent his senior year in 2009 at Gardena Serra high, where he served as
Robert Woods
' bookend receiver, so he has plenty of history with the Trojans. The 5-6, 175-pound Stewart is an Ohio native who wasn't highly recruited out of high school but has gone on to success in the Big 12 and now the Pac-12.
4. Health on defense
. It looks like
Dion Bailey
might miss the game because of a concussion.
Jawanza Starling
is likely missing it because of an unspecified injury, and
T.J. McDonald
is missing the first half because of a suspension. Combine that with the pile-up of injuries at cornerback over the last several weeks, and USC's secondary is going to be severely shorthanded. Kiffin and position coach
Sammy Knight
are lucky the Trojans are playing Colorado this week -- otherwise, it'd be a significant issue. And defensive end
Wes Horton
missed both sessions this week because of what appears to be a left arm issue. Also, the Buffaloes are getting two cornerbacks back this week, which should make for a decidedly better performance from their secondary. They played one game with six scholarship corners injured last month.
5. Blowout possibilities?
This is the Trojans' last legitimate chance to send a team packing in one half, which they've yet to do this season. The closest thing to it would be their 20-0 halftime lead over Cal, but even that was a bit of a game in the second half. Colorado hasn't finished within three touchdowns of an opponent since Oct. 1, so this would appear to be the perfect opportunity.
Matt Barkley
might actually get a snap or two off, too, for the first time this year. If he does,
Jesse Scroggins
might be the guy Kiffin asks to hand the ball off a few times. With back-to-back games against teams they're 0-4 against in the last two years in Oregon and Washington approaching, the Trojans could use some all-around rest.
November, 1, 2011
11/01/11
1:02
PM PT
By
Pedro Moura
| ESPNLosAngeles.com
Lane Kiffin's statement Monday night after the Pac-12 announced his $10,000 fine for criticizing officials in USC's loss to Stanford included a brief mention at the end of the Trojans' next opponent.

"We have moved on from last week's game and we are preparing for a very challenging conference game this Friday at Colorado," the statement read.

There's a game this week? It was pretty easy to forget in the haze of Kiffin's comments after the Stanford game over the weekend. But there is indeed a contest for the Trojans to play -- on Friday, no less -- a game they have to win to continue a three-week string of good performances.

And that's the biggest challenge for USC this week: not letting up in the face of its weakest 2011 opponent. On the surface, the Buffaloes have a 1-8 record and their two best skill-position players have missed several games because of injuries. But letdowns happen. As Kiffin also mentioned over the weekend, the end of Saturday's game was a letdown -- at least defensively. The Trojans couldn't stop Stanford at all in the final minutes of regulation and the three overtime periods.

Kiffin said it reminded him of USC's defensive performances from last year, when teams could count on scoring on their final drive against the Trojans almost every time.

Colorado hasn't lost to a team by less than 28 points in a month. Playing Stanford, Washington, Oregon and Arizona State the last four weeks obviously didn't help, but the Trojans shouldn't have too much of an issue playing the Buffaloes in three days and dispatching by them a multi-touchdown margin.

They shouldn't. But that doesn't mean they won't. All the key signs for a letdown are present, from the big-time emotions expended recently to the short week to the mediocre opponent to the night kickoff to the adverse weather conditions expected in Boulder.

And USC must also be wary of the potential return of receiver Paul Richardson and running back Rodney Stewart for Friday's matchup. Buffaloes coach Jon Embree has said this week that he expects both to suit up against the Trojans.

That could change some things. But, like it usually is for Kiffin's Trojans, the key to victory will start and end with their own play -- not anybody else's.
2014 TEAM LEADERS
| TEAM | RUSH | PASS | TOTAL |
| --- | --- | --- | --- |
| Offense | 158.2 | 294.6 | 452.8 |
| TEAM | PF | PA | MARGIN |
| Scoring | 35.1 | 23.8 | 11.3 |