October, 2, 2012
10/02/12
11:18
AM PT
1.
Two teams with a lot to lose:
Coming into the season, this was penciled in as a highlight matchup between the expected front-runners for the Pac-12 South. Instead, both teams already have a conference loss, so another defeat would really be a blow in terms of conference standings.
2.
USC defensive pressure vs. Utah QB Jon Hays:
The Utes have given up 11 sacks behind an inexperienced offensive line, while the Trojans already have 16 sacks to their credit. Look for USC's pass-rushers to pin their ears back and come after Hays early and often.
3.
Homecoming for USC RG John Martinez:
Two weeks ago, Martinez went up against his brother,
Keni Kaufusi
, a defensive lineman at Cal. He won't face any relatives this week, but it will be homecoming for the former Murray (Utah) Cottonwood star. Martinez will have several former high school teammates lining up for the Utes.
To continue reading this article you must be an Insider
October, 1, 2012
10/01/12
2:23
PM PT
By
Johnny Curren
| ESPNLosAngeles.com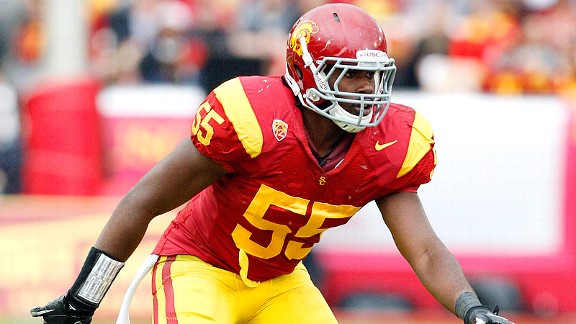 Cal Sport Media via AP ImagesFinally healthy, Lamar Dawson is wreaking havor for the Trojans from his linebacker position.
LOS ANGELES -- It was shorts and shoulder pads for the Trojans on Monday morning for what USC coach Lane Kiffin referred to as a Thursday practice in terms of its look and what was covered. Just three days remain before the Utah game, and a refreshed USC squad is anticipating a spirited crowd at sold-out Rice-Eccles Stadium.
"I think the players are anxious to play again after having some time off," said Kiffin following practice. "And we're excited for it. I think it will be a very entertaining game in a place that I think will be rocking when we go in there. It'll be a good test for us."
Storyline of the day: Cornerbacks
The cornerbacks were the topic of the day on Monday, with Kiffin noting the stellar play of
Nickell Robey
at the outset of his post-practice media session. You don't hear the 5-foot-8 standout's name called very often, but that's not necessarily a bad thing, and certainly by no fault of his own.
"I think he's played great, they just don't throw at him," said Kiffin. "You're seeing of him a little bit like Robert [Woods]. If they take something away, or don't give you the opportunity, it's hard to get numbers. "
The best way to get Robey more opportunities, Kiffin said, would be to get improved play out of the opposite cornerback position, something that the Trojans have struggled with in 2012.
"We need to play better at the other spot, and force them to throw the ball to [Robey]," he said. "We need to cover better, we need to tackle better and we need to make the play when the play is there. It's no secret we haven't played well there. We haven't played well there all year, and it's unfortunate for Nickell because, I mean, we've watched the film, the ball goes the other way all the time."
Time for Harris to settle in
The quick fix for the Trojans opposite Robey since the Syracuse game has been
Torin Harris
, but with Harris having missed extensive time at the start of the season due to injury, Kiffin admitted that maybe they rushed him. The good news is that, with some extra time to get in shape this week, there's hope Harris will begin to resemble the standout cover corner that the staff fell in love with at the beginning of the 2011 season.
"Torin has missed a lot of time," Kiffin said. "We probably played Torin too much right away. As you go back to that Syracuse game, he played 70 snaps or something. We can't do that because he'd been out for so long. So I think this bye has been good for him. He's got some extra conditioning in, and I think he'll continue to improve."
Awesome Dawson
Lamar Dawson
has been one of the stars of the defense since returning from injury before the Syracuse game, racking up 19 tackles in the past two contests alone. And this might just be the tip of the iceberg for the 6-foot-2, 235-pound middle linebacker.
"I think we played our best game on defense last week -- it had a lot to do with him," said Kiffin. "He's played physical, and he's finally getting comfortable. He's only in his second year, and he's been hurt in both seasons and missed time. So it's almost like he kind of now has one full season of games. So we're really excited about his development and the way that he's played the last two weeks."
Mr. Versatility
It's not as if
T.J. McDonald
had a whole lot more to prove heading into this season in terms of his individual play, but now you can add versatility to his long list of talents. The Trojans have been bringing the 2011 All-American safety up on certain plays into a kind of hybrid defensive end position, freeing him up to cause havoc at the line of scrimmage. It's safe to say that the move has been a success so far, further emphasizing his unique abilities.
"We did some similar things with Eric Berry a few years ago in our one year with him, and it really kind of came from watching T.J. blocking kicks -- how well he rushed," explained Kiffin. "And when it came up, our defensive ends had been beat up like they still are, so it allows us to get some reps there with some speed. And obviously he can drop too, and do all of the things in coverage as well."
Hays a backup no more
Utah's offense was dealt a crushing blow in the second game of the season when fourth-year starting quarterback Jordan Wynn went down with a career-ending shoulder injury. Six-foot senior
Jon Hays
has taken over, and the transition has certainly come with its struggles -- the Utah offense currently ranks dead-last in the Pac-12 in passing offense (298.2 yards per game). Hays has shown promise, and with 11 starts under his belt, he doesn't lack experience.
"I thought he's thrown the ball well," Kiffin said. "I thought there were a couple times where they could have helped him out by making some plays outside. From a competitive standpoint, you like when you see a backup that you're getting ready to play, but when you watch him, he's not really a backup. And he played a lot last year."
October, 1, 2012
10/01/12
11:47
AM PT
[+] Enlarge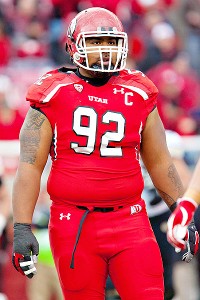 Russ Isabella/US PresswireUtah's Star Lotulelei, a potential top five pick in the 2013 NFL draft, anchors Utah's defense.
USC (3-1, 1-1 Pac-12) vs. Utah (2-2, 0-1 Pac-12)
Time:
Thursday, Oct. 4, 6:00 p.m. PT
Location:
Rice-Eccles Stadium, Salt Lake City, Utah
TV:
ESPN
Radio:
ESPNLA 710
Scouting Utah:
Eighth-year head coach Kyle Whittingham's Utah squad, rested after a bye, is coming off a 37-7 loss at Arizona State in its Pac-12 opener two weeks ago. That came a week after upsetting No. 25 BYU at home, 24-21. Senior QB
Jon Hays
(40-of-68, 58.8%, 467 yards, four TDs, one interception in 2012) has taken over for junior QB Jordan Wynn (25-of-38 passing, 65.8 completion percentage, 247 yards, two TDs, one interception), who had his second straight season cut short by a shoulder injury (the fourth of his career) when he was injured against Utah State. Hays is 7-4 starting in place of Wynn, who retired after throwing for 4,637 yards and 33 touchdowns. Senior RB
John White
(65 carries, 233 yards, 3.6 yards per carry, one TD; five receptions for 36 yards) is the top runner, while senior WR
DeVonte Christopher
(nine receptions, 83 yards, plus four kick returns for 98 yards), sophomore WR
Dres Anderson
(eight receptions, 116 yards, one TD) and sophomore TE
Jake Murphy
(nine receptions, 91 yards, 10.1 avg, two TDs) are among the featured pass-catchers.
The Utes' defense, which is tied for 25th in sacks per game (2.8, sixth in Pac-12), is led by senior DT
Star Lotulelei
(19 tackles, four for loss, one sack, two forced fumbles in 2012), who was an All-Pac-12 first team pick in 2011 when he won the Pac-12's Morris Trophy. Lotulelei is aided by junior LB
Trevor Reilly
(25 tackles, four for loss, 2.5 sacks, one fumble recovery) and senior LB
Dave Fagergren
(23 tackles, one for loss). Senior punter
Sean Sellwood
(47.8 avg) is second nationally in punting.
-- Courtesy USC sports information
2012 TEAM LEADERS
| TEAM | RUSH | PASS | TOTAL |
| --- | --- | --- | --- |
| Offense | 150.6 | 282.3 | 432.9 |
| TEAM | PF | PA | MARGIN |
| Scoring | 34.2 | 24.6 | 9.6 |