March, 13, 2014
Mar 13
11:00
AM PT
LOS ANGELES -- When word of new Trojans offensive line coach Tim Drevno was first announced by head coach Steve Sarkisian, it was received with both thunderous applause and a sense of mystery.
Why would Drevno leave the highly successful San Francisco 49ers and long-time mentor Jim Harbaugh and return to the college game? After all, the NFL offers a great salary, a tremendous retirement plan for assistant coaches, and one doesn't have to deal with the non-stop world of recruiting.
"The big draw for me was USC," said Drevno, a Southern California native. "My grandfather went to USC -- a 1951 graduate of the pharmacy school -- my sister is a 1982 graduate in hospital administration, and I grew up a USC fan going to games."
The dream of his youth was to be a USC tailback and receive all the acclaim that goes with one of college football's most storied positions.
"I used to be on my mom's bed and would jump over the bed acting like I was Marcus Allen," said Drevno, a former all-league lineman at South Torrance (Calif.) High. "I wanted to be a tailback, but I grew up to be an offensive lineman."
Although he played at Cal State Fullerton, where he received his degree in criminal justice in 1992, you get the impression that Drevno is living a second childhood after being named the Trojans offensive line coach.
[+] Enlarge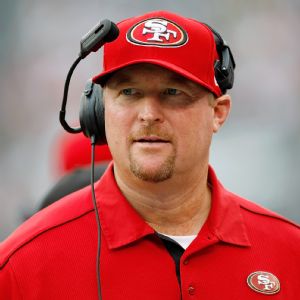 AP Photo/Scott BoehmTim Drevno comes to USC after helping the 49ers become the NFL's third-best rushing team a year ago.
USC fans are hoping that Drevno brings some of the Jim Harbaugh toughness that was a cornerstone of Stanford football, where the two coached together for four years before transitioning to the San Francisco 49ers in 2011.
"I love the man," said the 44-year-old Drevno. "He taught me to run the ball first and be physical up front -- attack each day with enthusiasm unknown to mankind. You're either getting better or you're getting worse; you're never staying the same. Be the best at whatever you do."
Drevno's 49ers résumé is impressive. In 2013, tackle
Joe Staley
and guard
Mike Iupati
made the Pro Bowl. In 2012, all five of the 49ers' line starters were selected for the Pro Bowl, and Iupati was a first-team All-Pro selection. Not bad for a coach whose previous coaching stops also include Cal St. Fullerton, Montana State, UNLV, San Jose State, Idaho, and the University of San Diego.
So should Trojans fans soon expect the same type of powerful offensive lines that Drevno formed with the 49ers and Stanford?
"First, we'll have to see what we're working with and we'll piece it together as we go," Drevno said.
And what will it take for the Trojans to play Drevno's physical brand of offensive line football?
"Covering somebody up, moving your feet and hands, and getting after it," Drevno said. "It's about both attitude and technique. This game is about blocking and tackling. Those are the qualities it takes to win, and the physicality comes later.
"All of football is a mindset when it comes to physical play. You have to work at it to be good at it. You just can't do one thing and be one-dimensional. It's a want to and a brotherhood in the room. You have to want to take ownership."
Despite the Trojans limited numbers, Drevno takes a practical yet positive approach as his unit embarks on a new system.
"We've got a great group to work with and we have 10 healthy guys right now," Drevno said. "We have other guys that will be healthy soon, and you just push forward. Guys are working hard and getting better every day. You coach them hard."
It was feared during the recruiting period that Drevno's late addition to the staff might affect USC's chances of signing a great offensive line class. As the 49ers went through the playoffs, only to lose to eventual Super Bowl champions Seattle Seahawks, Trojans recruits such as highly coveted Bellflower (Calif.) St John Bosco All-America prep tackle
Damien Mama
took notice.
"The staff did a great job of holding on to them and keeping me up to date," Drevno said. "We lost that game in Seattle and I flew down immediately to be in the home of Damien Mama. These are good football players coming in and we're excited to be working with them."
Even before spring ball, Drevno had been hard at work evaluating his offensive linemen. It was decided about a month ago that starting junior offensive guard
Max Tuerk
would get yet another crack at center with the early departure of
Marcus Martin
to the 2014 NFL draft.
"Max is a smart guy, and we're trying to put the best five guys on the field," Drevno said. "He's a veteran guy and he's played a lot of snaps. We started there; we'll mix it up and see what's best for everybody."
And everybody also means true freshmen
Toa Lobendahn
, a potential center candidate who left La Habra (Calif.) High early to enroll in time for spring practice, as did Claremont (Calif.) High tackle
Jordan Austin
.
"Toa comes from a football family with his dad being a coach," Drevno said. "Coach's kids do the right things, and they been around a lot chasing balls around, so he fits in pretty well.
"I am really impressed with Toa and Jordan Austin. They all have tremendous want to and they want to be good. These guys are a very good draft class in terms of prospects."
When asked about re-adjusting from coaching in the NFL to coaching in college, Drevno remains philosophical.
"Football is football whether you're coaching Pop Warner, high school, college, or the pros," Drevno said. "You roll the ball out and you execute at a high level. The patience level is the same; it's a journey."
Drevno's cardinal and gold journey is just beginning. Not bad for a former USC tailback wannabe.
March, 3, 2014
Mar 3
2:30
PM PT
The Trojans added five new 2014 recruits at the spring semester in defensive linemen
Claudeson Pelon
and
Don Hill
, quarterback
Jalen Greene
and offensive linemen
Toa Lobendahn
and
Jordan Austin
. What should fans expect out of these five newcomers this spring? Here are some thoughts on their expectations as practice begins later this week.
Pelon:
He is the most likely of the early enrollees to make an immediate impact as he competes for the interior spot vacated by
George Uko
. Pelon has massive size with a 6-foot-5, 285-pound frame along with two years of playing experience at the junior college level. He will face a lot of competition from players like
Antwaun Woods
,
Delvon Simmons
,
Kenny Bigelow
and
Greg Townsend Jr.
(along with the possibility of
J.R. Tavai
) but Pelon will be given every opportunity in spring to show that he can be part of the interior rotation.
Hill:
Don't expect much from Hill this spring as he rehabs from an Achilles' heel injury suffered last year. Hill was committed to Steve Sarkisian and Washington before flipping to USC, so these coaches have long thought that Hill could fit in their plans. He's projected as a DE who could play a stand-up OLB role.
Greene:
There were a few raised eyebrows when Sarkisian offered a scholarship to Greene, who wasn't previously on the USC radar as a commit to Boise State. Now with the recent announcement that
Max Wittek
would be
leaving the program
, Greene suddenly has the opportunity to get a lot of reps in his first spring with the Trojans. The main competition at the position will be between incumbent
Cody Kessler
and the talented
Max Browne
, but Greene will benefit from the added work that comes when only three scholarship quarterbacks are on the roster.
Lobendahn:
While Pelon might be the mostly likely of the early entries to see immediate playing time, don't rule Lobendahn out of that mix because the Trojans need a center and there are no clear-cut favorites for the role.
Khaliel Rodgers
enters spring as a candidate with one year of experience as a guard but Lobendahn figures to be given a shot to compete for the spot. Lobendahn is the son of a coach who was also a lineman so the genes and fundamentals are there. He has a versatile and aggressive playing style that reminds us of former USC lineman Lenny Vandermade, who is back with the program this spring as part of the staff.
Austin:
There won't be many immediate expectations for Austin this spring. He will be added in as depth with a chance to begin his development process a semester early, which is always a bonus for an incoming lineman.
January, 16, 2014
Jan 16
8:00
AM PT
The month-long dead period was part fruitful and part complicated for USC recruiting, offering a prelude to what could be a wild finish for new head coach Steve Sarkisian and his staff.
Four verbal commitments highlighted the period -- which ran from Dec. 16 to Jan. 15 -- but some members of the Trojans' class were met with uncertainty as the coaches scrambled to find additional targets. A commitment from dual-threat quarterback
Jalen Greene
(Gardena, Calif./Serra) was the first domino to fall, as Sarkisian nabbed his top target at a position of need, and plenty of activity followed despite the prohibition of face-to-face contact.
To continue reading this article you must be an Insider
December, 16, 2013
12/16/13
5:00
AM PT
Monday might be the start of a recruiting dead period, but the USC Trojans have shown plenty of life on the recruiting trail of late. Head coach Steve Sarkisian has reeled in three commitments and this past weekend provided more recruiting news surrounding the Trojans.
To continue reading this article you must be an Insider
December, 12, 2013
12/12/13
2:00
PM PT
Last week saw a coaching shakeup in the Pac-12, as USC hired Steve Sarkisian away from Washington and the Huskies countered by luring Chris Petersen away from Boise State after making a run at UCLA's Jim Mora. This week, nearly every Pac-12 staff has been busy hitting the recruiting trail and setting up important visit weekends as a number of ESPN 300 prospects will be on conference campuses.
[+] Enlarge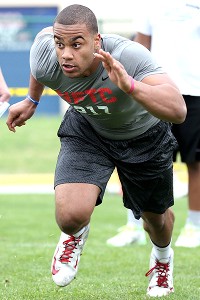 Tom Hauck for Student SportsSolomon Thomas is still considering UCLA and Stanford, among others.
UCLA's big visitor
For the second weekend in a row, UCLA will have an ESPN 300 prospect on campus. Last week, the Bruins hosted Alabama linebacker commit
Zach Whitley Jr
(Houston/North Shore). This weekend, ESPN 300 defensive end
Solomon Thomas
(Coppell, Texas/Coppell) will make the trip. Thomas, the No. 31 overall prospect and No. 5 defensive end, would be a huge addition for UCLA, which has done very well in Texas recently, led by assistant coach Adrian Klemm. Thomas still has a number of suitors, but UCLA has maintained a consistent presence in his recruitment -- along with Pac-12 rival Stanford -- and has a chance to make a statement this weekend.
USC's weekend intrigue
To continue reading this article you must be an Insider
November, 17, 2013
11/17/13
12:00
PM PT
USC interim coach Ed Orgeron had already revitalized the Trojans' recruiting efforts, sending out several local offers and picking up four commitments in the weeks since taking over for Lane Kiffin.
That momentum grew exponentially Saturday night at the Los Angeles Memorial Coliseum, where a loaded list of top-flight recruits saw
USC upset Stanford
in front of a crazed crowd that rushed the field in jubilance. Five-star cornerback
Adoree' Jackson
(Gardena, Calif./Serra), ESPN 300 athlete
John "JuJu" Smith
(Long Beach, Calif./Poly) and ESPN 300 tight end
Bryce Dixon
(Ventura, Calif./St. Bonaventure) were among the top targets in attendance.
To see thousands of people rush a football &.be apart of it is awesome

— Malik Dorton (@theeEliteMalik) November 17, 2013
The list featured all but one of USC's nine verbal commits, as longtime pledge
Toa Lobendahn
(La Habra, Calif./La Habra) couldn't make the trip but watched intently from home.
"Going into the game, I knew it was going to be a dog fight," Lobendahn said. "I wanted the Trojans to battle no matter what and they did that. I wasn't going to lose faith in them no matter what, but I'm so glad we got the W and so happy for Coach O and the team. I'm super mad I couldn't go celebrate."
Lobendahn could get the scoop from USC receiver commit
Shay Fields Jr
. (Bellflower, Calif./St. John Bosco), who was in the middle of the celebration.
"The locker room was really crazy," Fields said. "Everybody was dancing and going crazy in there. The recruits were loving the intensity inside that locker room. Now I'm trying to get everybody (to join me)."
Fields had a number of recruits to choose from, as the Trojans drew the presence of local recruits whom have made pledges elsewhere, including Cal athlete commit
Jaleel Wadood
(Bellflower, Calif./St. John Bosco), Miami quarterback commit
Brad Kaaya
(West Hills, Calif./Chaminade), Cal running back commit
Tre Watson
(Corona, Calif./Centennial) and UCLA receiver commit
Jordan Lasley
(Gardena, Calif./Serra).
"It definitely gives me something to think about," Wadood said. "It was a huge win for SC. I'm still trying to decide if I will take an official visit. My last one will be between Washington and USC."
Kaaya, a four-star pocket passer who landed an offer from childhood favorite USC shortly after Orgeron took the helm, surprised his mother with tickets for her birthday.
"It was exciting to watch," Kaaya said. "Funny thing is, the first college football game I ever saw was Stanford-USC at the Coliseum when USC lost. This time, it seemed like the situation switched and USC came out on top."
For three-star offensive tackle
Jordan Austin
(Claremont, Calif./Claremont), the game also served as a chance to build a relationship with a future teammate.
"It was pure excitement in the locker room following the well-deserved win," Austin said. "I hung out with
Jordan Poland
primarily, but we did not talk much about recruiting. Rather, it was just friend to friend."
The Class of 2015 was also well represented, with No. 1-rated signal-caller
Josh Rosen
(Bellflower, Calif./St. John Bosco), No. 4 cornerback
Iman Marshall
(Long Beach, Calif./Poly) and No. 7 wide receiver
Cordell Broadus
(Diamond Bar, Calif./Diamond Bar) headlining a group that also included No. 2 outside linebacker
John Houston Jr
. (Gardena, Calif./Serra) and No. 12 defensive tackle
Rasheem Green
(Gardena, Calif./Serra).
"It was a great game," Broadus said. "The atmosphere was very electric."
The job Orgeron and his staff have done has not been lost on recruits. ESPN 300 defensive end
Malik Dorton
(Bellflower, Calif./St. John Bosco) has been open to visiting other schools while being committed to the Trojans, but that would all disappear if Orgeron were to get hired.
"Recruits want the coaches to stay on staff really bad; at least I know I do," Dorton said. "If those guys stay, I'm definitely coming."
Three-star outside linebacker
Uchenna Nwosu
(Harbor City, Calif./Narbonne), who last month became the first recruiting class member from the Los Angeles City Section, left the Coliseum with a smile on his face.
"It was great. I had a good time and I feel like I made the right choice," Nwosu said. "After the game, we went in the locker room and it was crazy in there. All the coaches were getting turned up."
To continue reading this article you must be an Insider
September, 24, 2013
9/24/13
9:00
AM PT
In this week's WeAreSC recruiting notebook, we touch on a planned package deal, potential quarterback options and more:
As expected, USC outside linebacker commit D.J. Calhoun (El Cerrito, Calif./El Cerrito) set up his first official visit to Arizona State for the Oct. 18 weekend when the Sun Devils host Washington. The four-star prospect intends to take all five visits, though his father, Derik, said he remains committed to USC. With good friend and high school teammate Adarius Pickett now committed to UCLA, the Trojans will have some work to do.
While some uncertainty remains with Calhoun, add three-star offensive lineman Jordan Austin (Claremont, Calif./Claremont) to the list of recruits who have not been unfazed by the fuzzy USC coaching situation. Like fellow linemen commits Toa Lobendahn (La Habra, Calif./La Habra) and Jordan Poland (La Jolla, Calif./Country Day School), Austin appears headed for Troy no matter how the 2013 season unravels. "I went to the game against Boston College. I loved the whole experience," the 6-foot-5, 275-pound prospect said. Lobendahn, meanwhile, will be eligible to play his first game this season on Oct. 11 when La Habra travels to Fullerton (Calif.).
To continue reading this article you must be an Insider
August, 4, 2013
8/04/13
7:00
AM PT
The USC Trojans took the field Saturday for the opening day of fall camp practices.
"It was nice to get out here and have organized practices," said quarterback
Cody Kessler
. "The summer workouts are great and all, but it's good to finally be able to be out here with the whole team and the coaches. I thought we had a really good focus today, which was good to see."
It was a no-pads practice for the Trojans, who will not put on full pads until practice No. 6, which will take place Thursday in a scrimmage in the Los Angeles Memorial Coliseum.
"It will be a very physical camp once pads get put on," said coach Lane Kiffin.
There will be a lot of attention paid to the quarterbacks, and Kiffin praised both Kessler and
Max Wittek
for their work Saturday. Kiffin said there is a long way to go before a starter is named.
Among the primary things Kiffin will be looking for is to see who manages the game better and who takes care of the football. For what it's worth, Kessler took the first-team reps in the final team drill of the day.
Wittek made an early completion deep to
Victor Blackwell
, and Kessler hit
Nelson Agholor
over the middle on a deep ball and then later hooked up with
Marqise Lee
on a nice reception. Another receiver who had a good first day was freshman
Darreus Rogers
, who caught almost everything thrown his way.
On the defensive side of the ball, safety
Gerald Bowman
stood out as a playmaker as he had a one-handed interception and broke up a pass.
Running back rotation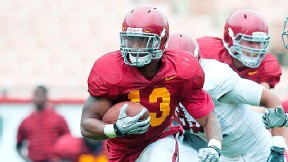 Courtesy of Joe AndrasTre Madden "looked great" in the first practice, said USC head coach Lane Kiffin.
All the tailbacks were in action, which was important since several are coming back from injuries.
Silas Redd
and
D.J. Morgan
were limited, but the other four all stood out in some way.
"
Tre [Madden]
looked great and he got a lot of work," Kiffin said. "
Justin [Davis]
looked better than he did at the end of last spring. Ty [Isaac] had one fumble, but other than that he looked good. There's a lot of talent in that group."
Buck Allen
ran well in a team drill and looked sharp.
Markowitz update
Abe Markowitz was on the field taking reps as a reserve center. Kiffin confirmed that Markowitz has received a sixth year of eligibility from the NCAA and has returned to the team as a walk-on. Markowitz gives the Trojans an additional versatile player on the line, as he can also play either guard spot.
Special teams in action
There was a lot of special teams work early in the practice with
Andre Heidari
attempting several field goals. There were also kickoff return and punt return drills, with the return men alternating among a group of Marqise Lee, Nelson Agholor, D.J. Morgan, Victor Blackwell and
Anthony Brown
.
More highlight plays
Jabari Ruffin
came on a pass rush and leaped high in the air to knock down a
Max Browne
pass attempt. ...
J.R. Tavai
was on a blitz and absolutely bowled over Justin Davis trying to make a block in the backfield. ... There were a couple nice plays by walk-ons: Tailback
Taylor Ross
had a long run and wide receiver
Robby Kolanz
leaped between two defenders to make a nice grab.
Recruits in attendance
DL
Michael Wyche
(Monterey Park, Calif./East Los Angeles College), LB
D.J. Calhoun
(El Cerrito, Calif./El Cerrito), OL
Jordan Austin
(Claremont, Calif./Claremont) and class of 2016 WR
Brandon Burton
(Gardena, Calif./Serra).
Quotebook
"I'm at 198 pounds right now; I was at 208 last year. It's easier to move around at this weight, but I was cramping up a little today because I haven't bent this much in a long time. I like that this defensive scheme holds the secondary accountable because everybody in the back end is in man-to-man coverage. In high school, when I played free safety I was just roaming around, relying on my talent. Now I understand how to read offenses, I know my keys and how to read the quarterback." – safety
Dion Bailey
"I worked on my decision-making the most in the offseason. Making the right decision is what will win games. The Sun Bowl game gives me the drive to show something different; I'm very much looking forward to that. As far as the quarterback competition, we all know the reality of the situation. Someone will be named the starter and we all know that. We all spend so much time together and we're friends, but we don't talk about who will win the job. (Wittek was asked if he would consider transferring if he didn't win the job) I will cross that bridge if it comes to that." – quarterback Max Wittek
"I worked a lot this offseason on making sure I give my receivers a chance to make plays, to not overthrow them. We've got the kind of receivers that, if you give them a chance, they will do a lot of good things. It comes down to trust as a quarterback, trust in your guys to go get the ball. I also worked on being a field general, being a leader. It's things like being the first guy in the meeting room, being there in the mornings when guys want to throw, just doing the right thing by example." – quarterback Cody Kessler
2013 TEAM LEADERS
| TEAM | RUSH | PASS | TOTAL |
| --- | --- | --- | --- |
| Offense | 174.2 | 218.1 | 392.3 |
| TEAM | PF | PA | MARGIN |
| Scoring | 28.5 | 21.3 | 7.2 |