October, 27, 2011
10/27/11
11:42
AM PT
By
Pedro Moura
| ESPNLosAngeles.com
USC cornerback
Isiah Wiley
, a transfer from juco Arizona Western College, has played significant snaps in two games this season, and the two have been the Trojans' best defensive performances of the year.
Is there a correlation between the two? Most signs point to yes, but Wiley says no.
"Naaaah," Wiley says, smiling. "I don't think so. I think guys are just stepping up because they know how important these last couple games have been. Everybody's finally stepping up and the defense is finally coming together."
[+] Enlarge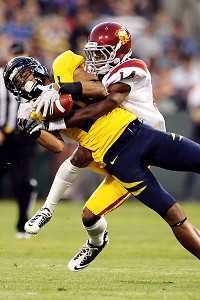 Ezra Shaw/Getty ImagesJunior college transfer Isiah Wiley has seen time in the nickel package and has flourished.
That's probably true, but the 6-1, 185-pound Wiley has a bigger part in that than he's willing to admit. Since he began playing nickel corner in the Cal game two weeks ago, the Trojans have allowed just two offensive touchdowns and have upped the ante on their run defense even more.
And, what's more, they faced three dominant receivers in the two games, yet only one of them went off: Cal's
Keenan Allen
. It was a big change from the second game of the year, when Utah's
DeVonte Christopher
-- a lower-rated player than all three guys USC's faced recently -- found plenty of receiving room against the Trojans and finished with 11 catches for 136 yards.
The difference is easily discernible. In that game, Utah offensive coordinator
Norm Chow
did everything he could on every play-call to get Christopher away from USC No. 1 corner
Nickell Robey
at the line of scrimmage. When he was isolated one-on-one with then-starter
Torin Harris
or nickel back
Tony Burnett
,
Jordan Wynn
delivered a pass to him time and time again.
USC's second and third corners were torn up, consistently.
Enter Wiley, who first started to shine during the bye week after the squeak-by win over Arizona earlier this month. He's inexperienced at this level, sure, but he just doesn't get flat-out beat as easily as those two. He hangs around the receivers much longer, hasn't gotten speed-burned yet and can make an open-field tackle if he needs to.
It's clearly what head coach
Lane Kiffin
and the Trojans envisioned when they recruited him out of junior college as a prospective early enrollee. Wiley would enroll in January, learn the defense in spring practice and start right away in September.
September, 27, 2011
9/27/11
9:25
AM PT
By
Pedro Moura
| ESPNLosAngeles.com
It's not a winning streak or a losing streak -- yet.
But it's a streak all the same, and it began Saturday against Arizona State, when Sun Devils quarterback
Brock Osweiler
tore up the Trojans defense, rendering their pass irrelevant and their secondary ineffective.

From now on, USC's going to face a lot of Osweiler-quality quarterbacks this season. The Pac-12 is, for all intents and purposes, a quarterback's conference. And the Trojans are going to be challenged in the same ways that Osweiler tested them in Tempe.
"We're gonna hit a streak," Trojans coach
Lane Kiffin
said this week. "We're going to have to get better in what we're doing."
That streak begins Saturday with Arizona, a 12:30 p.m. game at the Coliseum. Wildcats quarterback
Nick Foles
' numbers have been spectacular so far this season, the Michigan State transfer throwing for 10 touchdowns and no interceptions with a completion percentage higher than 70 percent.
After Foles, the Trojans will face Cal and quarterback
Zach Maynard
, whose numbers are strikingly similar to
Matt Barkley
's this year aside from a weaker completion percentage. Then comes Notre Dame and
Tommy Rees
, who beat USC last year, and Stanford and
Andrew Luck
.
September, 15, 2011
9/15/11
9:46
AM PT
By
Pedro Moura
| ESPNLosAngeles.com
Hayes Pullard
, the Trojans' redshirt freshman weakside linebacker, is a physical player -- so physical, in fact, he inspires his coaches to use, uh, inappropriate words to best describe him.
"The word I have in my mind for him, I know you can't use," says his position coach,
Joe Barry
. "But he just brings an overall toughness and an attitude and a personality to our defense.
"He doesn't say a lot. He just kind of walks around with a scowl on his face all day long."
Yes, he does. But
Monte Kiffin
doesn't ask the weakside linebacker in his famed Tampa 2 defense to be a nice guy – he asks him to be the go-to tackler, the guy who all run plays are supposed to funnel to and end with.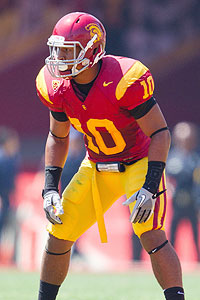 Jeff Lewis/US PresswireFreshman linebacker Hayes Pullard fills many roles for the USC defense, chief among them: tough.
In other words, Pullard must be ready to fulfill the roles of both the third safety and the fifth defensive linemen on any given snap, switching between run-stopper and pass-plugger on a regular basis.
And he's been doing them well so far this year, working in tandem with fellow redshirt freshman
Dion Bailey
in what has been USC's most outperforming-expectations unit thus far. There haven't been many breakdowns from the middle trio in the Trojans' secondary, and this team is also finding out that it can indeed count on Pullard as a sort of second-to-last ditch effort in the run game.
Not the last, because that's
T.J. McDonald
and that means the running back broke through the front seven for significant yards. Pullard has been bringing guys down fewer than five yards away from the line of scrimmage, which qualifies as a fairly good snap for the defense.
"It's exciting that a redshirt freshman brings that to us," Barry said. "And, as a linebacker, that's how you want to play this game. This game's a violent game. It's played by men that are tough suckers and Hayes is definitely that.
Barry won't lie about Pullard's progress through two starting assignments – "he's made his fair share of mistakes," he says – but he emphasizes that Pullard is able to atone for his mistakes in ways many other football players can't.
How? Why?
Because of his physicality. Take his near-interception of Utah quarterback
Jordan Wynn
in Saturday's game. Pullard should have had that ball. It would have sealed the outcome of the game and averted all of the postgame shenanigans in Las Vegas and the press box. But he didn't.
Remember, though, that the near-interception came just minutes after a huge sack, one in which he broke through the Utes' line and chased Wynn down 15 yards behind the line of scrimmage for a momentum-changer.
He may not make every play, but he makes enough of them.
September, 13, 2011
9/13/11
7:38
AM PT
By
Pedro Moura
| ESPNLosAngeles.com
Forget the opponents Syracuse played these last two weeks and struggled to beat, Wake Forest and Rhode Island.
Lane Kiffin
says it doesn't matter who the Orange played. They're 2-0 and they're looking to make themselves 3-0 in four days' time against the Trojans.

"The comparing of games and scores, it means nothing," Kiffin said this week, when asked what he'd seen from Syracuse in the first two weeks of 2011. "I can't say I've never done it, because I do it too. You look at this team played that team but every week that gets proven completely wrong.
"Those things happen all the time. And, from being here over the years, we get everybody's best shot anyway. Teams tend to not necessarily play great the week before us and usually do not play very well the week after us. Look what just happened to Minnesota. That has been historic here, guys not playing well the week after us. Because they get up for SC and playing in the Coliseum."
He didn't say it outright, but it's clear he expects Syracuse to be up for this game. And his Trojans, too, obviously. And while USC hasn't blown out either of its first two opponents at the Coliseum this year, it hasn't been because of a lack of energy. This team has actually looked pretty ready to go for each of its two games, which is partly a credit to the coaching staff.
"We don't take anybody lightly," Kiffin said. "We respect everyone. And we really shouldn't be taking anybody lightly, anyway. We're 2-0 and happened to win the games right at the end."
So did Syracuse. The Orange trailed Wake Forest by 15 points entering the fourth quarter of their opener and needed overtime to pull out the win, then began the final period tied with Rhode Island.
September, 12, 2011
9/12/11
4:03
PM PT
By
Pedro Moura
| ESPNLosAngeles.com
Utah is a respectable team and will most likely be competitive in the Pac-12 this year, and USC played fairly well against the Utes for the most part on Saturday in a 23-14 win.

But, with a talented Arizona State team awaiting the Trojans a dozen days from today, USC must improve in one crucial area to beat teams like the Sun Devils: pass defense.

Jordan Wynn, Norm Chow's quarterback at Utah, was clearly not 100 percent or anywhere close to it, really, as Lane Kiffin pointed out after Saturday's game in no uncertain terms. The Utes' DeVonte Christopher lit up the Trojans, too, pulling in 11 grabs for 136 yards. If USC gives up that much to Wynn and Co., what will it do against Brock Osweiler, Aaron Pflugrad and the Sun Devils, who beat Missouri Friday?

Heck, what will the Trojans do this Saturday against visiting Syracuse? Orange quarterback Ryan Nassib has completed 75 percent of his passes for six touchdowns and one interception through two games, a much better opening to the 2011 season than either Wynn or Minnesota's MarQueis Gray have had. And he has two talented senior receivers to pass to, as well.

"That is a concern of ours," Kiffin said Sunday in a rare moment of looking back and forward. "We have to improve. Today, in the team meeting, we worked more on it, but we've also gotta work more on our man-to-man coverage."

Man-to-man coverage, by its nature, goes against what the Kiffins usually like to do on defense. Monte Kiffin popularized the Tampa Two, which involves zone defense. But some of USC's best defensive plays under the Kiffins have come in man-to-man moments, such as Torin Harris' game-saving interception in Week 1.

Indications are more of that will come, maybe even this week against Syracuse so as to try it out for the other upcoming Pac-12 games. Lineup changes might also be in store, Kiffin hinted Sunday.

If there are any changes, they would come at the second and third corners or strong safety spots. T.J. McDonald and Nickell Robey still have their positions down pat, but Harris, Tony Burnett and Jawanza Starling have struggled some -- Harris in particular, although he's largely saved himself from public scrutiny with his end-of-game plays the last two weeks.

Kiffin is keeping that in mind as the Trojans' challenges get tougher and tougher in the coming weeks.

"We didn't just play two real premier pass teams," Kiffin said Sunday. "As the stats sort out throughout the year, I don't think you'll see those two teams way up there. But were gonna play some big-time passing opponents here pretty quick, so we've got to improve in the back end.

"We may shake some things up a little at some spots too."
September, 11, 2011
9/11/11
12:32
AM PT
By
Pedro Moura
| ESPNLosAngeles.com


Last year, it was supposed to be the best unit on the field. That turned out to be very wrong.

But maybe it was just a year premature. Because this season, after a myriad of struggles in 2010, the less-hyped USC defensive line is proving to be the Trojans' most dominant unit and a game-changer on a weekly basis. For the second straight game Saturday against Utah, the USC front four set the tone for the entire defense with constant pressure on the Utes' Jordan Wynn and tough run-game coverage throughout.

There were only two sacks, sure, but Wynn had to have been pressured on at least 20 of his 46 dropbacks. And running back John White IV finished the game with just 56 yards on 20 carries, an average of 2.8 yards per carry. The numbers were there, and even more evident was the way Utah played to avoid the D-line. These Trojans can change games.

"They know that we're coming," defensive end Nick Perry said after Saturday's game, in which he finished with five tackles, a sack and two tackles for loss. "There's no doubt about it. We're a great defense and we're gonna come out and play our butts off every game."

USC's other defensive units have also been improved over last season through two games, but not like this. And the D-line's play has essentially allowed the linebackers and defensive backs a mulligan or two each game, allowing big plays to come to them, in a way.

An example: Yes, Dion Bailey made an impressive open-field tackle on Utah's fake punt in the second half, but there was a reason Bailey was so wide open and able to tackle the Utes' Ryan Lacy in the free and clear. All of Utah's blockers were occupied taking care of the Trojans' front four.

USC started a line of Perry, Christian Tupou, DaJohn Harris and Devon Kennard Saturday and shuffled in Wes Horton and George Uko regularly, too. All six players produced.

"Causing pressure shakes up the quarterback to give our secondary a chance to take shots at receivers and make big-time plays," Perry said Saturday. "The pressure was on.

"I think we did a great job. There's still things we have to fix, obviously, but we're gonna come back ready to go for next week."
September, 10, 2011
9/10/11
8:02
PM PT
By
Pedro Moura
| ESPNLosAngeles.com
PASSING ATTACK
Matt Barkley
looked good overall and
Robert Woods
was able to fight through frequent double-teams for another impressive performance, but USC still didn't establish a legitimate No. 2 option.
Xavier Grimble
was looking like one before he fumbled;
Rhett Ellison
was mentally not there.
RUSHING ATTACK
Marc Tyler
couldn't have had a much better return to the field, taking carries like the No. 1 running back right away and getting more than 100 yards on the ground. Starter
D.J. Morgan
may have lost his spot with his first-half fumble in the red zone.
IN THE TRENCHES
There was definite improvement from the offensive line as compared to the opener, but holes were still evident. On defense, the front four again produced consistent pressure on Utah and quarterback
Jordan Wynn
but only got two sacks to show for it. 'B's for both lines.
DEFENSE
Both of Utah's touchdowns came off of USC turnovers, so the defense gets some credit for that. But the main reason the defense earns the 'A' is this: There was no fourth-quarter letdown, for the second straight week. The Trojans held up well late in the game.
SPECIAL TEAMS
Andre Heidari
's 47-yard field goal in the first half turned out to be big, but
Kyle Negrete
had a horrible night punting the ball and USC's kickoff team also struggled.
Nickell Robey
had trouble getting going returning punts until Woods replaced him late.
COACHING
There were no misguided two-point conversion attempts, so
Lane Kiffin
won't be getting as much postgame flak this week. But he once again proved to not be very loyal to his players. Morgan didn't get a single carry after he coughed up the ball.
September, 6, 2011
9/06/11
11:55
AM PT
By
Pedro Moura
| ESPNLosAngeles.com
The Trojans won't say it in so few words, but this much is clear: the team they're facing Saturday in the first-ever Pac-12 game, the Utah Utes, is a heck of lot better than the Minnesota squad they barely squeaked by last week in their season opener.
Lane Kiffin
hinted at it by saying, flat-out, that his team wouldn't win Game 2 playing the same way they did in Game 1. Left tackle
Matt Kalil
went for the physical descriptions, saying the Utah defensive line was a "lot bigger," "a lot stronger" and a "much bigger challenge."
Monte Kiffin
said his defense would "really be tested" against the Utes.

It's clear that this game is USC's first real evaluation period -- win, and the Trojans will gain back some national respect they lost by beating the worst team in the Big Ten by two points. With a victory, they'll also probably find their way back into the AP Top 25, which they dropped out of this week.
But if the Trojans lose, this becomes maybe a seven-win team and one that will probably be the underdog in its first road game in three weeks in Tempe, Ariz. And Utah has the talent to make that happen, starting with experienced junior quarterback
Jordan Wynn
and juco transfer running back
John White IV
.
One thing you'll notice with the Utes: A ton of their players hail from Southern California. Wynn's from Oceanside, White IV grew up in Torrance and went to L.A. Harbor JC and left tackle
John Cullen
, who was recruited by USC, grew up in La Mirada. And the list goes on, with former Freshman All-American
Brian Blechen
hailing from Moorpark and receiver
Dres Anderson
a Riverside John W. North product.
That's one of the biggest advantages to this game for Utah coach
Kyle Whittingham
. If he could get that many recruits from the area without playing in L.A., imagine how many will come to Salt Lake City once the Utes have an opportunity to plant their seed at the Coliseum.
And Whittingham, for his part, seems geeked about this opportunity. He made a point of mentioning in his weekly conference call with the media this week that he saved some stuff in his offense for the USC game, and he said his players won't be in awe of the Coliseum.
But the Trojans, the Utes' coach said, will be a tough opponent. They have team speed, he said, that "very few teams in the country have," and they utilize it well.
"One thing is evident on tape: they've got talent on their entire team," he said.
What else did Whittingham take away from the tape of the Minnesota opener? One more thing: The Trojans' passing attack was essentially an "extension of the run game," he said.
Matt Barkley
's short passes to
Robert Woods
were low-risk and quick and he knows his Utes will have a hard time stopping them.
"They get a lot of mileage out of those plays," said Whittingham, whose offensive coordinator,
Norm Chow
, called a lot of short passes in their opener too. "They did great with it."
August, 15, 2011
8/15/11
5:56
PM PT
By
Pedro Moura
| ESPNLosAngeles.com
Quarterback Matt Barkley picked up his fourth watch-list honor of the preseason Monday when he was named to the Manning Award watch list, a trophy given out to the top signal-caller in the country after bowl games conclude in January.

Barkley, a junior, was also named to the Davey O'Brien, Walter Camp and Maxwell award lists last month. He's one of eight Trojans who have received at least one watch-list honor this preseason.

As a sophomore in 2010, Barkley threw for nearly 2,800 yards, 26 touchdowns and 12 interceptions, starting all but one of USC's 13 games. As a first-year freshman in 2009, he completed 60 percent of his passes for 15 touchdowns, 14 interceptions and 2,735 yards.

He stands as a potential top-ten overall pick in next April's NFL draft, assuming he decides to leave school after his junior season and apply for early-entry into the draft. But doing so would prevent him from playing in another bowl game or conference championship during his college career, as the Trojans are ineligible for postseason play this year due to NCAA sanctions.

Other Pac-12 conference nominees for the Manning Award include Oregon's Darron Thomas, Arizona's Nick Foles, Stanford's Andrew Luck and Utah's Jordan Wynn.

Auburn's Cam Newton won the honor in 2010 before departing for the NFL.
2013 TEAM LEADERS
| TEAM | RUSH | PASS | TOTAL |
| --- | --- | --- | --- |
| Offense | 174.2 | 218.1 | 392.3 |
| TEAM | PF | PA | MARGIN |
| Scoring | 28.5 | 21.3 | 7.2 |