April, 1, 2014
Apr 1
7:00
PM PT
On Monday, we took a look at how the Pac-12's
offensive players stack up
as NFL prospects in the eyes of ESPN analysts Mel Kiper Jr. and Todd McShay. Tuesday, it's the defense's turn.
Defensive line
If you've been following along since the end of the season, Sutton's spot isn't all too surprising. He didn't have a good showing at the combine and has taken heat about his physical condition, dating to before last season. Even with the concerns, it's hard to imagine he won't eventually find his way in the NFL. After all, he's only the second player in conference history to be a two-time Defensive Player of the Year. Washington's Steve Emtman (1990-91) was the other. That's not by accident.
Coincidentally, the SEC's Defensive Player of the Year,
Michael Sam
, isn't ranked in the top 10 by either.
See the list here.

Other Pac-12 defensive linemen who figure to be in the mix in the draft are
Cassius Marsh
(UCLA),
Taylor Hart
(Oregon),
Deandre Coleman
(Cal),
George Uko
(USC),
Tenny Palepoi
(Utah),
Morgan Breslin
(USC),
Ben Gardner
(Stanford) and
Josh Mauro
(Stanford).
Linebacker
[+] Enlarge

Kirby Lee/USA TODAY SportsFormer UCLA linebacker Anthony Barr could be the first Pac-12 player to be drafted this year.

OLB Anthony Barr, UCLA: No. 2 (both)

OLB Trent Murphy, Stanford: No. 6 (Kiper), No. 9 (McShay)

ILB Shayne Skov, Stanford: No. 3 (both)

ILB Jordan Zumwalt, UCLA: No. 8 (Kiper)
Barr is widely considered the Pac-12's best hope at landing in the first 10 picks, but if McShay was drafting, that wouldn't be the case. On drafting Barr, McShay wrote:
[Barr] of UCLA is a speed-rusher who stalls out when attempting to convert speed to power, and there is too much finesse to his game for me to pay a top-15 price for him. He looks like he's on skates when he attempts to set the edge.
That's not exactly a ringing endorsement for the same player Stanford coach David Shaw compared to Jevon Kearse. Shaw called Barr called the best (defensive) player the conference has had in the "last few years."
Murphy is in a similar boat to Sutton in that his college production isn't necessarily being viewed as a lock to translate to the NFL. He still figures to be a good fit for a 3-4 team and should be expected to contribute right away.
Outside of the four listed, it wasn't a very deep year for linebackers in the conference. Utah's
Trevor Reilly
, who can play both OLB and DE, Arizona State OLB
Carl Bradford
and USC's
Devon Kennard
headline the rest of the NFL hopefuls.
Defensive back
McGill should send a thank you card in Pete Carroll's direction. It's largely because of Seattle's use of big-bodied corners en route to a Super Bowl victory that the league appears to be trending in that direction. At 6-foot-4, McGill's size -- in addition to his solid showing at the combine -- is a rare asset among the group of corners.
Bucannon looks like he'll be the first defensive back off the board, but will he be a first-round pick? That's unlikely, but it would be a surprise if he lasts into the third round.
Another storyline to watch is where the three defensive backs who left early -- safety
Ed Reynolds
(Stanford), cornerback
Terrance Mitchell
(Oregon) and cornerback
Kameron Jackson
(Cal) -- wind up.
See the lists for linebackers and defensive backs here
.

March, 12, 2014
Mar 12
11:30
AM PT
You take the van, I'll keep the dog.
January, 21, 2014
Jan 21
2:30
PM PT
Tired of searching for Richard Sherman memes? Me, neither. But take a break anyway and enjoy the mailbag.
Jack in Boulder, Colo. writes
:
Pretty harsh with some of your grades
, weren't you?
Kevin Gemmell
: I don't think so. Did anyone in the league deserve an A? No national champions. No BCS bowl game victories. I didn't do the Stanford review, that one was all Ted. But I thought a B-plus was fair, considering how the season ended and the fact that the Cardinal did lose to an unranked team that didn't make the postseason along the way. I did do the Oregon review and thought a B was also a fair grade -- considering what the expectations were for the Ducks in 2013 compared to how they finished.
[+] Enlarge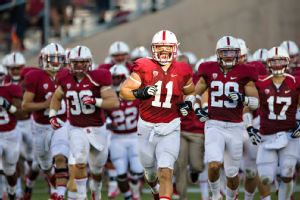 David Madison/Getty ImagesStanford won the Pac-12 and went to the Rose Bowl, but didn't deserve an A.
Arizona State gets the same grade as Stanford because it won its division and had the best overall record in the Pac-12. No small accomplishment.
Outside of that, who deserves a better grade than they received? Some people thought Arizona's B was a little too generous, given the schedule they played (see the question below, by the way). But they knocked off Oregon, won their bowl game and made huge strides defensively.
Others have said Cal's F grade was too harsh. But I'm of the opinion that if you don't beat an FBS team, that's a fail.
Oregon State's C-minus feels right, considering what the expectations were.
UCLA's B-plus was fair from Ted and my B-minus for USC was pretty reflective of the ups and downs of the season.
I thought Ted's C-minus for Utah was probably generous, but upsetting Stanford warrants something in the average range.
The Washington schools both got Bs because the Cougs exceeded expectations and the Huskies got over the seven-win hump and won their bowl game.
As always, happy to hear arguments in favor for or against changing grades.
---

Pac-12 Fan in Reno writes
: C'mon, Kevin.
Arizona at No. 25 in your final poll
? It is now becoming apparent that you have some repressed "feelings" for [RichRod] and Arizona. How can you put AU at No. 25 after the way they were so thoroughly humiliated at the hands of relatively pedestrian ASU (No. 20)? AU beat Oregon and ... whom exactly? Their wins came over the likes of UNLV and UTSA. Wow. Impressive. AU will win 8-9 games again next year because they play a bunch of [weak teams]. You really need to admit your bias/obsession and try to move past it. You are better than this.
Kevin Gemmell
: Consider the alternative. Who would you put at No. 25? Washington is there in the AP poll at No. 25, but I had the Huskies higher because I thought they finished strong and deserved a higher ranking.
So let's look at the options, including
all of the teams that finished in the final AP rankings or received votes
.
Vanderbilt? The Commodores beat an injury-depleted No. 15 Georgia, but the rest of their schedule sets up much like Arizona with sub-.500 competition.
Nebraska? Its signature win was also over No. 22 Georgia. (And yes, Ryan in New York, I know you are going to chime in about UCLA's win over Nebraska, but you still won't convince me that wasn't an amazing win for the Bruins given all that had happened).
Fresno State? Played one ranked team all year (USC) and got blasted by them in the bowl game.
Northern Illinois? Zero ranked teams on the schedule.
North Dakota State? I'll actually listen to that argument.
Texas Tech? Never beat a top-10 team.
Georgia? See above.
Iowa? Never beat a ranked team.
Ole Miss? It beat LSU, but won just three games in conference. Thank goodness for the eight-game conference schedule. (I can already feel a retort coming on from Chris Low.)
Kansas State? The Wildcats beat a reeling No. 25 Texas Tech team, but had no other victories over ranked opponents.
That brings us to Arizona. It only beat one ranked team all season. But of all the teams listed above, it was the highest-ranked team in No. 5 Oregon.
There are no repressed feelings. But all things being equal -- and I think you can make a case that all of these teams I've just listed pretty much being equal -- I'm going to go with the one that showed the greatest improvement on defense from 2012 to 2013 and has one of the country's most dynamic playmakers. And Arizona beat a team from a BCS conference in its bowl game.
The Wildcats played in "arguably" the toughest, deepest league in college football, had a comparable record and had the best win of all those teams listed above. On a neutral field, I'll put the Arizona team that played against Boston College against any one of those teams.
---
Henry in San Juan Capistrano writes
: Your colleague Chris Low stated today that
the three "marquee" QB's in the P-12
are Hundley, Marcus and Mannion when we all know that it's Kelly, not Mannion, that rounds out that group. Can you set him straight, Kev? You would be doing all P-12 fans a huge favor.
Kevin Gemmell
: Can't it be both? Mannion had the superior passing numbers, a better completion percentage with 1,000 more passing yards and nine more passing touchdowns. He also finished with a higher raw QBR.
Kelly had fewer interceptions and a higher adjusted QBR. He also rushed for 608 yards and had nine rushing touchdowns while Mannion had minus-223 yards rushing and zero rushing touchdowns.
So when push comes to shove, they had an equal amount of total touchdowns accounted for. Mannion had more turnovers (including seven fumbles).
Both quarterbacks are asked to do very different things. Mannion is a pure drop-back passer. That's not to say that Kelly can't chuck it. He was fifth in the league 3,635 passing yards and third in passing touchdowns. But he has more zone-read responsibilities than Mannion does.
When Mannion isn't going through one of his interception spells, he can be one of the top pure passers in college football, but he has his moments of inefficiency. And Kelly, too, has the occasional bad game, when things aren't clicking. But both are very good at what they are asked to do.
---

Ryan in New York writes
: Kevin,
Excellent article on the Pac-12 defenses
. But how could you forget perhaps the nation's best interior defensive lineman next year --
Lenny Williams
-- when discussing the best defenders in the Pac?
Kevin Gemmell
: *Slaps head with palm and shouts "D'oh!"* Yep, Williams is up there as well. Was thinking of younger guys, but he absolutely should be a preseason All-American.
The point of the column wasn't to say that there are no good defensive players coming back. There are. USC has some. UCLA has some. Stanford and Oregon have some. Pretty much every school has a player or two who is going to get some looks on a preseason all-conference squad.
But given the amount of talented defensive players across the conference that are leaving, combined with coordinators from the top five defensive schools in the conference in 2013, I felt it warranted a column. UCLA fans got after me on Twitter, reminding me of all the young talent the Bruins have coming back. And I agree with all of it. I expect UCLA to be strong defensively. But stronger without Anthony Barr and Jordan Zumwalt? We'll have to see.
But from a league-wide perspective, the Pac-12 loses a bunch of veteran defenders. When you combine that with the offensive firepower coming back, it makes for an intriguing 2014.
---

Bob in Menlo Park writes
: Kevin,
I read your Todd Graham question
. I thought I read on the Pac-12 Blog that [athletic director Steve] Patterson signed an agreement with Arizona State not to poach personnel when he went to Texas. Enjoyed your writing and the blog.
Kevin Gemmell
: As a matter of fact, you did read that on the blog.
Here's the link
.
It's obviously moot with Charlie Strong landing the job at Texas. If Patterson really wanted Todd Graham, I'm sure there would have been a way to make it work. As Ted points in his piece from November, there isn't much that can't be fixed with motivation and money. Contracts can be torn up in lieu of checks.
Obviously, that didn't happen. But if Graham continues at this current pace -- winning division championships and posting outstanding conference records, he's going to start getting phone calls. What's an acceptable time frame for a coach to move on? Three years? Five? Seven?
This is going to be an interesting year for Graham. He's losing a ton of defensive stars and he spends the majority of his time on that side of the football. It's not unreasonable to think the Sun Devils might take a step back defensively in 2014, but if they can come close to matching some of their 2013 defensive production after that kind of a talent drain, we'll know just how good of a coach Graham really is.
---
Bryce in San Franciso writes
: I'm happy to see Kyle Bonagura getting on board with the lunch link quotes. I don't see an inbox for him, so hoping you can pass this note along.
Kevin Gemmell
: I'll let him know. He started strong with a quote from "The Sandlot." When it comes to the lunch links quotes, we try to have fun with them … but sometimes they can be a bit obscure. Last year, on the anniversary of Kurt Cobain's death, I posted a stanza from "The Mighty K.C." a one-hit wonder song by For Squirrels from 1995. Didn't think anyone would get the reference, and they didn't. On the day Ray Bradbury died, Ted quoted "Fahrenheit 451." Sometimes, it's just a movie or song or book that's stuck in my head. They aren't always gems, but we try to make it fun.
January, 20, 2014
Jan 20
7:00
PM PT
The Pac-12 has seen a flurry of defensive coordinator movement over the last couple of weeks -- starting with the
power struggle for former Washington defensive coordinator Justin Wilcox
to the recent exoduses of Stanford's
Derek Mason to Vanderbilt
as head coach and UCLA's
Lou Spanos to the Tennessee Titans
as linebackers coach. Oregon's promotion of
Don Pellum to defensive coordinator
to replace Nick Aliotti will also shine a spotlight on the Ducks' defense in 2014 and beyond.
And then there is, of course, former USC defensive coordinator Clancy Pendergast, who mysteriously continues to be out of work.
[+] Enlarge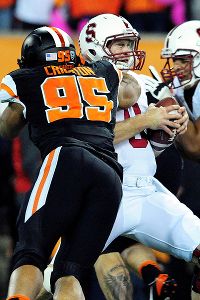 Steve Dykes/Getty ImagesOregon State defensive end Scott Crichton is among the Pac-12 defensive stars entering the NFL in 2014.
Look at the top five scoring defenses in the Pac-12 in 2013: Stanford, Oregon, USC, Washington and UCLA, respectively. All five have had defensive coordinators in flux in the young offseason.
That makes for an interesting transition period for the Pac-12. Defenses had closed the gap in recent years with several teams ranking in the top 25 nationally in scoring defense. That in itself is an achievement considering the level of offensive skill players and the diversity of offenses in the conference.
But when you look ahead to 2014, there are a lot of quarterbacks coming back to man the league's high-powered offenses --
Marcus Mariota
,
Brett Hundley
,
Taylor Kelly
,
Sean Mannion
,
Connor Halliday
, etc. You combine that with a massive talent drain of defensive players graduating or declaring for the NFL, plus all of the shifting within the defensive coaching ranks, and you have to wonder if 2014 is going to be the Year of Offense in the Pac-12.
Consider a few of the defensive standouts leaving:
Anthony Barr
(UCLA),
Will Sutton
(ASU),
Shayne Skov
(Stanford),
Dion Bailey
(USC),
Terrance Mitchell
(Oregon),
Scott Crichton
(Oregon State),
Trent Murphy
(Stanford),
Carl Bradford
(ASU),
Deone Bucannon
(Washington State),
Trevor Reilly
(Utah). There are a couple dozen others who aren't mentioned who were high-impact guys like Stanford's
Ben Gardner
and
Ed Reynolds
,
Eric Kendricks
,
Jordan Zumwalt
and
Cassius Marsh
from UCLA and
Alden Darby
,
Osahon Irabor
and
Robert Nelson
from ASU.
In total, 19 of the 25 all-conference defensive players from 2013 will be gone next year -- including 10 of 12 from the first team. Plus about a dozen more that were honorable mention are leaving or graduating. That is a major hit to the defensive talent in the league.
The Pac-12 is rarely appreciated nationally for its defensive prowess, either from a player or coaching perspective. And now three of the best coordinators in the conference are gone, one has moved from Washington to USC and another is looking for a gig.
Pac-12 offenses are going to be loaded in 2014 while the defenses have huge question marks. There is plenty of young talent. Guys like
Myles Jack
(UCLA),
Addison Gillam
(Colorado) and
Su'a Cravens
(USC) have all made names for themselves early in their careers. There are also some very notable returners like
Ifo Ekpre-Olomu
(Oregon),
Henry Anderson
(Stanford),
Shaq Thompson
(Washington) and
Hayes Pullard
(USC).
But a lot more is gone than is coming back.
That opens the door for all sorts of comparison storylines. Wilcox did an outstanding job re-tooling the defense at Washington. And now Pete Kwiatkowski will be measured against what Wilcox was able to accomplish. Likewise, Pendergast probably should have been USC's MVP for what he did with the Trojans in one season. Now Wilcox has to take over an outfit that is losing a lot of playmakers to the NFL. No doubt, he'll be compared to his predecessor. Just as Pellum will be compared to Aliotti, and whoever fills the seats at Stanford and UCLA will be compared to what Mason and Spanos were able to accomplish.
The guard is changing, as it does every year in college football. This year it might be the Pac-12 defenses that take a step back.
February, 3, 2010
2/03/10
10:57
AM PT
By
Pedro Moura
| ESPNLosAngeles.com
Letters of intent have been arriving into Heritage Hall all morning. Here's what we know for sure.
There are more, as ESPNU reports USC has received 17 LOI's. Meanwhile, the Trojans have officially lost out on at least two prospects:
Linebacker Jordan Zumwalt (Huntington Beach/Edison) didn't broadcast his announcement, but he gathered some publicity nonetheless, deciding on UCLA after heavy flirtations with Stanford.
Safety Sean Parker (Harbor City/Narbonne) chose Washington — coached by former USC assistant Steve Sarkisian — over USC and Michigan.
Still yet to be announced are the decisions of a number of top prospects, including:
Offensive tackle Seantrel Henderson (St. Paul, Minn./Cretin-Durham Hall)
Offensive tackle Chaz Green (Tampa, Fla./Tampa Catholic)
Linebacker Josh Shirley (Fontana/Kaiser)
Tight end Christian Thomas (Palmdale/Highland)
Safety Dietrich Riley (La Canada/St. Francis)
More as it happens.
February, 3, 2010
2/03/10
12:34
AM PT
By
Pedro Moura
| ESPNLosAngeles.com
It's officially National Signing Day. There will be lots to talk about in the coming day, so let's get some of it out of the way here. Here's what we know about who's going where:
Linebacker Hayes Pullard (Los Angeles, Calif./Crenshaw) has told ESPN Rise's Greg Biggins he will be a Trojan. A week ago, this would have been a sizable surprise, but rumors pointed the 6-foot, 220-pound Pullard toward Troy in the last 48 or so hours. UCLA has signed many prominent Crenshaw products in recent years, so Pullard's signing will represent a significant coup for the Trojans — especially when it comes to 2011 prospect De'Anthony Thomas. Thomas, a likely five-star recruit, has both USC and UCLA high on his list now. Plus, Pullard is USC's first signing at linebacker.
Nickell Robey, a cornerback from Frostproof, Fla., is also coming to USC, his father said Tuesday night. Robey was recruited by USC coach Lane Kiffin when he was at Tennessee, and his interest in the Kiffin regime carried over to USC. He's small at 5-8, 165 pounds but ultra speedy. His stature and home state will remind some of current sophomore cornerback T.J. Bryant.
The players who are expected to fax their letters of intent to Heritage Hall on Wednesday without much debate include receiver/athlete Robert Woods (Gardena, Calif./Serra), quarterback Jesse Scroggins (Lakewood, Calif./Lakewood), and defensive tackle George Uko (Chino, Calif./Don Lugo). The full list, as it stands now, has 10 solid verbal commitments — plus two early enrollees in Kyle Prater and Dillon Baxter.
Now, for the players who still have decisions to make:
It starts with juco linebacker Glen Stanley, who will make his announcement in his hometown of Ocala, Fla., at 5:30 a.m. PST. Stanley will likely decide between USC and Tennessee. He's currently committed to the Volunteers.
Safety Dietrich Riley (La Canada, Calif./St. Francis), profiled in the Los Angeles Times this week, has wavered between USC and UCLA all throughout the process. It's also possible he could decide on another high-profile school like Notre Dame. His announcement comes live on ESPNU at 1:30 p.m.
The ever-popular Seantrel Henderson (St. Paul, Minn./Cretin-Derham)will announce his decision on CSTV at 12 p.m from New York City. Henderson has not given any inclinations to where he will sign, although recent reports have him pegged as a Trojan. We won't know until he says for sure, but Henderson is surely a physical specimen at 6-8, 300 pounds. He plays basketball too.
Two more players who will decide between USC and UCLA, linebacker Jordan Zumwalt (Huntington Beach, Calif./Edison) and Giovanni Di Poalo (Ventura, Calif./St. Bonaventure) will not make formal announcements. Instead, both Zumwalt and Di Poalo will just send their letters to the schools and let them spread the word.
Other announcements will come from Sean Parker (Harbor City, Calif./Narbonne) at 6:45 a.m., Florida product Chaz Green (Tampa, Fla./Tampa Catholic) at 12:30 p.m., and Josh Shirley (Fontana, Calif./Kaiser) and Christian Thomas (Palmdale, Calif./Highland) at 1 p.m. Georgia product Markeith Ambles (McDonough, Ga./Henry County) is scheduled for an 8 a.m. announcement, but some reports have him holding off on a decision. Ambles, deciding between North Carolina, USC, and Tennessee, tweeted Tuesday night: "

who will i be tomorrow a vol, trogan, or tar heel!!!!!!" Yes, he mispelled "Trojan." And he's wearing a UNC hat in his Twitter background.
February, 2, 2010
2/02/10
3:37
PM PT
By
Pedro Moura
| ESPNLosAngeles.com
National Signing Day watch continues, with less than 24 hours left until the faxes will begin to roll into USC's Heritage Hall offices. The latest updates on recruiting and other USC-related news in Tuesday's notes-heavy edition of links and notes:
After practice Monday, USC coach Kevin O'Neill spoke candidly about the aftermath of the Stan Holt situation, expressing bewilderment at how the firing had exploded over the weekend.

"It's just incomprehensible that that

would happen," O'Neill said. "I've never heard of that happening before — anywhere. I was the most stunned guy in the whole building." Holt, in his third year with the program, went from essential unknown to internet sensation via one outburst.

What exactly was said by Holt to official Bobby McRoy? No one knows, exactly, but USC forward Nikola Vucevic added his perspective. "I've been told he said something to the referee, but I don't believe it was something bad," Vucevic said. "I don't know what he said, but Stan is a really good man and I like him a lot. I felt bad when he got a technical and when Coach told him to go to the locker room, and I felt bad that he was fired, but he's still a good friend of mine."


O'Neill refused to blame the loss to Oregon on the technical, saying it stemmed from a variety of factors. One of those, he says, is his team is just flat-out tired.

"What's happening with us is we've got guys playing large, large, minutes every game, and we appear to get a little bit worn down at times — not just physically, but mentally," O'Neill said. "It takes a toll when you're playing against fresh guys all the time. It's very difficult." Save for guard Dwight Lewis, all of the Trojans' starters are playing significantly more minutes this season than they have in the past. Vucevic is averaging 34 minutes per game after recording 11 minutes per contest last season.
On the topic of signing day, rumors are swirling about a number of recruits who are still deciding between USC and UCLA. Offensive lineman Giovanni Di Poalo (Ventura, Calif.) told USCfootball.com his decision would come down to those two schools; defensive back Dietrich Riley (La Canada, Calif.) visited both schools over the weekend and could choose either. Linebacker Jordan Zumwalt (Huntington Beach, Calif.) is the same way, although Stanford could play a role in his final decision. We'll have more on their choices and all of National Signing Day as it relates to USC on the blog.
2013 TEAM LEADERS
| TEAM | RUSH | PASS | TOTAL |
| --- | --- | --- | --- |
| Offense | 174.2 | 218.1 | 392.3 |
| TEAM | PF | PA | MARGIN |
| Scoring | 28.5 | 21.3 | 7.2 |