July, 17, 2012
7/17/12
4:56
PM PT
By
Pedro Moura
| ESPNLosAngeles.com
USC receiver Robert Woods is another watch list -- this time for the Biletnikoff Award, a trophy he was a finalist for a season ago.

The junior is one of 48 players nominated for the award that goes to the best receiver in the country each season. Last season, he lost out to Oklahoma State's Justin Blackmon but made it all the way to the ceremony in Florida.

Woods has already been named to the Maxwell Award watch list this preseason.

USC punter Kyle Negrete also earned a preseason honor Tuesday, as he was nominated for the 2012 Allstate AFCA Good Works Team, meant to reward "college football players who go the extra mile for those in need."

Negrete, a senior walk-on, was one of 52 FBS players on the initial list, including representatives from UCLA, Arizona State and Arizona.

The list will eventually be narrowed down to 11 players who make the official team.
December, 26, 2011
12/26/11
5:00
PM PT
By
Pedro Moura
| ESPNLosAngeles.com
We've looked at the USC Trojans' top 10 moments from 2011 and the top 10 performers as well. Now, with the final days of the year approaching, we take a look at the five most pressing questions surrounding Lane Kiffin's Trojans in 2012. We'll unveil one each day this week, counting down from No. 5 today to No. 1 on Friday.
It's also worth looking back at our five questions for 2011 from this time last year. Most of them were answered definitively in one direction or the other. Here are No. 5, No. 4, No. 3, No. 2 and No. 1.
Here, then, is No. 5: Where will USC rank in the 2012 Associated Press preseason top 25?
The Trojans finished their 2011 regular season ranked fifth in the country by the AP -- in a definite surprise to those not following the team. It was a quick rise, to be sure, as USC had been ranked 18th just three weeks earlier and unranked a month before that.
But the 10-2 Trojans were deserving. Only two teams with fewer losses were below them in the top 25, and one of those was a Houston team that had just been markedly upset.
So, with this season now out of the way, where is USC going to start next year? It's important to note that the previous season's end-of-year rankings consistently play a large role in each preseason edition. Each of the top-five teams this year, for example, finished last year in the top 10.
Let's pencil in the winner of the upcoming national championship game, then, as the likely No. 1 -- especially if it's LSU, who returns a large portion of its lineup. Even if Alabama pulls off the win, the Tigers will be hard to overtake, actually.
But the other top teams all lose a lot, including No. 3 Oklahoma State (likely
Brandon Weeden
and
Justin Blackmon
) and No. 4 Stanford (
Andrew Luck
). No. 6 Oregon returns plenty, but
LaMichael James
may not be returning, and it's somewhat unlikely voters would place the Ducks over the Trojans to start the year -- even if
Chip Kelly
's squad does beat Wisconsin in next week's Rose Bowl.
The Badgers also lose their quarterback -- and potentially their running back, as
Montee Ball
has said he'll determine whether to declare for the draft based on the draft grade he receives from the NFL.
There just aren't too many more teams to compete with. Ohio State was a possibility under
Urban Meyer
, but they'll see a drop-off because of NCAA sanctions. Georgia has a lot of 2012 potential, but not enough to jump a 10-2 team returning its best player in
Matt Barkley
.
The short answer, then, is this: Expect USC to be ranked either second or third in the country next August, behind LSU and maybe Alabama, depending on what happens in next month's national championship game between LSU and Alabama, who returns at Alabama and Oregon and spring practices at USC and those schools.
Check back Tuesday for question No. 4, which deals with NCAA-sanctioned scholarship limits and how they'll affect USC next year.
December, 14, 2011
12/14/11
2:13
PM PT
By
Pedro Moura
| ESPNLosAngeles.com
USC receiver Robert Woods and left tackle Matt Kalil were voted Associated Press 1st-team All-Americans, it was announced Wednesday.

Woods was voted of the nation's top two receivers alongside Oklahoma State's Justin Blackmon. Kalil joined Alabama's Barrett Jones as a top tackle.

Trojans quarterback Matt Barkley was voted a 3rd-team All-American, behind Baylor's Robert Griffin III and Stanford's Andrew Luck.

Woods, a sophomore, set a new school and Pac-12 conference record in 2011 with 111 catches for 1292 yards and 15 touchdowns. He started the year on a torrid streak that had him on a pace to challenge all-time national records. Kalil, a redshirt junior, didn't allow a sack throughout the season and led a USC offensive line that broke in three new starters.

Barkley, a junior, challenged for season-ending performance awards after finishing the season with impressive performances against Oregon and UCLA. His final 2011 numbers included 39 touchdowns, seven interceptions and 3,528 yards.

Both Kalil and Barkley are facing decisions whether or not to declare for next April's NFL draft.
December, 10, 2011
12/10/11
3:22
PM PT
By
Pedro Moura
| ESPNLosAngeles.com
USC receiver
Robert Woods
was named an ESPN.com All-American on Saturday, one of two pass-catchers in the country to earn such honors.
Woods, a sophomore, finished the 2011 season with 111 catches for 1,292 yards and 15 touchdowns for the Trojans, working out to an average 108 receiving yards per game. He played much of the season bothered by nagging ankle, shoulder and elbow injuries but was still voted one of three finalists for this year's Biletnikoff Award, given annually to the country's best receiver.
He was named alongside Oklahoma State's
Justin Blackmon
in Saturday's
list of the country's best players
. Other offensive players included on this list included quarterback
Andrew Luck
and running backs
Trent Richardson
and
Montee Ball
.
Woods was the only Trojan named an All-American, although transfer
Jarvis Jones
made it as a sophomore linebacker for Georgia. Left tackle
Matt Kalil
was beaten out by Alabama's
Barrett Jones
and Oklahoma State's
Levy Adcock
.
November, 27, 2011
11/27/11
6:41
PM PT
By
Pedro Moura
| ESPNLosAngeles.com
Notes and quotes from Trojans coach
Lane Kiffin
's conference call Sunday looking back at USC's 50-0 win over UCLA at the Coliseum and looking forward to the offseason and next year:
As always, Kiffin said he didn't notice much difference while watching the tape a day after the game, but he did have some positive things to say about the overall development of his team in relation to the caliber of Saturday's win. He was pleased, essentially, that the Trojans' best game came in their last -- especially considering the circumstances and that USC knew when its last game was going to be from the start. "To have a game like that in the middle of the season is always good, but to do it in the last game..." Kiffin said, trailing off.
Kiffin also said the 2011 Trojans made him better as a coach and a person, saying that he had taken a lot from the group's perseverance over this season and last -- but especially this season. As he showed in his postgame news conference, the 36-year-old coach was truly emotional about the victory and not afraid to show it. "Whenever people put a lot of energy and passion into something, you get more out of that and you get a feeling of emotion," Kiffin said. "The more you do this and the more you're around, the more you see the players and you know these guys will be telling this story forever."
He did take the opportunity to take one last parting shot at the NCAA at the conclusion of the season, questioning once again the fairness of banning USC from bowl games because of Reggie Bush's misdeeds several years ago. He used the same argument he has used in the past. "What was the purpose of taking away bowl games from these 18-year-old kids who were in fifth grade when those things took place?" Kiffin asked. "It's really a shame."
Who's better, Robert Woods or Marqise Lee? Kiffin seems to think it's the latter, calling it "pretty amazing" that Woods is a co-favorite for the Biletnikoff Award with Oklahoma State's Justin Blackmon and is arguably the second-best receiver on his own team. Is it a motivating tactic, meant to get Woods to come back with a vengeance in what will likely be his final college season next year? Perhaps, but Kiffin can at least make the argument that Lee's better. In the final five games of 2011, Lee totaled 703 yards -- good for 140-plus per game -- and seven touchdowns. His 1,143 yards on the year are 16th in the country. But Woods was clearly bothered by ankle, shoulder and elbow injuries this year, which we'll address later.
One storyline to follow: Kiffin said Sunday the Trojans were the "most disliked" program in the country entering into the 2011 season but are no longer anywhere near that after their 10-win performance. He said he had been talking to a number of people around college football over the last few weeks and had come to a consensus that USC no longer fits that ball heading into 2012. "They got the entire country to really fall in love with them," Kiffin said of his Trojans.
Two players who were expected to be seniors on the 2011 team have decisions to make about their futures this offseason in defensive tackle Armond Armstead and cornerback T.J. Bryant. Kiffin says he expects Bryant to transfer to an FCS school after he graduates in May so he can play somewhere for a season, but Armstead's decision isn't as clear-cut. He could transfer in a similar manner to Bryant, he could come back for his fifth year and presumably get cleared to play for the Trojans or declare for the NFL draft and hope to prove himself to teams in the pre-draft process. "He has a big decision to make here," Kiffin said. "He's a great player and we would love to have him back here next year and have him make a run with us. Or he'll make a decision and go be a great NFL player."
Final notes: Kiffin said a number of players would be undergoing minor surgeries in the offseason, including Woods (ankle) and running back Amir Carlisle (knee). ... Kiffin said he hoped to bring in five or six mid-year enrollees in January -- either junior-college players or early high-school enrollees. ... Kiffin said he texted quarterback Matt Barkley "first thing in the morning" Sunday to remind him that he's only 19 touchdown passes away from tying Matt Leinart's career mark.
November, 21, 2011
11/21/11
3:03
PM PT
By
Pedro Moura
| ESPNLosAngeles.com
USC receiver Robert Woods was named one of three finalists for the prestigious Biletnikoff Award on Monday.

Woods, a sophomore, was nominated alongside Oklahoma State's Justin Blackmon and Oklahoma's Ryan Broyles. Because Broyles is out for the season and has been since last month, it would appear Woods' primary competition is Blackmon.

But Blackmon won the award as a sophomore last season and is considered the favorite again this time around.

Woods' numbers have tapered off in the second half of the season as he has coped with nagging ankle and shoulder injuries, but he's still going to finish with quite the season. In 11 games, he has 99 catches for 1,179 yards and 13 touchdowns.

The last USC receiver who was named a Biletnikoff finalist was Dwayne Jarrett in 2005; Oregon State's Mike Hass won that year.
October, 3, 2011
10/03/11
9:24
PM PT
By
Pedro Moura
| ESPNLosAngeles.com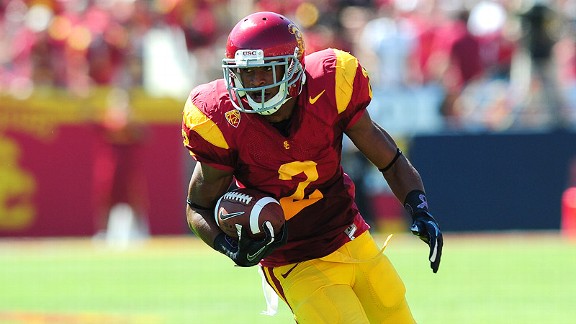 Chris Williams/Icon SMIRobert Woods had his best game of the season yet last weekend against Arizona, catching 14 passes for 255 yards.
Buoyed by a 14-catch, 255-yard game in Saturday's 48-41 over Arizona, USC receiver
Robert Woods
has had a tremendous start to the 2011 season -- so tremendous, in fact, he is starting to put himself in position to test some all-time NCAA receiving records.
Through five games, Woods is on pace to catch 132 balls for 1,793 yards and 14 touchdowns, which, in the first two categories, would not be far off the record-setting pace. And that would be in USC's 12 games. If the Trojans were allowed to play in a potential conference championship and bowl game, Woods would have a legitimate chance to break both of those records.
The all-time receptions record is 155, set in 2009 by Bowling Green's
Freddie Barnes
, with Houston's
Manny Hazard
coming in second with 142 in 1989, back in the day of
Andre Ware
.
For receiving yards, the FBS record is held by Nevada's
Trevor Insley
, who caught 134 passes for 2,060 yards in 1999, with Louisiana Tech's
Troy Edwards
(1,996 yards) and Texas Tech's
Michael Crabtree
(1,962) coming in second and third.
Woods won't get to those numbers. But he could come fairly close, and he stands to break Oklahoma State's
Justin Blackmon
's all-time record for sophomores if he keeps up his current pace. And, maybe more important, he has a great chance of shattering USC's all-time single-season records. To pass
Keyshawn Johnson
's marks of 102 catches and 1,434 yards, all he'd have to do the rest of the season is average 6.7 catches and 98 yards -- a cinch when considering he has put up averages of 11 catches and 149 yards so far.
He's also probably going to lead the nation in both of those categories. At this point in the season, only one FBS player, Western Michigan's
Jordan White
,
is within 100 yards of him in total receiving
, and only one player, again White, is within a dozen catches.
August, 3, 2011
8/03/11
12:58
PM PT
By
Pedro Moura
| ESPNLosAngeles.com
Only one day (!) remains until fall camp begins for the Trojans. We've been previewing the biggest questions that USC must answer in the month between camp and the season opener. Read the first nine questions here, covering such topics as freshmen on both side of the ball, position switches and recovering from unexpected.
The 10th, and final, question is this: Could junior quarterback Matt Barkley made a legitimate run for the Heisman Trophy in what very well might be his last season as a Trojan in 2011?
It's one of the best off-the-field storylines to follow in sports: the race for the Heisman Trophy. And it's even more interesting than usual for the Trojans and their fans this season, because it's likely that, in Barkley, USC will have a true competitor for the award for the first time in six years.
Barkley's not the favorite. That role goes to Stanford's
Andrew Luck
. But he's probably, at this point, somewhere in the bottom half of the top 10-candidates nationwide, behind Luck, Oregon's
LaMichael James
, Boise State's
Kellen Moore
and the two quarterbacks from the state of Oklahoma,
Landry Jones
and
Brandon Weeden
. Some would argue Auburn's
Michael Dyer
, Alabama's
Trent Richardson
and Oklahoma State's
Justin Blackmon
are also in front of him.
But what would Barkley have to do this season to jump ahead of a few of those guys and make a serious run?
First, USC would need to have a very good, if not great, season. Any less than 10 wins, coupled with the lack of a bowl game, would eliminate him from consideration. He probably needs to lead the Trojans to an 11-1 or 12-0 season to really have a chance. He also needs to bring his interception total down from 12 to fewer than 10 and up his touchdown total at least to 30.
He also needs to have big games in USC's big games and lead an upset over Stanford or Oregon while hanging tough with each of those schools' candidates.
These conditions are demanding, and Barkley would have a much better chance if he were to stay for his senior season because of the bowl-game aspect and the extra year of experience. But that seems unlikely at this point. A good goal for this season, then, is to simply get to New York for the Heisman Trophy presentation as one of four finalists.
The last Trojan to do so was
Reggie Bush
, in 2005, when he won the award with the most votes since
O.J. Simpson
in 1968.
But Bush's honor has since been forfeited.
The last Trojan to win the award who still remains in the record books is
Matt Leinart
in 2004.
As for competition on his own team, Barkley won't have to worry too much about splitting votes with any teammates. The closest thing to another candidate has is sophomore receiver/returner
Robert Woods
, who has nothing more than an extreme outside chance.
Barkley could easily get to New York. Winning the trophy would be a lot more difficult.
Football camp coverage begins Thursday.
2014 TEAM LEADERS
| TEAM | RUSH | PASS | TOTAL |
| --- | --- | --- | --- |
| Offense | 163.3 | 284.3 | 447.5 |
| TEAM | PF | PA | MARGIN |
| Scoring | 32.8 | 17.5 | 15.3 |