September, 11, 2012
9/11/12
7:50
PM PT
By
Pedro Moura
| ESPNLosAngeles.com
LOS ANGELES --
USC Trojans
coach Lane Kiffin did a good job of passing off Isiah Wiley's academic ineligibility as an expected casualty at the time it was announced last month.
"The blow is not as big, I think, because of the way we went about it," Kiffin said at the time. "We had kind of moved forward, as you can tell, by not having him here in camp."
Unfortunately, it has been difficult to prove those words true in the early going. The second corner spot Wiley occupied in the second half of last season for the USC Trojans has been the team's weakest link this season, with both Hawaii and Syracuse consistently attacking whatever side of the field
Nickell Robey
is not on.
So far, it's the only position on the field where the Trojans don't have at least a league-average performer. Sophomore
Anthony Brown
started Week 1 and junior
Torin Harris
was the primary No. 2 guy in Week 2, but neither player was really effective. Harris was beaten badly on two touchdown plays against the Orange. Freshman
Kevon Seymour
has had good and bad moments in his first two collegiate games -- more bad than good against Syracuse.
What is the long-term plan, then?
Harris will get another chance this week against Stanford, with Brown, Seymour and senior
Brian Baucham
rotating in behind him. Kiffin insisted this week that
Josh Shaw
, the sophomore safety who transferred from Florida last winter, does not figure into his plans for the position, even though USC has plenty of depth at safety and Shaw is only a third-stringer there currently.
Kiffin didn't say it in as many words Saturday, but he attributed Harris' poor play in the Syracuse game largely to rust, since he hadn't played a college game in almost a full year. And there's some validity to that. But Harris has simply not been a consistent solid starter since arriving at USC in the summer of 2009.
Against Stanford on Saturday, the Trojans should be all right at corner, because the Cardinal run a lot of two-tight end sets and USC will be able to keep its linebackers on the field more than in the last two games.
August, 13, 2012
8/13/12
2:09
PM PT
By
Pedro Moura
| ESPNLosAngeles.com
Here's the sixth post in our 'film study' series.
Every other day from now until Aug. 25, we're watching one of the games USC played last season and putting up a set of pertinent-to-this-year notes, going of course in chronological order from the Minnesota season opener to the UCLA season finale. At the end, we'll have one last post with our overall takeaways from the re-watching. By then, it'll be the week of this year's opener.
We've already done USC's 19-17 win over Minnesota, 23-14 win over Utah, 38-17 win over Syracuse, 44-23 loss to Arizona State and 48-41 win over Arizona. Here, now, are our five notes — four big things and a bunch of little ones — from USC's 30-9 win over Cal on October 13, 2011, which marked the halfway point of last season.
Bailey's best
He got a little lucky, but
Dion Bailey
played smart ball in creating three turnovers in this game. He forced a fumble from
Keenan Allen
on Cal's fourth play of the game to get the Trojans good field position, then prevented a Bear touchdown at the end of the second quarter with a leaping end-zone interception.
In the fourth, when
Zach Maynard
was leading a little Cal run, Bailey calmly stayed the course in his zone coverage and seized on the opportunity when the ball headed toward him.
Two things of note: We've wondered why Bailey got so many offseason honors compared to his teammate
Hayes Pullard
when it appeared as if Pullard was better than Bailey in each of the first five games of the Trojans' 2011 season. This game serves as an answer in its own right -- there aren't many collegiate defenders capable of creating three takeaways in a single game.
And the other thing: Bailey showed how aware he is when he came up with the pick in the end zone. Instead of trying to make a break for it, he calmly kneeled to give the Trojans a touchback.
Part of Bailey's effectiveness also had to do with the fact that there was an actual pass rush from USC in this game. That wasn't the case very often for the Trojans before this point.
October, 27, 2011
10/27/11
11:42
AM PT
By
Pedro Moura
| ESPNLosAngeles.com
USC cornerback
Isiah Wiley
, a transfer from juco Arizona Western College, has played significant snaps in two games this season, and the two have been the Trojans' best defensive performances of the year.
Is there a correlation between the two? Most signs point to yes, but Wiley says no.
"Naaaah," Wiley says, smiling. "I don't think so. I think guys are just stepping up because they know how important these last couple games have been. Everybody's finally stepping up and the defense is finally coming together."
[+] Enlarge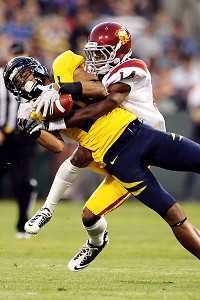 Ezra Shaw/Getty ImagesJunior college transfer Isiah Wiley has seen time in the nickel package and has flourished.
That's probably true, but the 6-1, 185-pound Wiley has a bigger part in that than he's willing to admit. Since he began playing nickel corner in the Cal game two weeks ago, the Trojans have allowed just two offensive touchdowns and have upped the ante on their run defense even more.
And, what's more, they faced three dominant receivers in the two games, yet only one of them went off: Cal's
Keenan Allen
. It was a big change from the second game of the year, when Utah's
DeVonte Christopher
-- a lower-rated player than all three guys USC's faced recently -- found plenty of receiving room against the Trojans and finished with 11 catches for 136 yards.
The difference is easily discernible. In that game, Utah offensive coordinator
Norm Chow
did everything he could on every play-call to get Christopher away from USC No. 1 corner
Nickell Robey
at the line of scrimmage. When he was isolated one-on-one with then-starter
Torin Harris
or nickel back
Tony Burnett
,
Jordan Wynn
delivered a pass to him time and time again.
USC's second and third corners were torn up, consistently.
Enter Wiley, who first started to shine during the bye week after the squeak-by win over Arizona earlier this month. He's inexperienced at this level, sure, but he just doesn't get flat-out beat as easily as those two. He hangs around the receivers much longer, hasn't gotten speed-burned yet and can make an open-field tackle if he needs to.
It's clearly what head coach
Lane Kiffin
and the Trojans envisioned when they recruited him out of junior college as a prospective early enrollee. Wiley would enroll in January, learn the defense in spring practice and start right away in September.
October, 14, 2011
10/14/11
12:11
AM PT
By
Pedro Moura
| ESPNLosAngeles.com


SAN FRANCISCO -- It's a common practice for head coaches to hype up their opponents immediately before and after each game -- regardless of the validity of the comments.

At the time of the game, every team USC plays is a good one, according to Lane Kiffin. Only weeks later is it revealed what he actually thinks about each team.

So what, then, will be the eventual assessment of this California team that the Trojans beat handily at AT&T Park on Thursday night? This game was supposed to be a valuable measuring stick for USC heading into its toughest two-week stretch of the season at Notre Dame and against Stanford, but does it actually mean much?

Cal had two dominant players on the field Thursday: receivers Keenan Allen and Marvin Jones. The Bears' defensive linemen had their moments and safety Sean Cattouse did as well, but there were few other true threats on the field for Jeff Tedford's team.

Read between the lines of what USC said after the game, and the Trojans were saying the same thing. Kiffin said Cal's front seven was good but said nothing of their secondary. Linebacker Chris Galippo, in attempting to explain how the Trojans suddenly produced five turnovers in one game when they had five in the first five games, gave an even better clue.

He was asked about Dion Bailey's two interceptions, both of which appeared to come on relatively easy plays for the redshirt freshman linebacker.

"I don't want to take anything away from him, but (Cal quarterback Zach) Maynard just telegraphed the heck out of his passes," Galippo said. "Dion played an awesome game, obviously, having two picks, but he was just in the right spot."

Maynard did not have an impressive game. Even much-maligned Notre Dame signal-caller Tommy Rees, for example, can't be counted on to make the type of mistakes Maynard did against the Trojans on Thursday.

And that's the key. Sure, the Trojans played well against Cal, better than they've played in most of their games this season. Receiver Marqise Lee was on his way to a breakout game before he got hurt. Running back Curtis McNeal was downright dominant in the second half. There were no huge breakdowns from the defense for the first time this season.

But for those looking at that game in attempt to find evidence that Kiffin's up-and-down USC squad is ready to beat Notre Dame in South Bend in nine days, keep looking.
October, 12, 2011
10/12/11
11:46
PM PT
By
Pedro Moura
| ESPNLosAngeles.com
1. Fresh legs: This should be the freshest USC team you see all season long, what with the bye week and all. Will that make a difference come game time? Only time will tell, but Lane Kiffin made a point of not running this team super-hard over the past few days. Monday's and Tuesday's practices were both no-pads, and the Trojans really did everything they could to get as many guys healthy as possible for the toughest three-week stretch of the season that begins Thursday with Cal, Notre Dame and Stanford. The Bears, for what it's worth, played a Thursday night game a week ago and had a full week to recover from that debacle.

2. The 3-4 defense: Cal, coached defensively by former NFL coordinator Clancy Pendergast is the first 3-4 team the Trojans will play this season and the Bears' strength defensively is in their stout defensive line and playmaking linebacking corps. But the Bears don't stick to the traditional 3-4 -- from what USC has seen on film over the last week and a half, they actually mix it up an inordinate amount and do everything they can to confuse offenses. What will the defensive front do against a suspect USC offensive line? That's your biggest worry heading into this game if you're a Trojan fan. Three out of five guys on the line have never faced a 3-4 defense in college, which is certainly cause for concern.

3. George Farmer: He's been the talk of the town this week at USC practice and all over the conference, really, with out-of-town reporters phoning in to Kiffin's conference call Tuesday just to ask about Farmer and his progress. It's not very likely his play will change the outcome of Thursday's game, but it'll be fun to pay attention to, nonetheless. And there's always the potential that, as Kiffin and his staff are quite clearly hoping for, Farmer breaks one of his first touches off for a big gain and gives USC an early boost against the Bears. Here's the thing: Cal doesn't really know anything about Farmer's running style in the backfield. There's no film of him ever having played the position, unless the Bears somehow hacked South L.A. Pop Warner footage from six or seven years ago.

4. Select reserves: USC would be dramatically helped if two players were able to suit up on Thursday: linebacker Lamar Dawson (ankle) and cornerback Torin Harris (shoulder). Neither guy has participated fully in practice this week but both could conceivably play; Kiffin called both game-time decisions on Tuesday. Dawson's key because he allows Chris Galippo, the starting middle linebacker, to stay fresh and play a better all-around game. Harris is important because the Trojans need three dependable corners available so that they can use a nickel defense, which they didn't do a single time when he was out against Arizona.

5. The receiving duos: A week ago, when Cal played Oregon on ESPN on that Thursday night, the broadcast team of Rece Davis and Jesse Palmer agreed that the Bears' pass-catching tandem of Keenan Allen and Marvin Jones was the best in the Pac-12 conference. Naturally, Kiffin took offense to that, and he brought it up to the media over the weekend while seeming to believe that his own duo of Robert Woods and Marqise Lee is better. The stats are similar, with Woods-Lee ahead by seven catches but Allen-Jones ahead by 39 yards; thus, the best way to prove which one's indeed better than the other is, of course, on the gridiron on Thursday. USC quarterback Matt Barkley and Cal quarterback Zach Maynard will likely throw the majority of balls in the direction of one of those four players.
October, 10, 2011
10/10/11
10:14
AM PT
By
Pedro Moura
| ESPNLosAngeles.com
Here's Trojans coach Lane Kiffin talking to the media after Sunday's practice, talking over Cal's receiving duo of Keenan Allen and Marvin Jones, the impressive play of redshirt freshmen linebackers Hayes Pullard and Dion Bailey and other topics leading into Thursday's game against the Bears.

See the video here:


October, 9, 2011
10/09/11
7:25
AM PT
By
Pedro Moura
| ESPNLosAngeles.com
USC's struggles over the last few years of Pac-12 play don't really apply to the California Bears.

Jeff Tedford's squads, while consistently solid nationally and often a force in the conference, have just not been an issue for the Trojans of late. In 2008, USC shut down Cal's offense entirely and won 17-3. In 2009, the Trojans blew the Bears out, 30-3, in a game dedicated to Stafon Johnson, who had dropped a bench-press bar on his throat in the week leading up to it. And, last year, at the Coliseum, USC led 42-0 at halftime before pulling away with a comfortable 48-14 win.

Going back further, the Trojans haven't lost to Cal since a triple-overtime game in Berkeley in 2003, a game in which future Super Bowl-winner Aaron Rodgers was replaced in the second half becaise of poor play. The 2011 Bears starting signal-caller, Zach Maynard, has been replaced by a backup, Allan Bridgford, twice this season. But those appearances came later in the game, in one case because of an injury and in the other because of a blowout.

Maynard, a Buffalo transfer, has proven to have well-developed chemistry with his top two receivers in Keenan Allen and Marvin Jones. Running back Isi Sofele stepped right in for Shane Vereen, who left to the NFL, but the Bears defense has been the primary issue at fault for the team's 3-2 start.

Cal was 3-0 at first, after a trio of non-conference games. But Keith Price and Washington found a way to beat the Bears last month in Seattle, and then the Bears again struggled to keep up with Oregon last week in Eugene. The latest problem is the pass defense, especially now, with top corner Marc Anthony out for the foreseeable future and a true freshman, Stefan McClure, in for him.

With how much trouble USC's quarterback-receiver tandem of Matt Barkley and Robert Woods has caused some better defenses so far this year, it's not hard to imagine a situation where Woods surpasses 200 receiving yards on Thursday at AT&T Park.

Cal's run defense allowed a ton of yards (239) to Oregon's LaMichael James on Thursday, but that's not indicative of its normal play. Washington running back Chris Polk gained three yards a carry against the Bears in that Huskies win, and Fresno State's Robbie Rouse and Colorado's Rodney Stewart both ran the ball poorly earlier this year, too.

A Marc Tyler-dominated day is not likely for USC in what promises to be an unusual environment at AT&T Park, where only a handful of Trojans have played a football game previously.

A Barkley-to-Woods one is.
October, 16, 2010
10/16/10
8:15
PM PT
By
Pedro Moura
| ESPNLosAngeles.com
Notes, quotes and video from USC's 48-14 win over Cal at the Coliseum:
Saturday's victory was important for USC in that it stopped a rare two-game losing streak for the squad, but the way the Trojans beat the Bears was the story of the day. USC outscored Cal 42-0 in the first half and outgained the Bears by a margin of 602-245, and the outcome was never really in doubt once the Trojans scored. "To win was huge," Coach Lane Kiffin said afterward. "To win in this style was really, really big -- against a good team."
Of course, as soon as USC put together an all-around solid performance like this one, the comparisons to Trojan teams of old began to be thrown out. "It reminded me of the way we used to play here," defensive coordinator Ed Orgeron said. "There was no doubt about that. I had that feeling on the field." Said USC right tackle Tyron Smith, a junior who hardly practiced this week with a sprained ankle but made the start and played well: "This feels like the same team that I came in here with and got recruited for."
Running back C.J. Gable hurt his left knee near the end of the game and may -- or may not -- be out for the year, but starter Allen Bradford is also hurt. He said he played the game with a lingering left big toe sprain he suffered Wednesday, but said that was no excuse for his two fumbles on the day. Tyler (seven carries, 79 yards, one touchdown) clearly outplayed Bradford (nine carries, 27 yards), but quarterback Matt Barkley was the top performer for the Trojans once again, completing 68 percent of his passes for a school record-tying five touchdowns and no picks. "Their offense is the best we've faced," Cal coach Jeff Tedford said. "They can do it all."
Defensively, the Trojans were much, much better than they had been at any point this season. And, truthfully, they were a little different, too. Linebackers Chris Galippo and Devon Kennard indicated that the unit was blitzing a lot more than usual, especially at the start of the game. The Bears went the first 18 minutes without gaining a first down. Said Cal quarterback Kevin Riley, asked to explain how USC dominated: "There were some things that caught us off guard up front. But they made a couple plays and we didn't. They got off to the start that we wanted."
While Riley has frequently been the culprit for a variety of poor performances over the past few years in Berkeley, the blame for Cal's dysfunctional offense Saturday went to the receivers as well. Cal's Keenan Allen, Marvin Jones and Jeremy Ross combined to drop a number of key passes as Riley completed just over 50 percent of his attempts. Said Tedford, who earned big praise from Kiffin after the game: "We had a chance to make plays but we have to catch the ball. Someone has to make a play. It's not all the quarterback's fault. It's easy to point fingers at the quarterback but everyone has to make plays."
Individuality was a big deal this week for the Trojans, with a number of players mentioning a need to take care of tasks on an individual basis in order for the team as a whole to perform well. Galippo said it first: "We came in, looked at the film and took a look at ourselves individually. We needed to focus on individual technique, and we did, and that results in great play as a team." Barkley continued: "We need to realize on both offense and defense, it's a team effort, but every individual has to do what they're supposed to do. When we focus on our own jobs, that turns into 11 guys doing the right thing. That's what the offense has done the last two weeks, and the defense did that today."
Cornerback Shareece Wright, a senior leader, hosted a defensive players-only meeting before Thursday's practice to talk over some of the issues the unit has dealt with this year. It worked, obviously. "I told them, 'I'm tired of hearing about how good our defense is not,'" Wright said Saturday. "Before the season, we were talking about how great our defense was, and now, I told them, we can't hear that anymore about our defense. I feel like the team responded very well -- the defense -- to what I talked about."
Maybe the most obvious improvement on defense for the Trojans was an immediate increase in pressure from the defensive line from the first snap of the game on. In retrospect, that appeared to be a pride thing. Said defensive tackle Jurrell Casey, who recorded a tackle for a loss and hurried Riley constantly: "It's really frustrating to be talked down. Every week we've tried to brush it off and play the game we know we can play. Today I think we played that game." On that note, a number of defensive players -- Tyler, too -- said that the Trojans played a lot faster in this week's practice and thus played faster in the game.
Final notes: Cal's 42-point halftime deficit was the worst in Bears history. USC last led 42-0 at the half when it beat Washington 56-0 at the Coliseum in November 2008. ...Running back Dillon Baxter (toes), linebacker Malcolm Smith (knee), tight end Jordan Cameron (knee) and defensive end Wes Horton (back) all missed the game after not participating in any of the week's practices.
***
Kiffin was, with good reason, more pleased with his team's performance Saturday than after any game this season.
See what the coach had to say:
***
USC assistant head coach
Monte Kiffin
had some great comments about the Trojans' defensive play against the Bears.
See everything he had to say, including his thought-provoking remarks on increasing the simplicity of his defense for the players:
2014 TEAM LEADERS
| TEAM | RUSH | PASS | TOTAL |
| --- | --- | --- | --- |
| Offense | 158.2 | 294.6 | 452.8 |
| TEAM | PF | PA | MARGIN |
| Scoring | 35.1 | 23.8 | 11.3 |