November, 28, 2012
11/28/12
11:54
AM PT
When Lane Kiffin was hired by USC nearly three years ago, the idea of Kiffin as the head coach didn't excite USC's fan base nearly as much as did the coaching staff he was putting together.
Kiffin was bringing over his dad, Monte, the father of the "Tampa Cover 2" defense and former USC head coach Pete Carroll's mentor. He was hiring Ed Orgeron, widely regarded as one of the best defensive line coaches and recruiting coordinators in college football. And he nabbed highly regarded running backs coach Kennedy Pola from the Jacksonville Jaguars as well.
It was all supposed to work out beautifully for Kiffin, but as
Matt Barkley
found out this season, things don't always go according to plan.
Monte Kiffin's three seasons as USC's defensive coordinator have been a serious disappointment. The Trojans gave up over 500 yards per game in their five losses this season and gave up the most points, touchdowns and yards in school history in a loss to Oregon. Monte, 72, may be a coaching pioneer but his schemes and coaching technique simply haven't translated to the college game.
Lane Kiffin's track record as an offensive coordinator at USC certainly isn't terrible but it's clear that Barkley and
Robert Woods
regressed this season and he wasn't able to get the most out of a starting unit that had arguably as much talent as any team in the country.
It seems as if USC athletic director Pat Haden is committed to giving Kiffin at least one more season as USC's head coach. Kiffin still has two years left on a contract that pays him around $4 million annually, and USC is still going to be hit with scholarship reductions for the next two seasons. Haden would likely want those funds and a clean slate before seriously considering a run at a new coach.
But the one thing Haden can do in the short-term, both to appease his disgruntled fan base and take some pressure off Kiffin, is insist on bringing in a new offensive and defensive coordinator for the 2013 season.
It's all speculation at this point, of course, but it has me thinking about potential difference-makers. If I were looking to reshape the USC staff, here are four names I would think about:
Jeff Tedford
Possible position: Offensive coordinator, quarterbacks coach
Tedford was fired as Cal's head coach last week after he won a school-record 82 games in 11 seasons. He was Fresno State's offensive coordinator and quarterbacks coach from 1993-1997, where he coached Trent Dilfer and David Carr. He took a similar position with Oregon from 1998-2001, where he coached Akili Smith and Joey Harrington. And while he was at Cal he coached Kyle Boller and Aaron Rogers. Tedford also coached a quarterback by the name of Lane Kiffin from 1994-1996 at Fresno State and was his mentor when Kiffin became an assistant there in 1997. If Kiffin is going to be comfortable with anyone taking over the offense it might be Tedford.
Norv Turner
Possible Position: Offensive coordinator, quarterbacks coach
Turner looks like he is coaching his final games in San Diego and will be searching for a job next season. With no head coaching jobs available for him, he might be open to returning to USC, where was an assistant coach from 1976-1984 and with the Los Angeles Rams under former USC coach
John Robinson
from 1985-1990. Turner's record as a head coach (111-120) may not wow you, but his track record as an offensive coordinator and quarterbacks coach is solid.
Gene Chizik
Possible Position: Defensive coordinator
Chizik was fired as Auburn's coach last week, less than two years after leading the Tigers to the BCS National Championship. It has been a historic slide for Chizik, who went 3-9 this past season at Auburn. If Chizik isn't able to find any attractive head coaching vacancies, he might be inclined to return to his old role as a defensive coordinator, a position he shined in at Auburn and Texas. Chizik was Auburn's defensive coordinator from 2002-2004, and his 2004 unit led the country in scoring defense and was a catalyst in the Tigers finishing the season 13-0 and second only to USC in the final polls. He was then Texas' defensive coordinator from 2005-2006, a team USC fans remember well from their classic 2006 Rose Bowl game. If Chizik can help turn USC's defense around and help them to an undefeated season or a Rose Bowl win, he'll probably get to choose his next head coaching job.
Randy Shannon
Possible Position: Defensive coordinator
Shannon, who is currently the linebackers coach at TCU, was fired as Miami's head coach two years ago after a compiling a 28-22 record in four seasons. Shannon may not have been the perfect fit as Miami's head coach, but he shined as the Hurricanes' defensive coordinator from 2001-2006. His units ranked in the top seven nationally in all but one season. He was an assistant in Miami with Orgeron for one season, before replacing him as the defensive line coach in 1992. He's not only a solid coordinator but also a solid recruiter who could work his way back into a head coaching job by helping turn around USC's defense.
July, 14, 2011
7/14/11
5:50
PM PT
By
Pedro Moura
| ESPNLosAngeles.com
The weeks are counting down until fall camp begins for the USC football team the first week of August. During each of the in-between weeks, we've been offering up an early first look at the 12 scheduled opponents for the 2011 season, in chronological order. We began with Minnesota and Utah, continued the next three weeks with Syracuse, Arizona State, and Arizona, and added Cal, Notre Dame and Stanford recently. We now present Colorado, who the Trojans will play at home on Friday, Nov. 4:
History
: Colorado is the only team USC will face next season that has never beaten the Trojans.
In five all-time games between the two schools, USC has outscored the Buffaloes by a score of 138-24. The closest Colorado has come to the Trojans was a 17-14 squeaker at the Coliseum in 2000; the other four matchups were either USC shutouts or 35-point-plus margin victories.

The last time they played, in 2002, USC and Colorado entered into the game ranked back-to-back in the Associated Press rankings: Nos. 17 and 18. Former high school All-American quarterback
Craig Ochs
missed the game because of a concussion for Colorado, Heisman candidate
Chris Brown
was held below 90 yards rushing for the only time all season and USC's
Carson Palmer
shined to smash the Buffaloes, 40-3.
Offense
: The Buffaloes' offense is built around one of the top running backs in the Pac-12, 5-foot-6, 170-pounder
Rodney Stewart
-- a 1,300-yard rusher in 2010 who has proven more than capable of taking a beating as a workhorse in the backfield, despite his small stature.
Stewart was supposed to have four of five starters on the offensive line returning to block for him, too -- until senior center
Mike Iltis
returned this offseason to focus on academics after suffering a knee injury in the 2010 season finale. Still, the Buffs will bring back three starters on the line, including former state player of the year
Ryan Miller
, considered a potential All-American at right guard. The other two returners are senior left guard
Ethan Adkins
and sophomore left tackle
David Bakhtiari
.
At quarterback, Colorado will start senior
Tyler Hansen
, a talented slinger and capable scrambler who has never started a full season. A Murrieta native, he missed the final five games in 2010 because of a ruptured spleen and started only the final seven games of 2009 after seizing the starting job.
After
Scotty McKnight
was drafted by the NFL's New York Jets, Hansen's top pass-catching option will be sophomore
Paul Richardson
, a high school teammate of
Robert Woods
who was a pleasant surprise as a freshman. Michigan transfer
Toney Clemons
caught a pass in all but one game last season and returns for his senior year in 2011.
Colorado's offensive coordinator is
Eric Bieniemy
.
Lane Kiffin
offered him the same job at USC in July 2010 before hiring
Kennedy Pola
, a nice little built-in storyline for the television broadcast in November.
June, 30, 2011
6/30/11
7:07
PM PT
By
Pedro Moura
| ESPNLosAngeles.com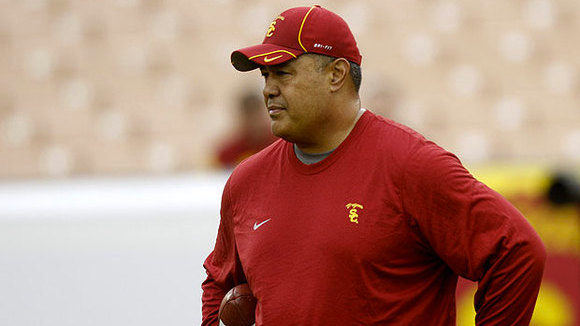 Getty Images
USC running backs coach
Kennedy Pola
is in Samoa this week to support nephew
Troy Polamalu's
summer camp, and he's commemorating the occasion by changing his name back to Polamalu. Pola left a recent voicemail for a reporter this way: "Hey ... this is Kennedy Pola. Er, I mean,
Kennedy Polamalu
."
He has corrected himself a lot these days.
In the second year of his second stint with the Trojans after some time coaching in the NFL, the Trojans' offensive coordinator and running backs coach has decided to formally change his name back to its original form of Polamalu -- leaving behind the shortened version (Pola) he adopted when he first arrived in the U.S. in 1977 at 14 from his homeland of American Samoa.
Why did he change it in the first place, and why is he changing it back now?
"Just like how a lot of immigrants who come to the United States shorten their name, it's just one of those things that people do," Polamalu said by phone last week. "We tried to adjust to the American mainland lifestyle."
He has another perfect example of that in his first name. Polamalu was born on Nov. 22, 1963 and named after the American president assassinated that day,
John F. Kennedy
. Kennedy is a translation of his birth name as well -- his passport still reads "Keneti."
And, about why he's changing the name now -- in short, he always intended to but just never found the opportunity. He has three kids who are 19 or younger, and he has spent all of their lives parenting, coaching and recruiting -- or moving on to his next job in a new city. He hasn't been back to Samoa since his oldest son, Kennedy Christopher --
K.C. --
was born in 1991.
Kennedy's four other siblings contemplated changing their names too, but he was the first, and he has stuck with it through the years. Former Penn State defensive lineman
Al Pola
, two years younger, went by the shortened version in college but has gone by Polamalu for some time now. His son, touted high school running back
Maika Polamalu
, who will play football at Navy next season and reported for camp Thursday, has always used the full version.
March, 24, 2011
3/24/11
6:31
PM PT
By
Pedro Moura
| ESPNLosAngeles.com
Two main stories out of practice today:
Marc Tyler
sounds as if
he's going to miss the spring
because of his hamstring injury, and coach
Lane Kiffin
is
just about set
on moving fall practices to the morning. We'll have more on a new Trojans' signal-caller in a traditional day-after post Friday, but here's the rest of what went on Cromwell Field early Thursday morning, in tidbit form:
There were two more interceptions thrown by quarterback Matt Barkley and another by freshman Cody Kessler. Max Wittek is still interception-free for two days of spring practice. Barkley's first pick came by the hands of sophomore corner Nickell Robey, who has shined early in the spring. His second was a short throw picked off by walk-on Will Andrew, who has been serving as the starting middle linebacker so far with the Trojans' top four 'backers temporarily out because of injuries. "We've gotta do a better job on offense of protecting the ball," Barkley said afterward. "We've gotta get our chemistry down. It'll come."
Kiffin talked about the work Kessler, Wittek and Scroggins must put in throughout the spring to avoid days like they had Thursday, but it's clear Kiffin's mind is focused on the defensive end much more than usual in the spring. The goal is to eliminate the big plays that the Trojans gave up with regularity in 2010, and create more turnovers. It's spring, obviously, and there are a ton of backups and walk-ons on the field, but, so far, it's working pretty well. "It's obviously a huge emphasis," Kiffin said Thursday." I think we led the world in explosive plays last year at any level. It was good to see through two days us get better at it. We're going to get better at it this year." There's more to do, clearly. Many of the players -- especially the new ones -- have a lot of the playbook still left to learn, and the coaching staff is thus introducing it bit-by-bit in the spring. First up is the late-game defense, which the Trojans had well-documented struggles with in 2010. "As soon as we get our whole two-minute in, you'll see it every single day and it will be an emphasis," Kiffin said. "If we just play two-minute defense decent, we're 11-2 [last year.]"
Early enrollee freshman kicker Andre Heidari continued with his strong performance Thursday, two days after making 3-of-3 field goals in live game situations. "He's got a strong leg," said Kiffin, before mentioning freshman long snapper Peter McBride's performance as well."The snapper and the kicker, for guys that were supposed to be seniors in high school, are really at the top of their game ability-wise, from the speed of the snap to the kick and the leg. It's great to have them here already."
USC completed its second straight day of practice in helmets and shorts. The Trojans will move to full pads for Saturday's practice, which could also be back on the team's regular practice field, the real-grass Howard Jones Field. They have been practicing on the turf of Cromwell Field this week because of heavy rain the nights before the practices.
Jacksonville Jaguars head coach Jack Del Rio was in attendance alongside son Luke, a sophomore quarterback at Episcopal High in Jacksonville. The Del Rios visited with a number of USC assistants after practice, including Kiffin, linebackers coach Joe Barry, running backs coach Kennedy Pola and assistant head coach Monte Kiffin. Del Rio also introduced his son to Barkley. Young 14-year-old quarterback David Sills -- the subject of quite a bit of controversy after the Delaware native committed to USC last year -- was at practice for the second straight day.
November, 13, 2010
11/13/10
11:45
PM PT
By
Pedro Moura
| ESPNLosAngeles.com
TUCSON -- Notes, quotes and video from USC's 24-21 win over Arizona on Saturday night at Arizona Stadium:
Before the Trojans departed Los Angeles for southern Arizona on Friday afternoon, Lane Kiffin made sure to pound one phrase into his players' minds -- and it sure sunk in, as a number of players brought it up after the game Saturday. Per middle linebacker Chris Galippo, Kiffin told the team: " 'When you want to go win a big away game, you gotta pack your defense and you gotta pack your run game.' " Said Galippo: "I think that's what happened today -- both of those showed up." Added strongside linebacker Michael Morgan, who had five tackles: "It was a big win for the defense and a big win for the whole team. It was especially big for the defense because we haven't been playing too well lately."
Marc Tyler ran for a career-high 160 yards on 31 carries, running the ball 17 times in the second half as he wore down the Wildcat defense. Tyler said afterward that he felt "terrible," with the ankle that held him out of much of the week's practices flaring up during the game. Running backs coach Kennedy Pola, he said, kept yelling at him to get back in the game every time he felt like taking a breather. Said Tyler of the likelihood coming into the game that he would carry the ball as much as he did, and with as much success as he did: "I thought the chances of that happening for me were slim to none. I haven't seen anyone run the ball more than 30 times ever." Arizona coach Mike Stoops praised the junior runner postgame: "Marc Tyler was outstanding tonight," he said. "He was very physical and USC is a good blocking team and did a good job at giving him the space he needed." We'll have more from Tyler, including a video interview, further down in this post.
Sophomore quarterback Matt Barkley started off red-hot, completing 14 of his first 15 pass attempts for 122 yards and a touchdown. From then on, though, he was a lot cooler -- completing just 7-of-20 for 48 yards and an interception. Kiffin called the third-quarter pick -- a solid throw that glanced directly off the body of normally sure-handed tight end Jordan Cameron -- "really tough to swallow," as it killed a good bit of momentum for the Trojans and put the ball back in Arizona's hands. Asked how he felt his day went, Barkley indicated that the Trojans parroted Arizona's bread-and-butter more than usual with quick throws. "A lot of those shorter routes were working, getting yards, getting first downs," Barkley said. "Most of that stuff was underneath, but it was just taking what the defense was giving us."
USC right tackle Tyron Smith said Arizona defensive ends Brooks Reed and Ricky Elmore were "really speedy," but added that the Trojan offensive linemen knew what to expect with the two of them. As such, Kiffin called for a lot of short drops for Barkley and didn't allow Reed and Elmore to penetrate into the backfield. "We treated them like any other defensive ends," Smith said. "Of course, they were faster than any other defensive ends that we've faced this season. But we were prepared for it."
Junior Marshall Jones made his first career start at strong safety in place of the injured Jawanza Starling, who hurt his hamstring last week against Arizona State. Kiffin had refused to name a starter this week, but Jones said the coaching staff told him after last week's game that he'd be making the start in Tucson. He had only three tackles, but one of them was a shoestring "touchdown-saving" tackle of Arizona's Juron Criner in the fourth quarter. "You have a different mindset when you come in and you know you're a starter," Jones said. "It's different, but I had a lot of fun. I love being out there, it felt great."
Shareece Wright had talked a lot this week about Criner, but he didn't end up defending much on Saturday, as Stoops and his staff devised ways to move the junior receiver around the line of scrimmage and prevent Wright from keying on him."They did a good job moving him around and working him in the slot, working him against our linebackers," Wright said. Why didn't USC's coaching staff, in turn, have Wright follow Criner along the line wherever he lined up? "We gotta have confidence in our other players, man. At the end, we were starting to do that. We were going to change the game plan and do that but he wasn't in as much."
USC allowed Arizona to convert seven of eight third-down opportunities in the first half. After an old-fashioned halftime talking-to, the Trojans held the Wildcats to three of eight in the second half. "Let me tell you something right now," assistant head coach Monte Kiffin said. "You're doing a good job if you get them to third downs. That means you're doing something good on first and second down. But that doesn't do any good if you don't get off [the field] on third downs. It was really frustrating." Said Galippo about the differences between the halves: "We didn't even really change that much up, schematically. But we needed to get a better pass rush -- that was evident."
Final notes: Injury update: Monte Kiffin said freshman cornerback Nickell Robey was banged up in the second half and had to leave the game. Tight end Blake Ayles revealed that the injury that has kept him out of the last three games is a concussion suffered against Cal last month. It's still causing him headaches, he said. ...Freshman receiver Robert Woods very quietly made eight catches for 41 yards as the leading pass-catcher for the Trojans. Aside from Tyler, only backs Dillon Baxter and Stanley Havili carried the ball for USC, with six rushes for 34 yards...Said Kiffin of senior center Kristofer O'Dowd's final return home to the Tucson area in a sack-free performance for the USC offensive line: "Real special for him. Any time someone leaves their home and goes away, it's a pretty neat thing to be able to finish like this."
***
Kiffin talked to the media after the game and addressed the validity of a win over a top-20 opponent on the road, Tyler's bang-up performance and plenty of other topics.
See what he had to say:
***
Tyler had a lot to say after his 160-yard day, including several funny remarks and praise for his pile-driving offensive line.
See all of what he said:
October, 19, 2010
10/19/10
2:24
PM PT
By
Pedro Moura
| ESPNLosAngeles.com
Notes, quotes and video from Tuesday's early-morning practice:
The Trojans were back at it Tuesday at 6 a.m. on the practice field with a quick, fast-paced practice that featured a solid 15 minutes of straight wind sprints to conclude it. Three assistants -- offensive line coach James Cregg, defensive backs coach Willie Mack Garza and linebackers coach Joe Barry -- were absent from practice, presumably already on recruiting trips. Expect coaches to filter in and out of Heritage Hall this week to utilize the bye to "flood the country" in recruiting, as head coach Lane Kiffin said Saturday.
Injury report: linebacker Malcolm Smith (knee), offensive linemen John Martinez and Tyron Smith (ankle) and running backs Dillon Baxter (toe) and C.J. Gable (knee) did not practice; defensive ends Wes Horton (back) and Nick Perry (ankle), tight end Jordan Cameron (knee) and running back Marc Tyler were limited.
More on those injuries: Gable's knee injury was originally feared to be season-ending, but it now appears he will be able to play as soon as next week against Oregon. "I'm thinking I'll be able to play," Gable said Tuesday. "I'm not gonna have anything hold me back." Horton participated in sprints at the end of practice but otherwise sat out. He was sporting a back support during the team's visit to a local children's hospital Monday. Baxter, who practiced juking some after Saturday's game against Cal, did sit-ups and push-ups with the other injured Trojans on the Brian Kennedy Field sideline. Tyron Smith said after the Cal game that he would participate in practice this week after suffering a couple sprains in his ankle last week but stayed on the sidelines.
In college football, bye weeks are typically used as an opportunity to get younger, less-experienced players valuable time on the practice field. That is even more important than usual for USC this week, as the Trojans will likely have to use a lot of their backups on defense against Oregon next week because of the Ducks' super-speedy offense. The problem is that the USC second-unit has been horrid this season in garbage time, giving up touchdowns again and again.
September, 21, 2010
9/21/10
8:27
PM PT
By
Pedro Moura
| ESPNLosAngeles.com
Notes, quotes and video from Tuesday's practice:
News items coming from the practice field: defensive back Patrick Hall has been reinstated to the team after being suspended indefinitely last month, and junior safety Drew McAllister will "most likely" have surgery on an injured hip and miss the rest of the season, coach Lane Kiffin said Tuesday.
The McAllister news, accordingly, means that freshman safety Demetrius Wright will not redshirt this season and will instead serve as the fourth safety, working with Marshall Jones to back up Jawanza Starling and T.J. McDonald.
More injuries: defensive end Armond Armstead (shoulder) was limited in practice, as were tight end Xavier Grimble (ankle) and linebacker Michael Morgan. Grimble participated in practice for the first time in several weeks; Armstead's injury is the same as last week's -- a shoulder AC sprain -- and the coaching staff appears to be taking it easy with him during the week.
As for the tailback spot, it appears Marc Tyler and Allen Bradford are still in competition to start against Washington State on Saturday, although both associate head coach John Baxter and offensive coordinator/running backs coach Kennedy Pola referred to Tyler as the starter on Tuesday. The two split carries as the first-team runner in practice, while freshman Dillon Baxter continued to take his typical dose of snaps as the change-of-pace back. "They're all getting better," Pola said of his stable of backs. "We have a lot of improvement to do."
Freshman cornerback Nickell Robey may also be in danger of losing his starting spot after he was called for two penalties against Minnesota and appeared at times overmatched against tallest receivers. Possible candidates to take over that spot include Torin Harris, Brian Baucham and T.J. Bryant. "Right now, there's probably about to be some changes," Robey said Tuesday. "I don't ever know, I gotta let the coaches make the decisions, so I just practice every day."
Over the weekend, Kiffin looked into the possibility of redshirting freshman receiver Markeith Ambles, who played three snaps in the season opener against Hawaii. After determining that doing so was impossible, Ambles will now be available, beginning this week against the Cougars and continuing for the rest of the year. Ambles' case also appears to firm up the redshirt/non-redshirt decisions that had to be made with the entire freshman class, giving USC six freshmen who will not redshirt this season: receivers Robert Woods and Ambles, defensive backs Robey and Wright, defensive end Christian Thomas and Baxter. Among the 10 players that appear set to sit out of the rest of the season's 10 games: defensive tackle George Uko, receiver Kyle Prater and offensive lineman Giovanni Di Poalo -- plus sophomore De'Von Flournoy and now McAllister, a junior.
On-field highlights: quarterback Matt Barkley was twice forced to run a lap around Howard Jones Field after being intercepted. The first time, he threw a slow-paced over the middle that almost appeared targeted for Wright, who took it back a good 20 or 30 yards before being touched down. On the second play, Barkley threw to the left sideline for receiver David Ausberry, only to see Ausberry tip the ball right into the hands of cornerback Shareece Wright. Robey attributed this recent surge in defensive turnovers to improved play from the defensive backs as a whole -- and not to any decrease in play from Barkley, although his two picks against Minnesota would seem to indicate otherwise. "We're getting casual with the ball," Kiffin said Tuesday. "It was frustrating today. Sometimes they're gonna happen -- the ball's gonna get tipped or the guy's gonna miss a protection -- but when you force a ball, like the one out here today towards the end, there's no excuse for that."
Final notes: The Trojans will stay in Los Angeles until Friday this week before traveling up to Washington, meaning that practices will be at 4 p.m. both Wednesday and Thursday. ...Kickers Joe Houston and Jacob Harfman will continue to each wear No. 10, Baxter said Tuesday, in an effort to open up more numbers for special-teams players to wear. Asked why Kiffin said after the game Saturday that it was a strategical move, Baxter indicated that was because he wanted to have all of its players available on each of the units and added that Kiffin didn't care enough about the kicking game to spend his time strategizing there.
***
Kiffin addressed the media after Tuesday's practice, talking over injuries, the start of conference play and other topics.
See what the coach had to say:
***
Pola talked about each of his running backs on Tuesday, including his view on Baxter's progress so far, what the coaching staff would need to see from a back to make them the starter, and more.
See what he said:
August, 14, 2010
8/14/10
12:39
AM PT
By
Pedro Moura
| ESPNLosAngeles.com
Notes, quotes and video from Friday's practice, which pushed three hours in length:
After a lackluster, three-interception day from the offense, Trojans coach Lane Kiffin had the entire unit running after practice ended. Kiffin had praised his offense -- and his quarterbacks especially -- for much of camp for staying away from turnovers, but the situation has turned on its head in recent days. Said an obviously upset Kiffin while his players ran on adjacent Brian Kennedy Field: "We have a turnover issue on offense, which we're addressing as we speak, because we're not going to win any games if we take care of the ball like we did today." We'll have more on this in the morning.
The injuries are just piling on for USC. At least 17 scholarship players are currently hindered by injuries, with most of those players unable to practice. Friday's big one was redshirt freshman linebacker Marquis Simmons, who underwent an appendectomy during practice, Kiffin said, after he had some "issues" during the team's morning walk-through. Freshman cornerback Demetrius Wright (toe), running back Marc Tyler (groin), offensive lineman Kevin Graf (shoulder) are among the newly injured, as is senior receiver Ronald Johnson, who took it easy during practice because of a sore back. Fullback Stanley Havili participated in practice after dislocating his shoulder Thursday but wore a yellow jersey to avoid contact.
On-field highlights: cornerback Torin Harris picked off a Matt Barkley pass in the end zone that was intended for Robert Woods, and Brian Baucham intercepted a Mitch Mustain ball during scrimmage drills. Both players drew considerable celebration along the defensive sideline, and Kiffin spotlighted the performance of Harris, Baucham, and freshman cornerback Nickell Robey after practice.
Kiffin finally budged a bit on the kicker spot Friday, admitting that Joe Houston has the edge over punter Jacob Harfman for the placekicker spot -- as it stands today. Houston was listed ahead of Harfman on the end-of-spring depth chart, but Kiffin and special teams coach John Baxter re-opened the competition for fall camp. Both players started camp well and then tailed off, although Houston has appeared to turn it up in recent days while Harfman has continued to struggle. Both players are seniors.
Final notes: Offensive coordinator Kennedy Pola's son, K.C. Pola, has joined the team as a walk-on fullback and will wear No. 43, the same number his cousin, Troy Polamalu, wore at USC. ... The Trojans will hold their second scrimmage of the spring Saturday at 4 p.m. before taking Sunday off. ... Friday's practice had originally been scheduled for 3 p.m. but was moved to the evening.
***
Kiffin talked about the growing number of injuries for the Trojans, the turnover situation, the competition at cornerback and plenty more during his post-practice meeting with the media on Friday.
Hear what he had to say:
August, 6, 2010
8/06/10
9:06
PM PT
By
Pedro Moura
| ESPNLosAngeles.com
Here are your usual notes, quotes and video from Friday's practice, the longest yet of fall camp at over three hours:
The latest on the Stanley Havili-T.J. Bryant situation is here. Havili was not allowed to practice Friday by coach Lane Kiffin and has been suspended indefinitely -- despite apparent "begging" from Bryant to allow Havili to escape punishment.
More news came when Kiffin said he had "great confidence" in what his regime did during his year at Tennessee in 2009. Of course, that comment came in response to the news that Tennessee is under NCAA investigation for a variety of alleged minor recruiting violations that occurred under Kiffin.
In Havili's absence, it appears redshirt freshman Simione Vehikite will be the latest Trojan to move over to fullback. Vehikite, previously a linebacker, spent all of Friday's practice at the position. On Wednesday, former tight end Rhett Ellison began practicing at the position, in a move Kiffin said was made to provide depth after the transfer of D.J. Shoemate. Kiffin has not committed to leaving either player at the spot in the long term.
On the subject of position changes, Kiffin said Friday he plans to try all three of the freshmen tight ends on the defensive side of the ball at some point in fall camp. Christian Thomas continued to impress during practice, while the physically imposing Xavier Grimble displayed an unusual combination of size and speed with a couple of post-catch runs. Randall Telfer has played solidly.
Injury report: left tackle Matt Kalil dressed but again sat out of practice because of a hamstring injury suffered last week. A trio of receivers -- freshman Kyle Prater (groin), sophomore De'Von Flournoy (shoulder) and junior Brandon Carswell (thigh) -- stayed on the sidelines during practice with injuries, although Carswell stayed a while after practice catching balls from walk-on quarterback John Manoogian.
Speaking of walk-on quarterbacks, the Trojans got another Friday when redshirt sophomore Emon Saee was officially announced as a new member of the team. Saee, a Calabasas native, has not played football since high school.
Sophomore quarterback Matt Barkley was clearly off his game Friday after a sharp performance Thursday, but Kiffin said nothing was off physically with his starting signal-caller. Midway through practice, backup Mitch Mustain was tripped up by one of his own offensive linemen during a play and looked as if he was limping for a bit of time. His first pass after the incident was an ugly flutterer that missed its intended target by more than five yards in the end zone, but the senior soon rebounded and was back to his normal self shortly.
An on-field highlight: when senior Allen Bradford motored around left end for a touchdown on Brian Kennedy Field early on in practice, he celebrated by spiking the ball in the end zone. But new offensive coordinator and running backs coach Kennedy Pola quickly established order by ordering Bradford to pick up the ball, run a lap, and not do it again.
A few final notes: Newly-minted scholarship lineman Abe Markowitz was the subject of a complimentary post-practice comment from Kiffin, who attributed the early awarding of a scholarship -- scholarship earners are usually announced at the end of fall camp -- to Markowitz' financial situation. Markowitz' father, Barry, said late Thursday that his son worked six days a week on campus to help pay for tuition and expenses. ... USC donned half-pads Friday for the first time. The first padded practice of the fall, Sunday's, will also be treated as the Trojans' first of four "preseason games" during camp, Kiffin said. ... Two USC assistants -- offensive line coach James Cregg and defensive backs coach Willie Mack Garza -- were on Kiffin's staff during his one-year tenure at Tennessee. Strength and conditioning coach Aaron Ausmus also worked for the Volunteers.
***
Kiffin addressed the Havili-Bryant
situation as soon as he began to speak to reporters Friday. His disappointment with Havili seemed to be a bit of a change in stance from Thursday, when he immediately defended the senior fullback. Hear all of Kiffin's comments on the altercation and its consequences in his post-practice meeting with reporters:
With Bryant being out for at least three weeks,
Brian Baucham
and
Torin Harris
are essentially embroiled in a one-on-one battle for the second starting cornerback spot. Friday, the engaging Baucham talked about that situation, addressed the 2009 motorcycle accident that limited him for much of last season and compared himself and Harris as corners:
August, 5, 2010
8/05/10
8:39
PM PT
By
Pedro Moura
| ESPNLosAngeles.com
Notes, quotes and video from the second of USC's 24 practices scheduled for fall camp, which was just as long as Wednesday's:
The big story coming from practice was the cheekbone injury suffered by cornerback T.J. Bryant in an altercation with fullback Stanley Havili that apparently occurred Friday night. Kiffin said Bryant is expected to be out for 3-4 weeks after undergoing surgery earlier Thursday. Havili apologized for the incident in a brief meeting with reporters and took full responsibility for his actions. "We're here to support him and to make sure that it doesn't happen again," new offensive coordinator and running backs coach Kennedy Pola said of the incident. "Because it can happen in a game and anything like that, but he's a good young man. We're gonna do what Coach Kiffin follows through with and see what happens from there."
Injury updates: Offensive lineman Matt Kalil, the projected starter at left tackle, was again relegated to sideline duty because of a hamstring injury suffered last week. His injury is not considered serious but it is not known when he will return. Defensive end Armond Armstead sat out for the second consecutive day, this time with a stomach ailment. He came off the field early Wednesday because of dehydration. Receiver De'Von Flournoy was helped off the field midway through practice and was looked at by the Trojans' training staff; Brandon Carswell and Kyle Prater were also unable to finish practice, as was Havili -- with a minor hamstring injury unrelated to the altercation.
On position battles, Chris Galippo and Devon Kennard will continue to rotate between first-team snaps at middle linebacker on a daily basis, just as they did during the spring. Assistant head coach Monte Kiffin said any decision on the eventual starter at the middle linebacker position is nowhere near made. At safety, Jawanza Starling and T.J. McDonald have become fairly established as the first-teamers, but junior Drew McAllister is also an option as a potential starter or nickel package defensive back. McAllister missed all of spring practice because of a lingering hip injury and is still not 100%, but he practiced Wednesday and Thursday. He said he felt like he had fallen behind with the new coaching staff simply because he was unable to get on the field in the spring. "Yeah, that part was kinda tough," McAllister said after Thursday's practice. "Those guys are my friends too," he said. "We've always been fighting for spots, so with the new coaches we're just going to have to keep fighting for the spots along the way."
Junior Rhett Ellison, who began practicing at fullback Wednesday because of a shortage of depth at the position after D.J. Shoemate's transfer, did drills with the tight ends and fullbacks Thursday. He said after practice he felt he would be ready to step in immediately if Havili was suspended. Sticking with the tight ends, none of the three freshmen stood out like Christian Thomas did Wednesday, but senior Jordan Cameron did.
Quarterback Matt Barkley again did not throw an interception, and he continued to praise the trio of freshmen receivers he will throw to in the fall. On the receivers, Markeith Ambles and Robert Woods -- especially Woods -- showed immediate improvement from Wednesday, and both demonstrated superb athletic ability in early-practice drills among the other skill position players.
A few final notes: running back D.J. Morgan did not practice and has not been cleared by USC's medical staff. It looks like he will redshirt this fall as he recovers from a knee injury suffered last fall...After most estimates put the practice attendance at between 50-60 Wednesday, it was more than cut in half Thursday. It appeared there were between 20-30 people on the sidelines for the fall's second practice -- media members almost all of them...A list of preferred walk-ons is provided in a below post and linked here. Highlights include former University of San Diego punter Kyle Negrete and former Georgetown signee Conrad Tavarez.
***
Kiffin was visibly happier with his team's on-field performance but obviously unhappy about the Havili-Bryant situation. Hear all of his comments on the situation after Thursday's practice:
***
Pola's hiring at USC garnered plenty of fan and media attention from across the college and professional football world, but Pola actually stayed largely out of the spotlight through most of it. Thursday, he addressed how he feels returning to USC and also talked about handling the situation with Havili:
July, 29, 2010
7/29/10
6:06
PM PT
By
Pedro Moura
| ESPNLosAngeles.com
PASADENA, Calif. -- We've got plenty of notes and quotes from today's scorching media day event at the Rose Bowl. While
Lane Kiffin
and
Matt Barkley
were not the last pair to take the podium -- for the first time in a long time -- they were certainly the center of attention for much of the day. In this post we'll have comments from both Kiffin and Barkley plus thoughts on the Trojans from a number of opposing coaches and players.
For more on media day, check out our "What we learned" post coming soon. In the meantime, let's get to it. First, the two Trojans and what they had to say:
Almost as soon as he stepped to the stage and began to speak, Kiffin addressed the Kennedy Pola situation -- briefly, of course, and all he really said was that he could not talk about the actual lawsuit. Of course, Kiffin was asked about the issue many, many times as the day wore on. His response came out pretty much the same way each time, although he did make an intriguing remark about the nature of the case. Asked why he thought the Titans decided to sue, he said: "I think it has to do with the location of the team that's in the lawsuit." Kiffin also later said that USC's new athletic director, Pat Haden, "wasn't pleased" with the lawsuit. "Neither was I," Kiffin said.

Talk amongst fans and media members about USC's limited amount of scholarship players at its disposal has continued to mount in recent weeks. Kiffin attacked that topic during his presser Thursday. "Our numbers will be down – we'll have 71 scholarship players instead of 85," Kiffin said. "Depth, in general, is going to be an issue for us. So we have to be extremely smart and intelligent about the way that we practice, about the way that we handle our guys. On that note, the phrase "it's us against the world" was uttered at least twice by both Kiffin and Barkley -- as in, an us-against-the-world mentality, an attitude that would have been completely out of place at USC over the last decade.
Barkley, on heading into his sophomore season as a season sharper and better prepared because of his experience starting 12 games a season ago: "

Last year, the year that I had, the game time experience was able to help more than any practice or film session ever could."
More Barkley, on the true personality of Kiffin and whether the Trojans know their coach inside-out:"We know who he is.

He's not what people make him out to be, like some betrayer. I do believe he's a loyal Trojan."
Even more Barkley, on if he thought Kiffin's decision to declare every position an open battle at the start of spring practice was a good one: "I think one of the greatest things he could've done is open up the competition between Mitch and I. More than anything, it made me a better quarterback. And I noticed a change in Mitch's play this offseason as well. People can say what they want about Coach Carroll but I think Coach Kiffin -- with every position open and taking nothing for granted -- really made me improve my game a lot this offseason.

Receiver Brandon Carswell will stay at USC, Kiffin confirmed. A redshirt junior, Carswell flirted with the idea of transferring to Cincinnati -- even tweeting that he had made his decision at one point -- but ultimately decided to come back. Why? Kiffin said that he "begged" him to stay, offering the suggestion that Carswell stay for this season, obtain his degree and wait to see how much playing time he gets in the USC receiving corps in 2010, then decide whether to stay for his senior season in 2011 based on that.
The other reported transfer at receiver, Travon Patterson, is indeed gone. Kiffin confirmed that Patterson had already submitted his papers to USC and said he believed Patterson was already working out at Colorado, his new school. And why did juco linebacker Glen Stanley hire an attorney to get him out of his signed letter of intent with USC? "I don't know," Kiffin said. "I don't know why he hired an attorney given the situation. But we wish him the best of luck."
--
And, now, comments and quotes on USC from a few of the 18 other Pac-10 coaches and players in attendance:
UCLA coach Rick Neuheisel, on dealing with USC's sanctions: "Truthfully we can't take any time to worry about that. We're on a mission to be the best program we can be." Later, he added more context: "Is there a window of opportunity? Certainly, and we want to take advantage of that."
Cal linebacker Mike Mohamed, a first-team All-Pac-10 player a year ago as a junior, was asked how it would feel to have his team receive a two-year bowl ban and the other sanctions the Trojans received: "It's definitely tough for the players, especially when all this is coming down on them who had no part in it all," he said. " I definitely feel for the players -- it's definitely tough."
The word "parity" made more than a few appearances in the coach-speak of the day, including in this line from Cal coach Jeff Tedford, explaining how he expects the teams to finish come the end of the season: "I think there's a lot of parity in this conference, and not just because of what's happening at USC and Oregon."
And, lastly, the quote of the day from Kiffin, in response to whether it was difficult to keep his players' morale up as he saw several players choose to transfer in the weeks since the sanctions were released:
"The difficult thing was, with these sanctions -- and I don't know if this was part of why they did it, because it wasn't in the exact penalties, you just had to read a bylaw -- we created free agency in college football. So we've dealt with -- over the last month, however long it's been -- free agency that there's no salary cap on. Our players can leave at any time to go anywhere. They don't have to sit out; there's no penalty with it."
July, 24, 2010
7/24/10
3:28
PM PT
By
Pedro Moura
| ESPNLosAngeles.com
USC keeps finding his way into the spotlight.

First-year football coach Lane Kiffin announced Saturday he has filled out his coaching staff by hiring USC alum Kennedy Pola to be the Trojans' offensive coordinator and running backs coach -- but, as usual, it didn't come without controversy.

See, Pola signed on to be the Tennessee Titans' running backs coach six months ago. And, according to Titans coach Jeff Fisher, Kiffin didn't inform him of his interest in hiring Pola until after Pola had already accepted the position Saturday.

Kiffin released a subsequent statement claiming a slightly different sequence of events -- but it does appear Kiffin and Fisher have yet to actually speak on the subject. Both coaches' statements indicated indirect conversation; Fisher said Kiffin left him a voicemail.

Kiffin came short of admitting error in the matter in a statement released by the school Saturday afternoon, but he did allow that the situation wasn't ideal.

"We realize the timing of this isn't perfect for all parties, but this is a great opportunity and promotion for Kennedy," he said.

An hour after Kiffin's statement, USC released an official statement announcing Pola's hiring. In it, Kiffin focused on the 46-year-old Pola's past experience -- both at USC and in the NFL.

"It's great to welcome Kennedy home," Kiffin said. "This is a great opportunity and promotion for him. He's done an outstanding job wherever he's been in college and the NFL. The last time he was here, he helped build the foundation for the championship run of the past 9 years.

Pola also joins linebackers coach Joe Barry, tight ends graduate assistant coach Keary Colbert, defensive assistant Sammy Knight and offensive assistant Lenny Vandermade as former USC players on Kiffin's staff -- and six other coaches as former NFL coaches now working for the Trojans.

"It's always great to bring another Trojan back to the family, as he's now the fifth former USC player on our staff," Kiffin said. "He's also the seventh full-time coach on our staff with NFL coaching experience."
2013 TEAM LEADERS
| TEAM | RUSH | PASS | TOTAL |
| --- | --- | --- | --- |
| Offense | 174.2 | 218.1 | 392.3 |
| TEAM | PF | PA | MARGIN |
| Scoring | 28.5 | 21.3 | 7.2 |