September, 27, 2013
9/27/13
10:00
AM PT
Normally, if the performance of a punter winds up serving as a topic of conversation during the week following a game, it's for something that went wrong, rather than right.
But that isn't the case when it comes to USC's
Kris Albarado
. Having played a crucial part in the Trojans' 17-14 victory over Utah State this past Saturday by pinning five of his seven punts inside the Aggies' 20-yard line, including two inside the five, the first-year starter found himself in unfamiliar territory on Wednesday, fielding questions from a variety media outlets after the team's workout. This, just two days after having been named as the Pac-12 Special Teams Player of the Week -- something that Albarado couldn't quite believe when he initially learned that he had received the honor through, of all things, Twitter.
[+] Enlarge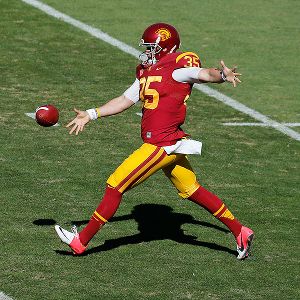 Ric Tapia/Icon SMIUSC punter Kris Albarado was named Pac-12 Special Teams Player of the Week after his standout effort against Utah State.
"Honestly I was pretty shocked," said Albarado, who on the season is averaging 40.3 yards per punt, while placing 12 of his 23 attempts inside the opponents' 20. "It just popped up, and I was like, 'No, this can't be right.' But it is pretty cool to get the attention. I kind of get to see the side of everything that
Marqise [Lee]
and everybody gets to see."
To continue reading this article you must be an Insider
September, 21, 2013
9/21/13
6:29
PM PT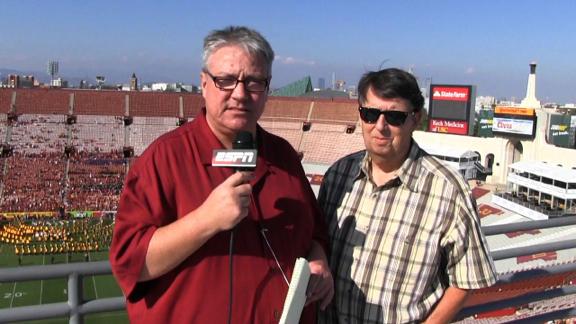 LOS ANGELES -- USC was hoping to use the game against Utah State as a way to build some positive momentum, but the 17-14 victory over the Aggies showed that the Trojans still have a long way to go.
Make no mistake, it's always nice to get the win but this is a game where the Trojans had a huge advantage in field position and also got the usual solid game from the defense. Unfortunately, the USC offense couldn't take advantage of the opportunities to put the game away in the second half and, if not for some special teams miscues by Utah State, the result could have been very different.
"It was a very hard fought game today," USC coach Lane Kiffin said. "Very much like what we anticipated. I felt like there was a rhythm early on when we were able to run the ball, but obviously we wanted to finish better in the second half."
USC started off strong with a
Tre Madden
touchdown run on the second series of the game to go up 7-0. The Trojans defense put good pressure early on Utah State quarterback
Chuckie Keeton
, primarily with defensive linemen
Leonard Williams
and
George Uko
as well as outside linebackers
Devon Kennard
and
Morgan Breslin
. USC dodged a bullet when Utah State clanged a first-quarter field goal off the upright, a miss that would loom large.
[+] Enlarge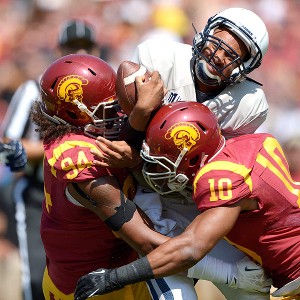 Kirby Lee/USA TODAY SportsLeonard Williams (left) and the USC defense put the crunch on Utah State on Saturday.
Each team added a touchdown in the second quarter, and as the second half started it was clear it was anyone's ball game.
The Trojans had their chances with the Aggies playing an eight-man front, leaving the USC receivers against man coverage. Normally, that would spell a big day for
Marqise Lee
and/or
Nelson Agholor
, but there were some dropped passes and some pressure on
Cody Kessler
which prevented the Trojans from capitalizing. Lee ended the day with six catches for 72 yards, while Agholor had two catches for 38 yards. Neither player reached the end zone.
"I missed some throws and we had some drops, but they are things we can fix," Kessler said. "Thanks for the job our defense did, we were able to come away with the win."
The USC defense is rapidly becoming known as the side of the ball which will win games for this team. Williams led the team in tackles with eight and added three tackles for loss. Uko had five tackles and a sack, Breslin had two sacks and Kennard added a sack. They did a terrific job of limiting Keeton -- who came into the game completing 78 percent of his passes -- to a rather pedestrian stat line of 21-of-39 passing for 179 yards and a pair of scores. Good numbers to be sure, but not enough to get it done against the Trojans.
"We had a good game plan from Coach O (Orgreon) the whole week," Uko said. "We just wanted to angle in and rush tight and keep them in the box"
The battle for field position really started to impact the game in the second half, as the Trojans' average starting field position was the Utah State 45, while Utah State started at its own 16. It didn't help the Aggies that their punter had a shanked 12-yard kick at the end of the third quarter that led directly to a 25-yard
Andre Heidari
field goal, which proved to be the winning margin. There was also a strange fake punt from the Aggies on a fourth-and-11 from their own 34-yard line in the fourth quarter, resulting in an incomplete pass from tight end
D.J. Tialavea
.
If you're looking for bright spots for the Trojans, look no further than punter
Kris Albarado
, who pinned five punts inside the Aggies' 20-yard line to help win the field position battle. Little things like that are big on a day when the two teams are basically even in total yards (285 for USU to 282 for USC).
Madden fell short in his bid for a fourth-straight 100-yard rushing day but did run for 93 yards on 24 carries and a touchdown. Kessler completed 13 of 27 passes for 164 yards and a touchdown, but he was also sacked three times and took several big hits.
Now the Trojans turn their attention to a big road game next week in Tempe against Arizona State. There was hope that things would be clicking after a four-game opening stretch that included three games at home but at this point the offense can best be described as a work in progress. Thankfully the Trojans have their defense, a unit which once again put the team on their shoulders to come away with a tougher-than-expected win.
August, 27, 2012
8/27/12
6:11
PM PT
By
Pedro Moura
| ESPNLosAngeles.com
USC released its
season-opening depth chart
Sunday night. Here are our brief takeaways, position by position:
Quarterback
As expected,
Cody Kessler
and
Max Wittek
are still listed as co-backups to starter
Matt Barkley
. We should have a resolution soon, according to
Lane Kiffin
, who said Sunday he'd have something to say on the subject on "Tuesday morning."
For what it's worth, Kessler was listed first at the end of spring and Wittek was listed first this time. But they still had an all-caps "OR" in between their names both times.
Running back
This might be the biggest surprise on the depth chart.
Curtis McNeal
was expected to be the for-sure starter heading into camp, and that didn't change much when
Silas Redd
was added just days before. McNeal has done very little wrong over the last few weeks, yet, somehow, Redd's listed as his co-starter on the depth chart.
As the third-string running back,
D.J. Morgan
cannot afford to fumble this season. A turnover or two and his carries will be going to redshirt freshman
Buck Allen
, who has improved in camp.
Fullback
Soma Vainuku
is the starter here. There was never any doubt.
Freshman
Jahleel Pinner
is listed as the second-stringer, but it's likely he'll redshirt, so third-stringer
Charles Burks
is probably bound for the backup role. Walk-on
Hunter Simmons
gets on the depth chart after re-joining the team this year.
August, 6, 2012
8/06/12
9:27
AM PT
By
Pedro Moura
| ESPNLosAngeles.com
To prepare for the start of the 2012 USC campaign, we're doing position-by-position previews of the Trojans' roster all this week. We began Monday with quarterbacks and continued until Sunday with the defensive backs.

Today, with fall camp kicking off this evening, we take a quick look at the special teams.

For each position, we're starting with a projected current depth chart, going off the end-of-spring depth chart as released by Lane Kiffin, and discussing what needs to be resolved by Sept. 1.

Punter

1. Kyle Negrete, redshirt senior
2. Kris Albarado, redshirt freshman

Kicker

1. Andre Heidari, sophomore
2. Craig McMahon, redshirt sophomore

Long snapper

1. Peter McBride, redshirt freshman

Holder

1. Matt Barkley, senior
2. Cody Kessler, redshirt freshman

Kickoff returner

1. Robert Woods, junior
2a. Curtis McNeal, redshirt senior
2b. Marqise Lee, sophomore

Punt returner

1a. Nickell Robey, junior
1b. Robert Woods
3. Marqise Lee


April, 23, 2012
4/23/12
9:24
PM PT
By
Pedro Moura
| ESPNLosAngeles.com
USC released its annual end-of-spring depth chart last week, which we posted mostly without comment at the time. Here, now, is our position-by-position analysis of what Lane Kiffin and Co. released, with an eye on what it means for the 2012 Trojans.

Quarterback

This was exactly as expected, with Matt Barkley entrenched and Cody Kessler and Max Wittek continuing to compete behind him. It is noteworthy that Jesse Scroggins is listed a spot behind the two redshirt freshmen and not tied with them, but it'd be a little unfair for him to be anywhere else. He missed most of the spring with hip issues and is still in academic jeopardy.

Running back

Where would Tre Madden have been if he wasn't out for the 2012 season? That's the question this portion of the chart begs. Curtis McNeal would still be starting, but Madden could very well be vying with D.J. Morgan for that No. 2 spot. Javorious Allen will be the third-string back unless he gets beat out by an incoming freshman.

Fullback

Soma Vainuku is locked in as the starter with no pressing competition, but he had himself a nice conclusion to the spring anyway, giving the coaching staff more confidence in him going into the summer. Jahleel Pinner will be somewhat of an unknown.

Receiver

De'Von Flournoy jumped in front of Victor Blackwell with an impressive spring, and has now put himself into position to challenge George Farmer for third-receiver status in the fall. And if Farmer can't stay healthy (again), then Flournoy's suddenly the favorite to line up with Robert Woods and Marqise Lee.


March, 5, 2012
3/05/12
1:04
PM PT
By
Pedro Moura
| ESPNLosAngeles.com
We're doing position previews leading up to spring practice, breaking down one group's depth chart each day, paying special attention to things that can change in the spring.
We've looked at the quarterbacks, running backs, receivers, tight ends, offensive linemen, defensive linemen, linebackers, cornerbacks and safeties so far. Today, we finish things up with the special teams.
USC lost a four-year starter to graduation this winter in long snapper
Chris Pousson
, but the Trojans already had his replacement ready in
Peter McBride
, a 2011 signee who redshirted last season.
McBride was one of the top snappers available in that class. He's small -- at a listed 205 pounds, he's 45 less than Pousson -- but he's proven to be technically proficient. The transition shouldn't be terribly difficult.
And the Trojans also have returning starters at kicker and punter in
Andre Heidari
and
Kyle Negrete
. Heidari was downright awesome last season, one of the best kickers in the country; Negrete was efficient, downing roughly half his punts inside the 20-yard line and hitting zero touchbacks the entire year.
One interesting thing: Negrete, now a senior to-be, wasn't supposed to win the job last year. That was supposed to be freshman
Kris Albarado
, another scholarship player in the Class of 2011. But it made some sense for Negrete to punt last season, since Albarado had his redshirt year available.
But what about now? What about now that USC has one scholarship punter and one walk-on both using up years of eligibility? Will the walk-on -- Negrete -- continue to punt over the guy getting a free education?
For what the Trojans needed last season, Negrete was the perfect punter. The offense didn't fail a ton, but when it did, he could consistently pin the opponents back deep in their own territory.
It seems like they'll need the same sort of thing in 2012, which means Negrete is likely to keep the job for another year and Albarado is likely to take over the job as a third-year sophomore in 2013.
If anything's going to change on this front, we'll likely see the start of it this spring.
One other thing: The returner spots are also interesting openings this year, because it's likely USC won't want to use
Curtis McNeal
or
Robert Woods
there often to preserve the skill position players' health. So who could emerge there?
Freshman
Nelson Agholor
will be a prime candidate, but he won't arrive until the summer. We'll see who else shortly.
Check back later today for five final questions before spring practice begins Tuesday at 4 p.m. for USC.
August, 10, 2011
8/10/11
5:00
PM PT
By
Pedro Moura
| ESPNLosAngeles.com


Here's what went on at Howard Jones Field on Wednesday morning, for the first half of the Trojans' first two-a-day session of the fall and seventh practice overall:

Ellison enjoying fullback

On the first day of practice last week, senior Rhett Ellison surprised some by spending some time at fullback rather than his usual position of tight end.

But by now, a week into camp, it's no longer a surprise. Ellison's trying out both positions and focusing on fullback, with the reasoning being the Trojans already know what they have in him as a tight end. And, they say, they don't entirely know what they have in him as a fullback just yet.

He started two games at the position in 2008 while Stanley Havili was injured, but he has worked almost exclusively at tight end. And the Trojans have three talented second-year tight ends on scholarship in Christian Thomas, Xavier Grimble and Randall Telfer, and no scholarship returners at fullback, only first-year players Soma Vainuku and Charles Burks.

So Ellison's playing fullback -- and, really, a variation of what's commonly referred to as H-back, as he has been moved around a lot in various sets.

"It's new," Ellison said of the position after Wednesday's morning session. "And it's been a lot of fun just trying to learn it and figure it out."

Always known as a smart player, the 6-foot-5, 250-pound Ellison says he is having some troubling figuring it out and picking up the different things he's now required to know, but not enough to the point where's he worried about it.

"Just understanding defenses in the grand scheme of things," Ellison said when asked what he's working on most. "Just everything. You have to understand everything from the defensive line techniques to the linebacker stacks, where the safeties are rotating, the corners ... all that kind of stuff, as opposed to a tight end, where you just have to worry about half of the line of scrimmage, pretty much."


February, 3, 2011
2/03/11
3:53
PM PT
By
Pedro Moura
| ESPNLosAngeles.com
National signing day is over, USC having bagged 22 signees to go along with eight early enrollees to bring the roster's current total to a respectable 80 scholarship players. Of the 30, here are the five most likely to make an immediate impact with the Trojans in 2011, including one guy each at USC's two biggest need positions, linebacker and the offensive line:
1. Receiver
George Farmer
(Gardena, Calif./Serra)
Farmer will be given a legitimate chance to start across from his former high school teammate,
Robert Woods
, at receiver come the season opener. His main competition will probably come in the form of redshirt freshman
Kyle Prater
, who was expected to challenge to start for the spot Woods eventually took last season but succumbed to injuries and sat out the season.
Farmer, as coach
Lane Kiffin
said Wedensday night, is everything you want in a freshman receiver: speedy, well-sized and smart, with good hands too. the only downside is that he'll be coming in with the rest of the freshmen in June and not in January like the early enrollees.
But Woods beat those same odds last season. Farmer will have the spotlight on him in fall camp this August.
2. Punter
Kris Albarado
(Lake Charles, La./St. Louis)
Albarado, simply put, should be the starting punter next season.
Jacob Harfman
, the punter for most of the last two seasons, will graduate this spring. Albarado's only competition is two walk-on seniors,
Boomer Roepke
and
Kyle Negrete
.
Special teams coach
John Baxter
said in
USC's official announcement for Albarado
that he already has all the fundamentals in place to be a great directional punter. That's all Albarado will be asked to do as a true freshman.
3. Kicker
Andre Heidari
(Bakersfield, Calif./Stockdale)
The same goes for Heidari.
Joe Houston
's gone, so the only incumbent kicker is walk-on
Craig McMahon
.
McMahon actually looked pretty solid in practices last season -- his leg looked fairly comparable to Houston's -- but Heidari will obviously be given the first shot at the job. A
Chris Sailer
disciple, he has a booming kicking leg and reportedly kicked a number of 50-plus yarders in high school in Bakersfield.
The long kicking game has been missing from USC's offensive arsenal since
David Buehler
left after the 2008 season, with
Jordan Congdon
and Houston both more of the inside-40 types. Heidari could change that, especially with an extra semester under Baxter's tutelage this spring.
4. Offensive lineman
Aundrey Walker
(Cleveland, Ohio/Glenville)
Walker told
Cleveland reporters
Wednesday that the USC coaching staff is looking at him as a potential starting right tackle this season.
That makes a lot of sense.
Walker is an absolute behemoth, measuring in at 6 feet 5 and at least 355 pounds. (Some services have him at 375.) That type of player -- a raw, mammoth blocker -- makes a lot of sense as a right tackle right away and potential left tackle down the line.
The Trojans have a big hole at right tackle this year and then a big hole either after 2011 or 2012 when
Matt Kalil
leaves to the NFL. Walker could be a good fit at that spot. He could also move inside to a guard spot, where USC also has an immediate need or two.
5. Linebacker
Lamar Dawson
(Danville, Ken./Boyle County)
Dawson is the most athletically developed of the four linebackers in this year's class, which includes
Dallas Kelley
,
Tre Madden
and
Anthony Sarao
.
He's also smart, boasting a 3.8 high school GPA. USC linebackers coach
Joe Barry
values that trait in a linebacker quite a bit, so Dawson will be given an opportunity to play right away for the Trojans, who are losing outside linebackers
Michael Morgan
and
Malcolm Smith
.
February, 2, 2011
2/02/11
5:55
PM PT
By
Pedro Moura
| ESPNLosAngeles.com
Three-star punter Kris Albarado (Lake Charles, La./St. Louis) signed with USC this morning, becoming the third special-teams exclusive player the Trojans have brought in within the last month. Kicker Andre Heidari and long snapper Peter McBride signed as early enrollees last month and have begun taking classes. We spoke with Albarado by phone Wednesday to get his take on his signing and all things USC on signing day:
Q: What are your thoughts on a day like this, signing a letter of intent to enroll in only a few months at USC to presumably be the Trojans' starting punter as a freshman?
A: I'm excited that I get to go to a place that's as a good a football program as USC. As a punter/kicker, you don't get a lot of chances to go to big schools, and I'm really fortunate to be able to go to USC. It's a really good feeling -- I've kicked with tons of guys and only a handful of them are gonna be signing with big schools, so I feel honored.
Q: You're the third special teams signee in the last month, with Heidari and McBride coming in in January. What does that tell you about Lane Kiffin and his staff's focus on that unit?
A: That shows that their heart and souls are in special teams. When I was there this weekend, we had a special teams meeting with all of the coaches and all of the recruits that were there. I've been to select special teams camps and haven't even had that before. So to have that on an official visit was awesome. It shows their commitment to it. They're extremely committed to it and that's not going to change.
Q
:
This day is obviously shaping up pretty well so far for USC, with pretty much every recruiting service putting you guys in the top five with a few hours left to go on National Signing Day. Your thoughts?
A: I think that's awesome. That shows that even though we have the sanctions and everything we can still push through because we're USC. The coaches can really get out there and say: 'This is who we are. This is what we've had. And we're gonna be back there if you come to our school.' I think that's helped with all those guys. They're all really genuine guys and they like to play football and it'll be good to spend the next four years with them. USC just has not only a really experienced coaching staff but a really enthusiastic one. And they know what they want to do and they're definitely getting themselves out there, trying to get the best guys to get USC back to where they used to be in the early 2000's and all of that.
February, 2, 2011
2/02/11
10:34
AM PT
By
Pedro Moura
| ESPNLosAngeles.com
USC's athletic department got a late start on confirming official signees Wednesday morning, announcing the first signature at 9:30 a.m., but the school has caught up to speed quickly.

As of 10:20 a.m., 10 players are now confirmed members of USC's 2011 recruiting class by the school. They are:

Punter Kris Albarado (Lake Charles, La./St. Louis)

Linebacker Lamar Dawson (Danville, Ken./Boyle County)

Linebacker Anthony Sarao (Absecon, N.J./Holy Spirit)

Defensive tackle J.R. Tavai (Redondo Beach, Calif./Mira Costa)

Offensive lineman Cody Temple (Bakersfield, Calif./Liberty)

Offensive lineman Aundrey Walker (Cleveland, Ohio/Glenville)

Defensive lineman DeVante Wilson (Corona, Calif./Corona)

Linebacker Charles Burks (Huntington Beach, Calif./Edison(

Offensive lineman Cyrus Hobbi (Scottsdale, Ariz./Saguaro)

Defensive lineman Christian Heyward (San Diego, Calif./Point Loma)

Nine more players who are currently committed to USC are expected to be confirmed by the school as the day goes on, and there remains the possibility that more players -- like athlete Marqise Lee (Gardena, Calif/Serra) or tight end Junior Pomee (Moreno Valley, Calif./Rancho Verde) will sign with the Trojans.
2013 TEAM LEADERS
| TEAM | RUSH | PASS | TOTAL |
| --- | --- | --- | --- |
| Offense | 174.2 | 218.1 | 392.3 |
| TEAM | PF | PA | MARGIN |
| Scoring | 28.5 | 21.3 | 7.2 |