March, 11, 2011
3/11/11
1:18
PM PT
By
Pedro Moura
| ESPNLosAngeles.com
Here are five questions -- well, four, plus a prediction -- that will go a long way toward deciding today's 6:10 p.m. game against Arizona in the semifinals of the Pac-10 tournament:
1. Arizona can run. Can USC keep up one day after a game?
Listen to Trojans coach
Kevin O'Neill
: "Arizona is a very high energy, high level, high intensity team that's extremely well coached. It has one of the best players in the league as their center piece. So we know that if we don't control tempo and let them play at their pace, we'll have problems.
"We're talking about a legitimate top 10 or 12 team that shoots the ball better from three than anybody. You know, we just know we were fortunate the last game to win."
That's not the type of team you'd pick to play for your first back-to-back game this season, but that's who USC's got on the schedule, and the Trojans will attempt to beat the running-and-gunning Wildcats at the Staples Center on Friday to earn a trip to the finals of the Pac-10 tournament.
The two teams split their season series, each squad winning on its home court. Arizona's a team with a number of talented swingmen, which naturally presents quite a few challenges for a short-handed and small USC team, but there is a blueprint to beating this team, which we'll get into later.
USC is focused on bringing up its play another notch, though, from its 70-56 win over Cal Thursday in the Pac-10 quarterfinals.
"Arizona's a great team," senior forward Alex Stepheson said. "I think we gotta take it up to another level and just try to be aggressive -- that's the key."
February, 25, 2011
2/25/11
12:17
AM PT
By
Pedro Moura
| ESPNLosAngeles.com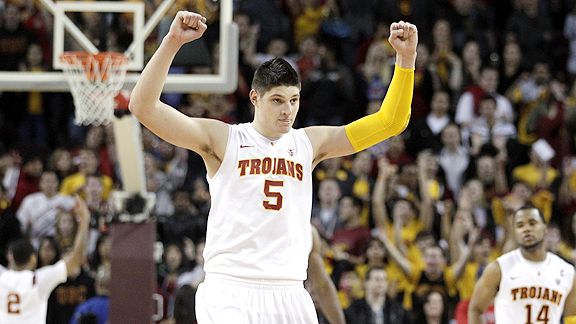 AP Photo/Jae C. HongNikola Vucevc raises his arms in triumph after USC's upset win over No. 10 Arizona.

LOS ANGELES -- Nine days ago, at his team's first practice after a disappointing home loss to Oregon that put the Trojans just above .500, USC coach Kevin O'Neill held court with reporters and reasoned that there was no possible way his team would win 18 or 19 games this season.

Now, three games later, it looks as if they're going to do just that.

Thursday, O'Neill's Trojans (16-12, 8-7 in the Pac-10) put together what he termed their most complete game of the season and beat No. 10 Arizona, 65-57, behind 25 points from Nikola Vucevic and 21 points from Jio Fontan and stifling defense on the Wildcats' Derrick Williams and Lamont Jones. With the win, USC moves within two games of the mark O'Neill thought they'd never reach, with at least four games left this season.

It also puts the Trojans once again in the mix -- as a longshot, surely, but still in the mix -- for an at-large bid to the NCAA tournament, assuming they do win at least two of their three remaining Pac-10 games and get a game or two in the Pac-10 conference tourney. And it sets Arizona quite a bit back in its race for a top seeding in the tourney and gives UCLA a chance to take over the top spot in the conference, or at least share it, with a win over the Wildcats on Saturday.

For his part, O'Neill was focused on what his team did well Thursday -- meaning, most areas of the game, especially in the second half. He also had an eye clearly focused on Saturday's game against Arizona State and next weekend's trip to Washington when speaking about what worked against the Wildcats.

"It's a huge confidence builder," O'Neill said afterward. "We played well tonight, we played hard. We controlled the tempo and we played with poise and confidence down the stretch."

"I hope we can keep this going Saturday."


February, 24, 2011
2/24/11
6:30
PM PT
By
Pedro Moura
| ESPNLosAngeles.com
Let's admit it: many USC basketball games this season have been lacking in storylines, boring, whatever you want to call it. Tonight's game against Arizona is none of those things, so here are five questions -- well, four, plus a prediction -- that will go a long way toward deciding tonight's ultra-intriguing 7:30 p.m. game against the Wildcats, and no, none of them have to do with the 2,000 bobbleheads that will be given out to fans in attendance at the Galen Center:
1. Yes, Derrick Williams and Co. had first intended to attend USC. So what?



First, to get it out of the way: In June 2009, Arizona's
Derrick Williams
,
Lamont Jones
and
Solomon Hill
were all released from letters of intent to USC because of turmoil going on in Troy after former coach
Tim Floyd
resigned his post. All three of them eventually decided on the Wildcats, and, a week after the final release, former Arizona interim coach
Kevin O'Neill
was hired at USC. Since then, it's always been a pretty big story every time the two teams match up.
Williams -- and everybody else involved, for that matter -- is over it.
"I hear about it every time the USC game's coming up -- a week, two weeks, even a month before the game," the 19-year-old said by phone from Tucson this week. "Me and my teammates, the ones who were going to go to USC, we just try to play the best we can against USC every time we're out there.
"I guess it's woulda-coulda, but we're happy where we're at and with all the things that went on before we de-committed from there, it just wasn't a good fit. That's really it."
O'Neill said after a USC practice this week that he felt it was a "non-story."
"It would have been wonderful if those three guys were here, but they're not," he said. "And it would have been wonderful if I'd won the lottery last week, but I didn't."
Added USC senior forward
Alex Stepheson
: "We're kinda over hearing that, you know. They didn't come. It'd be cool if they did, but the situation didn't work out, so we've just gotta move on."
Williams, from nearby La Mirada, expects to have about 100 friends and family in attendance tonight, for what it's worth.
February, 22, 2011
2/22/11
6:29
PM PT
By
Pedro Moura
| ESPNLosAngeles.com
USC (15-12, 7-7 in the Pac-10) plays Arizona at 7:30 p.m. Thursday at the Galen Center. We'll have a preview of the game Thursday, but here are a few worthwhile nuggets from the Trojans' Tuesday practice in preparation for the Wildcats:

Counterintuitive

When you move one player into the starting lineup and one player to the bench, you expect the new starter to have a big game and the new reserve to take a step back, right?

Not so for these Trojans. Coach Kevin O'Neill inserted senior guard Donte Smith into the starting lineup for last Thursday's game against Cal in the place of freshman Maurice Jones, and then witnessed Jones blow up for a huge 22-point second half against the Bears and Smith score only four points.

Hey, whatever works, right?

"I think it just sparked Mo," forward Alex Stepheson said of the switch's different-than-expected effects. "I think KO started Donte thinking he was gonna knock down some shots and give us a lift early, and Mo came out and it just sparked him. He came off the bench and just hit big shots and pretty much carried us to that win."

Stepheson said Jones' performance -- and the team's as a whole -- was helped by Cal's focus on Smith. He said the Bears were keying on the shooter from the opening tip and sometimes even doubling him at the 3-point line, a "very rare" tactic, he said.

Again, whatever it was, it worked.

"He was playing relaxed," Smith said of his freshman teammate. "He was just playing basketball, that's all it was."

O'Neill seemed to agree with the less-pressure sentiment.

"Sometimes, guys, if you just easy the pressure off them a little bit, maybe it works out a little better for them," the second-year coach said after Tuesday's practice. "And Mo had kinda hit a wall a little bit, for whatever reason.

"Usually, if you have 10 or 11 guys, you bench guys for bad performances. Mo didn't get benched for bad performance -- it's not like I was saying we lost against Oregon because of Mo or anything like that -- I just had to make some sort of move, and there aren't a lot of moves out there to make."


January, 29, 2011
1/29/11
7:42
AM PT
By
Pedro Moura
| ESPNLosAngeles.com
Five questions -- well, four, plus a prediction -- that will go a long way toward deciding today's 4:30 p.m. game against Arizona:

1. How much will Derrick Williams haunt the Trojans?

It's not just Williams. The Wildcats' three leading scorers -- Williams, Solomon Hill and Lamont 'Momo' Jones -- were all USC recruits at one point under former coach Tim Floyd, and all three ended up signing with Arizona and coach Sean Miller.

It was a big story last season when the trio were booed by the Galen Center crowd; it'll be a bigger story this time around because Williams has become so good.

Averaging just 29 minutes per game, Williams is putting up 19.8 points and 7.9 rebounds per game to go along with some gaudy peripheral statistics. At 6-foot-8 and 241 pounds, he's a perfect four at the college level, but he's also shooting 67 percent (21 of 31) from 3-point range this season, 75 percent from the free-throw line and a remarkable 63 percent from the field.

He's scored at least 12 points in every game this season. Hill and Jones combine to average almost 17 points per game, but the Wildcats have a full 10-man rotation so each player gets a few less minutes than you'd expect.

2. Where will USC's offense come from?

Only three of the Trojans' sevem rotation players had good nights against ASU -- Nikola Vucevic, Maurice Jones and Donte Smith. The other players -- including Jio Fontan and Marcus Simmons, who combined for a whopping no points -- struggled. USC still hasn't had a game this season where Vucevic and Fontan have both played well. Smith has often had to be the offensive savior in games this season with his 3-point shooting, but more offensive options will be needed Saturday.

Unless Vucevic and Fontan both have good nights and Jones continues his aggressive efforts from Thursday's game, expect a USC loss.

3. How much zone will the Trojans see?

Arizona State showed USC a lot of zone on Thursday. But the Sun Devils are usually a zone-defense team under Herb Sendek. It also didn't work all that well against the Trojans.

But it'll be interesting to pay attention to Arizona's defensive looks tonight, especially when USC puts together a mini-run and Miller calls a timeout to reset things.

"I wouldn't be surprised if the next couple teams we play, even man-to-man teams like Arizona and UCLA, they tuck their pride and go zone as well," Fontan said after practice this week. "I would, if I was a coach, seeing what we've done so far. We gotta be ready for that."

Indeed. Expect spurts of it from the Wildcats.

4. Can the Trojans play a full 40 minutes?

It'll take a full 40 minutes to beat a team the caliber of Arizona. USC took a few plays off against a lesser opponent in ASU Thursday but won't be able to tonight. And that will be a test for the Trojans, who have consistently been hurt this season by their inability to play an entire, fundamentally sound game. Kevin O'Neill knows it, and his players know it.

"Watching college basketball, a lot of the teams now do a better job than we do of playing complete games," Fontan said. "I feel like we haven't really played a complete game."

The closest the Trojans have come to that, he said, was the second half of the Kansas game. But they lost that game after starting off badly in the first half. He also mentioned the Texas game, probably USC's most impressive home win this season.

Said Fontan: "Right now, we're not playing up to that level because we're expecting to hit the next stage and it hasn't come yet, but we have to maintain focus like we did in those two games, playing defense and locking down."

5. Who will win?

Arizona, by about 10 points. Williams was too much for UCLA to handle on Thursday, and he'll be too much for USC to handle on Saturday.
2014 TEAM LEADERS
| TEAM | RUSH | PASS | TOTAL |
| --- | --- | --- | --- |
| Offense | 158.2 | 294.6 | 452.8 |
| TEAM | PF | PA | MARGIN |
| Scoring | 35.1 | 23.8 | 11.3 |