September, 29, 2013
9/29/13
11:45
AM PT
The problem with coaching USC is you're coaching USC. If you don't really understand what that means, then you're doomed to fail.
That's the lesson learned by Lane Kiffin, who was fired shortly after the team's charter flight landed in Los Angeles early Sunday morning after his team's 62-41 loss at Arizona State, the school announced before any reporter could claim the news story prize.
[+] Enlarge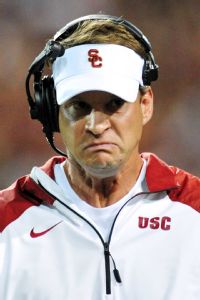 Matt Kartozian/USA TODAY SportsLane Kiffin could never quite live up to USC's lofty expectations.
Kiffin went 28-15 in three-plus years while the Trojans were buried under difficult NCAA sanctions, but the key span is the past 11 games. He lost seven of those, essentially starting a downturn just after folks started to wonder if he actually might be a good coach.
If you can recall USC in December 2011, the Trojans were coming off an impressive 10-2 season that included a win at Oregon. Quarterback Matt Barkley shocked many when he announced in front of a strategically placed Christmas tree during a Heritage Hall news conference that he would return for his senior season to take care of "unfinished business."
That, of course, meant a Pac-12 and national title.
The Trojans headed into the 2012 offseason overbrimming with talent and expectations. They were ranked No. 1 in the preseason AP poll. Yet, little thereafter went well. And that falls, not unfairly, on Kiffin.
He just never seemed capable of getting out of his own way and just coaching his collection of athletes, which in just about every case were more physically talented than the guys on the other side of the field.
Did USC have depth issues due to scholarship reductions? Sure. But that didn't change the fact that the area where USC consistently seemed to be most lacking was coaching, in terms of preparation, motivation and execution. And the offensive play calling, which Kiffin refused to give up despite pointed criticism, was fundamentally flawed in one simple way: The plays Kiffin called more often than not didn't work.
He too often tried to be clever or tricky. He also seemed to react poorly when things weren't going well. An early sack or turnover would seemingly spook him into an overly conservative plan. His complicated schemes seemed simplistic and predictable in execution compared to simpler schemes from other Pac-12 programs that seemed more imaginative and effective.
Further, USC had been eclipsed not only in the Pac-12 by Oregon and Stanford, it also had lost ground to its previously struggling rivals, UCLA and Notre Dame. Trojans fans are demanding as a whole, but losing to the Bruins and Fighting Irish is a deal-breaker.
Kiffin was most consistent as a recruiter, even with scholarship limitations. But the downturn even caught up with that. The Trojans presently have only seven commitments, and they are not ranked among the nation's top 40 classes.
USC remains one of the nation's best college coaching jobs. The high school talent in the surrounding area is among the best in the country. The school also has the resources to make the next coach among the nation's highest paid.
Athletic director Pat Haden likely decided to make a decisive move now so he could get a head start on his search. No sense in allowing the ship to continue to sink. He'll immediately start getting back-door feelers from NFL and college head coaches and top assistants -- many probably already have made inquiries. Lots of names will circulate, from Boise State's Chris Petersen, to St. Louis Rams coach Jeff Fisher, to Denver Broncos defensive coordinator Jack Del Rio, to Washington coach Steve Sarkisian, to Texas A&M coach Kevin Sumlin.
Kiffin was unquestionably burdened with tougher circumstances than many coaches who take over college football superpowers. Yet such an explanation only goes so far in this win-now age.
While he flickered potential during the 2011 season, his ultimate downfall was this: His teams never consistently looked like USC should. And he never consistently looked like a guy who should be fronting USC.
September, 29, 2013
9/29/13
11:37
AM PT
If nothing else, the ugly aftermath of the Lane Kiffin era is clear.
[+] Enlarge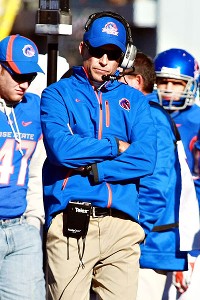 Brian Losness/US PresswireUSC would be wise to give Boise State head coach Chris Petersen a look.
USC should never be a proving ground for head coaches. It should be a place for only a head coach who already has demonstrated the ability to win at this level.
That should be athletic director Pat Haden's mantra as he begins the coaching search that will dictate the Trojans' football future.
Get a proven guy. Don't gamble with someone who looks the part. Go with someone who already KNOWS the part.
Much of the early speculation has centered on Jack Del Rio, currently the defensive coordinator of the Denver Broncos. Del Rio is a former Trojans star with deep USC roots, a ruggedly handsome guy who would look great in front of the TV cameras.
But Del Rio had limited success in his lone head-coaching attempt at Jacksonville and has no coaching or recruiting experience at the collegiate level. This is not to say he couldn't get the job done. Maybe he could. But again, you'd be rolling the dice.
September, 29, 2013
9/29/13
9:30
AM PT
It is a whole new ball game with recruits out West now that Lane Kiffin is out at USC.
The Trojans' Class of 2014 recruiting efforts mirrored the product on the field. There were a few bright spots like highly regarded ESPN 300 defensive end
Malik Dorton
(Bellflower, Calif./St. John Bosco), ESPN 300 linebacker
D.J. Calhoun
(El Cerrito, Calif./El Cerrito) and ESPN 300 offensive lineman
Toa Lobendahn
(La Habra, Calif./La Habra), but it was also a class full of incompletions, fumbles and big misses.
[+] Enlarge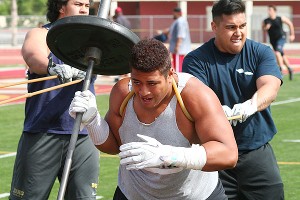 Erik McKinney/ESPN.comThe Trojans hope a new coaching staff will sway recruits like Viane Talamaivao (committed to Alabama) to USC.
The Trojans, in one of the deepest hotbeds of talent in the entire country and with one of the proudest football traditions around, were able to lure only seven commitments and watched conference rivals Arizona, Arizona State, Stanford, UCLA and Washington blow past them on the recruiting trail. Recruits and high school coaches throughout the Southland also raised major concerns about the way Kiffin interacted with -- or some say flat-out ignored -- many top local prospects and coaches when they would come for unofficial visits or wanted to talk shop.
You have to win the recruiting wars in Los Angeles if you're going to dominate at USC. It's something that Pete Carroll figured out the second he stepped into Heritage Hall, but Kiffin was never able to fully embrace.
However, the Trojans now have a chance to reset things.
If USC makes the right hire, there's still a real chance to lure a number of the West's best prospects.
Twenty-seven of the Top 100
and eight of the top 15 prospects in California have yet to make up their minds.
Plus, there will be kids who are committed to other schools that will take a long look at the Trojans again with a new coach in charge. You can bet that players like ESPN 300 offensive lineman and Alabama commit
Viane Talamaivao
(Corona, Calif./Centennial), ESPN 300 athlete and Arizona commit
Marquis Ware
(Los Angeles/Salesian), Elite 11 quarterback and Miami commit
Brad Kaaya
(West Hills, Calif./Chaminade) and many other committed players in California will get calls from the new USC staff.
In recruiting, nothing can erase the errors of the old and give a school some new momentum like a coaching change.
USC now has the chance to right its recruiting wrongs. Coupled with the fact recruits and high school coaches still consider the Trojans Los Angeles' football team, USC's run to signing day in February could alter the Pac-12 for years to come.
2013 TEAM LEADERS
| TEAM | RUSH | PASS | TOTAL |
| --- | --- | --- | --- |
| Offense | 174.2 | 218.1 | 392.3 |
| TEAM | PF | PA | MARGIN |
| Scoring | 28.5 | 21.3 | 7.2 |