February, 20, 2014
Feb 20
11:00
AM PT
So far, only three Pac-12 teams retained their 2013 offensive and defensive coordinators: Arizona, Colorado and Washington State.
Here's a look at who's in, who's out and what it means in the South Division. You can review the
North Division here
.

Arizona Wildcats
No change
: Rich Rodriguez has proven coordinators on both sides of the ball, with the offensive humming under co-coordinators Calvin Magee and Rod Smith and the 2013 defense being the Pac-12's most improved unit under Jeff Casteel.

Arizona State Sun Devils
Out
: Cornerbacks coach and special teams coordinator Joe Lorig left for Utah State, which allowed coach Todd Graham to rejigger his defensive coaching staff. Paul Randolph, a co-defensive coordinator the past two seasons, will serve as senior associate head coach and defensive ends coach.
In
: Keith Patterson left West Virginia to co-coordinate the defense with Chris Ball. Patterson will coach linebackers and be the Sun Devils' defensive special teams coach. Ball will continue to serve as the safeties and defensive passing game coach.
Thoughts
: A lot of these moves emerged from Graham's concern about special teams, as well as his wish to reunite with an old friend. He and Patterson, according to the press release announcing the hiring, "have a professional and personal relationship that goes back to East Central University where they were college roommates." That same press release noted that "Patterson will oversee the defense, but Graham will be heavily involved in the planning." Graham also will have a "major" role with the special teams coaching and will assist Ball with the cornerbacks. It was also announced that Chip Long, the Sun Devils tight ends coach and recruiting coordinator, will become the offensive special teams coach. As for Patterson's track record, it was a lot better at Pittsburgh than at West Virginia, where the Mountaineers allowed 33.3 and 38.0 points per game over the past two seasons.

Colorado Buffaloes
No change
: Colorado's second-year coach Mike MacIntyre retained both defensive coordinator Kent Baer and offensive coordinator Brian Lindgren. Compared to 2012, the Buffaloes scored 7.6 more points per game and allowed 7.8 points fewer per game last season. The overall numbers weren't good, but it was clearly a step in the right direction on both sides of the ball.

UCLA Bruins
Out
: Defensive coordinator Lou Spanos left to become the LBs coach for the Tennessee Titans
In
: Jeff Ulbrich was promoted from LBs coach and special teams coordinator.
Thoughts
: Ulbrich has coached perhaps the Bruins most improved position over the past two years -- linebackers -- and he deserves credit for players like
Anthony Barr
,
Jordan Zumwalt
,
Myles Jack
and
Eric Kendricks
developing into stars. He also ensures the Bruins improved defense retains schematic continuity. Named the 2013 FootballScoop Special Teams Coordinator of the Year, Ulbrich has guided the Bruins special teams unit to one of the top rankings in the country in each of the last two seasons. Ulbrich also won't have to work too hard to have credibility with his players as he was a LB San Francisco 49ers from 2000-2009.

USC Trojans
Out
: Defensive coordinator Clancy Pendergast
In
: Justin Wilcox, who followed new Trojans coach Steve Sarkisian from Washington to USC
Thoughts
: Sarkisian decided to retain USC offensive coordinator Clay Helton, though like his predecessor, Lane Kiffin, Sarkisian will call offensive plays. Pendergast did a great job last year with his hybrid 3-4, which he termed a 5-2. Wilcox is widely seen as one of the nation's top defensive coordinators and a future head coaching candidate. His scheme won't be too much different than what the Trojans ran last year, though the Huskies officially ran a 4-3.

Utah Utes
Out
: Co-offensive coordinators Dennis Erickson and Brian Johnson were demoted to running backs and quarterbacks coaches, respectively. Johnson then left Utah to become Mississippi State's quarterbacks coach.
In
: Former Wyoming head coach Dave Christensen was hired to be the Utes' single offensive coordinator
Thoughts
: Will Christensen bring the Utes offense stability?
He's their sixth different play caller in six years
. The good news is he's highly regarded, getting hired at Wyoming because of the work he did with Missouri's offense. Johnson's departure probably helps reduce the feeling that there are too many cooks in the kitchen, seeing that he, Erickson and Aaron Roderick, now the Utes QBs coach after coaching receivers since 2005, have each been in the coordinator carousel at Utah. Head coach Kyle Whittingham also hired former Purdue All-American Taylor Stubblefield to coach receivers. Christensen, an offensive line specialist, will oversee tight ends.
February, 14, 2014
Feb 14
1:00
PM PT
The
shuffling of defensive coordinators
appears to be over. We think. And as previously noted, all five of the top scoring defenses in the Pac-12 last year have seen changes at the top of the defensive coaching hierarchy. Three of the hires were internal promotions and two were coordinators who stayed with their head coach while switching schools.
This is how the top five scoring defenses played out last year:
Stanford (19.0 points per game)
Oregon (20.5)
USC (21.2)
Washington (22.8)
UCLA (23.2)
Who got the better end of the deal? Sounds like a poll question for you to ponder all weekend long.
Which team will lead the Pac-12 in scoring defense in 2014?
Your options:

Stanford
: Derek Mason departed to become head coach at Vanderbilt and Lance Anderson was promoted from within. The Cardinal lose some marquee players but have others such as safety
Jordan Richards
and linebacker
A.J. Tarpley
returning.
Oregon
: Out is longtime coordinator Nick Aliotti, who retired. In is longtime position coach Don Pellum. The Ducks lose some talent but return standout cornerback
Ifo Ekpre-Olomu
, who gives the Ducks' secondary instant credibility.
USC
: Clancy Pendergast was not retained by new head coach Steve Sarkisian. So Justin Wilcox is in after working his magic at Washington. The Trojans lost a lot of players to the draft, but a couple key players are back and there is a pretty good crop of young, talented players.
Washington
: New head coach Chris Petersen brought his guy, Pete Kwiatkowski, with him from Boise State. The Huskies made tremendous strides in two seasons under Wilcox and have some pretty solid personnel returning.
Other
: UCLA's Lou Spanos returned to the NFL and Jeff Ulbrich was promoted from within. Head coach Jim Mora will still oversee a lot of the defense. Though impact players like
Anthony Barr
and
Cassius Marsh
are gone, the Bruins have plenty of talent coming back. ... Arizona was sixth in the conference last year and made huge strides from 2012 to 2013. Can it keep the momentum going? ... Arizona State (seventh) also shuffled its defensive staff around with
the hiring of Keith Patterson
, though Todd Graham will still be heavily involved in the defense. ... Utah (eighth) is just two seasons removed from leading the conference in scoring defense. Can the Utes get back to the top?
January, 20, 2014
Jan 20
7:00
PM PT
The Pac-12 has seen a flurry of defensive coordinator movement over the last couple of weeks -- starting with the
power struggle for former Washington defensive coordinator Justin Wilcox
to the recent exoduses of Stanford's
Derek Mason to Vanderbilt
as head coach and UCLA's
Lou Spanos to the Tennessee Titans
as linebackers coach. Oregon's promotion of
Don Pellum to defensive coordinator
to replace Nick Aliotti will also shine a spotlight on the Ducks' defense in 2014 and beyond.
And then there is, of course, former USC defensive coordinator Clancy Pendergast, who mysteriously continues to be out of work.
[+] Enlarge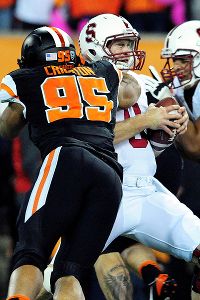 Steve Dykes/Getty ImagesOregon State defensive end Scott Crichton is among the Pac-12 defensive stars entering the NFL in 2014.
Look at the top five scoring defenses in the Pac-12 in 2013: Stanford, Oregon, USC, Washington and UCLA, respectively. All five have had defensive coordinators in flux in the young offseason.
That makes for an interesting transition period for the Pac-12. Defenses had closed the gap in recent years with several teams ranking in the top 25 nationally in scoring defense. That in itself is an achievement considering the level of offensive skill players and the diversity of offenses in the conference.
But when you look ahead to 2014, there are a lot of quarterbacks coming back to man the league's high-powered offenses --
Marcus Mariota
,
Brett Hundley
,
Taylor Kelly
,
Sean Mannion
,
Connor Halliday
, etc. You combine that with a massive talent drain of defensive players graduating or declaring for the NFL, plus all of the shifting within the defensive coaching ranks, and you have to wonder if 2014 is going to be the Year of Offense in the Pac-12.
Consider a few of the defensive standouts leaving:
Anthony Barr
(UCLA),
Will Sutton
(ASU),
Shayne Skov
(Stanford),
Dion Bailey
(USC),
Terrance Mitchell
(Oregon),
Scott Crichton
(Oregon State),
Trent Murphy
(Stanford),
Carl Bradford
(ASU),
Deone Bucannon
(Washington State),
Trevor Reilly
(Utah). There are a couple dozen others who aren't mentioned who were high-impact guys like Stanford's
Ben Gardner
and
Ed Reynolds
,
Eric Kendricks
,
Jordan Zumwalt
and
Cassius Marsh
from UCLA and
Alden Darby
,
Osahon Irabor
and
Robert Nelson
from ASU.
In total, 19 of the 25 all-conference defensive players from 2013 will be gone next year -- including 10 of 12 from the first team. Plus about a dozen more that were honorable mention are leaving or graduating. That is a major hit to the defensive talent in the league.
The Pac-12 is rarely appreciated nationally for its defensive prowess, either from a player or coaching perspective. And now three of the best coordinators in the conference are gone, one has moved from Washington to USC and another is looking for a gig.
Pac-12 offenses are going to be loaded in 2014 while the defenses have huge question marks. There is plenty of young talent. Guys like
Myles Jack
(UCLA),
Addison Gillam
(Colorado) and
Su'a Cravens
(USC) have all made names for themselves early in their careers. There are also some very notable returners like
Ifo Ekpre-Olomu
(Oregon),
Henry Anderson
(Stanford),
Shaq Thompson
(Washington) and
Hayes Pullard
(USC).
But a lot more is gone than is coming back.
That opens the door for all sorts of comparison storylines. Wilcox did an outstanding job re-tooling the defense at Washington. And now Pete Kwiatkowski will be measured against what Wilcox was able to accomplish. Likewise, Pendergast probably should have been USC's MVP for what he did with the Trojans in one season. Now Wilcox has to take over an outfit that is losing a lot of playmakers to the NFL. No doubt, he'll be compared to his predecessor. Just as Pellum will be compared to Aliotti, and whoever fills the seats at Stanford and UCLA will be compared to what Mason and Spanos were able to accomplish.
The guard is changing, as it does every year in college football. This year it might be the Pac-12 defenses that take a step back.
2014 TEAM LEADERS
| TEAM | RUSH | PASS | TOTAL |
| --- | --- | --- | --- |
| Offense | 163.3 | 284.3 | 447.5 |
| TEAM | PF | PA | MARGIN |
| Scoring | 32.8 | 17.5 | 15.3 |