December, 31, 2013
12/31/13
1:00
PM PT
LAKE BUENA VISTA, Fla. -- Cornerback
Tony Brown
, No. 11 in the ESPN 300 and the No. 2 prospect in Texas, suffered an injury to his left shoulder on Tuesday and likely will not play in the Under Armour All-America Game.
Brown, of Beaumont Ozen High School, was hurt while reaching to defend a pass in a non-contact coverage drill. He received medical attention at the ESPN Wide World of Sports Complex and was transported from the practice facility by cart, his head buried in his hands and his arm in a sling.
The 6-foot, 196-pound Brown, rated as the No. 4 cornerback nationally, is scheduled to announce his college decision during the 4 p.m. telecast of the Under Armour Game Thursday on ESPN.
Brown made official recruiting visits to Ohio State, Alabama, Texas, USC and LSU.
He graduated from high school early in order to enroll in January at his college of choice. Brown is an elite sprinter and plans to compete in football and track and field in college.
October, 16, 2012
10/16/12
11:22
AM PT
By
Pedro Moura
| ESPNLosAngeles.com
With the release of the first edition of the BCS standings, we ask what's on the minds of the most diehard USC fans: Can the Trojans climb back into the national championship picture?

The answer is, it's possible . . . if they win out.

If the Trojans win their remaining seven games, they could still be one of the top two teams in the BCS standings come December and in Miami come January. They sit at No. 10 right now, without yet having played a team the computers or pollsters consider elite, and coming down the stretch the Trojans could play three games against teams in the current BCS top 10.

They have upcoming regular-season matchups with Oregon and Notre Dame and could potentially square off in a Pac-12 championship game with either Oregon a second time or Oregon State (if the Beavers beat the Ducks in the Civil War). If they won each of those games they would jump at least those three teams -- No. 3 Oregon, No. 5 Notre Dame and No. 8 Oregon State.

They wouldn't be a lock for the No. 2 spot, of course (Oregon, Notre Dame and OSU would need to continue their winning ways and Kansas State would need to lose), but four of the remaining teams in the current top 10 -- Alabama, Florida, LSU and South Carolina -- play in the same conference (SEC), so further attrition seems likely. And a 12-1 USC team that began the year as the preseason AP No. 1, lost its only game in mid-September, and finished strong against quality opponents would seem to have a resume strong enough to compete with any other one-loss teams, even ones from the SEC.

So it's possible. If they win out.

But is it a lock? No.

First, they need help. Kansas State has yet to lose a game and has already beaten its toughest opponent -- No. 9-ranked Oklahoma. Jumping them would be unlikely were they to remain undefeated.

Second, they need to get better. The Trojans have demonstrated significant deficiencies through the first six games of the season -- including a 57th-ranked offense and the highest penalty average among all FBS teams – that would make beating a team like Oregon twice a seriously tall order.

In order to win out, in order to have any hope of beating teams like Oregon, Notre Dame and Oregon State, USC will have to show real improvement in both areas and continue to perform at a very high level on defense.

It's possible they can do that. And the end of the season gets very intriguing if they pull it off. But don't hold your breath. Not yet. Let them beat Oregon (at least once) first.



September, 17, 2012
9/17/12
10:29
AM PT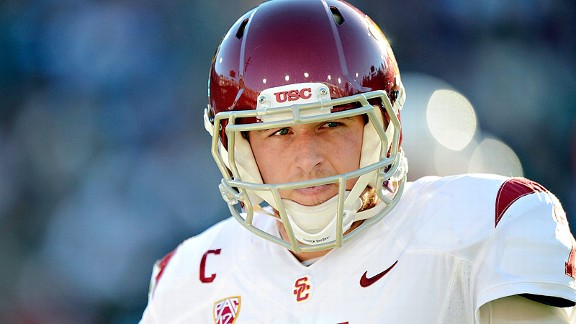 Bob Stanton/Icon SMIMatt Barkley and the Trojans must now look to rebound after being upset by Stanford.
The good news is there's no longer a need to regurgitate comparisons between USC in 2012 and USC in 2005. In 2005, the Trojans beat Stanford by 30. In 2012, the Cardinal forced a fourth-quarter tap out.
The 2005 team went undefeated in the regular season and lost an epic clash with Texas for the national title. The 2012 team got pushed around in Game 3.
While USC's turnovers and penalties were notable at Stanford, they were only foot-notable. The primary narrative was how USC got whipped on both lines, most obviously in the fourth quarter when the screws tightened. Stanford asserted itself and the Trojans wilted.
There are many ways to lose, and some losses are easier to rationalize. Last year, Oregon opened with a loss to LSU. Sure, there was a false narrative -- LSU dominated those gimmicky Ducks! -- but the true narrative was Oregon played sloppily and LSU did not. You can rationalize a sloppy loss because you can envision corrected mistakes and better ball security.
It's more difficult to rationalize USC's loss to Stanford. Yes, the absence of center
Khaled Holmes
, maybe the best offensive lineman in the conference, was significant. Still, if you came to the game with no preconceptions, you'd be hard-pressed to imagine how the Trojans might reverse the scoreboard in a rematch.
But the purpose here is not to read the entrails of the
Trojans' 21-14 defeat
that knocked them from No. 2 to No. 13. It's to consider the present and to speculate on the future for USC in 2012.
The present is a test of the Trojans' heart and backbone. It starts with the leadership of Lane Kiffin and his coaching staff, then trickles down to quarterback
Matt Barkley
and safety
T.J. McDonald
, the guys who came back as seniors to take care of "unfinished business."
The point A after the loss, however, was a USC failure. The Trojans' postgame despondency, particularly Barkley's, was perfectly understandable. It was
normal
. But exceptional people, the sorts who are supposed to lead great teams, don't do despondency. They don't do feel sorry for yourself.
Don't hate me for going here, but
this is what you do
.
Yeah, I pulled out Tim Tebow's news conference speech after Florida's embarrassing
31-30 home loss to Ole Miss
on Sept. 27, 2008. While I know Tebow is a Rorschach test in this country, what can't be denied is his ability to inspire those who compete beside him, who wear the same uniform.
My expectation is Barkley, after regaining his composure, will deliver a similar message to his teammates. The message is this: We will get back to work. We will rededicate. We will fight with everything we have to get everything we can from this season. And if we do this, good things will happen.
2013 TEAM LEADERS
| TEAM | RUSH | PASS | TOTAL |
| --- | --- | --- | --- |
| Offense | 174.2 | 218.1 | 392.3 |
| TEAM | PF | PA | MARGIN |
| Scoring | 28.5 | 21.3 | 7.2 |