November, 22, 2012
11/22/12
8:08
PM PT
By
Pedro Moura
| ESPNLosAngeles.com
LOS ANGELES --
T.J. McDonald
understands how hard it is for a defensive player to still be in the Heisman race at this time of year.
So he appreciates what Notre Dame middle linebacker
Manti Te'o
is doing this season, with 96 tackles and six interceptions for the undefeated Fighting Irish, who the Trojans host Saturday at the Coliseum (5 p.m. PT, ABC).
"You gotta be making a lot of plays," McDonald said. "You gotta be doing a lot of good things. He's carrying his defense, and that's definitely something that you can respect."
USC linebacker
Hayes Pullard
lives with Trojans receiver
Marqise Lee
and supports his Heisman campaign. But he admits he'd cast any postseason ballots he received for Te'o because of the defensive connection.
"I'm still a Marqise fan because he's my friend and roommate," Pullard said this week. "But being a linebacker, I'd give (Te'o) every vote, just being a linebacker and knowing how hard it is to get in there."
Pullard said Te'o "does everything 100 percent."
"I've watched his film -- every play he goes all out," Pullard said. "He plays every single play hard and aggressively."
Te'o goes in the same club with former USC star Brian Cushing as linebackers that Pullard looks up to, the redshirt sophomore said.
"I love his character," Pullard said. "I still look up to him as a linebacker."
Of course, Te'o nearly went to USC, committing to Notre Dame only on the morning of national signing day and spending the last minutes before he actually signed on the phone with former Trojans coach Pete Carroll.
Reminded of that this week and asked if he remembered how close Te'o was to coming to USC, current Trojans coach Lane Kiffin smiled.
"I do," he said.
November, 16, 2011
11/16/11
2:13
PM PT
By
Pedro Moura
| ESPNLosAngeles.com
The USC Trojans recruit a lot of football prospects each year, and, naturally, they don't get all of them.

There are the ones who got away, like Washington's Chris Polk or South Carolina's Alshon Jeffrey, skill-position players who verbally committed to the school early in the recruiting process and then de-committed before the deadline.

There are the ones who really got away, such as Arizona State's Vontaze Burfict and Notre Dame's Manti Te'o, linebackers who spurned the Trojans late in the class of 2009 and have gone on to star at their schools.

And then there is the one who really, really got away: Oregon's De'Anthony Thomas. He was actively recruiting prospects from across the country to join him at USC in the class of 2011, only to visit Oregon the weekend before signing day and, in a dramatic turn, sign with the Ducks.

"It still doesn't make sense. I still never figured it out," Trojans coach Lane Kiffin said this week of Thomas' decision. "Just a really unique situation I don't know that we've ever had before here.

"We had guys flop sometimes at the end, but not when they're really the leader of the class and they're the ones bringing other kids up here."

Thomas, from Crenshaw, was the top-ranked athlete in the 2011 class by most recruiting experts. The question with him was whether he'd play on offense or defense at the next level, and the common rumor around signing day was that Kiffin and USC wanted to keep him on defense at corner.

That's one theory for why he went to Oregon, although Kiffin denies it. Thomas has already accumulated 789 yards from scrimmage and 12 touchdowns on 73 touches this year lining up most often as a running back, so he's clearly capable of playing offense.

"We would have just found a way to get him the ball," Kiffin said. "We would have looked at him all over, just like we do our guys when they come in, and see where he fit best. He would be a great corner, just like he was in the All-Star game in high school.

"But there's no way you leave him over there and not give him the ball on the other side, as you can tell."


October, 20, 2011
10/20/11
6:33
AM PT
By
Pedro Moura
| ESPNLosAngeles.com
In football, like in life, you're usually either moving downhill or uphill. There's very little in between.
Notre Dame middle linebacker
Manti Te'o
is definitely a downhill mover. Or so says USC freshman fullback
Soma Vainuku
, in charge of emulating Te'o in Trojans' scout-team drills this week, and Trojans head coach
Lane Kiffin
-- and just about everyone else who talks about Te'o for any amount of time, for that matter.
[+] Enlarge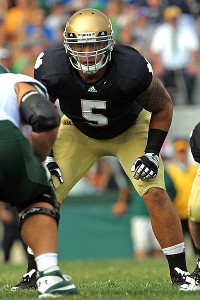 Jonathan Daniel/Getty ImagesManti Te'o is an imposing presence in the middle of the Notre Dame defense and Lane Kiffin wishes he was in cardinal and gold.
They always bring it up. Te'o, they say, plays football fast, diagnoses plays quickly, and, above all, plays downhill.
So, what exactly does that mean on the field, and what does that mean for USC's game against the talented Te'o and Notre Dame in two days' time?
It means he's going to bring a lot of Trojans down. The junior from Hawaii is averaging just short of 10 tackles per game this season, tied for 21st in the country, and 8.5 tackles for loss, tied for 25th in the country. Both numbers are better than anyone USC has faced this season and, currently, better than anyone it will face in the second half of the year.
He also leads the Irish in sacks with four after posting just one sack a year ago. His overall tackles numbers are slightly off his pace from a year ago, but all the other figures represent significant improvements from his first year in coordinator
Bob Diaco
's 3-4 system -- or at least it appears so.
"I don't think it's that much different," Kiffin said this week. "I just think it's his second year in the system, even though he's started before. Now he's playing extremely fast. He's off-the-charts physical, downhill, aggressive, and he plays every snap like its third-and-one.
"He's a great player. I wish he was here."
Well, yeah -- he almost was. Everyone expected Te'o to sign with USC until the morning of signing day back in 2009, when he spoke with former Trojans coach
Pete Carroll
at length on the way to making his announcement that he was attending Notre Dame.
It was the surprise of the year at the time, and the decision's followed Teo throughout his first two-plus years in college. In the past he has admitted to feeling a different combination of excitement and nervousness in the week leading up to Notre Dame's annual game against the Trojans. But he says that feeling is no longer.
January, 31, 2011
1/31/11
6:09
PM PT
By
Pedro Moura
| ESPNLosAngeles.com
It's getting closer.

We're nearing 36 hours now until National Signing Day begins. In between now and then, we can expect a lot of rumors, a lot of hearsay, and a lot -- a lot of recruiting news, basically. Here are the Top 10 uncommitted recruits USC continues to recruit with an eye on what's likely to happen Wednesday, in no particular order:

1. Tight end/defensive end Troy Niklas (Anaheim, Calif./Servite)

Niklas will decide between USC and Notre Dame after he didn't get in to Stanford. He visited Notre Dame last weekend; USC earlier this month. The Irish are particularly interesting in Niklas' case because they are simply stocked at end in this recruiting class -- seven defensive ends are committed to ND at the moment, including three early enrollees and five-star Ishaq Williams (Brooklyn, N.Y./Lincoln).

He could play tight end, of course -- or offensive tackle, even, as some recruiting services have him projected. Tackle would be the biggest need-filler for the Trojans, so it'll be an interesting what he's listed at by the university if he indeed signs Wednesday.

Niklas is expected to announce his decision Wednesday but has not specified a time or location.

2. Athlete Marqise Lee (Gardena, Calif./Serra)

Lee, a likely safety at the next level, is picking between USC, Miami and Oregon and has provided little indications as to where he might be headed.

If it means anything, he's good friends with fellow Gardena Serra receiver George Farmer and could end up following Farmer to USC. Class of 2010 Serra product Robert Woods also came to USC and did fairly well for himself as a first-year freshman last season.

But Oregon has had a lot of momentum in recruiting over the last few weeks, and Lee is a player who that could very well affect.

3. Offensive guard Aundrey Walker (Cleveland, Ohio/Glenville)

Walker's an interesting character, a product of a longtime Ohio State stronghold in Glenville who has been flirting with USC for some time now. He reportedly enjoyed his Jan. 14 visit a great deal and came back home raving about it. It coincided with his 18th birthday, and Walker made a trip out of it by exploring Los Angeles for the first time.

USC coaches are likely selling Walker on the possibilities of starting as a freshman at USC. He's a guard by trade, and the Trojans have little to no depth on the interior line.

Florida State and Michigan State are also options for the 6-foot-5, 355 pounds behemoth. The head coach at Glenville is Ted Ginn Sr., the father of former Buckeyes receiver Ted Ginn Jr. He's steered a number of big-time prospects to Ohio State in his post over the years.


2014 TEAM LEADERS
| TEAM | RUSH | PASS | TOTAL |
| --- | --- | --- | --- |
| Offense | 158.2 | 294.6 | 452.8 |
| TEAM | PF | PA | MARGIN |
| Scoring | 35.1 | 23.8 | 11.3 |