April, 25, 2012
4/25/12
6:35
AM PT
By
Pedro Moura
| ESPNLosAngeles.com
The 2012 NFL draft begins tomorrow, Thursday.
USC has two players expected to be taken in the first round, two more players who should definitely be picked at some point over the draft's three days and three other prospects who stand a chance of being selected.
We break down those seven players' draft stock here, in order of their projected selection:
LT
Matt Kalil
The two-year USC starter was looked at as a virtual lock to go No. 3 overall to the Minnesota Vikings for quite some time, but there has been recent speculation that his stock is dropping. Still, an absolute worst-case scenario would have Kalil going sixth to St. Louis or seventh to Jacksonville. There's no way he falls out of the top eight, which would make him the highest USC selection since
Mark Sanchez
went fifth to the Jets in 2009.
DE
Nick Perry
Scouts' and experts' opinions on Perry appear varied. Some have him scratching the top half of the first round and some have him falling near the end of the bottom half. The physical specimen still seems like a great bet to be picked at some point among the top 32 picks. One of the factors that will decide how he goes is whether teams will select him as a 4-3 end or 3-4 outside linebacker, which are both possibilities considering his skill set.
DT
DaJohn Harris
Harris has some work-ethic issues and medical concerns with sleep apnea and a
patent foramen ovale
, but he also has the potential to be a starting defensive tackle at the next level, and that should get him picked somewhere in the fourth or fifth rounds, which means he'll probably have to wait until Saturday to be selected with the draft's format. Harris never had a truly consistent long stretch with the Trojans, but he showed flashes on a number of occasions.
April, 4, 2012
4/04/12
8:48
PM PT
By
Pedro Moura
| ESPNLosAngeles.com
Now this throws a little wrinkle into the USC Trojans' plan for their quarterback of the future.
One of the top-ranked signal-callers in the class of 2013, Sammamish (Wa.) Skyline's
Max Browne
,
committed to USC on Wednesday night
in a ceremony at his high school in the suburbs east of Seattle, according to multiple Internet reports.
Browne, a 6-foot-5 gunslinger, is expected to enroll early at USC next January, putting him into position to immediately challenge
Cody Kessler
and
Max Wittek
in the race to replace
Matt Barkley
.
He'll be in a similar situation as Barkley was in January 2009, when Barkley enrolled early out of Santa Ana Mater Dei High and then beat out
Aaron Corp
and
Mitch Mustain
to replace
Mark Sanchez
, who now plays for the New York Jets.
Browne chose the Trojans over the likes of Oklahoma, Alabama, and hometown Washington.
Browne is ranked No. 1 at his position in his class, according to Rivals.com and Scout.com. ESPN has not yet released rankings for players in the class of 2013, but Browne is an ESPNU 150 Watch List prospect.
March, 31, 2012
3/31/12
8:58
PM PT
By
Pedro Moura
| ESPNLosAngeles.com
USC coach Lane Kiffin didn't call the offensive plays for the Trojans in Saturday's scrimmage, a significant departure from the norm he has established in his two-plus years at USC.

But he had a good excuse: He was busy entertaining some special visitors. Two of the top national recruits in the Class of 2013, Skyline (Wa.) quarterback Max Browne and Vista Murrieta (Ca.) linebacker/safety Su'a Cravens, were in attendance at the Coliseum, and Kiffin made a point of spending time with both during the scrimmage.

Browne, in particular, stood directly behind the quarterbacks for a good portion of the day and chatted with Kiffin. It was his second straight practice as the 6-foot-5 slinger came to Thursday's session as well.

Kiffin made reference to the recruits in his post-practice meeting with the media, saying that was one of the reasons why he didn't call any of the plays. He also joked he didn't want to put a scrimmage like Saturday's on his resume because so many of the Trojans' key skill-position players were injured and unable to participate.

Also in attendance were 2012 signees Gerald Bowman and Darreus Rogers, local kids who both stayed around afterward to chat with the Trojans' coaches on the Coliseum field. A number of other 2013 recruits with scholarship offers from USC were there, including Rancho Cucamonga (Ca.) defensive backs Chris Hawkins and Tahaan Goodman.

And former Trojans Mark Sanchez, Patrick Turner and Damian Williams also watched practice from the sideline.
February, 18, 2012
2/18/12
4:23
PM PT
By
Pedro Moura
| ESPNLosAngeles.com
Forgive yourself if you don't understand
Mitch Mustain
's career trajectory -- it doesn't make much sense.
In 2006, the former USC quarterback was once the country's top football recruit, following his prep head coach to his hometown Arkansas Razorbacks, where he went 8-0 as a starter after making a storybook debut in a blowout loss to USC.
Then things quickly grew sour and he transferred cross-country to USC, where he sat out the 2007 season while redshirting, the 2008 season behind
Mark Sanchez
and the 2009 season after placing third in a three-way competition for the starting quarterback spot.
He finally got his chance when
Matt Barkley
got hurt in November 2010 and almost led the Trojans to a home win over Notre Dame before
Ronald Johnson
dropped a potential winning touchdown in the rain. In the midst of the pre-draft process the next February, Mustain was arrested on a felony narcotics charge for allegedly attempting to sell Adderall to an undercover officer.
That charge was reduced to a misdemeanor when it was determined the drug was not actually Adderall but Vyvanse, a common knock-off. He said he was using it to treat his attention deficit hyperactivity disorder.
But Mustain wasn't drafted in April and couldn't stick with a Canadian Football League team he signed with in the summer. He proceeded to sign with an Arena League team in October with plans to join them in training camp right around now, then was featured in the news again for a
bizarre trailer to a documentary about him
.
In the two-minute teaser, Mustain is shown making his collegiate debut against USC, going gun-shooting in a forest and broadly discussing his life.
December, 1, 2011
12/01/11
12:01
PM PT
By
Pedro Moura
| ESPNLosAngeles.com
We're doing an ongoing series of the top 10 moments of the 2011 USC football season. No. 10 was Robert Woods' four-yard touchdown grab against Oregon. No. 9 was Curtis McNeal's 79-yard touchdown run against Washington. No. 8 was Woods' 14-yard catch in the fourth quarter of the Notre Dame game in October.

Here, then, is moment No. 7, which is actually three moments in one: All of Matt Barkley's big record-breaking plays of the year, including a 19-yard scoring pass to Amir Carlisle vs. Colorado, his 41-yard touchdown pass to Woods against UCLA and his completion to cousin Robbie Boyer against UCLA.

Barkley broke a number of records this season. These three plays simply best symbolize his record-breaking year.

The Carlisle pass came near the end of the Friday night game in Colorado, with Barkley still on the field only for the purpose of getting the ever-elusive sixth-touchdown-pass-in-one-game. Matt Leinart was never able to do it, Mark Sanchez was never able to do it, and Barkley was never able to do it for the first 32 starts of his college career. But Barkley got it against the Buffaloes, throwing short to Carlisle and watching the freshman running back motor down the middle of field to get into the end zone.

It was the 19-year-old's first college touchdown and Barkley's 68th.


November, 9, 2011
11/09/11
10:48
PM PT
By
Pedro Moura
| ESPNLosAngeles.com
It's funny how things work out sometimes.

When now-Washington coach Steve Sarkisian was an assistant at USC last decade, he recruited now-Washington running back Chris Polk heavily out of local Redlands East Valley High. Back then, Polk was a top-100 prospect, and he committed to USC to compete with Joe McKnight and Co. for carries in the Trojans' backfield, but he ended up going against the grain and choosing coach Tyrone Willingham and the down-on-their-luck Washington Huskies.

Then Willingham was fired after Polk's freshman season when the Huskies went 0-12, Sarkisian was hired after grooming Mark Sanchez into an NFL first-round selection, and soon Sarkisian was Polk's college coach.

And now the 5-11, 222-pound Polk, a fourth-year junior, is Sarkisian's biggest weapon as the third-year Washington coach attempts to pull off an upset over USC for the third straight season this Saturday at the Coliseum. Considered a potential first-round selection in the NFL draft, he's been flat-out dynamic this year, averaging more than 120 rushing yards and another 30-plus receiving yards per game. He surpassed 1,000 rushing yards last month for the third time in his college career.

"He's big and physical, and he's really good in the passing game too," now-Trojans coach Lane Kiffin said this week. "So he's really kind of the complete package."

Polk's stat lines the last two seasons against USC include 235 yards from scrimmage and a TD. He's proven to provide a tough challenge for the Trojans' defense, perhaps the toughest challenge over the last couple of years outside of LaMichael James and Jacquizz Rodgers.

But USC is trying to keep it simple in devising a game plan to stop him this week, following what the Oregon Ducks did in holding him to 3.3 yards per carry in their 34-17 win over the Huskies last weekend.

"It's not real complicated," Kiffin said this week. "Tackle the guy really well and don't let him fall forward. Just look no further than what happened on Saturday night. Oregon tackled great the whole game.

"They swarmed to the ball, they tackled really well, they knocked the power back."

But, even then, Polk found a way to accumulate 114 yards out of the backfield. It's been almost a year since he's failed to reach the century mark in yards from scrimmage.

With him, it's more of a case of trying to limit his production than trying to make him completely unproductive -- and, of course, trying not to remember that he could very easily have been doing the same thing for the Trojans right now.
November, 7, 2011
11/07/11
11:58
AM PT
By
Pedro Moura
| ESPNLosAngeles.com
USC quarterback Matt Barkley was named the Pac-12 Conference offensive player of the week Monday after his record-breaking six-touchdown performance against Colorado on Friday.

In the Trojans' 42-17 win over the Buffaloes, Barkley completed 25-of-39 passes for 318 yards, six touchdowns and one interception. The touchdowns set a new school record, breaking the long-time mark of five set by Carson Palmer, Matt Leinart and Mark Sanchez, among others.

It's Barkley's third such honor this season. He was also named the offensive player of the week after USC's Week 3 win over Syracuse and its Week 5 win over Arizona. He threw for five touchdowns against the Orange and set a school record for passing yards in a single game against the Wildcats.

Other players nominated for the offensive award included Arizona State's Cameron Marshall, UCLA's Derrick Coleman and Stanford's Griff Whalen.

Oregon rover Eddie Pleasant won the defensive award; USC punter Kyle Negrete was nominated for the special teams award, which was won by Utah punter Sean Sellwood.
October, 1, 2011
10/01/11
6:41
PM PT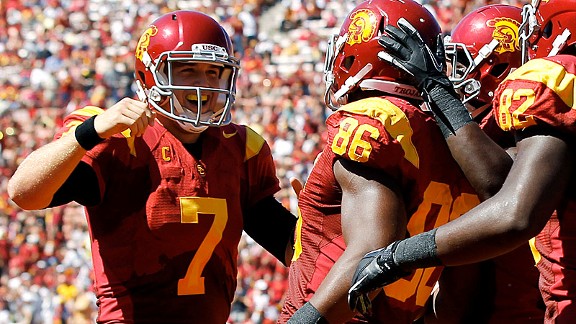 AP Photo/Danny Moloshok
Matt Barkley, left, celebrates after throwing a touchdown to tight end Xavier Grimble.
LOS ANGELES -- By the time the rest of the country gets wind of what
Matt Barkley
and these receivers are doing, they might not be doing it any more.
If you don't think the USC football coaches are worried about the clouds building toward January, when juniors can declare for the draft, why did coach
Lane Kiffin
walk out of his postgame news conference Saturday afternoon, gesture to Barkley and junior safety
T.J. McDonald
and say, "T.J. and Matt have an announcement to make to you guys, by the way. They'll be back next year"?
If only Kiffin weren't joking.
This quarterback and receiver
Robert Woods
already have taken a magic marker to USC's records books -- old, dusty books, filled with famous names.
Woods set a school record for receptions against Minnesota and he finished five yards short of the school record for receiving yards Saturday in a 48-41 win over Arizona. He broke a couple of tackles near the line of scrimmage and raced 82 yards for a touchdown the second time he touched the ball. He finished with 255 yards.
Barkley outdid his childhood hero,
Carson Palmer
, by passing for a school record 468 yards Saturday, not to mention four more touchdowns. He's not perfect. He misses on some deep balls and has turned the ball over a few times lately, but he's running this offense so efficiently it looks like a bullet train at times. Most of his throws have the precision that NFL offensive coordinators spend years chasing.
And here's what Woods had to say about comparisons with his high-school teammate, the freshman receiver who is fast becoming a dangerous second option for this offense,
Marqise Lee
: "He's better, he's faster, he's stronger."
It's scary how explosive this USC passing attack could become, but if Barkley takes his act to the NFL next season, who really cares? By the time the 2012 season begins and USC is eligible for something, Barkley might be in a training camp somewhere. USC will be starting from scratch, with a quarterback who might have never taken a college snap.
The Barkley Experience is really all this team has going for it at the moment. USC is a laser light show, not a great football team. The defense was trampled for 554 yards and 29 second-half points by
Nick Foles
and Arizona on Saturday, a week after getting picked apart by Arizona State in the first half and fourth quarter.
Considering his dad,
Monte
Kiffin
, runs things on that side of the ball, it's a sensitive topic for Lane Kiffin, but after Saturday's game, he said of this defense, "It's just not coming together, exactly."
That leaves USC fans with this to cling to in tough times: When Barkley finds Woods, big things happen. When he finds Lee, balletic things happen. Woods plays the position like a football player. He makes tough catches in traffic, he blows through arm tackles and he finds seams. Lee plays it like an elite basketball player, which he was, leaping high to take balls away from defenders. Imagine what life must have been like for defensive backs playing against their Serra High team two years ago.
It must have felt like chasing two gusts of wind.
"They're obviously special athletes," said Arizona safety
Marquis Flowers
.
When you have one brilliant receiver, it opens up so many possibilities. It can make a pedestrian offense dynamic, a good offense electric. And two? Earlier this week, Kiffin raised some eyebrows when he said Lee has the potential to be among the best receivers USC has ever had. There have been a few good ones here, you might recall.
September, 19, 2011
9/19/11
5:17
PM PT
By
Pedro Moura
| ESPNLosAngeles.com
Quarterback Matt Barkley was named the Pac-12 conference's offensive player of the week Monday after he posted a five-touchdown, no-interception performance in a 38-17 win over Syracuse on Saturday.

Barkley, a junior, completed 26-of-39 passes for 324 yards against the Orange, throwing touchdown passes to five different receivers. The five touchdowns tied a school record; it was the third time in his career Barkley had reached the mark, with the first two coming last season against Hawaii and California.

He shares the record with Carson Palmer, Mark Sanchez, Rodney Peete and Matt Leinart. Barkley has now thrown at least one TD in 23 of 27 career starts at USC, with at least two scoring passes 14 times and at least three seven times. He has passed for at least 200 yards 17 times in his career and for at least 300 yards six times.

Utah defensive end Trevor Reilly won defensive player of the week honors and Cal running back/kick returner Brendon Bigelow took home the special teams award. USC freshman linebacker Dion Bailey was nominated for the defensive award after he posted nine tackles and a sack against Syracuse.

Barkley is the second Trojan to win a Pac-12 award this year. Receiver Robert Woods was named the offensive player of the week after a season-opening 17-catch day.
September, 2, 2011
9/02/11
3:28
PM PT
By
Pedro Moura
| ESPNLosAngeles.com
In a weekly feature from last year we're bringing back back again for the 2011 season, here are two funny and informative videos from the four days of Minnesota-prep practice that didn't make it in any of our 24 posts this week.

First is freshman receiver Marqise Lee, who's made himself a better receiver the classic way: some good old-fashioned ballroom dancing. He's taking the now-famous class at USC this semester, following in the footsteps of Trojans past like Matt Leinart and Mark Sanchez. See what Lee had to say about it:



Second is a fellow freshman, kicker Andre Heidari, an early enrollee who has impressed the coaches with a strong, accurate leg thus far. It's now potentially an option for USC to kick a field goal out to about 50 yards, something the Trojans didn't have the last two years with Jordan Congdon and Joe Houston. See video of Heidari talking about his preparation this week here, including his recounting of the special-teamers' visit to the Coliseum on Wednesday:


April, 7, 2011
4/07/11
1:21
PM PT
By
Pedro Moura
| ESPNLosAngeles.com


New York Jets quarterback Mark Sanchez spoke to the Trojans and observed practice Thursday in his return to the USC campus. He arrived around 5:45 a.m., Trojans coach Lane Kiffin said, and sat in for an hour and a half's worth of meetings, then taking a few minutes to speak to the team in the auditorium in Heritage Hall before heading out to Howard Jones Field, doing some throwing and watching the team portion of practice from the sidelines.

"I don't know if I was here that early when I was in school, but it was fun," Sanchez said after practice. "It was great to see Coach Kiffin and [quarterback Matt] Barkley. The guys looked great."

Sanchez, 24, was drafted fifth overall by the Jets in 2009 after four seasons at USC, during which he started only 16 games and threw 41 touchdowns and 16 interceptions. After leading USC to a dominant Rose Bowl win over Penn State and raising his stock, he declared early for the NFL Draft -- he had redshirted his first year but earned his degree before leaving -- in a memorable January 2009 press conference alongside former USC coach Pete Carroll.

In two seasons with the Jets, Sanchez has led the team to the AFC Championship Game on each occasion and has generally earned praise from the media, opponents and general public for his poised play as a young signal-caller in high-stakes situation.

"Mark really did a great job of what we try to get our guys to do all the time – maximize your experience here with all the people you can meet and all the connections you can make," Kiffin said. "Even though he left early, Mark left with his degree and he talked about that, comparable to other kids with the relief of having that done as opposed to having to find a way to get back in the summers, which is hard once you're playing at that level."


2014 TEAM LEADERS
| TEAM | RUSH | PASS | TOTAL |
| --- | --- | --- | --- |
| Offense | 189.3 | 273.4 | 462.7 |
| TEAM | PF | PA | MARGIN |
| Scoring | 35.6 | 23.1 | 12.4 |