July, 5, 2011
7/05/11
3:51
PM PT
By
Pedro Moura
| ESPNLosAngeles.com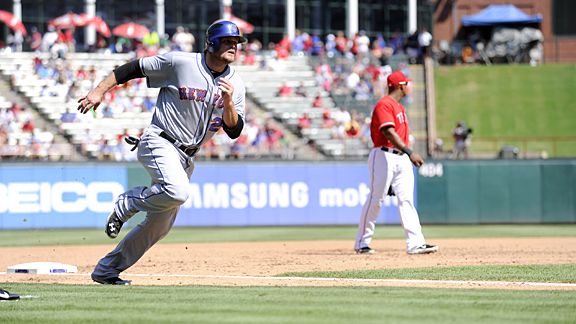 John Williamson/MLB Photos via Getty ImagesFormer USC first baseman Lucas Duda is in L.A. this week with his big-league ballclub, the New York Mets. Duda, 25, is finally starting to heat up in the Mets' lineup, with hits in six of his last seven games.
Lucas Duda
was a big, strong, slugging first baseman/outfielder in three years at USC from 2005-2007, helping to bridge the gap between
Mike Gillespie
and
Chad Kreuter
with the Trojans.
He kept the power up in parts of four minor-league seasons in the New York Mets organization after being drafted in the seventh round in 2007. But, in two stints up at the big-league level last September and this summer, Duda has struggled to put up the power numbers so far. He hasn't hit a dinger yet in 30 games this season and, with all of his major-league at-bats to date, would only be on pace to hit 13 or 14 homers in a full season.
Is the power coming?
Maybe so.
After getting a pep talk from former USC (and New York Mets) pitcher Tom Seaver
, Duda had his best game yet as a pro two weekends ago in Texas, tying a New York franchise record with three doubles on a 4-for-5, four-RBI day. He's been picking up regular at-bats of late in the absence of the injured
David Wright
, but Wright's scheduled to come off the disabled list later this week, so Duda's essentially fighting for his temporary major-league life this week in a West Coast road trip against the Dodgers and Giants.
In a weekly USC Report feature, we take a look at Duda's collegiate career, his pro resume thus far and what's to come from the 25-year-old left-handed hitter:
College
Duda, listed at 6-5, 240-pounds in college, arrived at USC in the fall of 2004 a touted prospect from nearby Riverside, where he starred at Arlington High and won CIF-SS Division I Player of the Year honors as a senior. He missed almost half of his freshman season with the Trojans because of a wrist injury, but rebounded to approach a .300 average as a sophomore and then lead the team in homers as a junior in 2007.
That year, Duda hit .280 with seven homers and 34 RBI, coming in second in the team in both on-base percentage and slugging percentage. He started 51 games at left field, a departure from his previous years spent at first base. The team's season was deemed a disappointment, as the Trojans failed to qualify for the NCAA Tournament in Kreuter's first season at the helm, but Duda was the team's top draft pick that June.
Pro
Duda signed right away and took an immediate liking to the minor leagues, hitting .299 with a .398 on-base percentage in 234 at-bats that year with the Brooklyn Cyclones, the Mets' Short Season A affiliate. He then spent all of 2008 in High-A Port St. Lucie, where he hit .263 with a .358 on-base percentage and 11 home runs, and all of 2009 in Double-A Binghamton, where he hit .281 with a .380 on-base percentage and nine home runs.
The power emerged for him in 2010, when he shuffled between Binghamton and Triple-A Buffalo from May-August and combined to hit 23 home runs in just 487 at-bats, which earned him that September call-up to New York.
Starting most of the remaining games on the Mets' schedule, Duda struggled some, hitting just .202 with a .261 on-base percentage, by far his worst marks as a pro. But, after another poor performance in the majors at the start of the season, he went back to tearing the cover off the ball in Buffalo this spring and earned another call-up to New York.
Future
Until that four-hit game in Texas late last month, Duda was hitting a miserable .173 on the year with a horrific .462 OPS. Now his numbers are starting to creep back up into respectable territory, as he's gone 10-for-27 (.370) in his last seven games to raise his average to .241.
He stands to likely go back down to Triple-A when Wright's brought back later this week, but Duda's made a positive impression on manager
Terry Collins
and the streaking Mets in recent weeks. It doesn't look he'll be sequestered in upstate New York for any sort of extended period of time, especially if he continues his hot streak this week in L.A. and San Francisco.
May, 26, 2010
5/26/10
12:09
AM PT
By
Pedro Moura
| ESPNLosAngeles.com
Had USC coach Chad Kreuter known he could pitch this way, Trojans sophomore right-hander Brandon Garcia probably would have started more games this season for pitching-starved USC.

Garcia started only his second game of the season Tuesday against UC Irvine and pitched marvelously, going 7 2/3 innings and giving up just three hits and one run to the Anteaters — a start that propelled USC to a 8-1 upset of Irvine before 188 fans at Dedeaux Field.

Kreuter said he has seen Garcia mature into a likely weekend starter for next season over the last month, including a six-inning, three-run start against New Mexico State a week ago. He has progressed from a thrower to a pitcher, Kreuter said.

"He pitched in this start," the fourth-year coach said. "He didn't just go out there and throw. He was adding and subtracting with his fastball and changeup, just getting a real feel out there."

Garcia walked the first batter he faced to start off the game and three others on the night but succeeded multiple times in limiting the damage incurred. USC also played nearly-spotless defense for the first time in recent memory, playing the first eight innings error-free until shortstop Joe De Pinto's throwing error in the ninth.

On offense, the Trojans (26-31) managed to post the "crooked numbers" that Kreuter has emphasized so frequently, scoring three runs in fourth inning, one in the seventh and four in the eighth. First baseman Ricky Oropesa went three for five with an RBI to raise his average to .342 on the season, and right fielder Garret Houts went two for three with a double and a walk hitting out of the ninth spot in the order.

USC's first runs came after Irvine starter Nick Hoover and reliever Andy Lines combined to walk the bases loaded in the fourth inning and freshman center fielder Alex Glenn drove two runners in with a single up the middle and Houts grounded an RBI infield single down the third-base line. In the seventh, Houts scored on an RBI single from De Pinto.

The Anteaters (34-19) issued eight walks on the mound on the night, five of which came around to score. Hoover allowed just one run but lasted only 3 2/3 innings, and UCI coach Mike Gillespie had to turn to his bullpen five times on the night.

"That's the old adage of baseball — you don't walk guys," Kreuter said. "The walks do kill you. Walks just prolong innings.

"Those things happen; that's how we've gotten beat all year and it's nice to see our guys turn it around."

Combined with an 8-6 victory at Irvine earlier this month, USC swept the Anteaters in a season series for the first time since 2003. The Trojans now turn to face Washington for a weekend series at Dedeaux Field to close out the 2010 season.

Notes: Kreuter said pregame that five of his pitchers are finished for the season due to injuries, including redshirt sophomore righthander Andrew Triggs, who has a tired shoulder. ... The USC pitching staff hit a season-high four batters on the night, two by Garcia and two by reliever Logan Odom.
May, 25, 2010
5/25/10
6:35
PM PT
By
Pedro Moura
| ESPNLosAngeles.com
Much has been made of
Mike Gillespie
's unceremonious departure from USC in 2006, and with good reason.
Gillespie spent 20 years as the the Trojans' head baseball coach, and his teams qualified for an NCAA Regional 15 times. They twice made it to the national championship game and won the title once, in 1998.
But in three of his last four seasons at USC, Gillespie's Trojans finished under .500. And in June of 2006, as quickly and as quietly as possible, USC replaced him with his son-in-law, former major leaguer
Chad Kreuter
.
At the time, USC's press release said Gillespie retired, and the university has stuck to that stance since. But the ever-forthright Gillespie admitted Monday that he was indeed fired and did not retire or resign.
"To be brutally frank and candid, I got fired there," Gillespie said. "Over the period of the 20 years that we were there, I don't have any false pride or humility in saying that we had a great run.
"By and large, we had a great run. But in 3 of the last 4 years, we didn't and I got fired."
Shown Gillespie's comments, a USC spokesperson maintained that Gillespie retired, as was detailed
here
.
As the story goes, soon after his firing Gillespie took a job managing the Staten Island Yankees, New York's Single-A affiliate. Just 17 months from the time he left USC, he was hired to take over a prestigious program at UC Irvine. He has directed the Anteaters to two consecutive playoff appearances and the program's first-ever midseason No. 1 ranking.
And he's on pace for another playoff run this year, ranked in the Top 25 nationally by multiple outlets. But Gillespie harbors no ill will towards the USC baseball program or anyone in the administration, he emphasized.
Kreuter has struggled to the tune of a 108-116 overall record in four seasons at the helm of the USC program and no postseason appearances, leading to louder and louder calls for his firing at the end of this season. But, if it was up to Gillespie, Kreuter would keep his job.
"People can criticize Chad Kreuter all they want, but they're morons," Gillespie said. "They do not know what's going on. Chad's a premier baseball guy, and he's got a lot of help on that coaching staff. They've just been cursed."
Gillespie dismissed Kreuter's recruiting misses over the years, calling his son-in-law a "good recruiter" and mentioning the scholarship problem that Kreuter has brought up many times over the years. Simply put, a 50 percent scholarship to play baseball at USC means less to many middle-class families than a similar scholarship to a state school does, because of the increased cost of attending a private school the caliber of USC.
Said Gillespie: "If Chad Kreuter is stupid, the other 280 coaches in the country are stupid as well."
Gillespie and Kreuter will match up tonight (7:15 p.m., Dedeaux Field), in the Irvine coach's third time returning to USC since the coaching switch. In each of the two previous games, UC Irvine topped USC. In fact, when the Trojans beat the Anteaters, 8-6, at UCI earlier this month, it was Irvine's first loss to USC under Gillespie.
Gillespie, who also turned 70 earlier this month, talked Monday about the frustrating loss. In the game, USC rallied to score three runs in the ninth after entering the inning trailing 6-5. Trojans freshman designated hitter
Cade Kreuter
— Kreuter's son and Gillespie's grandson — also hit a solo homer to tie up the game in the fourth inning.
"It was a good win for them," Gillespie said. "They played well, but the thing that was memorable was that my grandson hit one out of here."
May, 22, 2010
5/22/10
10:37
PM PT
By
Pedro Moura
| ESPNLosAngeles.com
The struggles continue for USC baseball, as a trip to Pac-10 rival Washington State this weekend has done the reeling Trojans no good — and a whole lot of bad.

In two games, USC has been outscored 38-11 by the No. 24 Cougars. Friday, USC was down from the start after righthander Ben Mount allowed six runs in the bottom of the first inning. The Trojans got as close as 7-2 in the third inning before Washington State tacked on runs in the third and fourth and exploded for 10 runs in the fifth to open up a 19-2 lead.

An Alex Glenn RBI triple and Ryan Bast RBI double gave the Trojans three runs in the eighth inning, and they would add two more before the Cougars won by a score of 20-7.

Saturday, USC starter Chris Mezger kept the Cougars under wraps for the first three innings, but the fourth inning was a sight to see. Washington State sent 16 hitters to the plate and plated 11 of them in the inning, putting the game instantly out of reach.

Sophomore slugger Ricky Oropesa hit a two-run homer (his 16th on the season) in the fifth inning and added an RBI groundout in the sixth, but the Trojans got only one more run, on a solo shot from outfielder Garret Houts. Washington State won 18-4.

Remarkably, USC used only three pitchers in each game. With only a few relievers available, coach Chad Kreuter was forced to keep his pitchers out on the mound. The worst performance of the weekend, so far? Shuhei Fujiya's five-hit, one-walk, seven-run line in 1/3 of an inning Friday, raising his ERA to 8.39 on the season.

Next for the Trojans is the final game of the series at 12 p.m. Sunday, then a Tuesday home game against Mike Gillespie-led Anteaters of UC Irvine. A three-game weekend series with Washington will then conclude USC's season.
May, 4, 2010
5/04/10
10:53
PM PT
By
Pedro Moura
| ESPNLosAngeles.com
It'd been a long time coming, but USC baseball coach Chad Kreuter finally earned his first win against his father-in-law Tuesday, as the Kreuter-led Trojans topped Mike Gillespie's powerful UC Irvine team, 8-6.

The Trojans trailed entering the ninth inning but put together only their second final-inning comeback of the season to earn the victory and give Kreuter his first win in five tries against Gillespie. After second baseman Joe De Pinto tied the score with an RBI single, first baseman Ricky Oropesa hit a two-run homer to put USC (20-24) on top.

USC led 2-1 and 5-3 but relinquished the lead when the Anteaters put together a mini-rally in their half of the eighth inning. But right-hander Chad Smith came on in the ninth and induced a game-ending double play ball from UCI's Sean Madigan to close out the game and earn the save. Reliever Ryan Cabral (1-1) got the win for USC and Christian Bergman (5-3) took the loss for UCI (27-15).

Oropesa, a sophomore, has hit a Pac-10 high 12 homers on the season. He hit 13 a year ago while earning Collegiate Baseball/Louisville Slugger Freshman All-American honors. The win also ended an eight-game losing streak for the Trojans against the Anteaters
May, 4, 2010
5/04/10
2:57
PM PT
By
Pedro Moura
| ESPNLosAngeles.com
Plenty of USC-related news on this Tuesday in Los Angeles:
Fresh off its first Pac-10 series win this season, USC baseball returns to the field today with a big midweek game against UC Irvine. Of course, UC Irvine's head coach is Mike Gillespie, who resigned from the same post at USC in 2006 — only to be replaced by his son-in-law (current coach Chad Kreuter) -- and took the job at Irvine, where he is 114-47 in two-plus seasons. Kreuter's Trojans are 19-24 this season and in desperate need of a string of wins. Last week, Kreuter said he expects the Pac-10 could very well qualify eight teams for the NCAA Tournament later this month. USC is currently 10th — the only team in the conference under .500. Still, an eighth-place conference finish is within reach.
In basketball news, the school announced today that Iowa big man Aaron Fuller will transfer to USC and redshirt the 2010-2011 season. Fuller was a valuable player for the Hawkeyes, leading the team in both points (12.3) and rebounds (7.6) during Big Ten play. "We are very excited to have Aaron at USC," coach Kevin O'Neill said in a statement. "He is going to be a tremendous asset to us on and off the court. We love his tenacity, hard work and desire to get better."
The latest installment of Athletic Director Mike Garrett's "From the Desk of the A.D." journal entries arrived today. A nugget regarding the NCAA investigations: " I get asked daily about when we'll be hearing from the NCAA regarding its findings in the pending investigation. I don't have an answer; the NCAA will release the results when its committee members have concluded their work. We hope it is soon."
Here's a profile of USC guard Marcus Simmons from a school publication. Simmons, a senior to-be, was an important cog in O'Neill's rotation this season and could be even more important next season, considering the Trojans will graduate senior guards Mike Gerrity and Dwight Lewis. Simmons plans to improve by then. A highlight from the story: " 'I'm going to get better," Marcus said nodding his head with enthusiasm. 'That's a promise. Bigger, faster, stronger for next year.' "
USC director of basketball operations Dwayne Polee turned in his resignation last week, the L.A. Times reports. Polee was hired by former coach Tim Floyd in 2007, during the time his son, Westchester High standout Dwayne Polee Jr., was committed to USC. Polee Jr. since decommitted from the Trojans and will soon choose between St. John's, Oregon and Georgia. The elder Polee did not return messages seeking comment Tuesday.
2013 TEAM LEADERS
| TEAM | RUSH | PASS | TOTAL |
| --- | --- | --- | --- |
| Offense | 174.2 | 218.1 | 392.3 |
| TEAM | PF | PA | MARGIN |
| Scoring | 28.5 | 21.3 | 7.2 |