June, 3, 2014
Jun 3
11:00
AM PT
No position group at USC entered the spring surrounded by more uncertainty than the offensive line. With the key losses of
Marcus Martin
,
Kevin Graf
,
John Martinez
and
Abe Markowitz
, a new position coach in Tim Drevno, and the offense transitioning into Steve Sarkisian's up-tempo, shotgun-based attack, no one knew quite what to expect. While there was certainly plenty of good to take away from their performance this spring, this is still a unit with more than a few question marks.
Both guard spots open
[+] Enlarge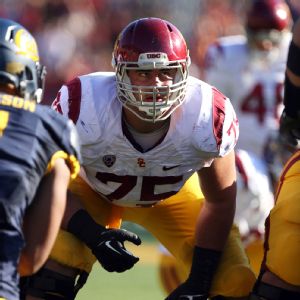 Kelley L Cox/USA TODAY SportsNo matter the position, Max Tuerk figures to have a starting job on USC's OL.
With only eight healthy scholarship players available, it was hard to ever get a real solid read on the offensive line, and as Sarkisian recently noted, this is a unit that will need to be solidified in the coming months.
That's particularly the case at the guard positions, where, during spring drills, the Trojans featured a starting duo of early-entrant freshman
Toa Lobendahn
at left guard and second-year freshman
Khaliel Rodgers
at right guard.
And while both players – particularly Lobendahn -- showed promise, the entire competition at those spots is set to change dramatically as the Trojans gain an influx of talent from incoming freshmen as well as players returning from injury.
Of those players on the mend, senior
Aundrey Walker
, who is returning from a broken ankle, will be watched with particular interest. Establishing himself as a reliable starter at right guard in 2013 after an up-and-down 2012 campaign at tackle, he possesses veteran experience that could be invaluable to this unit.
Jordan Simmons
, returning from a torn ACL, is a big mauler who was really starting to stand out in practice prior to his injury in the fall, and he's another player who could make a run at a starting job on the interior.
Of course, in the case of both Walker and Simmons, it's how their recovery goes, and what kind of shape they come back in -- particularly with the conditioning required for the new offense -- that will likely play the biggest role in determining whether or not they're able to jump in and perform at a high level when fall camp opens up.
And then there is fifth-year senior
Giovanni Di Poalo
, as well as a pair of incoming freshmen guard candidates --
Damien Mama
and
Viane Talamaivao
. Both youngsters arrive not only with more than their fair share of accolades, but also with unique talent and tremendous size -- giving them the look of potential instant impact performers.
Center of attention
With Martin off to the NFL, one of the new staff's biggest priorities heading into spring practice was to find a capable starter at center.
Max Tuerk
, a tried and tested veteran who started 13 games at left guard in 2013, and the majority of the prior season at left tackle, wound up getting the call. While he did have some occasional difficulties in the snapping department, he performed solidly for the most part.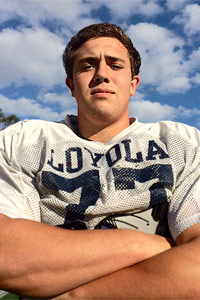 Blair Angulo/ESPNIncoming freshman Chris Brown has been taking a lot of reps at right tackle during summer workouts.
Still, while Sarkisian lauded Tuerk's overall ability during the recent Pac-12 football coaches teleconference, he also appeared to leave the door open for competition through fall camp, so this isn't over just yet. Both Di Poalo and Lobendahn lined up at the position in the spring, and have continued to do so this summer during the team's volunteer workouts. Talamaivao is another key name to watch here, as he too, has been taking reps at this spot over the course of the last week. It will also be interesting to see if Mama gets a look here when he arrives on campus.
If Sarkisian and Co. did decide to go with someone other than Tuerk here, it's a virtual certainty that the junior would still line up as a starter somewhere else. Arguably the Trojans' sturdiest pound-for-pound offensive lineman, he could conceivably slide back over to left guard or either of the tackle spots without a hitch.
Stability at tackle
While the interior of the line still isn't totally set, the Trojans do appear to be in better shape at both of the tackle spots -- at least when it comes to the starters.
No player drew more praise from Sarkisian following spring drills than third-year sophomore left tackle
Chad Wheeler
. Having started every game last season, he looks primed for a fantastic 2014 campaign.
Over on the right side, the emergence of
Zach Banner
-- who sat out most of last season after having hip surgery -- was one of the great revelations of the spring. Performing at the highest level of his career, the 6-foot-9, 345-pounder took over with the No. 1 group in place of
Nathan Guertler
midway through camp and never looked back. Considering the fact that he said that he wasn't even quite back to 100 percent during those workouts, there's reason to believe he's only going to get better, and it will be interesting to see just how much farther he can continue to progress this offseason.
Still, Drevno needs to find out who else he can count on to contribute at tackle, if nothing else, to provide depth. Early entrant freshman
Jordan Austin
and Guertler were the primary backups in the spring, and then there's also
Nico Falah
-- returning from a back injury. Highly touted incoming freshman
Chris Brown
has also been taking reps at right tackle during summer drills.
March, 26, 2014
Mar 26
3:00
PM PT
It was on a Monday in late January when
USC
's
Nathan Guertler
–- who has had a big spring filling the role as the Trojans' starting right tackle -- finally received the news that he'd been waiting to hear about.
Pulled aside by Steve Sarkisian during an early morning weightlifting session, Guertler was instructed to stop by the new USC coach's office later that day. A rising fifth-year senior walk-on, Guertler did as asked without a clue as to what awaited him, and that's when it happened.
[+] Enlarge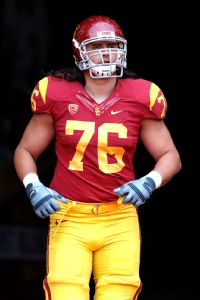 Ric Tapia/Icon SMINathan Guertler, who was awarded a scholarship earlier this year, is practicing as the starting right tackle for the Trojans.
"I figured that he just wanted to talk to me, you know, just trying to get to know the guys on the team," said Guertler, who spent a portion of last season at tight end because of a lack of healthy bodies at the position, even recording the lone start of his USC career at the spot against Utah. "I go up to his office, and he says, 'I'm putting you on scholarship.' I was speechless, and he said, 'How are you feeling?' I really didn't know what to say except, 'Thank you.'"
The fact that Guertler was overwhelmed to the point of being at a loss for words is understandable. A Norco, Calif., native, he fulfilled a lifelong dream when he enrolled at USC in the fall of 2010 and walked on to the football team. Quickly making a name for himself as a tireless worker who more than held his own battling in the trenches during practice, he figured that his ultimate goal -- a scholarship -- was always within reach.
Still, year after year went by, and a scholarship never came his way. His frustration finally reached a precipice a couple years ago, and he contemplated throwing in the towel.
"There was a year after fall camp, when scholarships are normally given out, and I was crushed," Guertler said. "I think it was my second or third year here. They were awarding scholarships to some guys, and I was waiting to hear my name, and it was never called. I called my dad and I was like, 'Dad, I don't know if I want to play anymore.' And he said, 'No, you've got to keep going. Just keep going.' After that, I decided to just keep pushing and to keep striving. And now I have one."
Having sacrificed so much time and energy during his four years on the team, Guertler is grateful to now be allowed to fully take advantage of the benefits that the majority of his teammates have had all along, including some perks that might seem fairly minor to some, such as the free food provided for all scholarship players in the athletic dining hall.
"I grab meals every day now," said the 6-foot-5, 285-pound Guertler. "I take such advantage of it."
Most of all, however, Guertler is thankful for the financial load that he has been able to lift for his family.
"It was most rewarding for me knowing that my family wouldn't have to pay for this next year of school," said Guertler, who will graduate this spring with a bachelor's degree in psychology, with plans to attend graduate school at USC in the fall. "That was the biggest relief on my part."
With his worries off the field eased, Guertler is now making a major statement on the field at right tackle.
With
Max Tuerk
lining up at center, potential contenders
Jordan Simmons
and
Nico Falah
sidelined because of injury up to this point this spring, and another contender in freshman
Chris Brown
not due to arrive on campus until this summer, Sarkisian and offensive line coach Tim Drevno have afforded Guertler the chance to run almost exclusively with the first-team offense so far in the Trojans' new uptempo offense -- ahead of
Zach Banner
and early-entrant freshman
Jordan Austin
.
With an eye toward his final season in a USC uniform, Guertler is fully aware of the importance of what he views as a golden opportunity to earn a starting job for the first time.
"This is the most significant time in my career here," he said.
And while the battle for that starting role figures to keep heating up as the spring progresses, and then again during fall camp, having already seen first-hand what he's capable of accomplishing through fierce determination and hard work, it's safe to say that Guertler isn't about to let up now.
"I'm so blessed ... so thankful," Guertler said. "I can't just let this opportunity slide by."
November, 7, 2013
11/07/13
10:00
AM PT
LOS ANGELES -- With the USC Trojans' sudden dearth of tight ends due to injuries suffered in the Notre Dame game, it was out of desperation that junior walk-on offensive tackle
Nathan Guertler
was converted to tight end, and the results couldn't be more satisfying.
November, 5, 2013
11/05/13
2:00
PM PT
As the Trojans continue to battle injuries while they prepare for the final stretch of the 2013 season, here are 5 players who have stepped up when called upon due to injuries to other players at their position.
[+] Enlarge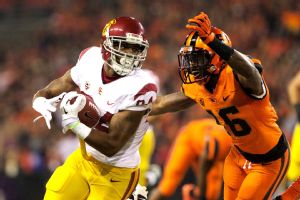 Jaime Valdez-USA TODAY SportsAfter missing a few games with injury, USC wideout Darreus Rogers has caught 12 passes in his last three games.
RB Buck Allen:
There is no bigger example of a player rising up and playing a key role than what Allen did last week in the win over Oregon State. There were flashes from Allen earlier in the season -- as well as his solid performance in fall camp -- but it was still a pleasant surprise for USC fans to see him get 16 carries for 133 yards and three touchdowns in such a critical game. With
Justin Davis
out for the season with ankle surgery and
Tre Madden
battling hamstring issues, the Trojans might be relying on a whole lot more from Buck in the coming weeks.
WR Darreus Rogers:
The freshman wide receiver had injury issues of his own early in the season but got healthy just as
Marqise Lee
and
Nelson Agholor
both were hurting as well. In a two-game stretch against Notre Dame and Utah, Rogers had 11 catches for 122 yards and was a reliable mid-range target.
TE's Nathan Guertler:
Through the first three years of his career, Guertler was a little-used walk-on offensive lineman who was known for his rugged style of play. In recent weeks, however, the Trojans have found themselves with serious depth issues at tight end so Guertler has thrown on a new jersey with a tight end number and played well against Oregon State as an extra blocker.
OLB J.R. Tavai:
After beginning this season as a backup to
Leonard Williams
at defensive end, Tavai was moved to outside linebacker when
Morgan Breslin
went down with a hip injury. Tavai responded with a pair of double-digit tackle games with his usual relentless motor and strength. It shouldn't be a surprise to see Tavai have such success considering he has played both inside and outside on the line in his USC career, but it is still a bonus for the Trojans to have a player who can move seamlessly between both spots.
DB Demetrius Wright:
The Trojans came into the season with great depth at safety but it has been tested with the move of
Josh Shaw
to corner, the redshirt season for
Gerald Bowman
and various injury issues for
Dion Bailey
and
Su'a Cravens
. Wright has stepped in as an experienced reserve and provided steady play along with some big hits. Interim coach Ed Orgeron has mentioned Wright multiple times as a key contributor in recent weeks.
November, 3, 2013
11/03/13
4:00
PM PT
As the Trojans bask in the glow of the victory in Corvallis, there are many areas of their performance that deserve celebrating.
It was the most complete game that USC has played in years. The defense did a great job against the top statistical passing game in the nation, including three interceptions, which was the total that Oregon State quarterback
Sean Mannion
had coming into the game. The offense had tremendous balance with 242 yards rushing and 247 yards passing. It was the best play calling yet from Clay Helton.
[+] Enlarge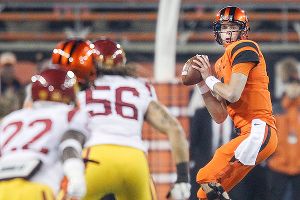 Steve Conner/Icon SMIThe USC defense made things difficult for Sean Mannion and the high-scoring Oregon State offense.
As important as anything, however, was the way in which the Trojans physically dominated on both sides of the ball. For a team that has struggled with injuries and has thrilled in recent weeks to take any win no matter how it happened, this game was one to enjoy for its physical beauty.
It was somewhat unexpected too.
The Trojans defensive front had been solid coming into the game but they were without leading sack-man
Morgan Breslin
and Mannion had proven to be tough to rattle. Not only did the Trojans get two sacks but they added nine pressures in addition to the critical interceptions -- two of them at or near the end zone -- and they also held Mannion and leading receiver
Brandin Cooks
well below their nation-leading averages.
The Trojans offensive line had been in a state of flux after an injury to
Kevin Graf
resulted in three players seeing time at new positions. USC was also limited at tight end. Regular starter
Xavier Grimble
tried to go but for most of the game it ended up being walk-in tackle
Nathan Guertler
filling in and doing a very commendable job in the blocking department.
The USC running game was coming off a net 30-yard performance the week before against Utah and it was clear early on against the Beavers that leading rusher
Tre Madden
was not going to be available due to injury. Not a problem for
Silas Redd
and Buck Allen.
Redd set the tone with his physical runs gaining big chunks of yardage. Then Allen would spring in and use his combination of speed and slashing ability to keep things going.
There was no better example of what kind of day this was going to be for the Trojans on the ground than early in the second quarter after Oregon State had pulled to a 14-14 tie. It was the kind of moment when you need to rely on the run game to settle things down. The Trojans went on a 10-play drive -- eight of them on the ground -- to score what would prove to be the game-winning points.
More importantly, it was the kind of drive where the Trojans realized they could impose their will. Momentum had been completely on the side of the Beavers at the start of the drive but the Trojans stole it right back with a physical ball-control drive.
For the second time this season, the Trojans also saw the emergence of a two-headed weapon at tailback. Early in the year it was Madden and true freshman
Justin Davis
but now, thanks to injuries to both, the opportunity has been presented to Redd and Allen and both took advantage on Friday night.
As the Trojans continue to ride this wave of emotion under interim coach Ed Orgeron, this latest physical performance can only offer encouragement for what is possible in the coming weeks. The next game offers an opponent that is struggling and an opportunity for USC to get back more bodies from the injured list. If the Trojans can build upon what took place in Corvallis, you never know what might be in store for this team in the final stretch of the season
April, 5, 2013
4/05/13
7:17
AM PT
LOS ANGELES -- Injuries continue to be one of the big stories for the Trojans this spring as it was confirmed after practice that both
George Farmer
and
Su'a Cravens
will undergo knee surgeries.
The news was more dire for Farmer after Kiffin confirmed the earlier media reports of a torn ACL and MCL in his left knee, which will force him to miss the 2013 season. For Cravens, he has a torn meniscus in his right knee and will undergo surgery Friday. The injury is the same as the one suffered by
Silas Redd
. Cravens is expected to miss 4-6 weeks and will be back in plenty of time for fall camp.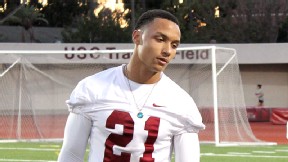 Garry Paskwietz/WeAreSC.comSu'a Cravens is the latest USC player to get dinged in spring practice.
"Whenever there is an injury you hope, like Su'a, that's it's not going to be a long setback," USC coach Lane Kiffin said. "With guys like George, those are the ones you feel really bad for. A guy who battles back and was playing well and then to have this setback."
The Trojans entered the Thursday practice session with 20 players out of action because of injury and two more left practice –
Torin Harris
and
Cyrus Hobbi
.
"I don't see any way we could practice like this in the fall. We wouldn't be able to play a game," Kiffin said. "Of the 22 guys who ended up being out today, 18 of them are scholarship players. With the roster reductions we already have we would not be able to give up that many players. We will start fall camp practicing this way, but I don't think we will end fall camp this way."
There was some good news on the injury front as
Marqise Lee
returned, albeit in a limited role, after missing two-and-a-half weeks with a knee injury. Lee seemed to be running fine with no major issues but he was held out of contact team drills.
Kevon Seymour
and
Jordan Simmons
also returned to action.
"Marqise was back, which was obviously good to see," Kiffin said. "He basically took part in the first hour of practice and we'll add to him as we go."
George Uko
was out today and
J.R. Tavai
took his spot with the first unit at defensive end. During the final team drill,
Aundrey Walker
was out and
Max Tuerk
had moved to center with Hobbi out, so the first unit left side of the line was walk-on
Nathan Guertler
at tackle and
Giovanni Di Poalo
at guard.
Receiver shuffle
With Farmer out, that means opportunities for players such as
Victor Blackwell
and
De'Von Flournoy
along with first-year players
Darreus Rogers
and
Steven Mitchell
. Kiffin also made sure to note the high level of play from
Nelson Agholor
this spring when discussing the receiver group.
August, 27, 2012
8/27/12
6:11
PM PT
By
Pedro Moura
| ESPNLosAngeles.com
USC released its
season-opening depth chart
Sunday night. Here are our brief takeaways, position by position:
Quarterback
As expected,
Cody Kessler
and
Max Wittek
are still listed as co-backups to starter
Matt Barkley
. We should have a resolution soon, according to
Lane Kiffin
, who said Sunday he'd have something to say on the subject on "Tuesday morning."
For what it's worth, Kessler was listed first at the end of spring and Wittek was listed first this time. But they still had an all-caps "OR" in between their names both times.
Running back
This might be the biggest surprise on the depth chart.
Curtis McNeal
was expected to be the for-sure starter heading into camp, and that didn't change much when
Silas Redd
was added just days before. McNeal has done very little wrong over the last few weeks, yet, somehow, Redd's listed as his co-starter on the depth chart.
As the third-string running back,
D.J. Morgan
cannot afford to fumble this season. A turnover or two and his carries will be going to redshirt freshman
Buck Allen
, who has improved in camp.
Fullback
Soma Vainuku
is the starter here. There was never any doubt.
Freshman
Jahleel Pinner
is listed as the second-stringer, but it's likely he'll redshirt, so third-stringer
Charles Burks
is probably bound for the backup role. Walk-on
Hunter Simmons
gets on the depth chart after re-joining the team this year.
August, 11, 2012
8/11/12
9:08
PM PT
By
Pedro Moura
| ESPNLosAngeles.com
Here are news and notes from USC's Saturday practices that won't make it into our other coverage of the day.

Injury updates

During the latter half of the Trojans' first two-a-day of the 2012 season, Aundrey Walker continued to sit out with an arm issue of some sort and Lamar Dawson did not attend practice with an unspecified injury.

Torin Harris did not practice after injuring his hamstring on Friday.

Woods, Agholor and Farmer also sit out

Receiver Robert Woods got the afternoon off for the Trojans after practicing in the morning. It sounds as if it'll be standard practice for the rest of USC's two-a-days this camp.

Freshman Nelson Agholor exited the afternoon practice early because of an unknown ailment and stayed on the sideline getting treatment throughout the session.

Sophomore George Farmer, still nursing his injured hamstring, sat out of team drills after participating in individual drills. He has yet to participate in team drills this fall.

Tuerk might be next in line to start

Since Walker, USC's projected left tackle, went down earlier this week, the Trojans have used walk-on Nathan Guertler as the first-team left-tackle in drills.

That changed Saturday, when freshman Max Tuerk shifted over to the left side for a considerable portion of the afternoon practice. He had previously been working on the right side, where he was impressing coach Lane Kiffin and the coaching staff. Fellow freshman Zach Banner was moved from left to right tackle in a corresponding move.

Kiffin said Tuerk was "naturally" going to struggle but expressed hope that he'd get the hang of the position sooner rather than later.

If Walker's not healthy in two or three weeks, it seems as if Tuerk is the next candidate to assume a starting role -- whether that'll be on the left side, as a direct replacement, or on the right side, with Kevin Graf sliding over to the left.

Kiffin said he doesn't have a specific date in mind when Walker has to be back to start on Sept. 1 against Hawaii.

"I don't think there's ever a certain date for things," Kiffin said. "You just have to know what the issue is. I think he'll -- I think we'll -- be fine."

Pullard works at middle linebacker

As Kiffin said would happen earlier this week, redshirt sophomore linebacker Hayes Pullard worked some at middle linebacker.

He earned positive reviews. If Dawson continues to be out for any sort of extended period, USC's backup option would be to start Anthony Sarao on the weak side and move Pullard over to the middle.

That might actually be the plan to give Dawson a break sometimes, too, because the only other option is true freshman Scott Starr.

Final notes: USC's morning and afternoon practices both checked in at less than two hours each. ... Junior defensive end Morgan Breslin capped off the day with a leaping interception of Max Wittek in the final play of the afternoon practice. ... The Trojans have three more two-a-days scheduled this month.
August, 9, 2012
8/09/12
2:10
PM PT
By
Pedro Moura
| ESPNLosAngeles.com
LOS ANGELES -- Here are more notes and quotes from Wednesday's practice coverage, which included stories on
Curtis McNeal
,
George Farmer
and
Cody Kessler and Max Wittek
.
Injury updates
Left tackle
Aundrey Walker
and middle linebacker
Lamar Dawson
missed most of practice with unspecified injuries. Walk-on
Nathan Guertler
filled in for Walker and freshman
Scott Starr
replaced Dawson.
Kiffin indicated that weakside linebacker
Hayes Pullard
would move to the middle spot and redshirt freshman
Anthony Sarao
would step in for Pullard before Starr would replace Dawson in a game situation. He was unclear on the contingency plan at left tackle, saying Guertler would be the backup "as of right now."
Center
Khaled Holmes
and receiver
Robert Woods
(ankle) continued to be very limited in practice, and cornerback
Brian Baucham
continued to sit out. Receivers
Victor Blackwell
and Farmer both sat out all of practice.
Cornerback
Isiah Wiley
and linebacker
Marquis Simmons
are expected to be out another week while they await their summer-school grades and find out about their eligibility for the coming season.
Flournoy ahead of everybody else
With Blackwell and Farmer on the sideline and freshman
Nelson Agholor
still adjusting to the speed of the game, coach
Lane Kiffin
said fourth-year junior
De'Von Flournoy
is "way ahead" of his competition in the race to be the No. 3 receiver behind Woods and
Marqise Lee
.
"Nelson has worked hard but he's still just trying to learn it," Kiffin said. "Just like spring, Flournoy is doing really well and very consistent."
Wright
standing out
Kiffin said junior safety
Demetrius Wright
has been the best non-starter on the defense through three practices.
"He's made a ton of plays and had a phenomenal attitude and great approach to the game," Kiffin said. "He's a guy going into his third year who seems to have turned the corner."
Wright is competing with senior
Jawanza Starling
for the opportunity to start at strong safety next to
T.J. McDonald
.
Ideally, Kiffin said, Wright and Starling would rotate on defense and on special teams this season to keep both players fresh. And even McDonald would do the same thing with
Drew McAllister
and/or
Josh Shaw
.
Final notes
: Freshmen
Max Tuerk
and
Leonard Williams
earned praise from coach
Lane Kiffin
for their play thus far in camp. Kiffin said Tuerk has made "very few mental mistakes." ... Freshmen cornerbacks
Kevon Seymour
and
Devian Shelton
, who have run some with the second-team defense, were also credited by Kiffin. ... Players had indicated earlier this week that practices would be shorter this camp than in past years, but Wednesday's session checked in at roughly three hours long. ... The Trojans will scrimmage at the Coliseum on Friday afternoon. Kiffin said he was unsure whether or not they would tackle during it.
August, 2, 2012
8/02/12
6:05
PM PT
By
Pedro Moura
| ESPNLosAngeles.com
With the start of the 2012 USC football season drawing near, we're doing position-by-position previews of the Trojans' roster all this week. We began Monday with quarterbacks and continued Tuesday with running backs and Wednesday with receivers and tight ends.

Today, we will profile offensive linemen.

For each position, we're starting with the current depth chart, going off the end-of-spring depth chart as released by Lane Kiffin, and discussing what needs to be resolved by Sept. 1.

Left tackle

1. Aundrey Walker, sophomore
2. Nathan Guertler, redshirt sophomore
3. Chad Wheeler, freshman

Left guard

1. Marcus Martin, sophomore
2. Giovanni Di Poalo, redshirt sophomore
3. Max Tuerk, freshman

Center

1. Khaled Holmes, redshirt senior
2. Abe Markowitz, redshirt senior
3. Cyrus Hobbi, redshirt freshman

Right guard

1. John Martinez, redshirt junior
2. Jeremy Galten, senior
3. Jordan Simmons, freshman

Right tackle

1. Kevin Graf, redshirt junior
2. David Garness, redshirt junior
3. Zach Banner, freshman

An offensive line depth chart is always a funny thing.

The backup at a given position might technically be the No. 2 guy there, like Guertler is at left tackle, but that doesn't mean he'd be the guy to come in if Walker got nicked up and had to miss a series. And the same thing goes for Di Poalo backing up Martin -- it's much more likely that Markowitz would be the short-term replacement than Di Poalo.

But, about the starters, there really isn't going to be much competition going on here. The interior spots are all solidified, and Kiffin and his staff seem pretty set on keeping Walker on the blind site. The only foreseeable changes would be a switch between Walker and Graf if Walker is underperforming, and maybe a move of Markowitz into the left guard slot if Martin is experiencing a sophomore slump.

Walker's offseason weight loss has been remarkable. He weighed around 375 pounds on his official visit to USC in the winter and then proceeded to slowly lose weight over the next year and a half.

In early June, he was 296 -- too light for what the Trojans' coaching staff wanted. So he's tried to gain back some of the weight since.

Even when Walker was a lot heavier last year, you could see the makings of a left tackle in his game. He has a wide body, his feet are quick and he has long arms. It also makes sense to keep Graf at the position he has a year of starting experience at already.

Other things to watch in camp include the development of Banner, the mammoth freshman listed at 6 feet 9 and 335 pounds. He's a redshirt candidate, along with the other three first-year freshmen, but he might have the best chance to play this year of the group.

Simmons' status is unknown, as a knee injury has prevented him from most team workouts since he arrived on campus earlier this summer. Wheeler, still a serious project, is almost a guarantee to redshirt although he enrolled in January.

We tackle defensive linemen tomorrow.
August, 17, 2011
8/17/11
10:29
PM PT
By
Pedro Moura
| ESPNLosAngeles.com
Here's Trojans coach Lane Kiffin talking over surprise walk-on offensive lineman Nathan Guertler, the backup quarterback race and a number of other issues facing the team after Wednesday's night practice, the last of USC's two-a-days for fall camp:


2014 TEAM LEADERS
| TEAM | RUSH | PASS | TOTAL |
| --- | --- | --- | --- |
| Offense | 158.2 | 294.6 | 452.8 |
| TEAM | PF | PA | MARGIN |
| Scoring | 35.1 | 23.8 | 11.3 |