May, 4, 2012
5/04/12
3:04
PM PT
By
Pedro Moura
| ESPNLosAngeles.com
Upon statistical examination, it's true: The 2012 NBA playoffs are the first time in USC history that the Trojans have had five players participating in a single NBA postseason.

O.J. Mayo, Nick Young, Brian Scalabrine, Taj Gibson and Nikola Vucevic are all on playoff rosters this spring, and Mayo, Young and Gibson are all playing large roles for their respective squads.

Mayo has averaged 18.5 points in 26 minutes during the Memphis Grizzlies' first two games against the Los Angeles Clippers, with Young going directly against him and putting up 15 in 24 minutes.

Gibson has come off the bench in his customary role in Game 1 and Game 2 of the Chicago Bulls' series against the Philadelphia 76ers. Scalabrine was inactive for the Bulls' first game but has been moved up to the active list since Derrick Rose suffered a season-ending knee injury.

Vucevic, who played with Gibson at USC during the 2008-2009 season, started 15 games for the Philadelphia 76ers during the regular season but hasn't yet seen the floor during the playoffs.

The biggest previous USC contingent in a single NBA playoffs? Four, in the 1975 edition, when Paul Westphal, John Block, Bill Hewitt and Ron Riley all participated. Block and Hewitt's Chicago Bulls lasted the longest, losing in 7 in the Western Conference Finals to the eventual champion Golden State Warriors.

The Trojans also had a former player participate in the ABA playoffs that year for the Denver Nuggets, 6-foot guard Mack Calvin.
July, 11, 2011
7/11/11
7:22
PM PT
By
Pedro Moura
| ESPNLosAngeles.com
Remember
Gabe Pruitt
?
The former USC guard and 2nd round pick in the 2007 NBA draft has been overshadowed by good friend and ex-USC teammate
Nick Young
for much of his basketball career, even though the two were both key pieces in the the Trojans' success for a three-year period in the 2000's.
In fact, through their first two seasons in college, 2004-2005 and 2005-2006, Pruitt had outscored Young. But, in their third and final years in college, when USC made it to the Sweet 16, Young broke out of his shell some and led the Trojans in scoring.
Pruitt and Young proceeded to leave school a year early and declare for the draft, Young going 16th overall to the Washington Wizards and Pruitt going 32nd to the Boston Celtics.
A Westchester High alum, Pruitt stuck around the NBA for parts of two seasons before latching on to a NBA Development League and then trekking overseas to Ironi Ashkelon in Israel, where he played with, among others, former USC swingman
Desmon Farmer
and former Cornell forward
Jon Jaques
.
Pruitt made a quick appearance at the
Drew League
over the weekend in South L.A., joining a team led by Young and Wizards' teammate
JaVale McGee
for the second half. He played mostly point guard and distributed the ball well.
Here's a one-on-one video conversation with the 25-year-old Pruitt:
November, 12, 2010
11/12/10
11:38
AM PT
By
Pedro Moura
| ESPNLosAngeles.com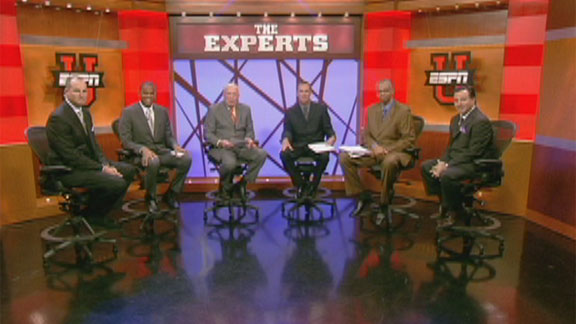 It's not often that coaches are willing to pin the success of their entire squad on one or two players.
But second-year Trojans coach
Kevin O'Neill
is more than willing to do just that with his 2010-2011 squad, which officially begins play Saturday at 1 p.m. at the Galen Center against UC Irvine.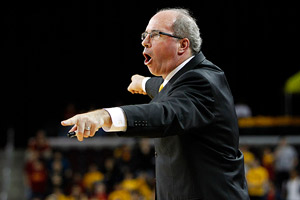 Ric Tapia/Icon SMI
USC coach Kevin O'Neill isn't shy to tell you the Trojans will go as far as big men Nikola Vucevic and Alex Stepheson will take them.

See, O'Neill freely admits his team's success this year will depend -- heavily -- on the big man duo of junior
Nikola Vucevic
and senior
Alex Stepheson
. The two combined to average more than 19 points and 16 rebounds a game last season as Vucevic earned conference most-improved honors and Stepheson played his first season for the Trojans after transferring from North Carolina.
Behind them, the Trojans' cupboard is just about completely bare on the front line -- and most other places on the court, too.
"We're gonna go as far as Nik and Alex take us," says O'Neill, who went 16-14 and 8-10 last year, his first on the job. "If they constantly get in foul trouble or get injured, we're gonna struggle. We have two post players with any experience at all on the roster -- after that we'd have to play down-sized with four out and one in.
"It's imperative those guys have a great year. I think they are the types of guys that can really carry a team and lead a team."
And it doesn't stop there. According to O'Neill, USC's success also depends squarely on senior swingman
Marcus Simmons
, a noted defensive stopper who has struggled offensively in years past. Simmons averaged just three points a game last season while playing consistent minutes, but his shot is thought to be an improved commodity this fall after he spent the summer fine-tuning it.
Says O'Neill: "He's a guy that's going to have to have a solid year for us to be any good at all."
2014 TEAM LEADERS
| TEAM | RUSH | PASS | TOTAL |
| --- | --- | --- | --- |
| Offense | 158.2 | 294.6 | 452.8 |
| TEAM | PF | PA | MARGIN |
| Scoring | 35.1 | 23.8 | 11.3 |