August, 26, 2012
8/26/12
10:41
PM PT
By
Pedro Moura
| ESPNLosAngeles.com


Six days from Sunday, USC will line up against Norm Chow's Hawaii offense in a sold-out Coliseum and kick off the 2012 season.

By now, almost everything's all set for the opener. One of the last remaining unknowns is who Matt Barkley's backup will be, and it now appears that will become known on Tuesday.

But there is still one critical position that's still technically undecided: Nickel corner, where nobody has clearly emerged behind Nickell Robey and Anthony Brown to be the go-to guy.

The most likely candidate is freshman Kevon Seymour (pronounced with an emphasized "key"), who's been running with the second-team defense in practice for much of camp and has also taken on nickel-back duties of late. A local kid from Pasadena Muir High, Seymour was viewed as a top prospect who could redshirt due to the Trojans' overall defensive-back depth.

But because of Isiah Wiley's academic ineligibility and camp injuries to older, more experienced players, Seymour has stepped into the nickel role and looked reasonably ready. He's going to be USC's third corner against Hawaii unless something drastic happens this week.

"I'm not surprised," Seymour said Sunday in his first collegiate media session. "I've been working hard and doing everything I can, getting in my playbook.

"I make a few mistakes here and there, but I make sure I go back to my playbook later on that day and fix that mistake I made."

One critical element that works in Seymour's favor is his size. USC's two starting corners will be 5-8 and 5-9. It'd be nice to have a 6-footer on the field every few snaps to prevent the same size mismatches from being exploited too often.

He's also benefited from defending Robert Woods and Marqise Lee on a daily basis. That's naturally sped up the progress he's made in the two months since he graduated high school.

"I didn't see anything like that in high school," Seymour said. "I won't be so nervous (against Hawaii) because in practice I go up against the best receivers and the best guys."
August, 26, 2012
8/26/12
8:49
PM PT
By
Pedro Moura
| ESPNLosAngeles.com


LOS ANGELES -- Here are news and notes that won't make it into our other coverage from Sunday's practice on Howard Jones Field.

Backup quarterback coming

USC coach Lane Kiffin indicated he'll name a backup quarterback to Matt Barkley on Tuesday morning, a relatively big announcement because it'll designate who will play quite a bit during the Trojans' first few games.

Kiffin said, as usual, he was impressed with both Cody Kessler and Max Wittek's performances in the mock game the Trojans held on Saturday.

"They both played really, really well," Kiffin said.

Wittek added that he was comfortable with his play in the mock game, saying he "felt fantastic" and was looking forward to Kiffin's upcoming announcement of the No. 2 QB.

"I think anytime a depth chart comes out, it's meaningful, to see where you're at, a crisp 2 or 3 ... instead of a 2a or 2b," Wittek said. "Those mean a lot when you see them."

Pomee puts in some time

Kiffin said Saturday talented tight end Junior Pomee has been "extremely inconsistent" in his year with the USC Trojans.

Maybe the message got through to the redshirt freshman. Pomee stayed on the practice field after the conclusion of Sunday's practice and got extra work in with the walk-on quarterbacks.

If he can put together a few weeks of consistent production, he could overtake freshman Jalen Cope-Fitzpatrick for the No. 3 tight end slot.

Likely redshirts

Kiffin also said Saturday he didn't expect very many freshmen to redshirt this season, "at all," but it does appears there will be at least a few.

Players expected to redshirt include fullback Jahleel Pinner, offensive linemen Jordan Simmons and Chad Wheeler and defensive linemen DeVante Wilson.

Offensive lineman Zach Banner, linebacker Jabari Ruffin and cornerback Devian Shelton could also redshirt, and it's conceivable another scholarship freshman of some sort will also sit out the season.

And sophomore running back Tre Madden will also be using his redshirt this year, although it won't be for the typical purpose. Madden tore his ACL in the spring and is out for the season.

Injury report

There will be no more injury reports until March. Kiffin announced a policy on Sunday preventing media members from reporting and/or commenting about any players' injuries off of practices.

Moving forward, it will be allowed during spring practice and fall camp, but not during the season.

Final notes: Kiffin said the Trojans are watching film from Norm Chow's previous stops to prepare for the offensive sets and plays they're going to see against Hawaii on Saturday. ... Redshirt freshman Anthony Sarao is looking more and more like he will be the opening-day starter at weakside linebacker, but strongside 'backer Dion Bailey said Sunday he is also learning how to play on the weak side. ... Kiffin indicated new defensive end Morgan Breslin will play often after impressing in the scrimmage, but he appears unlikely to start the first week. ... USC plans to release a depth chart later on Sunday night.
December, 22, 2011
12/22/11
4:45
PM PT
By
Pedro Moura
| ESPNLosAngeles.com
Over the last two weeks, Matt Barkley and his father, Les Barkley, talked over every possible issue they could think of to help decide whether Matt would return for his senior season at USC.

"Do you feel there's any risk that you'll get complacent?" Les, taking on the devil's advocate role, asked his son more than once. "Do you feel there's any risk that you may not be able to progress?"

The 21-year-old Barkley's answers were enough to convince both men that the decision to stay was the right one. But the truth is that there is a chance of both of those things happening. And, perhaps moreso, there's a chance that the teammates around him won't put up the same effort next season with the spotlight on.

But that's a risk Barkley was willing to take. And, understandably so, considering the flip side. If USC continues to work that underdog angle -- somehow, someway -- the Trojans could be just about unstoppable in 2012. They just don't lose very much talent. Including special teams, 19 of 24 starters will be back.

That includes Barkley's two top receivers, Robert Woods and Marqise Lee, who could chase 3,000 combined yards in 2012. And his top running back, Curtis McNeal, and four of five starting offensive linemen. There isn't much more Barkley could want back to chase a national title.

"It's just kind of an exceptional set of circumstances that's really rare," Les said Thursday, minutes after Matt's announcement. "Things will never line up again like they are lined up for this team next year, and he wants to be part of it."

Sure. But what about actually doing it? What will it take to win the BCS title next year at Sun Life Stadium in Miami?

USC figures to start the season ranked in the Associated Press Top 5. Win out, and the Trojans are in the championship game. But it's not that easy. Not when players were already tweeting Thursday that a national championship is on the docket. Not when expectations are going to be sky-high from Day 1 of spring practice.

"I think it'll be very important for our team this year to have the same mentality going into this year, being the underdogs," Matt Barkley said Thursday, in a private moment just after the news conference finished. "It'll be hard, but we're still gonna have that mentality.

"We can't let anybody get big-headed, myself included."


October, 27, 2011
10/27/11
11:42
AM PT
By
Pedro Moura
| ESPNLosAngeles.com
USC cornerback
Isiah Wiley
, a transfer from juco Arizona Western College, has played significant snaps in two games this season, and the two have been the Trojans' best defensive performances of the year.
Is there a correlation between the two? Most signs point to yes, but Wiley says no.
"Naaaah," Wiley says, smiling. "I don't think so. I think guys are just stepping up because they know how important these last couple games have been. Everybody's finally stepping up and the defense is finally coming together."
[+] Enlarge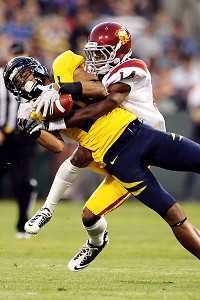 Ezra Shaw/Getty ImagesJunior college transfer Isiah Wiley has seen time in the nickel package and has flourished.
That's probably true, but the 6-1, 185-pound Wiley has a bigger part in that than he's willing to admit. Since he began playing nickel corner in the Cal game two weeks ago, the Trojans have allowed just two offensive touchdowns and have upped the ante on their run defense even more.
And, what's more, they faced three dominant receivers in the two games, yet only one of them went off: Cal's
Keenan Allen
. It was a big change from the second game of the year, when Utah's
DeVonte Christopher
-- a lower-rated player than all three guys USC's faced recently -- found plenty of receiving room against the Trojans and finished with 11 catches for 136 yards.
The difference is easily discernible. In that game, Utah offensive coordinator
Norm Chow
did everything he could on every play-call to get Christopher away from USC No. 1 corner
Nickell Robey
at the line of scrimmage. When he was isolated one-on-one with then-starter
Torin Harris
or nickel back
Tony Burnett
,
Jordan Wynn
delivered a pass to him time and time again.
USC's second and third corners were torn up, consistently.
Enter Wiley, who first started to shine during the bye week after the squeak-by win over Arizona earlier this month. He's inexperienced at this level, sure, but he just doesn't get flat-out beat as easily as those two. He hangs around the receivers much longer, hasn't gotten speed-burned yet and can make an open-field tackle if he needs to.
It's clearly what head coach
Lane Kiffin
and the Trojans envisioned when they recruited him out of junior college as a prospective early enrollee. Wiley would enroll in January, learn the defense in spring practice and start right away in September.
September, 12, 2011
9/12/11
4:03
PM PT
By
Pedro Moura
| ESPNLosAngeles.com
Utah is a respectable team and will most likely be competitive in the Pac-12 this year, and USC played fairly well against the Utes for the most part on Saturday in a 23-14 win.

But, with a talented Arizona State team awaiting the Trojans a dozen days from today, USC must improve in one crucial area to beat teams like the Sun Devils: pass defense.

Jordan Wynn, Norm Chow's quarterback at Utah, was clearly not 100 percent or anywhere close to it, really, as Lane Kiffin pointed out after Saturday's game in no uncertain terms. The Utes' DeVonte Christopher lit up the Trojans, too, pulling in 11 grabs for 136 yards. If USC gives up that much to Wynn and Co., what will it do against Brock Osweiler, Aaron Pflugrad and the Sun Devils, who beat Missouri Friday?

Heck, what will the Trojans do this Saturday against visiting Syracuse? Orange quarterback Ryan Nassib has completed 75 percent of his passes for six touchdowns and one interception through two games, a much better opening to the 2011 season than either Wynn or Minnesota's MarQueis Gray have had. And he has two talented senior receivers to pass to, as well.

"That is a concern of ours," Kiffin said Sunday in a rare moment of looking back and forward. "We have to improve. Today, in the team meeting, we worked more on it, but we've also gotta work more on our man-to-man coverage."

Man-to-man coverage, by its nature, goes against what the Kiffins usually like to do on defense. Monte Kiffin popularized the Tampa Two, which involves zone defense. But some of USC's best defensive plays under the Kiffins have come in man-to-man moments, such as Torin Harris' game-saving interception in Week 1.

Indications are more of that will come, maybe even this week against Syracuse so as to try it out for the other upcoming Pac-12 games. Lineup changes might also be in store, Kiffin hinted Sunday.

If there are any changes, they would come at the second and third corners or strong safety spots. T.J. McDonald and Nickell Robey still have their positions down pat, but Harris, Tony Burnett and Jawanza Starling have struggled some -- Harris in particular, although he's largely saved himself from public scrutiny with his end-of-game plays the last two weeks.

Kiffin is keeping that in mind as the Trojans' challenges get tougher and tougher in the coming weeks.

"We didn't just play two real premier pass teams," Kiffin said Sunday. "As the stats sort out throughout the year, I don't think you'll see those two teams way up there. But were gonna play some big-time passing opponents here pretty quick, so we've got to improve in the back end.

"We may shake some things up a little at some spots too."
September, 8, 2011
9/08/11
12:18
PM PT
By
Pedro Moura
| ESPNLosAngeles.com
Perhaps the biggest challenge for USC last week against Minnesota was the unknown, the fact that the Gophers really had set no precedents on offense other than what coach Jerry Kill had done in his previous stop at Northern Illinois.

As multiple players pointed out after the game, Kill's old offense didn't turn out to be the same as his new offense, and Minnesota was able to confuse USC late in the game with some new plays and variations that the Trojans hadn't seen on tape

This week against Utah will present a different challenge altogether. The Utes' offensive playcaller is none other than Norm Chow, who obviously has quite the history at USC and with the Trojans' head coach, Lane Kiffin. For that reason, it's fairly clear that Kiffin and Monte Kiffin and the Trojans will know exactly what to expect with Chow's offense.

But will they know how to stop it? That's an entirely different question.

"The preparation for our defense is a lot easier," Kiffin said after Thursday's practice. "But t doesn't mean we're going to be successful.

"It just means it's easier because we're used to playing against it."

It's like most other things in life -- it's easier to fight against something you're familiar with. Nobody -- or very few people -- would prefer to face a complete unknown than a known quantity, even if the quantity is certified as something to be reckoned with. And that's what USC will face in two days' time, an offense that was already productive prior to adding Norm Chow this offseason and now stands to pattern itself off of his past successful squads.

No, the Utes didn't look that great in their opener against Montana State last week, winning just 27-10 at home and out-gaining the Bobcats by only 34 total yards. But, as Kiffin intimated Thursday, the plays and packages seen in that game probably won't be all that similar to what USC sees Saturday.

Chow can be a little sneaky.

"It is easier from a coach's standpoint, not having as many unknowns," Kiffin said. "Then again, too, there's some thought that they've had all offseason to practice different stuff and didn't feel they needed to show it in the opener.
September, 6, 2011
9/06/11
11:55
AM PT
By
Pedro Moura
| ESPNLosAngeles.com
The Trojans won't say it in so few words, but this much is clear: the team they're facing Saturday in the first-ever Pac-12 game, the Utah Utes, is a heck of lot better than the Minnesota squad they barely squeaked by last week in their season opener.
Lane Kiffin
hinted at it by saying, flat-out, that his team wouldn't win Game 2 playing the same way they did in Game 1. Left tackle
Matt Kalil
went for the physical descriptions, saying the Utah defensive line was a "lot bigger," "a lot stronger" and a "much bigger challenge."
Monte Kiffin
said his defense would "really be tested" against the Utes.

It's clear that this game is USC's first real evaluation period -- win, and the Trojans will gain back some national respect they lost by beating the worst team in the Big Ten by two points. With a victory, they'll also probably find their way back into the AP Top 25, which they dropped out of this week.
But if the Trojans lose, this becomes maybe a seven-win team and one that will probably be the underdog in its first road game in three weeks in Tempe, Ariz. And Utah has the talent to make that happen, starting with experienced junior quarterback
Jordan Wynn
and juco transfer running back
John White IV
.
One thing you'll notice with the Utes: A ton of their players hail from Southern California. Wynn's from Oceanside, White IV grew up in Torrance and went to L.A. Harbor JC and left tackle
John Cullen
, who was recruited by USC, grew up in La Mirada. And the list goes on, with former Freshman All-American
Brian Blechen
hailing from Moorpark and receiver
Dres Anderson
a Riverside John W. North product.
That's one of the biggest advantages to this game for Utah coach
Kyle Whittingham
. If he could get that many recruits from the area without playing in L.A., imagine how many will come to Salt Lake City once the Utes have an opportunity to plant their seed at the Coliseum.
And Whittingham, for his part, seems geeked about this opportunity. He made a point of mentioning in his weekly conference call with the media this week that he saved some stuff in his offense for the USC game, and he said his players won't be in awe of the Coliseum.
But the Trojans, the Utes' coach said, will be a tough opponent. They have team speed, he said, that "very few teams in the country have," and they utilize it well.
"One thing is evident on tape: they've got talent on their entire team," he said.
What else did Whittingham take away from the tape of the Minnesota opener? One more thing: The Trojans' passing attack was essentially an "extension of the run game," he said.
Matt Barkley
's short passes to
Robert Woods
were low-risk and quick and he knows his Utes will have a hard time stopping them.
"They get a lot of mileage out of those plays," said Whittingham, whose offensive coordinator,
Norm Chow
, called a lot of short passes in their opener too. "They did great with it."
2014 TEAM LEADERS
| TEAM | RUSH | PASS | TOTAL |
| --- | --- | --- | --- |
| Offense | 277 | 424 | 701 |
| TEAM | PF | PA | MARGIN |
| Scoring | 52 | 13 | 39 |