USC:

Penn State Nittany Lions
April, 1, 2014
Apr 1
5:00
AM PT
1. Reading USC's spring prospectus, this nugget stopped me: In six games last season, the Trojans used a total of 14 or fewer players on defense. That's a stark illustration of the effect of the NCAA scholarship penalties. USC has eight starters returning on each side of the ball. But of the 49 returning lettermen, 18 were either walk-ons, injured or scholarship guys who just didn't play. That's a reminder of the work that Steve Sarkisian has cut out for him, and of how well the Trojans did to go 10-4 last season.

2. Former Penn State assistant coach Jay Paterno entered the race for the Democratic nomination for Pennsylvania lieutenant governor late, and now he has withdrawn early. Another candidate challenged the legitimacy of the signatures on Paterno's nomination petitions. The legal battle would have consumed considerable time and money leading up to the May 20 primary. Too bad, because as news stories go, it would have been interesting to see if Paterno could use his name recognition to make voters take him seriously. He seemed to be making headway.

3. If you love writing and you love college football history, make sure you read "His Ownself," the just-published autobiography of legendary sportswriter Dan Jenkins. He saw TCU play for the 1936 Rose Bowl, and he saw TCU play in the 2011 Rose Bowl. No one covered the 1960s, the decade of Bear Bryant, John McKay and Darrell Royal, better. You also get Jenkins on the last 60 years of golf, from Hogan to Woods. It's like standing in the corner of a bar with Jenkins holding court. It is great, great fun.

September, 26, 2013
9/26/13
8:40
PM PT
USC is
making one last run at the NCAA
, hoping the organization that crushed it with severe sanctions in June of 2010 will finally aspire toward some degree of belated justice.
But don't hold your breath.
[+] Enlarge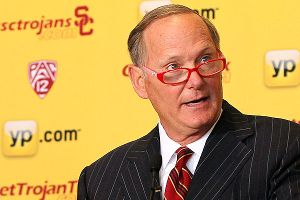 Victor Decolongon/Getty ImagesUSC AD Pat Haden is smart to appeal to the NCAA for reductions, but that's doesn't mean it will happen.
Athletic director Pat Haden
released a statement Thursday
saying he and USC's vice president for compliance Dave Roberts spent the last two days in Indianapolis meeting with NCAA officials, including NCAA President Mark Emmert.
The meeting had been scheduled weeks earlier, so it was purely serendipitous that it coincided with the NCAA's extraordinary decision to reduce previous sanctions against Penn State due to good behavior.
Still, Haden, who's been criticized for not going after the NCAA's poorly reasoned and factually challenged judgment against USC, saw an opportunity and at least wanted to score a public relations point with his frustrated fans.
Noted Haden in the statement, "We felt compelled to discuss USC's sanctions in a new light. As I have stated on numerous occasions, I believe the penalties imposed on our football program in 2010 were unprecedented and inconsistent with NCAA precedent in prior cases."
Haden then said he and Roberts "argued for some consideration regarding the 2010 sanctions during the last year of our penalty."
Meaning Haden is asking the NCAA to restore some scholarships to USC that it can use for the 2014 recruiting class, which has been docked 10 scholarships from a typical class of 25.
Haden concluded, "After candid discussions, the NCAA asked us to provide additional information and indicated it would study our suggestions. Because time is of the essence regarding these issues, we have asked for the NCAA's response as soon as practical."
The problem here is Penn State's situation was a special case, one that allowed the NCAA to both punish and then show newfound mercy outside the bounds of its typical process. Yes, the NCAA made up the rules as it went along with Penn State, which allows plenty flexibility for an organization that prides itself on being just the opposite.
With USC, the NCAA would have to make an unprecedented reversal of long-accepted processes. USC already failed with two appeals. If Emmert were to take executive action, it would be a slap in the face to the members of the Committee on Infractions who handed down the ruling against the Trojans.
That the COI, which was chaired by the late Paul Dee, athletic director at Miami and
good buddy with jailed super booster/shyster
Nevin Shapiro, from the USC case deserves a slap in the face is probably not relevant, even if it should be.
Still, maybe there is some leeway for justice. If Emmert
merely read USC's appeal
, it would be impossible for him -- or any other objective reader -- not to recognize the compelling strength of USC's position.
But, again, don't hold your breath.
October, 13, 2012
10/13/12
7:58
PM PT
Here's our quick reaction to
USC's 24-14 win over Washington
.
It was over when
: USC defensive back
Josh Shaw
grabbed a tipped interception near midfield from Huskies QB
Keith Price
on fourth-and-8 with 4:20 left in the fourth quarter and the Trojans up 10. The Huskies dominated the second half, but their first-half deficit was just too much.


Gameball goes to
: The USC defense. The Trojans were supposed to be all about the offense -- QB
Matt Barkley
and his scintillating corps of receivers. That hasn't proven true, but the defense has been better than expected. It forced four Washington turnovers, and that proved the difference in the game. It held the Huskies to 299 yards.
Stat of the game
: Barkley was 10-of-20 for 167 yards with a touchdown. If you had told me during the preseason that would be his stat line for any game, I would have laughed at the delusion.
Unsung hero of the game:
While the Trojans passing game was struggling, Penn State transfer
Silas Redd
rushed for 155 yards on 26 carries. Of course, much of that came on a 57-yard run on USC's first possession, which only led to a field goal.
What USC learned
: It learned that the Trojans' passing game is oddly mediocre and it doesn't seem to be getting better. I have no idea why it's not better.
What Washington learned
: It learned that it weathered a brutal first-half schedule with a 3-3 mark. That's not too bad, as it went 1-3 in games in which it was a significant underdog. Bowl hopes are firmly alive.
What it means
: It means USC inches forward. It won't move up much in the national rankings with this performance, but it won't move down. With dates against Oregon and Notre Dame ahead, the Trojans still have a chance to get into the national title picture if it becomes a beauty contest with one-loss teams.
2013 TEAM LEADERS
| TEAM | RUSH | PASS | TOTAL |
| --- | --- | --- | --- |
| Offense | 174.2 | 218.1 | 392.3 |
| TEAM | PF | PA | MARGIN |
| Scoring | 28.5 | 21.3 | 7.2 |