September, 8, 2012
9/08/12
5:45
PM PT
Game ball goes to:
Robert Woods
.
Marqise Lee
grabbed the spotlight last week, but in this game it was Woods who reminded everyone of how good he can be when healthy. Woods -- who missed offseason workouts while rehabbing from ankle surgery -- was back to his playmaking self with 10 catches for 93 yards and two touchdowns, a 76-yard run from scrimmage and a 31-yard punt return.


Stat of the Game:
Six touchdown passes for
Matt Barkley
. It wasn't the most explosive night for Barkley --
he only passed for 187 yards
-- but he made the most of those completions by tying his own USC record for most touchdown passes in a game.
It was over when:
The Syracuse onside kick failed in the fourth quarter. The Orange had just scored a touchdown to pull within 35-22 and there was plenty of time left for a potential comeback.
Ryan Nassib
was in rhythm, so if Syracuse had recovered things could have gotten interesting, but
Marquis Simmons
made the play for the Trojans.
What we learned about USC:
The Trojans are 2-0. Lane Kiffin said his goal for the week was to win the game and get on a plane back home. Mission accomplished. The Trojans suffered through penalties in the first half which prevented any kind of offensive flow, but eventually the big-play abilities of Woods helped get things going and helped lead the 42-point effort.
What we learned about Syracuse:
The Orange are as good as any 0-2 team in college football. They started slow but stayed in the game early and played physical football with the Trojans in the first half. Syracuse was able to get the passing game going more in the second half and they eventually outgained the Trojans in overall yardage -- 455 to 445.
September, 7, 2012
9/07/12
9:33
AM PT
By
Pedro Moura
| ESPNLosAngeles.com
The No. 2
USC Trojans
play their first road game of the 2012 season against Syracuse (12:30 p.m. PT) on Saturday at MetLife Stadium in East Rutherford, N.J. Here are five things to watch:
1. A different approach in the backfield.
Who could have predicted that
Curtis McNeal
and
Silas Redd
, both 1,000-yard rushers in 2011, would have combined to carry the ball 14 times against Hawaii? Not many. But the Trojans are sure to alter that distribution of the play calls this week, both to keep McNeal and Redd happy and to show teams on tape that they're not overly reliant on the pass. Also of note: With
D.J. Morgan
out after undergoing knee surgery, who's going to be USC's third back? A quick look at the depth chart would tell you it's redshirt freshman Buck Allen, but it would not be surprising if fullback
Soma Vainuku
ended up getting the majority of the carries behind McNeal and Redd.
2. Passing talent.
Ryan Nassib
, Syracuse's senior quarterback, can play. He had success against USC last season at the Coliseum, with a 68 percent completion rate and no picks, and he had a lot of success in Syracuse's opener last week against Northwestern, with a school-record 470 passing yards. The Trojans have enough talent in their secondary to keep the Orange offense from really getting going, but there are still some questions. Last week, Hawaii found it could attack the Trojans' second and third corner slots and consistently advance the ball. If that's the case again Saturday, it could lead to a bit of trouble for USC. Syracuse's leading receiver in 2011,
Alec Lemon
, sat out Week 1 and is questionable this week.
3. Injured returns?
Cornerback
Torin Harris
and linebacker
Lamar Dawson
, two of the three Trojans who missed last week's opener because injury, said this week that they'll be back for Syracuse. So that will add some intrigue, especially since Trojans coach Lane Kiffin seems to think Harris could solidify that second corner spot if healthy. Adding Dawson into the mix given his weeks of missed camp could be a risky proposition, but USC clearly feels it makes more sense to introduce him this week than next week in Palo Alto. He has to start playing again sometime if he's going to be the Trojans' regular middle linebacker.
4. The road and NFL atmosphere.
USC will play in at least two NFL stadiums this season -- Saturday at MetLife and next month at CenturyLink Field in Seattle (Washington's home stadium is being renovated). This week's venue is particularly interesting because it's being used for two NFL games in a five-day span surrounding USC's appearance. The New York Giants played the Dallas Cowboys there Wednesday, and the New York Jets will host the Buffalo Bills on Sunday. But reports out of New Jersey say the entire top level of MetLife Stadium will be closed down for USC-Syracuse, cutting the max number of attendees from 82,000 to roughly 40,000.
5. Barkley and Lee, Barkley vs. Lee
. It was widely assumed in the offseason that
Matt Barkley
would be USC's top Heisman Trophy candidate. It only made sense, with a senior quarterback returning to a preseason BCS favorite. But
Marqise Lee
sort of stole the show in Week 1, and if he keeps up that type of play into the meat of the Trojans' schedule, he could conceivably start to take away votes from Barkley. So, in these early-season games where the outcome isn't much in doubt, it'll be fun to follow the statistical race between the two. What's better, a 200-yard, two-touchdown game as a receiver or a 400-yard, four-touchdown game as a quarterback? It's also Barkley's 22nd birthday on Saturday, so maybe he'll get the benefit of the doubt this time.
September, 5, 2012
9/05/12
7:00
PM PT
After inspecting film of USC's 49-10 win against Hawaii, coach Lane Kiffin lamented some "normal first-game sloppiness" and was unhappy with his inconsistent offensive line play, which surprised him after the line was sharp in preseason camp.
But an area that surely caused him to raise a worried eyebrow was the struggles at the cornerback spot opposite
Nickell Robey
. With
Torin Harris
out with an injury -- one of three defensive starters who didn't play against the Warriors -- Anthony Brown,
Brian Baucham
and
Kevon Seymour
were beaten a number of times.
Truth is, it wasn't a big deal against a green Hawaii offense adopting a new scheme. USC had two interceptions and allowed only 208 passing yards. But it could be a big deal Saturday against Syracuse in MetLife Stadium in East Rutherford, N.J.
[+] Enlarge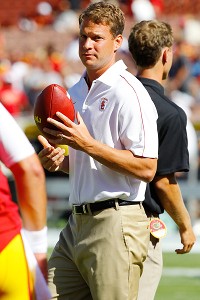 AP Photo/Kevin TerrellTrojans coach Lane Kiffin knows his team must play better against Syracuse than it did in its opener.
Syracuse quarterback
Ryan Nassib
put up huge numbers in the Orange's nail-biting, 42-41 loss to Northwestern. He completed 44 of 65 passes for 470 yards and four touchdowns, with all the touchdowns coming in the second half. He also rushed for 30 yards.
"Their quarterback made a ton of plays," Kiffin said.
USC pounded Syracuse 38-17 last season, and the Orange welcome back only 12 starters. They are again picked to finish near the bottom of the Big East. But it's difficult to scoff at 596 yards gained against a major conference foe.
Kiffin admitted that his defense "didn't get tested a lot" against Hawaii. That could change against Syracuse.
Although the Trojans are overwhelming favorites, they also are in a beauty contest at the top of the polls. All wins are not equal. The Trojans need to win impressively to impress voters.
Consider that they fell from No. 1 to No. 2 behind Alabama after the Crimson Tide stomped Michigan. That seems reasonable, seeing that Hawaii is mediocre to bad and Michigan was ranked No. 8, but the Trojans are the first No. 1 team to drop in the AP poll after winning a game by 35-plus points since Penn State in 1997, according to ESPN Stats & Information.
So surrendering a bunch of yards and points against Nassib and allowing Syracuse to hang around late in the second half could further hurt USC's standing. Don't think that matters? It will if pollsters and computers are trying to make distinctions in December between multiple unbeaten and one-loss teams. Recall: The BCS still yokes college football for two more seasons.
One way the Trojans can keep Nassib in check is by keeping him and the Orange's up-tempo, no-huddle offense on the sideline. The best way to do that is to run the ball. Although the Trojans piled up some nice passing numbers against Hawaii, the running game sputtered with just 81 yards at 3.5 per carry. Last year's starting tailback,
Curtis McNeal
, got only five carries, and Penn State transfer
Silas Redd
got nine.
Kiffin said that didn't indicate a change in the backfield pecking order.
"That wasn't on purpose," Kiffin said.
The Trojans probably aren't on upset alert. But when you're in the national championship chase, it's not only about winning it's about winning pretty. So it's important for "first-game sloppiness" to transform into second-game efficiency and dominance.
August, 6, 2012
8/06/12
10:56
AM PT
By
Pedro Moura
| ESPNLosAngeles.com
Here's the third post in our new 'film study' series started last week.
Every other day from now until Aug. 23, we'll be putting up a set of pertinent-to-this-year notes from each game, going of course in chronological order from the Minnesota season opener to the UCLA season finale. At the end, on Aug. 25, we'll have one last post with our overall takeaways from the re-watching. By then, it'll be the week of this year's opener.
We did USC's 19-17 win over Minnesota on Wednesday and the Trojans' 23-14 win over Utah on Friday. Here, now, are our five notes — four big things and a bunch of little ones — from USC's 38-17 win over Syracuse on Sept. 17, 2011.
Barkley's best
Matt Barkley
picked through the opposing secondary with ease in this game.
It starts the first drive, using
Robert Woods
the perfect amount while still mixing in other receivers, as
Lane Kiffin
and the Trojans started to effectively use Woods as a decoy for the first time. Spreading the ball out, Barkley completed a combined 10 passes to
Brandon Carswell
and
Rhett Ellison
-- neither player had more than three receptions in any game the rest of the year.
In total, Barkley threw seven near-touchdown passes against the Orange and five actual touchdown passes, with one to
Marqise Lee
getting called back because of a facemask and one to Woods being ruled out of bounds.
But Kiffin did try to get Barkley his sixth on the final drive, when he called an ill-advised pass play on first-and-goal at the five-yard line and got the quarterback sacked for a loss of 10.
Robey and Pullard
So Syracuse started out the game moving the ball with ease on the USC defense, needing nine plays to get from its own 23-yard line to the Trojans' five. Then two of USC's top three tacklers thus far stepped up and made plays.
First,
Hayes Pullard
snuffed out a screen pass to Syracuse running back
Antwon Bailey
and stopped it for a loss. Then, on third and five,
Nickell Robey
pounced on an out-route and holds the Orange to a one-yard gain.
Syracuse didn't score again until the second half.
Through three games, it's been clear that the Trojans' top three tacklers are
T.J. McDonald
, Pullard and Robey, not necessarily in that order, with
Dion Bailey
probably the fourth. Bailey made a nice fumble-forcing tackle on Syracuse quarterback
Ryan Nassib
in the fourth quarter.
September, 27, 2011
9/27/11
9:25
AM PT
By
Pedro Moura
| ESPNLosAngeles.com
It's not a winning streak or a losing streak -- yet.
But it's a streak all the same, and it began Saturday against Arizona State, when Sun Devils quarterback
Brock Osweiler
tore up the Trojans defense, rendering their pass irrelevant and their secondary ineffective.

From now on, USC's going to face a lot of Osweiler-quality quarterbacks this season. The Pac-12 is, for all intents and purposes, a quarterback's conference. And the Trojans are going to be challenged in the same ways that Osweiler tested them in Tempe.
"We're gonna hit a streak," Trojans coach
Lane Kiffin
said this week. "We're going to have to get better in what we're doing."
That streak begins Saturday with Arizona, a 12:30 p.m. game at the Coliseum. Wildcats quarterback
Nick Foles
' numbers have been spectacular so far this season, the Michigan State transfer throwing for 10 touchdowns and no interceptions with a completion percentage higher than 70 percent.
After Foles, the Trojans will face Cal and quarterback
Zach Maynard
, whose numbers are strikingly similar to
Matt Barkley
's this year aside from a weaker completion percentage. Then comes Notre Dame and
Tommy Rees
, who beat USC last year, and Stanford and
Andrew Luck
.
September, 17, 2011
9/17/11
8:34
PM PT
By
Pedro Moura
| ESPNLosAngeles.com
PASSING ATTACK
Matt Barkley
was quite good, throwing for five scores and no picks. But other than
Robert Woods
, nobody really stood out in Saturday's game. And Woods wasn't at his best in the second half, collecting only 12 yards on two catches in the final 30 minutes.
RUSHING ATTACK
What in the world happened here? When your leading rusher at halftime is a receiver, you know your run game's in trouble.
Marc Tyler
couldn't get going at all in his first 2011 start and no other backs got legitimate chances to carry the ball.
IN THE TRENCHES
There were, once again, serious issues with the Trojans' offensive line Saturday.
Matt Kalil
wasn't as dominant as he had been earlier this year, and left guard was a big problem spot with
Marcus Martin
and
Jeremy Galten
. The defensive line had a superb second half.
DEFENSE
Syracuse quarterback
Ryan Nassib
was able to piece together a nice game without a turnover until late, but the Trojans made the Orange run game almost as nonexistent as their own. Freshmen outside linebackers
Hayes Pullard
and
Dion Bailey
consistently played like stars.
SPECIAL TEAMS
Andre Heidari
missed his only field-goal attempt of the night, but punter
Kyle Negrete
rebounded to have a much better game after a subpar Week 2. He averaged 41.5 yards per punt. Running back
Curtis McNeal
had an impressive tackle on the kickoff team.
*Correction: Heidari was 1 for 2 on field-goal attempts.
COACHING
Trojans coach Lane Kiffin didn't attempt a two-point conversion, which had to please some Trojan fans. But you have to question why he showed so little loyalty to his running backs, not allowing McNeal,
Dillon Baxter
or
D.J. Morgan
to get involved until late.
September, 13, 2011
9/13/11
7:38
AM PT
By
Pedro Moura
| ESPNLosAngeles.com
Forget the opponents Syracuse played these last two weeks and struggled to beat, Wake Forest and Rhode Island.
Lane Kiffin
says it doesn't matter who the Orange played. They're 2-0 and they're looking to make themselves 3-0 in four days' time against the Trojans.

"The comparing of games and scores, it means nothing," Kiffin said this week, when asked what he'd seen from Syracuse in the first two weeks of 2011. "I can't say I've never done it, because I do it too. You look at this team played that team but every week that gets proven completely wrong.
"Those things happen all the time. And, from being here over the years, we get everybody's best shot anyway. Teams tend to not necessarily play great the week before us and usually do not play very well the week after us. Look what just happened to Minnesota. That has been historic here, guys not playing well the week after us. Because they get up for SC and playing in the Coliseum."
He didn't say it outright, but it's clear he expects Syracuse to be up for this game. And his Trojans, too, obviously. And while USC hasn't blown out either of its first two opponents at the Coliseum this year, it hasn't been because of a lack of energy. This team has actually looked pretty ready to go for each of its two games, which is partly a credit to the coaching staff.
"We don't take anybody lightly," Kiffin said. "We respect everyone. And we really shouldn't be taking anybody lightly, anyway. We're 2-0 and happened to win the games right at the end."
So did Syracuse. The Orange trailed Wake Forest by 15 points entering the fourth quarter of their opener and needed overtime to pull out the win, then began the final period tied with Rhode Island.
September, 12, 2011
9/12/11
4:03
PM PT
By
Pedro Moura
| ESPNLosAngeles.com
Utah is a respectable team and will most likely be competitive in the Pac-12 this year, and USC played fairly well against the Utes for the most part on Saturday in a 23-14 win.

But, with a talented Arizona State team awaiting the Trojans a dozen days from today, USC must improve in one crucial area to beat teams like the Sun Devils: pass defense.

Jordan Wynn, Norm Chow's quarterback at Utah, was clearly not 100 percent or anywhere close to it, really, as Lane Kiffin pointed out after Saturday's game in no uncertain terms. The Utes' DeVonte Christopher lit up the Trojans, too, pulling in 11 grabs for 136 yards. If USC gives up that much to Wynn and Co., what will it do against Brock Osweiler, Aaron Pflugrad and the Sun Devils, who beat Missouri Friday?

Heck, what will the Trojans do this Saturday against visiting Syracuse? Orange quarterback Ryan Nassib has completed 75 percent of his passes for six touchdowns and one interception through two games, a much better opening to the 2011 season than either Wynn or Minnesota's MarQueis Gray have had. And he has two talented senior receivers to pass to, as well.

"That is a concern of ours," Kiffin said Sunday in a rare moment of looking back and forward. "We have to improve. Today, in the team meeting, we worked more on it, but we've also gotta work more on our man-to-man coverage."

Man-to-man coverage, by its nature, goes against what the Kiffins usually like to do on defense. Monte Kiffin popularized the Tampa Two, which involves zone defense. But some of USC's best defensive plays under the Kiffins have come in man-to-man moments, such as Torin Harris' game-saving interception in Week 1.

Indications are more of that will come, maybe even this week against Syracuse so as to try it out for the other upcoming Pac-12 games. Lineup changes might also be in store, Kiffin hinted Sunday.

If there are any changes, they would come at the second and third corners or strong safety spots. T.J. McDonald and Nickell Robey still have their positions down pat, but Harris, Tony Burnett and Jawanza Starling have struggled some -- Harris in particular, although he's largely saved himself from public scrutiny with his end-of-game plays the last two weeks.

Kiffin is keeping that in mind as the Trojans' challenges get tougher and tougher in the coming weeks.

"We didn't just play two real premier pass teams," Kiffin said Sunday. "As the stats sort out throughout the year, I don't think you'll see those two teams way up there. But were gonna play some big-time passing opponents here pretty quick, so we've got to improve in the back end.

"We may shake some things up a little at some spots too."
2014 TEAM LEADERS
| TEAM | RUSH | PASS | TOTAL |
| --- | --- | --- | --- |
| Offense | 153.9 | 287.5 | 441.5 |
| TEAM | PF | PA | MARGIN |
| Scoring | 33.8 | 24.6 | 9.2 |