May, 7, 2014
May 7
8:35
PM PT
PHOENIX -- The overriding message coming out of Pac-12 meetings is that major changes in college football governance are now inevitable, even if the details and long-term consequences of those changes remain unclear.

The Big Five conferences will meet in August and almost certainly obtain a new autonomy level within the NCAA structure. At that point, major rules changes, including those that significantly bolster the support and benefits provided to athletes, will start to be formulated. Pac-12 commissioner Larry Scott intimated that things could move fairly quickly thereafter, so his message to conference coaches and athletic directors was basically to buckle up.
"Quickly is a relative concept, but deadlines are good," Scott said. "I think if we get the autonomy that we've asked for, the commissioners will be setting out a very aggressive timetable to put proposals out ... I expect we'll have a very intensive process over the next four months -- September through December -- where practitioners from our campuses are working on different agendas, including those with a deadline of January, specific proposals that can be voted upon by the 65 schools [in the Big Five]."
So "quickly" might mean?
"The goal is to implement whatever changes we're going to implement for the 2015-16 year," Scott said.
Chief among those would be cost of attendance scholarships, which could vary significantly by team and conference. Scott, however, noted that doesn't create a massive change of direction and complication because the pure value of tuition scholarships also vary by team and conference.
What does need to be implemented to prevent any fudging is a clear formula that all 65 schools apply to calculate the new value of their cost of attendance scholarships.
"I don't think it will that big of a deal, but there will be issues to work through in terms of a common method of determining the full cost," Scott said.
There is a significant degree of consensus within the Big Five conferences for adopting the cost of attendance scholarships, and it appears there is unanimity within the Pac-12.
"These are a lot of things that are going to be costly for us but I think are necessary and in line with what I believe we should be doing for our student-athletes," said Washington State athletic director Bill Moos, echoing other conference ADs.
While Scott was unwilling to admit that the Northwestern football union challenge and Ed O'Bannon lawsuit against the NCAA were driving the oncoming changes, he did concede the legal challenges to the NCAA governance structure and the publicity surrounding them weren't too far from administrators' minds.
"Is it some of these external challenges driving it? I would say no. There's been a recognition for some time [about these issues]," Scott said. "But I'd say external pressures bring a helpful focus and helpful push to get these things done."
[+] Enlarge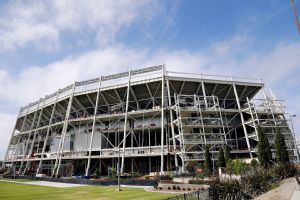 AP Photo/Marcio Jose SanchezLevi's Stadium, the new home of the San Francisco 49ers, could be the new home of the Pac-12 championship game as well.
As for the other major item on the Pac-12 agenda, it was more based on the West Coast: The location of the 2014 Pac-12 championship game. There were earnest discussions over the two days about changing it from a game hosted by the conference's top team to a neutral site, specifically the San Francisco 49ers' new home, Levi's Stadium, in Santa Clara, California.
While the potential move was an intriguing idea, it also isn't a done deal.
"I think there was a lot of positive feeling about it," Scott said. "Some objected. There are some pros and cons."
Said Moos: "Personally, I think [Levi's Stadium] is the way to go."
Said USC athletic director Pat Haden: "I think the current model has actually worked pretty well, the home host. I know the CEOs are debating that and discussing that. I don't think any decision has been made. Quite honestly, at USC, we don't mind the home-host model because we think we've got a chance of hosting."
Shrugged Washington's Scott Woodward: "I'm ambivalent. I trust the league and what they want to do. I have no problem one way or the other."
If the title game is going to be played in the new 49ers stadium on Dec. 5, a decision almost certainly would be announced in June, when the Pac-12 presidents meet.
"If we are going to make the move, it wouldn't be later than that," Scott said.
So it appears that the summer, once a quiet time for college football news, will be anything but that this year.
April, 23, 2010
4/23/10
6:10
PM PT
By
Pedro Moura
| ESPNLosAngeles.com
Safety Taylor Mays became the first USC player selected in the 2010 NFL draft when the San Francisco 49ers picked him in the second round with the 49th overall pick. Mays was projected by most as top-15 pick following his junior season, but he chose to return for his senior year with a stated goal of becoming the No. 1 overall pick in the draft.

That didn't quite work out for him. Now, the 6-foot-3, 235-pounder enters into an interesting situation in San Francisco, where the 49ers already boast two (somewhat) solid starters at safety. Mays will surely be compared often to former Trojan and 49er safety Ronnie Lott over the next few months, but Mays has some work to do before he even reaches the starting 11 in San Francisco.

If ex-USC coach Pete Carroll had a protege during his final few years with the Trojans, it was Mays. But when Carroll had the opportunity to take him at the No. 14 spot in the first round, he passed and chose Texas safety Earl Thomas instead.

Mays sounded off on that decision today.

"It was interesting," Mays told the San Francisco media following his selection. "I thought from the relationship that we have, the things he had told me about, what I needed to be aware of through the draft process, things I needed to do, I felt like he told me the complete opposite of the actions that he took, which was alarming."

Carroll praised Mays' decision to return for another season last year and incessantly praised Mays throughout last season.

It seems Mays also took issue with what the Seahawks coach told him in private.

"I understand it's a business, but with it being a business, you have to be honest," Mays said. "That's all I was asking for."

Carroll was asked about the thinking behind choosing Thomas over Mays. He told reporters Thomas' abilities were too tempting to take the known quantity in Mays.

"We thought he was the best guy in the draft at doing that kind of stuff," Carroll said. "So he was unique, but the other side of it is, yeah I love Taylor Mays and everything that he stands for and all that.

"Unfortunately, it didn't work out.''

The two will match up twice a year in the NFC West, including Week 1 in Seattle.
2014 TEAM LEADERS
| TEAM | RUSH | PASS | TOTAL |
| --- | --- | --- | --- |
| Offense | 151 | 292 | 443 |
| TEAM | PF | PA | MARGIN |
| Scoring | 32 | 20 | 12 |