April, 12, 2012
4/12/12
9:02
PM PT
By
Pedro Moura
| ESPNLosAngeles.com
Here are notes from Thursday's practice that won't make it into our other coverage from the session, the last official practice until August for the Trojans. Of course, USC scrimmages on Saturday at the Coliseum in the annual spring game, which starts at 1:30 p.m.
Running back Buck Allen took the most snaps out of the backfield he has taken all spring and showed improvement as he returns from a strained right hamstring that bothered him for nearly a month. He, Curtis McNeal and D.J. Morgan are again the Trojans' only three scholarship running backs with Tre Madden now out for the year.
Cornerback Brian Baucham continued his strong play toward the end of the spring with an interception on a tipped pass off a Max Wittek-to-Junior Pomee throw. Baucham has put himself into the competition for the third corner spot.
Injury report: Receiver Victor Blackwell (foot) did not participate in practice but could return for Saturday's scrimmage, Lane Kiffin said. Kiffin also said cornerback Ryan Henderson could play Saturday. Receiver George Farmer (hamstring) did only individual work, as has been the case since the first week of the spring. It seems unlikely he will participate in the scrimmage portion of Saturday's session. Officially out for Saturday are tight end Randall Telfer (hamstring) and linebackers Dallas Kelley and Marquis Simmons.
Among the recruits at practice were high-profile 2013 defensive tackle Kenny Bigelow, the first player to commit to the Trojans' next class, and 2015 quarterback David Sills, who was also there Tuesday. Signee Jabari Ruffin was also in attendance and spent some time with linebackers coach Scottie Hazelton after practice.
Final notes: USC will not tackle in Saturday's scrimmage to preserve players' health over the offseason, Kiffin said. We'll have more on that on Friday. ... Tight end Christian Thomas underwent surgery this week on his ailing hip and is expected to be ready for fall camp. ...Defensive back Josh Shaw had his hardship waiver claim granted by the NCAA on Thursday and will be eligible to play for the Trojans in 2012. We'll have more on what that means for USC later.
March, 5, 2012
3/05/12
8:29
PM PT
By
Pedro Moura
| ESPNLosAngeles.com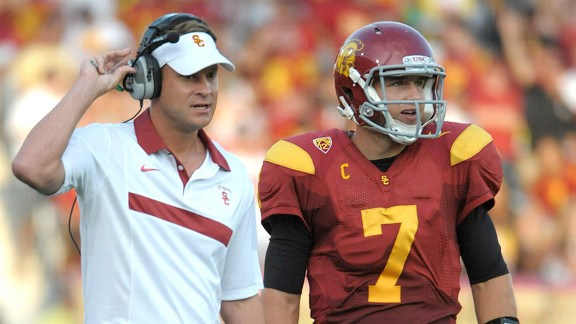 Kirby Lee/US PresswireCoach Lane Kiffin has challenged Matt Barkley in previous seasons, but what more can Barkley do?
Since last season ended, we've looked at the top 10 performers from last year, the top 10 moments and the top five questions for the new year.
And, lately, we've done previews for every position group at USC:

quarterbacks

,

running backs

,

receivers

,

tight ends

,

offensive linemen

,

defensive linemen

,

linebackers

,

cornerbacks,

safeties and special teams.
Now, with spring practice officially beginning for the Trojans on Tuesday at 4 p.m., let's take a look at five remaining questions for the month-long spring session.
1. Can Matt Barkley keep improving?
After his first two seasons at USC, there were clear areas where quarterback
Matt Barkley
could improve his game.
At the end of his freshman year, he had to cut down on his interceptions, among other things. At the end of his sophomore year, he had to develop a more consistent throw downfield -- again, among other things.
But this year? Barkley's stats were flat-out fantastic in 2011, easily reaching two of the three goals coach
Lane Kiffin
set for him and coming very close to the other.
The three: connect on 30 or more touchdowns, throw 10 or fewer interceptions and achieve a 70 percent completion percentage. He threw for 39 touchdowns and seven interceptions with a completion percentage of 69.1.
Sure, the one he didn't meet is a good carry-over goal for 2012. But what else can he even do?
We should find out this spring.
2. Will alternative ball-carrying sources emerge?
It's not as if this topic hasn't yet been broached -- on this blog and others. But it's still worthy of examination. Who is the Trojans' No. 3 ball carrier going to be behind
Curtis McNeal
and
D.J. Morgan
?
Amir Carlisle
's transfer in January made this an issue. But fullback
Soma Vainuku
might be an option for a couple of carries a game, and so might
Jahleel Pinner
when he gets to USC in the summer.
One last possibility: A player from another position could always be moved -- temporarily or for good. The Trojans just fixed some depth issues at defensive tackle by moving
Cody Temple
there from the offensive line.
March, 1, 2012
3/01/12
3:14
PM PT
By
Pedro Moura
| ESPNLosAngeles.com
New USC linebackers coach Scottie Hazelton made quite the jump this offseason.

After previous coaching stops at North Dakota State, Michigan Tech and Missouri Southern State, among others, the 38-year-old was hired by Lane Kiffin and the Trojans earlier this month to replace Joe Barry, who left school for the NFL's San Diego Chargers.

There was speculation Kiffin would go for a coach with NFL experience to attract high-school kids looking to get to the next level. Instead, he went with one of the freshest faces available.

Here's an ESPNLosAngeles.com interview with Hazelton following the Trojans' team conditioning session on Tuesday.

Question: You've been here now for a little longer than two weeks. How have those two weeks gone?

Answer: It's been great to meet the kids. They're good players who understand the game well and they're hardworking kids too. It's been a pleasure to work with those guys. The linebackers -- the three guys that are returning starters -- all know what they're doing. We're blessed to have them.

Q: How did the job-accepting process go for you? I know Tee Martin said no at first and Marvin Sanders' situation was complicated by his new job. What was it like for you? How quickly did you say yes?

A: I got a call on a Sunday from a buddy of mine who asked if I'd be interested -- he'd been talking to Coach Kiffin about me. I was like, "Yeah, of course I'm interested," but I didn't think anything of it. I said for sure, that'd be a great opportunity for me and my family. Coach Kiffin then called me on Tuesday and again on Wednesday, I flew out on Thursday and interviewed Friday, stayed over until Saturday, got offered the job, flew home and came back on Sunday. It was a little whirlwind.

Q: Have you had any feelings at all that this is too big of a jump for you to handle? There aren't too many coaches who move from the FCS to the top of the FBS in one swoop.

A: Right now, you just say that football is football. It's on a bigger stage, but coaching football players is coaching football players and coaching defense is coaching defense. Everyone has their challenges; everyone has their benefits.

Q: You mentioned the three returning starters earlier -- What do you think about the talent you're taking over?

A: When you have an opportunity to coach young guys that have played and have proven to be good athletes, it's always exciting, because you have a chance to develop them a little bit. They've been through it. And their sophomore seasons, I think, they tend to pick up a lot of things. Their freshman years they make a bunch of plays, but their learning curve is steeper and they're still learning what to do. Their second go-around, you can really teach them what to do and start to teach them things that the offense does instead of just what they're supposed to do.

Q: You won the national championship last year with North Dakota State at the FBS level. Do you think you can bring anything from that to this team's inevitable national-championship chase this fall?

A: I know that there's more than just me who have won national championships here. There are guys who have won national titles at this level. For me, I'm taking a step to learn from Monte Kiffin and Lane Kiffin and I'm just going to do my best to learn from them and make this place better. About winning those here, that's definitely Lane's vision, and we're going to follow it. That's what the team does.


February, 29, 2012
2/29/12
3:20
PM PT
By
Pedro Moura
| ESPNLosAngeles.com
We're doing position previews in the weeks leading up to spring practice, breaking down one group's depth chart each day, paying special attention to things that can change in the spring.
We've looked at the quarterbacks, running backs, receivers, tight ends, offensive linemen and defensive linemen so far. Today, we analyze the linebackers.
Three spots, three returning starting sophomores.
It doesn't get much more convenient than that for USC's new linebackers coach,
Scottie Hazelton
.
Dion Bailey
,
Lamar Dawson
and
Hayes Pullard
will be his starters, from strong side to weak side. Very little time will be spent this spring trying to determine who's going to start.
That time will instead be spent transitioning to a new regime of sorts with the linebacking corps and helping develop the younger players at the position.
Thus, the two most intriguing players this spring are
Scott Starr
and
Anthony Sarao
, two talented guys who haven't logged any time on the field. This is Starr's first semester at USC after he enrolled early last month; Sarao redshirted last season as a Class of 2011 signee.
What makes them interesting prospects? Well, one of them has to be the backup to Dawson at middle linebacker this season, and there haven't been too many hints as to who it will be. We know Starr is going to start the spring at the Mike spot, but will Sarao, too?
Sarao played some of it last year on the scout team -- portraying
Vontaze Burfict
during ASU week -- and has received positive reviews from teammates and coaches about his on-field awareness. Starr is incredibly well developed for a kid who should be a high-school senior and has quickly caught on to the defensive schemes, judging from the winter workouts.
Dawson was bothered by injuries last season, so he could easily be the second-straight freshman to man the middle for a stint if he wins the No. 2 slot for this season.
On another note, will there be a way to get sophomore to-be
Tre Madden
on the field this year? He was a valuable special-teamer last season and can do the same in 2012, but he also proved capable of playing on defense in his one start at Colorado.
And what will happen to
Marquis Simmons
and
Simione Vehikite
, two players entering their fourth year in the program who have yet to contribute in big ways?
Those are questions the 15-session spring can help answer.
Check back Thursday for the cornerbacks.
February, 28, 2012
2/28/12
10:31
AM PT
By
Pedro Moura
| ESPNLosAngeles.com
New USC defensive backs coach Marvin Sanders was just getting used to his new job at Florida Atlantic when the Trojans came calling earlier this month, but he found he couldn't resist Lane Kiffin's recruiting efforts. Kiffin had initially looked at the former Nebraska assistant for the DBs vacancy when Willie Mack Garza resigned last September, since Sanders had left the Huskers in February.

After taking the full 2011 season off, Sanders then signed on to be the defensive coordinator at FAU under Carl Pelini in December, but he quickly scrapped those plans and will now coach Nickell Robey, T.J. McDonald and the USC secondary.

Here's an ESPNLosAngeles.com interview with the 44-year-old coach following a Trojan throwing session last week.

Question: So you're probably an expert in getting acclimated to new jobs by now, right?

Answer: I don't know if that's a good thing or a bad thing. It's a little bit of both, I think. You have to understand that's part of the profession. Any time you have an opportunity like USC, whatever it takes to get here is easy.

Q: New receivers coach Tee Martin told me he turned down Lane's offer at first and then eventually changed his mind. What was your thought process like?

A: You get a chance to talk to Lane and you realize why he's the head coach at 'SC at such a young age. He just has so much -- I don't know if talent's the right word -- but there's something about him that you know he's going to be successful. He can really sell USC football.

Q: Had you ever talked to him before?

A: Briefly. And I had a good relationship with his dad, who's a Nebraska guy as well. It was just kind of a good fit for us.

Q: When you take a new job, how much of the decision whether or not to take it depends on the coaches and infrastructure in place and how much depends on the players currently there? Which one's more important?

A: It's a combination of a whole lot of things. It's a combination of being the right fit for your family, No. 1, and the right fit for coaching staffs both ways -- me to them and them to me. And talent plays a factor in it, too. You want to be in a situation where you can win a lot of games and compete at the highest level. At USC, you have that every time you step on the field.


February, 16, 2012
2/16/12
5:04
PM PT
By
Pedro Moura
| ESPNLosAngeles.com
USC head coach Lane Kiffin has officially filled two of three assistant coaching vacancies, hiring former Nebraska assistant Marvin Sanders to coach defensive backs and ex-North Dakota State defensive coordinator Scottie Hazelton to coach linebackers.

Sanders was hired as Florida Atlantic's defensive coordinator in December after three seasons as Nebraska's defensive backs coach. Hazelton has never coached at the FBS level but won the FCS championship at NDSU in 2011.

"We are delighted to add Marvin and Scottie to the Trojan Family," Kiffin said in a statement released Thursday. "Both not only have made their marks while coaching their respective positions, but both have been collegiate defensive coordinators and that should help us tremendously.

"Marvin had great success coaching the defensive backs at Nebraska and we believe that will translate well to our secondary, which is the most critical area we need to improve upon in 2012. Scottie is coming to us after helping North Dakota State win the NCAA FCS championship and coordinating a defense that led the nation in scoring defense in 2011, after it was 90th in that category before he took it over just two years ago."

Kiffin initially announced the hirings at USC's annual Junior Day on Sunday, telling recruits both Sanders and Hazelton were coming aboard to be new position coaches.

Sanders replaces Willie Mack Garza, who resigned on the eve of the regular season last September. Hazelton takes over for Joe Barry, who left for the NFL's San Diego Chargers earlier this month.

Kiffin also convinced Kentucky assistant Tee Martin to become the Trojans' new receivers coach on Wednesday night; that hiring has yet to become official.
February, 15, 2012
2/15/12
8:43
PM PT
By
Pedro Moura
| ESPNLosAngeles.com
USC coach
Lane Kiffin
has filled out his staff, hiring former Tennessee quarterback
Tee Martin
as the Trojans' new receivers coach on Wednesday, a program source confirmed to ESPNLosAngeles.com.
Martin had served as the receivers coach for Kentucky for the last two seasons, taking on the additional duties of passing game coordinator last year. He's known as a top recruiter but has only two years of experience coaching wideouts at any level.
USC quarterback
Matt Barkley
broke the news on Twitter Wednesday evening, writing, "Excited to welcome @TeeMartin17 to the Trojan Family as our new WR coach! Gonna be a great year!"
A USC spokesperson said he could not confirm Martin's hiring. Kiffin was not available for comment.
The school has not officially announced the two other assistant hirings made this week. Former Nebraska assistant
Marvin Sanders
filled the spot vacated by
Willie Mack Garza
as the Trojans' defensive backs coach and
Scottie Hazelton
replaced
Joe Barry
as the team's linebackers coach.
Kiffin, making an appearance at the USC-Stanford basketball game Sunday, declined to comment about the hirings.
Martin, 33, led Tennessee to the national championship in 1998 and is well-respected in Knoxville. He had some interesting comments about his new boss' departure from Tennessee to USC in January 2010, writing a column in the
Sporting News
that said he never expected Kiffin to leave the Volunteers after just one season.
"We were led to believe that Lane Kiffin was going to be the next Phillip Fulmer, but he left a year later," Martin wrote at the time. "Frankly, I'm embarrassed by the timing of it all. Lane Kiffin was hired to do a job for the University of Tennessee. He wanted everyone to buy into what he was selling, and then he left after one year."
Martin will coach perhaps the nation's most talented group of receivers in 2012, with returning 1,000-yard men
Robert Woods
and
Marqise Lee
as well as former five-star
George Farmer
, among others.
February, 13, 2012
2/13/12
9:34
AM PT
By
Pedro Moura
| ESPNLosAngeles.com
True to his word, USC coach Lane Kiffin has gotten right to work on filling up the three assistant coaching slots created with the departures of Willie Mack Garza, Joe Barry and Ted Gilmore over the last five months.

After saying he hoped to find replacements for all three men by the end of the upcoming week, Kiffin reportedly got Marvin Sanders to replace Garza as the defensive backs coach and Scottie Hazelton to replace Barry as the linebackers coach on Sunday.

Now he has five days left to meet his initial goal by hiring on a receivers coach and giving the new hire ample time to get to know his players before spring practice begins March 6. Let's take a look at who some of the potential candidates are, listed in alphabetical order.

-- Arizona State receivers coach/passing game coordinator DelVaughn Alexander

Alexander might make the most sense of any of the candidates. A former USC receiver and graduate assistant, he's qualified for the post and familiar with the area. Known as an above-average recruiter, he could jump right in and start that part of that job before spring practice even starts.

One potential problem: He just signed on at Arizona State last month under new coach Todd Graham. But that obviously wasn't too much of a deterrent for Kiffin in hiring Sanders, who just latched on at Florida Atlantic in December.

-- Former USC receiver and graduate assistant Keary Colbert

The sentimental choice, a number of current USC players have been campaigning on Twitter for Colbert to get the job.

He, of course, spent the 2010 season as a graduate assistant for the Trojans, coaching the tight ends. He could've kept the same job last year but chose to pursue an NFL comeback -- which he successfully completed, sticking with the Kansas City Chiefs for most of the 2011 season.

Colbert is completely unproven as a recruiter but provides reason to believe he could become a good one.


2013 TEAM LEADERS
| TEAM | RUSH | PASS | TOTAL |
| --- | --- | --- | --- |
| Offense | 174.2 | 218.1 | 392.3 |
| TEAM | PF | PA | MARGIN |
| Scoring | 28.5 | 21.3 | 7.2 |