March, 17, 2011
3/17/11
11:32
AM PT
By
Pedro Moura
| ESPNLosAngeles.com
We recapped Wednesday night's game in its many facets last night, including the Trojans' inability to get a big piece of their offense going offensively, a repeat of the team's season-long struggles against the zone and questions over a lack of effort.
We'll have a season-in-review post on the blog Friday looking back on the game and the 34 others USC played this season in a broad scope, looking both to the past and future of USC basketball.
Until then, here are some telling quotes from many of the parties involved in Wednesday's game:
Junior guard
Jio Fontan
, on the reasons behind the loss: "I don't have a good taste in my mouth, obviously, about this performance, but...I'm glad our team got to bundle up and get here. And just thank the university for the support they gave us, thank our fans for coming out and supporting us, and me, personally, I thank K.O. for this opportunity to play on this team and to lead this team."
Coach
Kevin O'Neill
, on what adjustments he attempted to make in the second half for offensive rebounding purposes and why they didn't work out: "Our adjustment at halftime wasn't -- I liked where we were at halftime. I liked 22-22. I'm cool with that. So the only thing I told our guys is we needed to keep controlling the tempo, which we didn't do. We tried to speed things up a little bit and it really hurt us, and we needed to make sure we were as good defensively in the second half as were in the first, and we weren't...But, again, that's the game of basketball. Sometimes you have it, sometimes you don't."
March, 16, 2011
3/16/11
11:28
PM PT
By
Pedro Moura
| ESPNLosAngeles.com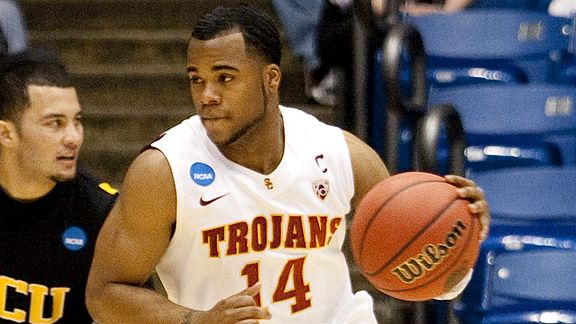 Greg Bartram/US PresswireUSC's Donte Smith did not make any of the six 3-pointers he tried as the Trojans struggled shooting as a team.
DAYTON, Ohio -- USC was finally looking a bit like itself.
The Trojans were making their run, coming back from a 37-27 deficit with the help of a lot of free throws and penetration by guards
Jio Fontan
and
Maurice Jones
to bring the margin to just one point at 44-43, with 7:41 to go in Wednesday's First Four game against Virginia Commonwealth
And then the Rams switched to a zone defense.
The Trojans proceeded to score three points the rest of the way, and the Rams scored 15 of the final 18 points to clinch the victory and a trip to Chicago to face No. 6-seeded Georgetown on Friday night at the United Center.
So, yes, it's safe to say the Trojans imploded when faced with a zone defense, much the way they have over the last two seasons under
Kevin O'Neill
.
Asked about what happened when VCU switched to a zone and broke up what appeared to be some semblances of rhythm from the Trojans, O'Neill said he never saw his team in a rhythm Wednesday night.
"Looking back, it didn't seem like anything we really did went right," O'Neill said.
Now, get this: VCU coach
Shaka Smart
didn't even want to play a zone defense. His assistants had to convince him to do so, and their arguments only became convincing when the Trojans made their run.
March, 16, 2011
3/16/11
9:02
PM PT
By
Pedro Moura
| ESPNLosAngeles.com
DAYTON, Ohio -- The inaugural First Four has officially wrapped up. Here's a quick recap of Virginia Commonwealth's 59-46 win over USC at the University of Dayton Arena on Wednesday night:
Turning point:
The two teams were tied at 22-22 at halftime after a big 3-pointer from VCU's
Rob Brandenburg
leading into the break, but the Rams blitzed the Trojans at the start of the second period with a 15-5 run.


In a seven-minute period, VCU hit four 3-pointers -- including two by senior point guard
Joey Rodriguez
-- and took a 37-27 lead that held up well in the final minutes of a low-scoring affair.
Key player
: VCU's
Jamie Skeen
was the most dominant player on the court. He finished with 16 points and 10 rebounds, but his 3-point shooting -- 2-of-4 -- really helped spread out the Rams' offense, and USC's
Nikola Vucevic
and
Alex Stepheson
weren't well-equipped to defend him out there.
Skeen also did a fine defensive job on Vucevic when he was asked to guard him, although VCU's 7-foot freshman
D.J. Haley
did a lot of the dirty work against the Trojans' big men.
USC's
Jio Fontan
deserves some consideration for an inspired 14-point performance, but fouling out with four minutes to play is not the way to lead your team to the second round of the NCAA tournament.
As Skeen walked off the court Wednesday with his coach,
Shaka Smart
, at his side, he received a standing ovation from the VCU fans in attendance.
Key stat:
The difference between the two teams in total shots is remarkable.
The Rams shot the ball 59 times, USC just 38. With that big of a margin, VCU could afford to shoot a worse percentage (34 percent to the Trojans' 39) and still easily come away with the win.
What to attribute it to? Well, the Trojans were outrebounded (36-29) by a team that doesn't outrebound many of its opponents. USC also committed a ton of turnovers and failed to convert a good percentage of its opportunities from the free-throw line.
What's next:
VCU advanced to play Southwest Regional No. 6-seeded Georgetown in Chicago on Friday in what many are calling a solid matchup for the Rams. The Hoyas are welcoming back injured point guard
Chris Wright
to the lineup, and Wright has been a huge piece of their team so far this season. Smart, Skeen and Co. will fly into Chicago tonight by NCAA charter and meet with the media Thursday afternoon in the Windy City.
March, 16, 2011
3/16/11
1:36
PM PT
By
Pedro Moura
| ESPNLosAngeles.com


DAYTON, Ohio -- A few things to pass along before tonight's 6 p.m. PT tip-off at University of Dayton Arena:

O'Neill, a distraction?

The altercation between USC coach Kevin O'Neill and a University of Arizona booster at the team hotel last week in Los Angeles has made waves all the way over to the Rust Belt, with O'Neill continuing to face questions from the media about the controversial subject and even the Virginia Commonwealth players being asked about it in the day leading up to the game.

"I read about it," Rams point guard Joey Rodriguez said of O'Neill's suspension. "But I saw they came out the next day and played pretty well against Arizona. So I don't think it's really going to affect them. They're a talented group. I'm sure they're going to rally around their coach and it's going to be a tough game."

From the looks of things, VCU coach Shaka Smart is doing his best to keep his players' minds away from the O'Neill issue -- and understandably so.

"I have no idea what happened, nor do I really care," Smart said Tuesday. "I know that coach O'Neill's going to coach the game [tonight.] I have the utmost respect for him and his coaching staff and their program, so I'm looking forward to playing against them.

"But, again, any time you're talking about drama or things surrounding the game, I really don't dwell on it."


March, 16, 2011
3/16/11
9:20
AM PT
By
Pedro Moura
| ESPNLosAngeles.com
Here are five questions -- well, four, plus a prediction -- that will go a long way toward deciding USC's game against Virginia Commonwealth in the final First Four game of the NCAA Tournament:

1. VCU and USC have never played each other. Has either team played a similar opponent?

It's an interesting little sub-story to today's game. The two teams, USC and VCU, have each compared each other to opponents from their own conference.

The Trojans compare the Rams to Washington, the Pac-10 tourney champions. The Rams compare the Trojans to Drexel and Old Dominion.

"A little bit of Drexel," VCU second-leading scorer Bradford Burgess said when asked who he thought USC resembled. "They're a big team, a physical team. And we're going to have our work cut out for us. They have a very talented big man that Jamie's going to be matched up against.

"They have some quick guards that we'll have to keep in front and not allow dribble penetration. It's just going to be just a team effort that we're going to have to use to win the game."

VCU's combined records against those two CAA schools? 4-3. The Rams lost to ODU by five last week in the CAA title game.

"Actually, we've played a lot of teams that have some similarities with USC," VCU coach Shaka Smart said. "We really have a lot of respect for USC's physical front court and their ability to rebound on the offensive end. And then their guards are extremely good at getting in the lane, making plays, and they can get hot from outside.

"So, from our league, Drexel is similar to that. Old Dominion has some similarities to their physicality inside. Wichita State is a team we played in the bracket-buster who has a very imposing front line and guards that can play."

For what it's worth, the Rams beat Wichita State by one, 68-67, last month. Smart also said that he noticed further similarities between USC and UCLA, who the Rams beat in November.


March, 14, 2011
3/14/11
7:47
AM PT
By
Pedro Moura
| ESPNLosAngeles.com
It's new and it's unusual, but it's reality: USC will face Virginia Commonwealth on Wednesday in Dayton, Ohio as part of the NCAA's new "First Four" system. The Trojans and Rams will play at 6 p.m. on truTV for the No. 11 seed in the Southwest bracket and the right to travel to Chicago and face sixth-seeded Georgetown in the official first round of the NCAA Tournament.

Here's what you need to know about VCU and its 33-year-old coach, Shaka Smart: (1) Trojans coach Kevin O'Neill compares them to Pac-10 champion Washington, and (2) the Rams' defensive style is known as "havoc."

Suffice to say, Smart's squad is quick, and Smart's squad is multi-talented. The annual Colonial Athletic Association powers play a lot of full-court press, which will surely trouble a USC team that has rarely faced such a defense this season. The Rams are also 10-deep, meaning that the stretch run of Wednesday's game will feature a tired Trojan squad against a not-so-tired Rams squad.

Still, USC is favored to win by most experts, and the consensus appears to be that the two teams will meet for one of the more highly anticipated games of the first round.

"VCU is a team that, obviously, being in the NCAA tournament as an at-large, deserves our respect," O'Neill said Sunday. "They're gonna play up and down, they're gonna shoot threes, they're gonna play aggressive. They're deep, they play hard."

VCU's top two players are two upperclassmen in forward Jamie Skeen and guard Bradford Burgess. Skeen, a 6-9, 240-pound Wake Forest transfer, puts up 15.3 points and 7.6 rebounds per game and also possesses a potent outside shot. Burgess averages 14 points per game and can also stroke it from long range, tossing up more than four 3-pointers per game this season.

Aside from its top two, VCU has a lot of guards. The Rams' next four top scorers all stand 6-4 or shorter. Lately, Smart has also been starting a 7-foot freshman center named D.J. Haley, who hails from nearby Palmdale, and playing him limited minutes.

It wouldn't be a surprise to see the raw, athletic Haley start Wednesday and cover either the Trojans' Nikola Vucevic or Alex Stepheson at tip-off.
2013 TEAM LEADERS
| TEAM | RUSH | PASS | TOTAL |
| --- | --- | --- | --- |
| Offense | 174.2 | 218.1 | 392.3 |
| TEAM | PF | PA | MARGIN |
| Scoring | 28.5 | 21.3 | 7.2 |