USC:

Shaquille Richardson
November, 25, 2013
11/25/13
6:00
PM PT
Arizona running back
Ka'Deem Carey
has been named the Pac-12 offensive player of the week, along with Arizona State linebacker
Chris Young
, who was named defensive player of the week and UCLA returner
Ishmael Adams
, who was named special teams player of the week.
Here's some more on the trio per the Pac-12's release:
Carey, a junior from Tucson, Ariz., racked up 206 yards on a school-record 48 carries to become the Wildcats' all-time leading rusher with 3,913 career yards as Arizona upset No. 5 Oregon 42-16 on Saturday afternoon in Tucson. His four touchdowns on the day established a new program mark for career touchdowns with 49 while his 45 career rushing touchdowns are also a school record. The 48 carries were the most by an FBS player in a game this season and his string of 14 straight 100-yard rushing games is tied for the longest streak by an FBS player over the past ten seasons. The nation's second-leading rusher (155.9 ypg) earns the conference offensive player of the week honor for the second time this year.

Young, a senior from Seattle, Wash., led an Arizona State defense that limited a potent UCLA offense and squashed a fourth-quarter comeback bid in a 38-33 win over the Bruins at the Rose Bowl on Saturday night as the Sun Devils clinched the Pac-12 South Division title with the victory. He collected a game-leading 13 tackles, including 12 solo, and three sacks for a loss of 27 yards. His two fourth-quarter sacks and game-ending tackle on the Bruins' final two drives secured the win for the Sun Devils, who earned a spot in the Pac-12 Football Championship Game on Dec. 7.

Adams, a sophomore from Woodland Hills, Calif., collected 234 return yards in his first game serving as the return man in the Bruins' 38-33 loss to Arizona State. His efforts in the return game led to three UCLA scores, including a 58-yard return on the Sun Devils' first kickoff of the game to set up a 42-yard scoring pass on the next play and a 49-yard punt return that set up a 48-yard field goal that put the Bruins ahead late in the first quarter.

Also nominated for offensive player of the week honors were quarterbacks Taylor Kelly of Arizona State and Connor Halliday of Washington State; running backs Javorius Allen of USC and Bishop Sankey of Washington; and wide receivers Ty Montgomery of Stanford and Shaq Evans of UCLA. Also nominated for defensive player of the week honors were linebackers Anthony Barr of UCLA and Justin Sagote of Washington State; cornerbacks Shaquille Richardson of Arizona and Marcus Peters of Washington; and defensive end Leonard Williams of USC and free safety Jered Bell of Colorado. Also nominated for special teams player of the week honors was Washington State kicker Andrew Furney and USC fullback/special teams member Soma Vainuku.
August, 10, 2012
8/10/12
7:24
PM PT
By
Pedro Moura
| ESPNLosAngeles.com
Here's the fourth post in our new 'film study' series started last week.
Every other day from now until Aug. 23, we'll be putting up a set of pertinent-to-this-year notes from each game, going of course in chronological order from the Minnesota season opener to the UCLA season finale. At the end, on Aug. 25, we'll have one last post with our overall takeaways from the re-watching. By then, it'll be the week of this year's opener.
We've already done USC's 19-17 win over Minnesota, 23-14 win over Utah, 38-17 win over Syracuse and 44-23 loss to Arizona State. Here, now, are our five notes — four big things and a bunch of little ones — from USC's 48-41 win over Arizona on October 1, 2011.
Letting up
The Trojans led this game 17-0 at one point and 34-12 midway through the third quarter. It should never have gotten to the point that it did in the final minutes, when USC had to recover an onside kick to avoid possible overtime.
In particular, USC's defense on Arizona's final drive was just bad.
Even with a penalty, it only took the Wildcats six pass attempts (and five completions) to go 53 yards against the Trojans in those final minutes. On first-and-goal at the USC 4-yard line with 1:06 to go, Arizona's
Nick Foles
threads the needle with ease through
Shane Horton
,
Chris Galippo
and
T.J. McDonald
to complete a touchdown pass to
Austin Hill
at the back of the end zone.
And, earlier, the Wildcats ran 24 plays to the Trojans' 10 in the third quarter. A team entering a period with a 17-point advantage should not be giving up those kind of numbers.
Lee breaks out
This was
Marqise Lee
's official breakout game, and, as you might expect, it was helped in large part by the dominant play of
Robert Woods
, who had a ridiculous 255-yard day.
On Lee's 33-yard touchdown catch near the end of the first quarter, Arizona's defenders are drawn out of position by Woods to leave Lee literally wide open in the end zone. It was a masterful play call by
Lane Kiffin
considering how the game had gone to that point.
One mistake by Lee: He didn't fight for the ball well enough on a slant route he ran in the third quarter, when he was targeted by Barkley. Arizona's
Shaquille Richardson
jumped the route, but Lee could have done a better job of preventing the interception.
Still, a telling move from him came at the end of the third, when he broke a nice 14-yard gain off a short pass from
Matt Barkley
but was tackled by his shoestrings as he developed eyes for the end zone. He slammed his hands on the ground repeatedly after the play.
Lee nearly scored two plays later, when he leaped to catch a 45-yard pass from Barkley and hurt his left shoulder as he fell to the ground at the 1-yard line. He was back in the game two possessions later.
McDonald's two picks
T.J. McDonald got really, really lucky in this game.
It's not often you get two interceptions to fall into your hands in one quarter. The junior safety had three picks all season, and two of them came within a five-minute stretch of the first quarter against the Wildcats.
And, to make matters crazier, Foles hadn't thrown a single one on the year heading into the game.
Other than those, though, McDonald still had his best game yet, producing six tackles and breaking up a key deep pass in the fourth that could have changed the outcome.
Pass rush problems
USC had only one sack all game against the Wildcats, who had previously had a lot of trouble keeping Foles off the ground.
Guess who had the sack? The Trojans' only real pass-rusher,
Nick Perry
. He was really the only one producing pressure on Foles throughout the game, with a little bit of
DaJohn Harris
mixed in.
That's how Foles was able to complete 41 of 53 passes for 425 yards. The problem had plagued the Trojans in each of their games before this one, but it really came to a head here.
With both Perry and Harris gone in 2012, it's going to be interesting to see who -- if anyone -- gets to opposing signal-callers.
Final notes
: Once again,
Brandon Carswell
was the lead blocker on Woods' 82-yard catch-and-run touchdown early in the game. The senior receiver was by far the Trojans' best skill-position blocker. ...
Anthony Brown
had some really impressive open-field tackles, including one that was nullified by a personal-foul penalty on
George Uko
. ...
Dion Bailey
whiffed badly on an opportunity to quickly bring down Arizona's
Ka'Deem Carey
on his 27-yard scoring grab in the second quarter. ... Kiffin netted the Trojans three extra points with a smart decision to go for it on fourth down in no man's land at the end of the first half. ... This was not Kiffin's happiest day. He was irate at the officials on numerous occasions, including after one curious sideline interference call.
October, 3, 2011
10/03/11
9:24
PM PT
By
Pedro Moura
| ESPNLosAngeles.com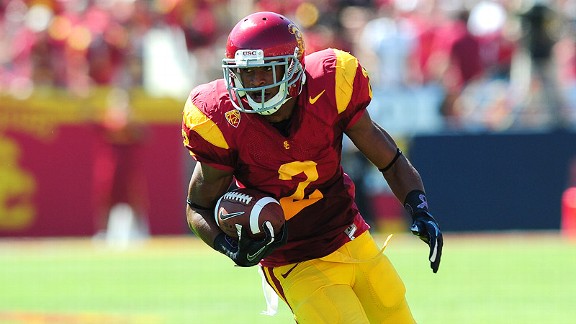 Chris Williams/Icon SMIRobert Woods had his best game of the season yet last weekend against Arizona, catching 14 passes for 255 yards.
Buoyed by a 14-catch, 255-yard game in Saturday's 48-41 over Arizona, USC receiver
Robert Woods
has had a tremendous start to the 2011 season -- so tremendous, in fact, he is starting to put himself in position to test some all-time NCAA receiving records.
Through five games, Woods is on pace to catch 132 balls for 1,793 yards and 14 touchdowns, which, in the first two categories, would not be far off the record-setting pace. And that would be in USC's 12 games. If the Trojans were allowed to play in a potential conference championship and bowl game, Woods would have a legitimate chance to break both of those records.
The all-time receptions record is 155, set in 2009 by Bowling Green's
Freddie Barnes
, with Houston's
Manny Hazard
coming in second with 142 in 1989, back in the day of
Andre Ware
.
For receiving yards, the FBS record is held by Nevada's
Trevor Insley
, who caught 134 passes for 2,060 yards in 1999, with Louisiana Tech's
Troy Edwards
(1,996 yards) and Texas Tech's
Michael Crabtree
(1,962) coming in second and third.
Woods won't get to those numbers. But he could come fairly close, and he stands to break Oklahoma State's
Justin Blackmon
's all-time record for sophomores if he keeps up his current pace. And, maybe more important, he has a great chance of shattering USC's all-time single-season records. To pass
Keyshawn Johnson
's marks of 102 catches and 1,434 yards, all he'd have to do the rest of the season is average 6.7 catches and 98 yards -- a cinch when considering he has put up averages of 11 catches and 149 yards so far.
He's also probably going to lead the nation in both of those categories. At this point in the season, only one FBS player, Western Michigan's
Jordan White
,
is within 100 yards of him in total receiving
, and only one player, again White, is within a dozen catches.
November, 14, 2010
11/14/10
2:22
PM PT
By
Pedro Moura
| ESPNLosAngeles.com
Video interviews with USC quarterback Matt Barkley and cornerback Shareece Wright, plus several quotes that stood out from after USC's 24-21 win over Arizona on Saturday at Arizona Stadium:

USC safety T.J. McDonald, on the Trojans' hopes for the remaining three games of their season: "We still have a chance to have a 10-win season -- which, you know what, not a lot of teams in the country can have a 10-win season, so we still have a chance to get that. We're thinking positive and we got some momentum now."

Arizona linebacker Paul Vassallo, on why the the Wildcats lost: "It's not that they are better than us, but we are making mistakes and beating ourselves."

Arizona receiver David Douglas, who had the crucial fumble in the third quarter that Monte Kiffin later called the play of the game, on the loss: "Close ones are always tough. USC is a great team. The defense has bailed us out a lot of times. They were out there righting hard. Nick (Foles) made some big plays, (Shaquille) Richardson, (Travis) Cobb, they all stepped up."

USC assistant head coach Monte Kiffin, on whether the Trojans were prepared for the quickness of Arizona's offense: "We kinda heard that a little bit. They weren't as fast as Oregon, but they were a pretty fast tempo. That's hard, but we did a good job -- we never got caught with 12 guys on the field or anything like that. Our players did a good job."

USC linebacker Michael Morgan, on whether or not USC was really an underdog in his eyes heading into the game: "No. I've never felt like an underdog in my whole career. Even if we're down I always feel like we can win. We're SC. We play ball."

USC backup quarterback Mitch Mustain, on the Trojans' successful fourth-and-three conversion in the first half, where Mustain found tight end Jordan Cameron for a seven-yard reception down to the Arizona four-yard line: "I'm glad we did it. We had been working on it and it's something that we hadn't done before, so it was kind of exciting. All of us in the huddle were pretty excited about it, and it worked exactly how we planned. The only thing I could ask more is that we score on it. I kinda got excited for a minute after he caught because I thought he might."

USC left tackle Matt Kalil, on the officials' ruling on the would-be blocked PAT returned for two points near the end of the game that was called back because of an offsides penalty: Yeah, I blocked the [PAT], and I guess Shareece was in the neutral zone and the ref said he wouldn't have called it if I hadn't blocked it. I guess because he scooped and scored and ran all the way for a touchdown. Kinda sucks, it's what I've been waiting to do all season. And I finally blocked one, and of course it's a flag."

Arizona Coach Mike Stoops, on his team's game: "I think we played hard and lost to a very good team. USC protected the ball well, threw the ball well. Out kicking game hasn't been very good these past couple weeks, and we really need to work on that. Overall, it just wasn't a good night for us."

***

Despite a subpar second half, Barkley was very positive after the game about his team's performance.

See what he had to say well after the game ended as he finally emerged from the locker room, with thoughts on Marc Tyler's 160-yard day on the ground, USC's temporary proclivity to throw the ball short and more:



***

Wright provided some interesting perspective about USC's defensive gameplan Saturday, with insight on the success of Arizona receivers Juron Criner and Terrence Mitchell, the big plays produced by the Trojans and more.

See all of what he had to say on the Arizona Stadium field right after the game:


2014 TEAM LEADERS
| TEAM | RUSH | PASS | TOTAL |
| --- | --- | --- | --- |
| Offense | 158.2 | 294.6 | 452.8 |
| TEAM | PF | PA | MARGIN |
| Scoring | 35.1 | 23.8 | 11.3 |