October, 25, 2012
10/25/12
11:30
AM PT
Last weekend, Arizona's
Matt Scott
and USC's
Matt Barkley
led their teams to victory and played well. And, of course, you heard a lot more about Barkley than Scott.
For one, Barkley was brilliant and Scott was just very good. Barkley completed 19 of 20 passes for 298 yards with six touchdowns and no interceptions against Colorado. It was the most efficient performance in the country this year and the most efficient in the history of the Pac-12. And, oh by the way, he now has 102 career TD passes, a Pac-12 record.
[+] Enlarge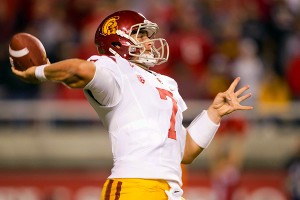 Russ Isabella/US PresswireSenior QB Matt Barkley has the Trojans sitting at 6-1 (4-1 Pac-12) entering Week 9.
Scott, who leads the Pac-12 in passing yards per game with 336.4, played a more supporting role while throwing for 256 yards and four touchdowns and rushing for 43 yards and a score in the blowout win over Washington.
Yet it surely felt familiar. USC is always big news, even when it's not winning championships. And Barkley is the most famous college quarterback in the country, even if he's not going to win the Heisman Trophy.
Scott? His outstanding numbers and notably quick adoption of new coach Rich Rodriguez's offense resonates only regionally, if at all. At least that's the case today.
That might change. These two seniors meet for the first time Saturday in Tucson, with Barkley, a four-year starter, trying to lead the Trojans back into the national title picture, which obviously means not overlooking Scott and the Wildcats because of the Nov. 3 date with Oregon.
Check that. These two did meet before, and let's hope this one is as fun as the first time: Oct. 4, 2007.
That's when Barkley, a junior at top-ranked Mater Dei in Santa Anna, Calif., and already highly celebrated, met Scott, a senior at No. 2 Centennial High of Corona, first clashed in front of roughly 10,000 fans in the Santa Ana Bowl.
[+] Enlarge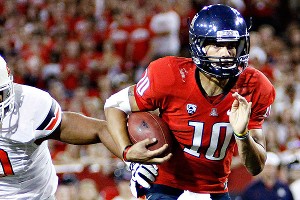 AP Photo/Wily LowSenior QB Matt Scott and the Wildcats are 4-3 (1-3 Pac-12) entering Week 9.
Mater Dei
won 51-37
in a game that lasted three hours and 15 minutes and featured 58 first downs and 1,295 yards of offense, a California high school record that only fell this season.
"The fans definitely got their money's worth," Mater Dei coach Bruce Rollinson told reporters after the game. "That was some show."
Scott passed for 176 yards and rushed for 178. Barkley was 21 of 31 for 364 yards and two touchdowns. The Centennial defense, by the way, featured Vontaze Burfict,
Brandon Magee
, Shelly Lyons and
Will Sutton
, who all signed with Arizona State. In a joint interview in 2011, the Pac-12 blog once asked Burfict, Magee and Lyons about this game, and they all became just a bit grumpy. It's fairly well-known that Barkley and Burfict
are not exactly close
.
Barkley was a five-star prospect in 2008, the nation's highest-rated quarterback. He signed with USC, which at that point was on a dynastic run atop the then-Pac-10, with a 6-1 record in BCS bowl games over the previous seven years and two national titles.
So, what does Rodriguez think of Barkley?
"He's obviously been one of the best quarterbacks in the history of the Pac-12," he said. "He's likely to be the first pick in the NFL draft. We're facing one of the all-time greats and also a tremendous leader."
Scott, a year ahead of Barkley, was a three-star prospect who picked Arizona over California, Boise State and Utah. The Wildcats went 5-7 in 2007, their ninth consecutive non-winning season. He beat out Nick Foles for the starting job in 2009, but then lost out to Foles three games into the season. When Foles was hurt in 2010, he came off the bench and played well, but he opted to redshirt in 2011 so he could finally inherit the keys to the offense as a fifth-year senior.
When asked about Scott, USC coach Lane Kiffin's first word is, "Wow."
"I think he's a phenomenal player," he said. "I didn't realize he is as fast as he is -- accurate, arm strength. He's playing great, doing an unbelievable job with the system."
So there's plenty of mutual admiration for both QBs.
Scott said he and Barkley know each other from football camps and recruiting and get along well. But, yes, it would be meaningful to best Barkley on Saturday.
"Yeah, they are the No. 9-ranked team, so it's going to mean a lot more," Scott said. "It's a big stage, a great quarterback is coming in here. It would mean a lot to outplay him."
If Take 2 is anything like Take 1 in 2007, this one figures to be pretty interesting.
August, 8, 2012
8/08/12
4:12
PM PT
By
Pedro Moura
| ESPNLosAngeles.com
Here's the fourth post in our new 'film study' series started last week.
Every other day from now until Aug. 23, we'll be putting up a set of pertinent-to-this-year notes from each game, going of course in chronological order from the Minnesota season opener to the UCLA season finale. At the end, on Aug. 25, we'll have one last post with our overall takeaways from the re-watching. By then, it'll be the week of this year's opener.
We've already done USC's 19-17 win over Minnesota, 23-14 win over Utah and 38-17 win over Syracuse. Here, now, are our five notes — four big things and a bunch of little ones — from USC's 43-22 loss to Arizona State on Sept. 24, 2011.
Barkley and USC's red zone turnovers
USC's offense was effective against a good Arizona State defense -- very effective, in fact. The Trojans just kept hurting themselves with ill-advised turnovers near the end of their drives, and the Sun Devils kept capitalizing.
After the game, coach
Lane Kiffin
deflected a lot of the blame away from quarterback
Matt Barkley
from the two picks he threw that led directly to ASU touchdowns. But a re-watching of the tape shows at least one of them was a clear mistake by Barkley.
With the Trojans on the ASU 12-yard line after a big punt return by
Nickell Robey
midway through the second quarter, Barkley looked to throw a short pass to
Robert Woods
just to the right of the original line of scrimmage. And so he tossed it over while failing to realize that
Vontaze Burfict
was in an underneath zone and only had to take two quick steps to his left to pick out the ball easily.
Then, in the fourth quarter, USC right tackle
Kevin Graf
messed up big-time in blocking for Barkley. When his man beat him rushing around the edge, Graf held him, drawing a flag, but didn't hold him well enough, so the Sun Devil still got to Barkley and pressured his throw, which was picked off by
Shelly Lyons
and returned for a touchdown.
You can make a good case that the second one wasn't Barkley's fault, especially considering the Trojans were already down by two TDs at the point. But the first one was. And that's not to say anything about USC's quarterback's
other
turnover, when he fumbled in the red zone on third down and wasted a nice chance at a field goal.
Marc Tyler
also lost a fumble when he was running really well and looking poised to the score late in the third quarter.
September, 25, 2011
9/25/11
11:03
AM PT
By
Pedro Moura
| ESPNLosAngeles.com
TEMPE, Ariz. -- USC quarterback
Matt Barkley
turned the ball over three times in the Trojans' 43-22 loss to Arizona State on Saturday, but neither he nor his coach,
Lane Kiffin
, seemed to think they were the quarterback's fault.
"I thought Matt did some good things at times," Kiffin said after Saturday's game. "The interception was not his fault. It was a screen play. It was a jailbreak screen, and
Vontaze
[
Burfict
] made a great play.
"It was just a freak play. It's not really his fault, but I thought he made some great throws and did some great things against a really good defense. He didn't have a lot of time at times."
Sure, the offensive line played poorly for a good chunk of the game, but the pick-six in the fourth quarter that sealed the game and Barkley's earlier pick in the second quarter were not the line's fault. The final-period interception actually came on a holding call where Barkley had plenty of time to deliver a pass -- he simply made a bad decision in trying to get a few yards and delivered it to ASU linebacker
Shelly Lyons
. And the second-period pick came on an elite play from Burfict, who jumped a basic route and took it back 37 yards. Barkley wasn't overly pressured into throwing the ball. The fumble, too, came on bullrush by Sun Devil defensive end
Greg Smith
right over tight end
Xavier Grimble
, not any USC offensive linemen.
Just like USC used a rapid, quick-developing passing attack in its earlier games this year to help a young offensive line, the Sun Devils got the ball moving frequently so that the Trojans defensive linemen couldn't get to ASU quarterback
Brock Osweiler
, who completed 78 percent of his passes to Barkley's 64 and did not throw an interception.
After the game, Barkley was asked about the team's failure to use consistent outside options other than
Robert Woods
, and what he still needed to develop with certain receivers.
"I think there's a lot of things that go into a play other than just the quarterback and the receiver," Barkley said. "And we're always trying to get better timing, especially with these young kids, but you can't just put it on us two to make everything happen.
"It's a team and we win as a team and lose as a team."
It's clear Barkley didn't perform to the same standard he had a week before at the Coliseum against Syracuse. In that game, he threw five touchdowns and no picks. Saturday, he threw one touchdown and two picks. Was he disappointed in his own performance?
"Always disappointed when you don't come out with a win," he said, "and then, regardless of numbers, there were just a lot of plays you could have had."
Two plays he could have had specifically stand out: in the first quarter, Barkley overthrew a wide-open Woods streaking down the right side of the field for what would have been a 63-yard touchdown connection had the pass been just a bit later or a bit shorter. And, shortly afterward, Barkley underthrew
Randall Telfer
on a drive where USC settled for a field goal. Between the two plays, 10 points were left on the table by Barkley's own doing.
Maybe that, above all else, is the takeaway from this game. USC's junior quarterback, a guy coming off such a
superb Syracuse game
, is still prone to errors -- errors that can and have cost the Trojans games.
2014 TEAM LEADERS
| TEAM | RUSH | PASS | TOTAL |
| --- | --- | --- | --- |
| Offense | 158.2 | 294.6 | 452.8 |
| TEAM | PF | PA | MARGIN |
| Scoring | 35.1 | 23.8 | 11.3 |