March, 21, 2011
3/21/11
11:40
AM PT
By
Pedro Moura
| ESPNLosAngeles.com
We've looked at the five biggest questions facing the Trojans in 2011 --
the future of the offense
,
who will coach the defense
,
sanctions' effects on recruiting
,
how to replace two departed stars
and
how to use Dillon Baxter
. We've looked at the likely depth charts, position by position, for spring practice --
quarterbacks and running backs
,
receivers and tight ends
,
offensive linemen
,
defensive linemen
,
linebackers and defensive backs
and
special teams
.
Now, with spring practice less than 24 hours away from officially beginning, we'll look at the five questions the Trojans are specifically hoping to get resolved in the month-long period of spring practices that commences tomorrow morning at 7:25 a.m.:
1. Will the lack of a healthy offensive line hinder the development of players at other positions?
USC head coach
Lane Kiffin
isn't always forthcoming.
But it's been different when it comes to his offensive line this spring.
"There will be a real lack of depth on the offensive line this spring because of injuries, so that will make for some very interesting practice formats," Kiffin said in USC's official spring prospectus, released last week. "We'll get some help here in the fall when the newcomers come in and, if we can help hasten their development, they'll have a chance to contribute immediately."
The Trojans have six completely healthy offensive linemen entering the spring, with one more guy -- guard/center
Khaled Holmes
, nursing a shoulder injury -- potentially available.
Kevin Graf
is out with a shoulder injury and
Abe Markowitz
is out with a foot injury, so USC will have at the most two backup linemen for the month of spring.
And, remember, some of those could easily get hurt -- it's football -- and miss some time, so USC will likely be forced to either take things easy in spring scrimmages or go to walk-ons at times to cover the depth issues.
2. Speaking of Holmes, can he play center effectively and be reliable doing so?
Kiffin hinted at it a number of times last season, but it's not necessarily a foregone conclusion. Holmes will not necessarily be a center this season.
First of all, he's still listed as a guard in the school's official spring prospectus. Second of all, he could miss some or all of the spring sessions with a shoulder injury.
That's not exactly the best recipe for a player making a position switch. Still, if it's not Holmes, who is it at center? Redshirt freshman
Giovanni DiPoalo
? Markowitz, a former walk-on? Troubled guard
John Martinez
?
Holmes makes the most sense, as one of the most cerebral, most experienced guys on the line. But if he doesn't take control of the spot early in spring, perhaps the Trojans will find other options.
3. With Kyle Prater out for at least a portion of the spring, who will emerge across from Robert Woods? Will it still be Prater?
Prater was the natural favorite to start across from Woods this season, a redshirt freshman with boatloads of potential who many thought would end up starting in front of Woods across from
Ronald Johnson
last season.
Of course, that's not what happened. Prater participated in spring practice while Woods attended high school, but he was slowed by nagging injuries for pretty much the duration of the spring -- and fall camp, too. Woods, as you surely know, seized the opportunity and started, becoming a consensus Freshman All-American.
The new favorite in the place of Prater is probably redshirt senior
Brandon Carswell
, who was close to transferring to Cincinnati last summer before Kiffin convinced him to stay. Now he's a sure contributor in 2011 and quite possibly the starter across from Woods. The other players with opportunities in spring practice to seize the spot are sophomore
Markeith Ambles
and redshirt sophomore
De'Von Flournoy
.
Ambles has plenty of potential. In an unusual move, Flournoy redshirted last season after playing sparingly his freshman year under
Pete Carroll.
4. Will someone take an early lead at two key spots in the secondary: No. 2 cornerback and strong safety?
Two spots in the secondary are locked up, with
Nickell Robey
and
T.J. McDonald
holding down the top cornerback and free safety spots, respectively.
The other two are completely up for grabs. Any one of four players could legitimately start at strong safety: juniors Jawanza Starling, Drew McAllister and Tony Burnett and senior Marshall Jones. Any one of five could start at the second corner spot: senior T.J. Bryant, redshirt junior Brian Baucham, redshirt sophomore Torin Harris and redshirt freshman Anthony Brown, plus incoming junior-college transfer Isiah Wiley.
Bryant and Harris are likely out for the spring with injuries, and McAllister's status is tentative at this point while he continues to recover from hip surgery that sidelined him for all of last year. Wiley won't enroll until the fall.
That still leaves five capable candidates auditioning for defensive backs coach Willie Mack Garza in the spring: Starling, Burnett, Jones, Baucham and Brown.
5. Devon Kennard is likely out for the spring while recovering from hip surgery. Can Chris Galippo regain hold of the middle linebacker spot that was once his?
Who knows who will end up starting at middle linebacker? Neither of the two players do at this point, and, last year, none of the coaches even knew until midway through fall camp that Kennard would start over Galippo at the Mike spot.
Of course, the decision to move Kennard wasn't the most raved-about of 2010. He clearly experienced quite a few growing pains at the position, and, late in the season, Galippo started to share serious snaps and even take on the majority of snaps in some games.
Both players will almost assuredly start at two of the three linebacker spots, but the spring might be Galippo's best opportunity to seize control of the desired Mike spot over the injured Kennard.
That's it for our spring practice preview. Check back tomorrow for full coverage of the first spring practice of the year and each Tuesday, Thursday and Saturday after that until the Spring Game on April 23 at the Coliseum.
March, 21, 2011
3/21/11
11:25
AM PT
By
Pedro Moura
| ESPNLosAngeles.com
There is just one Monday left -- tomorrow -- until spring practice officially kicks off for USC on Tuesday, March 22. On each of those Mondays, we've been previewing one-sixth of the Trojans' depth chart and eyeing potential risers and fallers during the monthlong springtime. We began five weeks ago with quarterbacks and running backs and continued four weeks ago with receivers and tight ends, three weeks ago with offensive linemen, two weeks ago with defensive linemen and last week with linebackers and defensive backs. This week, we close up shop with a quick look at the special-teams units before our full spring practice preview tomorrow:
Kicker

1.
Andre Heidari
, freshman
2.
Craig McMahon
, redshirt freshman
Heidari is a great kicking prospect, one with a leg already capable of hitting field goals from 50-plus yards out. He, like many young kickers, needs to work on some consistency issues, but it's very likely he'll win the job over the walk-on McMahon straight away in spring as an early enrollee out of Bakersfield Stockdale High.
McMahon's a quality backup, too, though. At times last fall his kicking looked comparable to that of
Joe Houston
and
Jacob Harfman
, the two seniors who were competing throughout the season for opportunities to kick.
Punter

1.
Kris Albarado
, freshman (won't enroll until fall)
2.
Kyle Negrete
, redshirt junior
Albarado's not enrolling early like his fellow kicking-recruit-mate Heidari, but he's still the projected starter at his position come the fall. In turn, Negrete, a walk-on who transferred from the University of San Diego, will probably do a lot of the punting in spring practice.
Albarado is another strong-legged type, although associate head coach
John Baxter
was apparently quite enamored with the hang time on his punts in high school.
Kick returner/Punt returner

1.
Robert Woods
, sophomore
2.
Nickell Robey
, sophomore
3.
D.J. Morgan
, redshirt freshman
First, to be fair: this position's chart is a straight guess and could be completely opposite from the what the coaches choose to do, with the return spots often exhibiting a lot of turnover from year to year in a program. But these three players make plenty of sense as returners: Woods returned kicks last season and did so with considerable success -- although not quite the same amount of success as he experienced at the receiver position in his Freshman All-American season. The only question with him as far as returning goes is whether the USC coaching staff wants to add extra snaps and hitting onto his weekly workload during the season.
The same is true for another return candidate and a player who impressed coaches with his return skills last fall camp -- Robey. He'll be USC's top corner and one of two tried-and-true playmakers in the back seven for the Trojans, along with safety
T.J. McDonald
. He's also small, and, while tough, probably not the most durable player on the team simply because of his 5-8, 165-pound frame.
Morgan's another option and one of the fastest players on the team. Other possible candidates include receivers
Brandon Carswell
and
De'Von Flournoy
and running back
Curtis McNeal
.
Long snapper
1.
Chris Pousson
, senior
2.
Peter McBride
, freshman
Pousson has done three years of snapping for the Trojans and will be entering into his fourth year in 2011. He had handled only short snapping prior to 2010 but took on both duties last season, picking up for the departed
Cooper Stephenson
in that area.
McBride was one of the top long-snapping recruits in the nation this year and is already enrolled in school, giving USC a quality backup at this spot and a snapper-in-training for 2012.
That's it for the for the position-by-position outlook leading into spring practice. Check back tomorrow for five questions that USC hopes spring practice will answer
.
March, 14, 2011
3/14/11
8:35
AM PT
By
Pedro Moura
| ESPNLosAngeles.com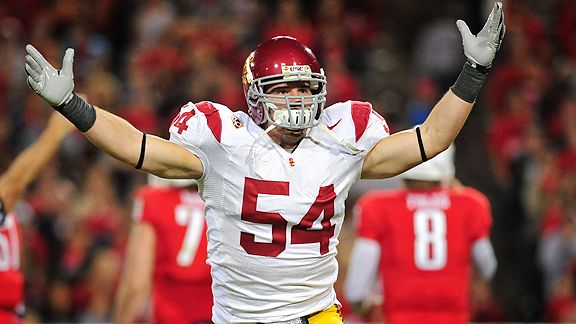 Chris Morrison/US Presswire
Chris Galippo could end up starting at any of three positions on the linebacking corps.
There are two Mondays left until spring practice officially kicks off for USC on March 22. On each of those Mondays, we'll preview one-sixth of the Trojans' depth chart and eye potential risers and fallers during the monthlong springtime. We began four weeks ago with quarterbacks and running backs and continued three weeks ago with receivers and tight ends, two weeks ago with offensive linemen and last week with defensive linemen. This week, we look at both linebackers and defensive backs as we begin to close up shop, keeping in mind that all freshman who can't practice until the fall are automatically at the bottom of the depth chart:
Strongside linebacker
1.
Chris Galippo
, redshirt senior
2.
Ross Cumming
, senior
3.
Lamar Dawson
, freshman (won't enroll until fall)
4.
Charles Burks
, freshman (won't enroll until fall)
Galippo could, honest to goodness, end up starting at any of three positions on the linebacking corps -- or all three, too. But the strongside is probably the most likely place he'll start off at at, simply because he's better built for the position than any of the Trojans' other linebacking options aside from
Devon Kennard
.
Cumming's a very valuable backup and perhaps the best special-teams player on the roster. Burks is a sure bet to redshirt; Dawson is not at all and could very well end up playing significant snaps in 2011 as a first-year freshman.
Middle linebacker

1.
Devon Kennard
, junior
2.
Dallas Kelley
, junior
3.
Will Andrew
, redshirt sophomore
4.
Anthony Sarao
, freshman (won't enroll until fall)
Kennard playing middle linebacker in 2010 wasn't exactly the hit the Trojans' coaching staff envisioned it being, but it makes a lot of sense at this point to stick with it and allow one of the team's smartest players to mentally adjust to playing one position and one position only.
This is not a done deal, though. He could play strongside too, and he could also drop down and play some defensive end at times. Neither of those would surprise me. Kelley, although undersized, was a nice get as a junior college player because of his physical development. Unlike Sarao and even Andrew, a walk-on, Kelley could presumably hold his own in a pinch in a game in the fall.
Weakside linebacker

1.
Shane Horton
, redshirt senior
2.
Marquis Simmons
, redshirt sophomore
3.
Hayes Pullard
, redshirt freshman
4.
Tre Madden
, freshman (won't enroll until fall)
Horton's one of the least-talked about seniors on this roster, a guy who
Lane Kiffin
openly -- and memorably -- called out for poor play in 2009 but went on to earn significant praise over the course of the year as a spot starter and valuable reserve. He won't be a world-beater if he ends up starting, but he screams serviceable piece who makes a lot of a sense as a stop-gap measure while Madden and Dawson ready for prime time.
Simmons and Pullard are both very inexperienced; Madden could redshirt but is not a guarantee.
Left cornerback

1.
Nickell Robey
, sophomore
2.
T.J. Bryant
, redshirt junior
3.
Patrick Hall
, redshirt freshman
4.
Ryan Henderson
, freshman (won't enroll until fall)
Robey's a surefire starter, an undersized player who took a chance the coaches gave him in fall camp last year and ran with it all the way to December, starting every one of the Trojans' 13 games and performing fairly well overall. He had his bad moments and bad games, but Robey showed shades of early ballhawk-ness and consistently impressed as a tackler.
Bryant had a disappointing year and is nearing full-on bust status in Troy. He needs a big-time season in 2011, probably as either a nickel or dime back, to save himself in the coaches' eyes. Hall has a lot of work to do to get to a point where he could see legitimate defensive snaps.
Henderson will likely redshirt.
Strong safety
1.
Drew McAllister
, redshirt junior
2.
Jawanza Starling
, junior
3.
Dion Bailey
, redshirt freshman
McAllister missed all of last season with a hip injury and was able to redshirt the year after he underwent surgery in October. He was one of the players who seemed forgotten in some circles last year but was really a sorely missed piece on the Trojans' defensive unit. He is, for all intents and purposes, their best playmaking defensive back, and it'll be interesting to see if he retains that specific skill after his return from injury.
Starling started until the Oregon game before losing his spot to
Marshall Jones
, but he could still play an important role this season. His main issue last year involved mistaken routes to tackle ballcarriers, and it troubled him often in most of USC's games. Fix that, and he could easily start.
Bailey's interesting, as he is also playing some strongside linebacker in winter workouts and sounds set on finding his way into the lineup this season at that spot, not on safety. But he's still small for the linebacker spot, and he's probably a better fit at safety in the long term.
Free safety
1.
T.J. McDonald
, junior
2.
Marshall Jones
, redshirt senior
3.
Demetrius Wright
, redshirt freshman
4.
Tony Burnett
, junior
McDonald is probably the best player on the entire defensive unit, a junior to-be who will enter the season as a top underclassman. He has everything NFL scouts like to see in a young player, including the smarts for the position, and he still retains some ability to grow into his lanky frame. He'll be the cornerstone of the defensive backfield.
Jones is another solid backup but also a guy who will be jonesing for starting snaps. He didn't do badly in his opportunities last year, but, with McAllister back in the fold, there isn't really an obvious spot for him to play in 2011.
Same for Wright and Burnett, two players who looked good in their limited opportunities last season -- Wright in practice and Burnett in the Notre Dame and UCLA games.
Right cornerback
1.
Torin Harris
, redshirt sophomore
2.
Brian Baucham
, redshirt junior
3.
Anthony Brown
, redshirt freshman
4.
Isiah Wiley
, junior (won't enroll until fall)
This is probably the most unsettled spot on the defense, with Harris maybe the leading candidate to start on opening day but also a leading candidate to frustrate Kiffin and the coaches again and again with his inconsistent play.
Baucham has yet to put it all together in what will now be his fourth year at USC, but he has the size and athletic ability to start -- as does Brown, who has impressed in winter workouts but is still very inexperienced. Wiley will come in as a junior but will assuredly be hurt by the fact that he wasn't able to qualify for spring enrollment.
Any of these four guys could end up starting come September.
That's it for today. We'll be back next week, just one day before the official start of spring practice, for a quick, concluding look at the special-teams units.
February, 22, 2010
2/22/10
8:39
PM PT
By
Pedro Moura
| ESPNLosAngeles.com
All the news in the world of USC that's fit for reading on what was a spectacular 70-degree Monday in Los Angeles:
USC's spring practice dates have been announced. The Trojans begin on Thursday, March 30 and will have practices every Tuesday, Thursday and Saturday until the Trojan Huddle on Saturday, May 1. Including the Huddle, USC's annual spring game, that makes for 15 practices. Tuesday and Thursday practices are scheduled for 4 p.m.; Saturdays will be at 11 a.m. It is not yet known whether spring practices will be open to the public under new coach Lane Kiffin.
In basketball news, the game times for the final two men's games in Arizona were also announced today. The Thursday night game against Arizona State will be at 5:30 p.m. PST; the Saturday game against Arizona will be at 10:30 a.m.
It's a big week for non-revenue sports teams at USC. The No. 6 men's volleyball team hosts No. 5 Cal State Northridge on Wednesday at the Galen Center. Both teams had been ranked No. 1 for sizable portions of the season, but the Trojans have lost four of their last six matches and the Matadors have lost three of their last five. CSUN has beat USC 15 straight times. And the USC baseball team has a chance to give head coach Chad Kreuter a .500 record with a win against Loyola Marymount on Tuesday. Kreuter's team has gone exactly 28-28 each of the last two seasons. The Trojans also have an exhibition with a Japanese university on Wednesday at Dedeaux Field.
And, as speculation continues concerning USC's appearance at an NCAA hearing over the weekend, The Los Angeles Times reports that USC coach Kevin O'Neill was not with his team Friday night as they prepared to face Washington State. O'Neill was reportedly instead still in Seattle, on a conference call with the NCAA infractions committee in Tempe, Ariz. Says guard Dwight Lewis in the article: "It was different, but I don't think it affected us in the game. It had nothing to do with who was there or who wasn't there."
And a little bit of a link dump: a USC student profile on TE signee Xavier Grimble and former USC receiver Jamere Holland was kicked off the Oregon team after angry status updates on his Facebook concerning the fate of linebacker Kiko Alonso, who was cited for a DUI last week and later suspended for the 2010 season. Holland, has yet to make his Facebook profile private and continues to post frequent updates.
2014 TEAM LEADERS
| TEAM | RUSH | PASS | TOTAL |
| --- | --- | --- | --- |
| Offense | 158.2 | 294.6 | 452.8 |
| TEAM | PF | PA | MARGIN |
| Scoring | 35.1 | 23.8 | 11.3 |