May, 23, 2012
5/23/12
12:06
AM PT
By
Pedro Moura
| ESPNLosAngeles.com
The USC men's tennis team won its record-tying fourth consecutive NCAA national title on Tuesday with a late-night 4-3 victory over Virginia in Athens, Ga.

The championship matchup had to be moved indoors after afternoon rain first delayed the action on the outdoor courts at the University of Georgia.

USC freshman Yannick Hanfmann, playing the final of six singles matches, battled back from down a break in the third set to win it all for his team in a dramatic tiebreaker. Steve Johnson, Raymond Sarmiento and Roberto Quiroz also won singles matches for the Trojans after they lost the crucial doubles point on the outdoor courts to start off the action.

USC, the first college tennis team since Stanford's 1995-98 teams to win four consecutive national championships, finishes 2012 with a 33-1 overall record. Interestingly, the Trojans' men's water polo team is also on a run of four straight titles.

Johnson, the reigning NCAA singles champion, and fellow senior Daniel Nguyen both won the national title all four years they were in college.
August, 28, 2011
8/28/11
11:50
AM PT
By
Pedro Moura
| ESPNLosAngeles.com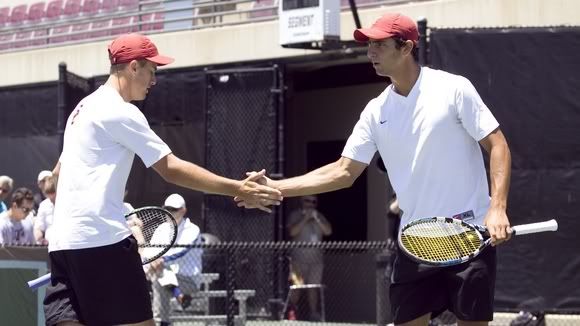 Courtesy USCTrojans.com
Former USC doubles partners Robert Farah and Steve Johnson have qualified for next week's U.S. Open. They face tough second-round matchups in Robin Soderling and Rafael Nadal.
Former USC doubles teammates
Steve Johnson
and
Robert Farah
, members of two straight NCAA title-winning teams while Trojans, will take part in the U.S. Open at Flushing Meadows next week for the first time in each of their careers.
Johnson and Farah memorably won the 2010 NCAA doubles title before Farah graduated and moved back to his native Colombia to begin his pro-circuit play.
Johnson, who will face fellow American
Alex Bogomolov Jr.
in the first round, earned a wild-card entry into the draw by virtue of his 2011 NCAA singles title in May. The winner of the match would likely face No. 6 seed
Robin Soderling
, who has been a quarterfinalist the past two years at the US Open. Johnson still plans to return to USC in the spring to go for the rare fourth-consecutive NCAA championship and thus playing in the tournament as an amateur.
Farah, who made it through three rounds of qualifying to get into the main draw, will play Frenchman
Nicholas Mahut
in the first round. He earned victories over Germany's
Dominik Meffert
and
Andre Begemann
and Brazil's
Julio Silva
in qualifying. His potential second-round opponent is none other than Spain's
Rafael Nadal
.
First-round play begins Monday.
May, 26, 2010
5/26/10
12:05
AM PT
By
Pedro Moura
| ESPNLosAngeles.com
It wasn't an auspicious start for the Trojans — but, this time, it didn't matter.

The USC men's tennis team lost the doubles point in Tuesday's NCAA title game against Tennessee, only the fourth such time the Trojans did so this season.

The previous three matches? All losses, USC's only three of the season. But the Trojans rallied in singles Tuesday, getting key victories from Robert Farah, Steve Johnson and Peter Lucassen and the title-clinching victory from Daniel Nguyen to win their second straight national title, 4-2 over the Volunteers.

"In between singles and doubles, we decided we had to do it the hard way," Johnson said by phone Tuesday night from Athens, Ga. "And we all just pulled together. There was never an easy road for us tonight."

When the doubles pairings of Farah/Johnson and Jason McNaughton/Jaak Poldma fell to the Volunteers, Tennessee took an early 1-0 lead. Johnson took home the first singles win for USC at the No. 2 spot, toppling Tennessee's Boris Conkic in straight sets, 6-3, 6-2. Then, Poldma lost on the No. 3 singles court to give back the lead to Tennessee.

From there, Farah used a crucial tiebreaker win in his first set and ferocious returns to upset national No. 1 player J.P. Smith and Lucassen earned a win as the Trojans took a 3-2 lead. But the sophomore Nguyen became the real hero when he rallied back from a first-set loss to beat Tennessee's Tennys Sandgren and clinch the match for the Trojans, 6-7 (3), 6-1, 6-0.

After the match, Nguyen was named the NCAA tournament's Most Outstanding Player, completing a meteoric rise for the Santa Barbara native as he climbed away from in and out of the lineup in his freshman season to a key part of the Trojans' national championship run.

"It's just unbelievable the strides he has made since last year," Johnson said of Nguyen. "We all knew he would come through for us."

Now, both Johnson and Farah will attempt to take the momentum from Tuesday's victory and keep it going for the NCAA individual championships that begin Wednesday. Both players are scheduled for singles matches on Wednesday evening.

"We're both pretty emotionally spent," Johnson said. "It's a quick turnaround, but we're prepared."
May, 24, 2010
5/24/10
11:19
PM PT
By
Pedro Moura
| ESPNLosAngeles.com
Links, notes and quotes to recap everything USC-related on this Monday:
The fifth-ranked USC men's tennis team upset top-seeded Virginia in Monday's semifinal to punch its ticket to the NCAA title game Tuesday against Tennessee. Sophomore Daniel Nguyen, who USC coach Peter Smith said was his most improved player this season, clinched the victory with a dramatic 7-6 (9), 6-4 win at the No. 4 singles spot after the Trojans won the doubles point and got key singles victories from Robert Farah and Peter Lucassen. USC lost three matches this season — including the final fixture of the regular season to rival UCLA — but appears to be back to the top form it exhibited in winning the NCAA title a season ago.
Former USC safety Kevin Ellison was arrested on suspicion of possessing a controlled substance in his native Redondo Beach. After he was pulled over for speeding in a residential area, Ellison had his car searched and police discovered 100 Vicodin pills — which he did not have a prescription for, according to Sgt. Peter Grimm. Ellison, a sixth-round selection of the San Diego Chargers in 2009, was a team leader in his time with the Trojans.
In recruiting news, linebacker Tre Madden (Mission Viejo, Calif./Mission Viejo) committed to USC over the weekend, becoming the sixth member of the Class of 2011 — but the first linebacker — to commit to the Trojans. Madden, a 6-foot-1, 215-pound middle linebacker for Mission Viejo, projects as an outside linebacker at the college level. According to various reports, the high school junior first received an offer from USC last Thursday and took only a few days to mull it over, committing Sunday.
According to the L.A. Daily News, USC senior associate athletic director Brandon Martin has resigned to take a similar position at Oklahoma. Martin, who played basketball for the Trojans in the 1990's, reportedly made many basketball-related decisions during his tenure at USC and had notably been in the running for athletic director spots at smaller schools over the last year. Martin received undergraduate and graduate degrees from USC and also held a joint appointment as the Assistant Professor of Clinical Education in USC's Rossier School of Education. He is known for a dissertation entitled, "A Phenomenological Study of African American Male Student-Athletes at Highly Selective Division I Universities," published at USC.
May, 23, 2010
5/23/10
2:26
PM PT
By
Pedro Moura
| ESPNLosAngeles.com
It happened in September.
USC men's tennis coach
Peter Smith
grouped his defending champion squad together before its first practice of the 2009-2010 season and officially put their title run behind them.
The eighth-year coach pulled out a TV, a DVD player and a copy of the team's championship run on video and sat down to watch it with his team. After they finished watching, the always-affable Smith gave a brief address.
"'This will be the only time we watch this this season,' " USC No. 2 singles player
Steve Johnson
recalls Smith saying. " 'We have to move on.'
"And he was right," Johnson continues. "You can't live in the past. I think at this point in the year we're all using last year's run as motivation, but we're not complacent about it at all."
As if the Trojans need any more motivation. Sunday, fifth-seeded USC will match up with fourth-seeded Ohio State in the quarterfinals of the NCAA Championships in Athens, Ga. A win Sunday would propel the Trojans into Monday's semifinals, where they would take on the winner of the Virginia-UCLA quarterfinal.
The Buckeyes were the team the Trojans upset in the title game a year ago, so it understandably makes for a fairly big match this time around as USC is the underdog once again.
USCTrojans.com
Sophomore Steve Johnson and senior Robert Farah are quite the qualified singles players but also make for one of the nation's top doubles pairings.


It's not that Smith wants his team to forget about its national championship, when USC upset the Buckeyes to complete a Cinderella-inspired run through the Round of 16 brackets. It's that Smith wants the reliving of the title run to occur on the courts, not in his players' minds.

"We just gotta use it as an inspiration," says ninth-ranked senior Robert Farah. "I'm just trying to relive that experience, which was very special for me, and that's what has been driving me.

USC will rely heavily on Johnson and Farah in Sunday's match. Ranked third and ninth in the nation, respectively, Johnson and Farah share professional aspirations as the team's top two players. Fittingly, the pair have also worked extensively as doubles teammates.

Smith calls Farah the best player he has ever coached at the college level and says he expects Johnson to overtake that honor in the near future. In the meantime, though, he needs his No. 1 doubles pairing to top Ohio State's Sunday. The Trojans have lost only three times this season, and the Farah-Johnson team won only one out of three sets in those matches.

Essentially, they are important to the team's success. Very important.

"I feel like our chemistry has grown so much, even since last year," the sophomore Johnson says of his relationship, on- and off-court, with the senior Farah. "He knows what it takes. Rankings-wise, we feel like we can beat anybody if we play our best."

The description works for the rest of the squad as well, according to Smith. The former Fresno State and Pepperdine coach says his roster has been devoid of injuries for the first extended period of the season and liked what he saw in Saturday's 90-minute team practice.

"We are playing our best right at the right time," Smith said by phone from Athens as his players jumped to an ice bath. "We are very confident and our spirits are very high."

Just as they were a year ago.
2013 TEAM LEADERS
| TEAM | RUSH | PASS | TOTAL |
| --- | --- | --- | --- |
| Offense | 174.2 | 218.1 | 392.3 |
| TEAM | PF | PA | MARGIN |
| Scoring | 28.5 | 21.3 | 7.2 |