September, 6, 2012
9/06/12
2:17
PM PT
LOS ANGELES -- The Trojans went through the final on-campus practice Thursday before boarding buses for their flight to New Jersey for Saturday's game against
Syracuse
.
While it will be
USC
's first road game of the season, the fact that it is to be played at MetLife Stadium -- home of the New York Giants and Jets -- and not at the Carrier Dome on Syracuse's campus will make the crowd noise far less of a factor than normal for USC road games.
"Normally it takes out the crowd factor because the crowd's mixed," USC coach Lane Kiffin said. "I would think in this one there would be more Syracuse than USC [fans], but you'll also have another third that's going to the game just for the event, not for one side. So I wouldn't think crowd noise would be a factor."
Three years ago Syracuse announced a deal with MetLife Stadium to play USC this season,
Penn State
in 2013 and
Notre Dame
in 2014 and 2016 at the venue, as well as 10 additional football games to be scheduled at the East Rutherford, N.J., facility between 2019 and 2038.
USC has tried to drum up support for the team in New York leading up to the game by purchasing electronic signage in Times Square and tweeting out the hashtag #WePlayBroadway. The USC Trojan Marching Band also will conduct a live performance in Times Square on Friday.
On Friday at MetLife Stadium, Kiffin will lead the Trojans in what will be his first walk-through as a USC coach. He said the extra day and close proximity from the team's hotel to the stadium made it an easy choice and will keep the team focused the day before the game.
The significance of playing at MetLife Stadium and getting exposure in New York, however, was downplayed by Kiffin, who said it might be significant to everyone else but his team.
"I think for our fans, for our players' families, for our university [that's important]," Kiffin said. "Not for us. I don't even know if these kids know for sure where they're playing. This is about the 11 guys out there executing really well, and we plan on doing that."
September, 17, 2011
9/17/11
10:58
PM PT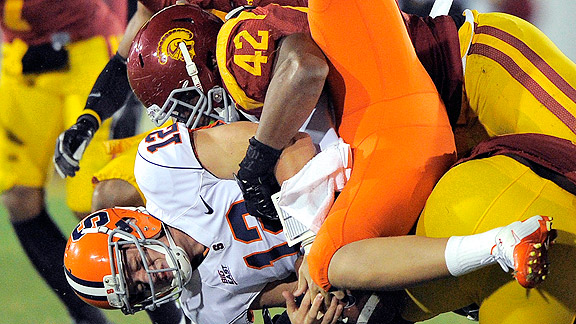 AP Photo/Mark J. TerrillSyracuse QB Ryan Nassib is tackled by USC's Devon Kennard (42) and Lamar Dawson, top.
LOS ANGELES -- It's amazing how little we've learned about this USC football team through the first three games.
Matt Barkley
and
Robert Woods
are good. The early-season schedule, not so much.
This coaching staff and USC's collective fandom sit and hope this team grows into a personality. It has an offensive identity -- those two guys. "Barkley to Woods" figures to be the phrase of 2011, maybe the only memorable connection when it's all said and done.
But there is another group on this team that has the potential to take over games, to help carry this team back from the morass of mediocrity to a potentially dominant position in college football again. Thus far, we've only seen glimpses and furtive glances.
Some of the most talented guys on this roster teased us again in Saturday's close-but-not-quite-dominant 38-17 win over Syracuse. The USC defensive line isn't what it should be yet, but it's getting close. It has seven days before it absolutely has to arrive or this season might unravel slowly, the way it did a year ago.
"I'm waiting to see it. I really am," said defensive coordinator
Ed Orgeron
. "It hasn't happened yet. We've shown spurts, but obviously we've got a lot of ball left to play."
Syracuse quarterback
Ryan Nassib
is an efficient guy and he was beginning to get comfortable Saturday, far more at-home than a quarterback from a rebuilding program ever should look playing in the Coliseum -- a place that once had the power to unnerve. Nassib was so rattled, he completed all 11 of his passes in the first quarter.
By the third, it looked as if he and his Orange teammates were actually starting to believe they could do what five of the previous 12 USC opponents had done here: win.
Then things started to cave in.
September, 17, 2011
9/17/11
11:58
AM PT
Welcome to Week 3: Trojans Live!
ESPNLA.com's interactive chat from the Coliseum, Saturday, 5 p.m. PT.
Swing by and talk to our staff covering the game against Syracuse.
The game is televised on FX.


2014 TEAM LEADERS
| TEAM | RUSH | PASS | TOTAL |
| --- | --- | --- | --- |
| Offense | 151 | 292 | 443 |
| TEAM | PF | PA | MARGIN |
| Scoring | 32 | 20 | 12 |