May, 21, 2012
5/21/12
6:57
PM PT
By
Pedro Moura
| ESPNLosAngeles.com
Two former USC Trojans were officially named to the 13-man USA Men's Select Team roster on Monday, meaning they'll practice against the U.S. Olympic squad for six days in July to help train the eventual international competitors.

Chicago Bulls forward Taj Gibson and Toronto Raptors swingman DeMar DeRozan were the two ex-Trojans selected. They join a roster of young NBA players like New York Knicks guard Jeremy Lin and Cleveland Cavaliers guard Kyrie Irving, as well as former USC nemesis Klay Thompson, now coming off his rookie year for the Golden State Warriors.

Gibson, who will turn 27 before the July 6-11 camp in Las Vegas, is the oldest of the 13 players. He just finished his third season with the Bulls and averaged 7.7 points and 5.2 rebounds as a reserve forward.

DeRozan put up 16.7 points per game for the Raptors last season, second on the squad. He also just finished his third season, as both players were drafted in the first round of the 2009 NBA draft -- DeRozan ninth and Gibson 26th.

Gibson will be up against established NBA forwards like LaMarcus Aldridge, Kevin Love and Blake Griffin in camp; DeRozan will be matched up with the likes of Kobe Bryant, Carmelo Anthony and Andre Iguodala.

Getting named to the US Select Team is often considered the first step to eventual consideration for the Olympic team.
May, 4, 2012
5/04/12
3:04
PM PT
By
Pedro Moura
| ESPNLosAngeles.com
Upon statistical examination, it's true: The 2012 NBA playoffs are the first time in USC history that the Trojans have had five players participating in a single NBA postseason.

O.J. Mayo, Nick Young, Brian Scalabrine, Taj Gibson and Nikola Vucevic are all on playoff rosters this spring, and Mayo, Young and Gibson are all playing large roles for their respective squads.

Mayo has averaged 18.5 points in 26 minutes during the Memphis Grizzlies' first two games against the Los Angeles Clippers, with Young going directly against him and putting up 15 in 24 minutes.

Gibson has come off the bench in his customary role in Game 1 and Game 2 of the Chicago Bulls' series against the Philadelphia 76ers. Scalabrine was inactive for the Bulls' first game but has been moved up to the active list since Derrick Rose suffered a season-ending knee injury.

Vucevic, who played with Gibson at USC during the 2008-2009 season, started 15 games for the Philadelphia 76ers during the regular season but hasn't yet seen the floor during the playoffs.

The biggest previous USC contingent in a single NBA playoffs? Four, in the 1975 edition, when Paul Westphal, John Block, Bill Hewitt and Ron Riley all participated. Block and Hewitt's Chicago Bulls lasted the longest, losing in 7 in the Western Conference Finals to the eventual champion Golden State Warriors.

The Trojans also had a former player participate in the ABA playoffs that year for the Denver Nuggets, 6-foot guard Mack Calvin.
November, 12, 2011
11/12/11
12:18
AM PT
By
Pedro Moura
| ESPNLosAngeles.com
LOS ANGELES -- He looked around the arena, soaking it all in, and gave his one of wide-mouthed smiles. He had the look of a man ready to start off a season.
But, inside,
Dewayne Dedmon
was freaking out.
Just before tip-off of USC's 2011-2012 season opener against Cal State Northridge on Friday at the Galen Center, Dedmon, the Trojans' 7-foot sophomore forward, tensed up for a second and realized what he was about to do.
In seconds, he'd officially be starting a game for the USC Trojans and getting his basketball career truly underway. He's played at other places -- a few minutes here and there in high school and as a post presence but little else for one season in junior college -- but never before was he counted on in such a big way.
Dedmon knew how important he was to his team's success -- both in Friday's game and in the 2011-2012 season in total. And that freaked him out, momentarily. Then he discarded those thoughts, won his team the tip-off and got to work on making his debut a success.
"After that, it was just, 'Let's get out here, and let's play,'" Dedmon said later.
He played, alright. Dedmon had his first points just 95 seconds after the tip when he dunked in a pass from point guard
Maurice Jones
, and he had eight points less than nine minutes into the game after he converted three straight jumpers.
Dedmon,
who didn't start playing organized basketball until he was 18
, finished the game with 16 points, eight rebounds and three blocks in 25 minutes, leading the Trojans to a 66-59 win over Cal State Northridge.
"I thought he played very well for the first time playing," USC coach Kevin O'Neill said after the game. "I mean, that's more than he scored his entire high school career.
"This guy's never played. I don't know how to compare it, he's just never had a chance to play at this level."
There certainly were issues: He didn't box out well at all and lost out on several rebounds as a direct result. His right hand, which had been in a cast for much of the last month until this week, appeared to betray him on occasion. He got in foul trouble and had to sit out the final eight minutes of the first half and then had to come out of the game in the second with cramps in his right leg.
USC (1-0) didn't play particularly well as a team, either. Dedmon was one of three players with 16 points for the Trojans -- forward
Aaron Fuller
and guard
Maurice Jones
were the others -- but O'Neill's squad turned the ball over 20 times and let visiting Cal State Northridge take a 4-point lead with five minutes to go.
From there, Dedmon and Jones combined to score 12 of USC's final 16 points to secure the victory.
"We're happy to get any win," O'Neill said. "It beats the alternative."
Player of the game
: Fuller quietly dominated the paint for the Trojans, putting up a team-high-tying 16 points and a game-high nine rebounds.
USC ran very few plays for him, but he managed to come up with points just fine. He said O'Neill instructed him to make himself available near the top of the key to
Maurice Jones
.
He did it often, and didn't miss many of his shots either, going 5-of-7 from the field and 6-of-7 from the free-throw line.
"I thought Aaron Fuller had a great night," O'Neill said. "He really stepped up and made some great clutch plays."
"I thought Aaron did a great job getting to the middle of the court in the meat of their defense and making plays around the basket, getting to the basket and then getting to the foul line and making a few shots too."
Stat of the game
: USC shot 15 3-point attempts and didn't convert a single one, good for precisely zero percent shooting from long range.
Jones and freshman guard
Alexis Moore
were the biggest perpetrators, each throwing up seven shots from deep. Walk-on
Eric Strangis
had the other failed attempt.
O'Neill has said all preseason that his team clearly lacked outside shooting, but nobody knew it was going to be this bad. He played Moore extensively -- 31 minutes -- because of his 3-point shooting acumen, but he wasn't pleased with a few of the freshman's shot selections.
"Obviously (0-for-15) is unacceptable," O'Neill said. "But I'm not worried about that at all. For the most part, I thought we had wide-open 3's. It's just somewhat we're going to have do, and we will. That's all there is to it."
Trend of the game
: O'Neill started Strangis at shooting guard in a clear message to the other competitors for the spot that more was expected from them, but USC's lineup in the final seven minutes made it clear who O'Neill sees as the team's top-five players at this point in time.
The five: Jones, Moore, Wesley, Fuller and Dedmon. Asked about that trend afterward, O'Neill went off on a mini-rant on his displeasure with Moore's poor play of late.
"You know, Alexis isn't playing very well -- hasn't played very well in practice the last couple weeks, and he didn't play very well tonight," O'Neill said. "But he's a freshman, and when you're a freshman like that, you're just not going to play well. It's just the way it is.
"Unless you're one of these super guys that can drop off the moon like some of North Carolina's freshmen ... I know these guys are gonna struggle, but we've gotta play them."
Quote of the game
: "Our guys think this is a kung-fu match. They think the harder I chop a guy, uh, boy, I'm a tough. I'm really tough, because I double-chopped him to the ground. Wow. That's not toughness. That's not smart basketball. What these guys need to understand is tough means doing the right thing all the time." -- O'Neill
The third-year USC coach was upset about his team's 20 turnovers and other various errors and was referencing the tomahawk-chop gesture Dedmon demonstrated after each of his three blocks.
Notes
: Former USC stars
DeMar DeRozan
and
Taj Gibson
sat courtside for the game and were shown on the video board during the first half. DeRozan, who plays for the NBA's Toronto Raptors, was accompanied by teammate
Ed Davis
...Because the game was not broadcast on television, arena operators were able to keep the curtains open on the north side of the Galen Center, allowing for a view of the nighttime skyline in Downtown...The men's game was preceded by the women's basketball season opener, which the No. 23 Women of Troy won over Fresno State, 65-57...The announced crowd was 5,172.
May, 10, 2011
5/10/11
6:55
AM PT
By
Pedro Moura
| ESPNLosAngeles.com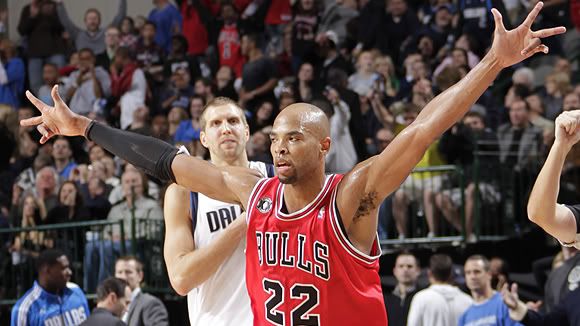 Getty Images
Former USC forward Taj Gibson, drafted in the first round of the 2009 NBA Draft by the Chicago Bulls, has found a niche in the league as an above-average rebounder and offensive threat off the bench.
The final game of
Taj Gibson
's USC career might have his been his worst.
In the Trojans' second-round loss to Michigan State in the 2009 NCAA Tournament, Gibson, then a 23-year-old junior, recorded only three points, no rebounds and five fouls in 23 minutes. That curiously followed up perhaps the best game of his career -- 24 points on 10-for-10 shooting in the first-round opener against Boston College. It also led directly into a crucial summer for the Trojans, one in which three of USC's five starters ended up declaring for the draft and the school lost four committed recruits because of
Tim Floyd
's resignation and subsequent replacement with
Kevin O'Neill
.
But that's behind us now, and behind Gibson, certainly. And, in what will now be a weekly feature on the USC Report each Tuesday until fall camp begins for football in August, we're taking a look at where exactly Gibson is now, with a quick glance at his college career, his pro career until this point and where it could lead in the future:
College
At nearly 21 and a half years of age, Gibson was one of the oldest freshmen in the country by the time he made his USC debut in N0vember 2006. He showed his age throughout that debut season, in a good way, finishing the year with impressive first-year averages of 12.2 points and 8.7 rebounds on a USC squad that made it to the Sweet 16 of the NCAA tourney before falling to No. 1 seed North Carolina. Gibson had a memorable tournament then, scoring 17 points in a dominant second-round victory over
Kevin Durant
and Texas and worrying Floyd that he had broken his jaw.
But he was just fine, returning to action the next weekend to lead USC to a near-upset over the Tar Heels with a team-high 16 points and 12 rebounds. He also memorably held North Carolina's
Tyler Hansbrough
to five points and four rebounds in 29 minutes.
Gibson's sophomore season didn't feature the improvement some expected from him; his numbers stayed pretty much the same, leading to speculation he could declare after that year as a 22-year-old sophomore and cut his losses. But the Brooklyn native stayed for that third year and got a second chance at postseason competition, dramatically leading the Trojans to a Pac-10 tourney win and then the first-round win over Boston College.
June, 23, 2010
6/23/10
7:56
PM PT
By
Pedro Moura
| ESPNLosAngeles.com
Two weeks ago, we wrote about former USC baseball player Grant Green, who, in the year since he was drafted 13th overall by the Oakland A's, has made tremendous strides in developing as a shortstop and all-around hitter.
In
that story
, Green reflected some on his 2009 MLB draft experience and speculated a bit about where a few Trojans prospects would go in the 2010 draft.
Well, today we present the opposite: a story about USC's
Jio Fontan
, a junior-to-be point guard who transferred from Fordham last December and who has his eyes set on the NBA — eventually. Fontan also has high hopes for the Trojans who could be selected in Thursday's NBA draft, swingmen
Dwight Lewis
and
Marcus Johnson
.
Fontan — pronounced as if there's an "i" between the last two letters of his name — spent a little more than one full season playing for Fordham, averaging 15.3 points and 4.7 assists per game his freshman year for a dismal Atlantic 10 team that finished 3-25. He requested a release from his scholarship at the conclusion of the season but didn't get it, then returned to school — only to endure much of the same at the start of the 2009-2010 season, going 1-4 and losing to MAAC bottom-feeder Manhattan by double digits.
He decided to transfer to USC in December, then spent the spring semester getting acquainted to his new school and teammates. He often served as a sort of understudy for Johnson and Lewis in the backcourt during late-season practices.
Fontan will be able to play for the Trojans this season after the fall semester, possessing two remaining years of eligibility — with a possible third year if the NCAA grants him a waiver.
Before any of that, though, he wants to focus on the upcoming season. Yes, he says, he has thought about declaring for the 2011 draft, assuming the season goes well — he even talked it over with USC coach
Kevin O'Neill
in what appears to be a a fast-moving friendship.
But that's not the 6-foot, 178-pound scoring point guard's immediate goal. That, rather, is grabbing attention for himself and a USC team that will return both members of its frontcourt and have the services of three highly touted freshman.
"I'm most excited because now I finally get to play on a big stage, in front of the right people and I get a better feel for what the next level is looking for," Fontan said Tuesday. "Right now, I really don't have too much of an idea besides what my coaches tell me."
"And once the season starts I want to be the leader of the team from the sideline, and I want my team to know once December 18 (his projected return date) comes that I'll be on the court and I'll be just like another coach on the court."
Fontan also provides assessments of the Trojans' 2010 draft hopefuls.
"He is definitely a big-time shot maker," he says of Lewis, a 6-foot-5, 215-pound guard who led the Trojans in scoring his junior and senior seasons. "And, Dwight, with him having a great career at USC, being drafted would be something that's big for not only him but for our program too."
"He has that athleticism and the ability to play defense," he says of the explosive Johnson.
Lewis has worked out for the New Orleans Hornets and Dallas Mavericks, among other teams; Johnson has reportedly impressed in auditions for the L.A. Clippers and Chicago Bulls, where he could conceivably join former USC teammate
Taj Gibson
.
The most likely route for both of the former Trojans is fighting for a roster spot through an opportunity in the NBA's Vegas Summer League, beginning next month. But, of course, at this time last year most thought Gibson would go in the late-second round or not be chosen; instead, he was picked in the first round — 26th overall — by the Bulls and became a starter by the end of the year.
"I know it's something that they've dreamed about for the past four years," Fontan said. "And they've both been working really hard.
"I think they've both got a shot."
2014 TEAM LEADERS
| TEAM | RUSH | PASS | TOTAL |
| --- | --- | --- | --- |
| Offense | 158.2 | 294.6 | 452.8 |
| TEAM | PF | PA | MARGIN |
| Scoring | 35.1 | 23.8 | 11.3 |