March, 27, 2013
3/27/13
8:16
AM PT
The Trojans will hold their annual NFL pro day on Wednesday, a showcase for all draft-eligible players, but the spotlight will be shining brightest on the workout of
Matt Barkley
.
After not being able to take part in the Senior Bowl or the NFL Combine due to an injured shoulder, this will be the opportunity for Barkley to prove to coaches and scouts that he is healthy and deserving of a first-round selection.
Because Barkley hasn't thrown since getting injured against UCLA, there are many questions about his draft status. Will he be a first-day pick or will he fall into the second round? So much will depend upon the health of the shoulder and how he performs in the roughly 60 throws he will make to
Robert Woods
. There are no questions about his leadership and character but, in the end, an NFL quarterback needs to be able to make the throws, and that is what Barkley will need to show.
Woods will be looking to prove something himself, as well. This is a deep receiver draft and most mock drafts have him going in the second round, but a recent mock draft from Charley Casserly at NFL.com had Woods as a first-round pick. The main goal for Woods in this workout is to get a 40 time below 4.5. He ran 4.51 at the combine and getting into the 4.4 range would mean a lot in the constant jockeying for draft position.
This will also be the first opportunity to conduct a workout for center Khaled Holmes, who withdrew from the Senior Bowl and then got hurt during the weightlifting portion of the combine.
Others working out will include a trio of defensive backs in T.J. McDonald, Nickell Robey and Jawanza Starling along with defensive end Wes Horton and running back Curtis McNeal.
The USC Pro Day will be
shown live on ESPN3 at 11:15 a.m. PT.
March, 15, 2013
3/15/13
11:23
AM PT
With the loss of starting safeties T.J. McDonald and Jawanza Starling, there was more than a fair amount of anticipation heading into spring practice when the search for their replacements officially began.
[+] Enlarge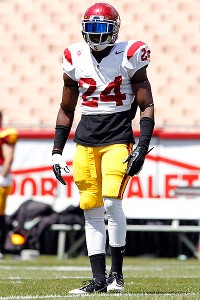 Ric Tapia/Icon SMIVeteran Demetrius Wright is solidifying a safety position that has also seen an infusion of freshman talent.
And while it's a unit currently low in terms of numbers with both
Gerald Bowman
and
Dion Bailey
-- who will potentially move to the secondary from linebacker in 2013 -- out for the spring due to injury, USC's safety group has performed solidly throughout the team's five practices, thanks in large part to a pair of veterans running primarily with the first group -- redshirt junior
Josh Shaw
and senior
Demetrius Wright
.
With Shaw at strong safety, and Wright at free safety, defensive coordinator Clancy Pendergast has two experienced contributors with tons of athleticism manning the center of the defensive backfield in his new scheme.
"I feel like we're coming along good," Wright said. "Me and Josh have known each other since our junior year in high school, so we already had that connection. We're working together, we watch film together, and the communication between me and him is going really good right now."
But it hasn't just been Shaw and Wright who have stood out. In fact, over the course of the last week, it's been freshman early-entrant
Su'a Cravens
who has emerged as a budding star. Lining up with the second unit at strong safety, as well as at nickelback in the team's nickel package, he was particularly stellar on Tuesday, collecting two interceptions. And on the other side, it's been another freshman,
Leon McQuay III
, who has drawn notice after spending the first week at cornerback.
Once a major question mark, the safety positions now appear to have been at least somewhat solidified, particularly when you consider the team will be getting reinforcements in the fall -- a time that figures to see the competition heat up even more.
"All of the safeties aren't even here right now," Wright said. "We've still got a couple of guys hurt, so it's going to be a real competition come fall training camp. We're going to have a lot of depth. Anybody can go with the ones or twos, so we don't really look at who's starting. We're out here competing so everyone is good to play."
April, 16, 2011
4/16/11
4:01
PM PT


As Keyshawn Johnson stood next to Matt Barkley and watched USC's offense trudge through a sluggish scrimmage, a visibly frustrated Barkley could only wish Johnson was still eligible to run a few more routs down the Coliseum sideline.

USC's defense dominated the scrimmage, allowing only one late touchdown in 73 plays. Not only was the offense unable to string any big plays together but they also accounted for seven of the eight penalties that took place during the scrimmage.

"The defense dominated today," USC coach Lane Kiffin said. "The defense came out flying all over the place and had a great mentality about themselves and it was very good to see the offense help them by not performing very well. I won't name names but I thought a lot of freshman came in here in an environment where it was hot and did not perform very well; a lot of them on offense, especially. Obviously it's good that it shows up now and not during a game."

The offense looked lost at times out there, getting flagged for illegal formations and shifts, which Kiffin blamed on the absence of starting tight end Rhett Ellison, who sat out with a sore ankle.

"Rhett didn't play today and he moves around a lot for us," Kiffin said. "That leaves you with a lot of young guys so it leaves you with [fullback] Soma Vainuku and Christian Thomas so we suffered from that today."

Barkley completed 17-of-28 passes for 154 yards and lead USC to a touchdown on the final drive of the scrimmage when tailback D.J. Morgan scored from five yards out on the final play.

"I thought [Barkley] got a little frustrated because we couldn't move the ball," Kiffin said. "I didn't think he forced the ball. He was frustrated. We didn't help very much."

Morgan, who ran for 51 yards on 14 carries, said he was feeling sluggish from the moment he woke up in the morning and it continued into the game.

"I woke up and my knee was feeling sore so I took a pain killer and my body wasn't used to that and I was feeling weird today," Morgan said. "I had a lot of opportunities but I didn't take advantage of them like I should. We weren't moving the ball well today. We just came out kind of slow. We just didn't come out as hard as we can and we were sluggish."

Backup quarterback Jesse Scroggins connected on 4-of-5 passes for 48 yards, with an interception during the scrimmage while linebackers Marquis Simmons and Will Andrew each had 6 tackles. Linebacker Dallas Kelley had the lone interception.

While both the offense and defense are suffering from injuries and players being held out ding spring practices, USC safety T.J. McDonald believes the defense is in store for a breakout season and Saturday's scrimmage was just a sign of things to come.

"All the stuff from last year is behind us," McDonald said. "This is a new year. We have a whole new level of confidence and a whole new swagger and we're just trying to get better every day."
2014 TEAM LEADERS
| TEAM | RUSH | PASS | TOTAL |
| --- | --- | --- | --- |
| Offense | 158.2 | 294.6 | 452.8 |
| TEAM | PF | PA | MARGIN |
| Scoring | 35.1 | 23.8 | 11.3 |