March, 11, 2014
Mar 11
12:00
PM PT
Our look at position groups in the Pac-12 concludes with punters.

Arizona
:
Drew Riggleman
is back after handling all of the punting responsibilities last season. He averaged 40.1 yards per kick, pinned 18 inside the 20 and had 12 kicks of 50-plus yards. He ranked eighth in the conference -- though the difference between first (Utah's
Tom Hackett
) and Riggleman was an average of 3.4 yards.

Arizona State
: Punting was one of ASU's biggest issues last season.
Matt Haack
started to come on strong at the end of the season and will likely challenge
Alex Garoutte
, who averaged 38.8 yards per kick last season. Should Haack win the job, Garoutte is always an option with his rollout style. Quarterback
Taylor Kelly
has also been known to offer the occasional boot. He punted six times last season, once for 50-plus, and had three downed inside the 20.

California
:
Cole Leininger
is back after a very solid season for the Golden Bears, where he was tied for second in the conference with an average of 42.9 yards per kick. Cal has four punters on the roster in addition to Leininger. And while he's mostly unchallenged, there are plenty of backup options.

Colorado
: Third-team all-conference punter
Darragh O'Neill
returns and was a midseason Ray Guy candidate last season. He averaged 40.5 yards per punt last year and pinned 22 inside the 20.

Oregon
:
Alejandro Maldonado
handled the punting duties last season and made a couple of appearances as a kicker before the job went to
Matt Wogan
. Expect Wogan to handle all kicking responsibilities, though some walk-ons will also get looks.

Oregon State
:
Keith Kostol
is back as a third-year starter. He finished last season tied for fifth in the conference with an average of 40.5 yards per punt. He also put 23 kicks inside the 20.

Stanford
:
Ben Rhyne
returns to handle the punting duties for the Cardinal. He was one of the best in the conference last season with an average of 42.9 yards per kick -- just half a yard behind Hackett. He had 12 kicks of 50-plus yards and put 15 inside the 20.

UCLA
:
Sean Covington
is back after having a very solid season, where he posted an average of 42.6 yards per punt. Do-it-all quarterback
Brett Hundley
punted once last season, but it's safe to assume that Convington's job is secure.

USC
:
Kris Albarado
didn't post an impressive yards-per-punt average (37.1), but he was very good at pinning opponents, with 27 kicks inside the 20. And of his 64 kicks, almost half were fair-caught.

Utah
: Hackett was last season's first-team all-conference punter, so expect some preseason All-American hype for him. As noted earlier, he led the conference with an average of 43.4 yards per punt and buried 27 kicks inside the 20.

Washington
:
Travis Coons
pulled double-duty last season. In addition to nailing 15 of 16 field goal attempts, he also averaged 40.4 yards per punt and had eight kicks of 50-plus yards to go with 23 inside the 20.
Korey Durkee
did some punting in 2012 before Coons won the job, so he'll get the first look in 2014. Newcomer
Tristan Vizcaino
could also get looks at kicker and/or punter.

Washington State
:
Wes Concepcion
was the starter in the final two games as punter last season. With
Mike Bowlin
gone, he should be the favorite to handle punting duties full time. Concepcion punted 12 times last season for an average of 36.2 yards. Eight of those 12 were fair catches and three were inside the 20.
Previous positions
Kicker
Safety
Cornerback
Linebacker
Defensive end
Tight end
Quarterback
Running back
Receiver
Offensive line

Defensive tackle
November, 11, 2013
11/11/13
11:00
AM PT
Taking stock of Week 10 in the Pac-12.
Team of the week
: Is there any doubt? Stanford, again a substantial underdog to No. 3 and unbeaten Oregon, again controlled the line of scrimmage with its trademark physical style in a 26-20 victory on Thursday, that final score in no way reflecting the complete control the Cardinal had from bell-to-bell. It was a total team effort, featuring a great plan from the coaches that was well-executed by players who relish their underdog status when compared to flashy Oregon. Nerd Nation rules again. (But don't celebrate too long, Stanford. The season's far from over.)
[+] Enlarge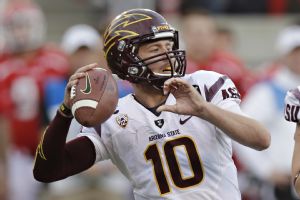 AP Photo/Rick BowmerTaylor Kelly led two fourth-quarter TD drives as Arizona State rallied to beat Utah on Saturday.
Best game
: Arizona State trailed at Utah for most of three quarters, and it entered the fourth quarter down 19-7. It looked like a familiar scenario: The Sun Devils blowing it on the road. But QB
Taylor Kelly
, stymied most of the afternoon, led two fourth-quarter TD drives and
Will Sutton
iced the game with, of all things, an interception with 1:01 remaining for a 20-19 victory.
Biggest play
: While there were a number of big plays in the above game, no play was as "Good golly!" good as
Myles Jack
's 66-yard touchdown run for UCLA at Arizona. For one, he's a
linebacker.
Second, it was on a third-and-1 play in the fourth quarter just after an Arizona TD that reduced the Bruins' lead to five points. The Wildcats would score a TD on their next possession, so UCLA needed all the points it got. And the nation got introduced to Jack, a certain freshman All-American who is already being referred to as a first-round NFL draft pick.
Offensive standout
: In the preseason, Stanford's offensive line looked like the nation's best unit. At times during the first half of the season, it didn't live up to that billing. But against Oregon it was dominant against a good defensive front. It not only paved the way from RB
Tyler Gaffney
's 157 yards on 45 carries, it also held the Ducks without a sack. QB
Kevin Hogan
was hurried just once. Stanford beat the Ducks because it made time of possession matter, with the offensive line playing the most important role in converting 14 of 21 third-down plays as well as the only fourth-down attempt. Last season's win over Oregon was about the Stanford defense. This one was about the O-line.
Defensive standout
: Stanford LB
Shayne Skov
led the Cardinal's defense, which was pretty darn salty against the Ducks, with nine tackles (two for loss), two forced fumbles and a fumble recovery. He also broke up a pass and had two QB hurries.
Special teams standout
: USC's
Nelson Agholor
returned punts 75 and 93 yards for TDs in the Trojans' 62-28 beatdown of California.
Special teams standout II
: Against Arizona State, Utah punter
Tom Hackett
averaged 50.6 yards on nine punts, with a long of 70. He killed three inside the Sun Devils' 20-yard line and was a big reason the Utes controlled field position most of the afternoon.
Freakish two-way standout
: Jack, a true freshman, became a national sensation on Saturday -- despite the late West Coast kickoff -- when he turned in helmet-sticker worthy performances on BOTH sides of the ball. On defense, he had eight tackles, a tackle for a loss and a fumble recovery. On offense, he rushed for a team-high 120 yards on just six carries, including the aforementioned 66-yard touchdown.
Smiley face
: In recent seasons, just when things started to go well for Arizona State and UCLA, it became time to bet against them, particularly on the road. Both lacked consistent mental toughness. But both might be changing their ways. Both won on the road against good foes, overcoming myriad momentum shifts when they looked like they might be in trouble. Is it possible that their game on Nov. 23 will match top-15 teams with the stakes being the South Division? Maybe.
Frowny face
: As great as Stanford's win is for Stanford, the Cardinal -- for the second consecutive season -- ruined the Pac-12's chances to put a team in the national title game. The Pac-12 hasn't won a national title since USC in 2004. The conference, in fact, has played in the title game only once since then, with Oregon getting nipped by Auburn after the 2010 season. While the league isn't mathematically eliminated -- if there's only one unbeaten team at season's end, the Pac-12 has a good shot at being No. 1 among the once-beatens -- it is a bit disappointing that the conference likely won't finish 2013 with the No. 1 team, thereby ending the SEC's streak of 103 consecutive national titles. Plus or minus.
Thought of the week
: Oregon fans should stop panicking or allowing the nationwide trolling to get to them. College football nation: If the Ducks have been truly unmasked and your rough-tough team would dominate them, then why not seek them out for a nonconference game? Ohio State, Baylor, Florida State, Alabama, etc? If the Ducks are just a gimmick team, sign a game contract for a home-and-home series. Out West, however, we won't hold our breaths for one reason: Those teams want no part of that. Why? Because while a very good Stanford program, which is rougher and tougher than just about anyone, has won two in a row against the Ducks in impressive fashion, Oregon remains an elite team that can slice and dice the hopes and dreams of an opponent before it can say, "I wish my team hadn't been brave because now I can't be an anonymous trash-talking troll on Twitter."
Question for the week
: Is the Pac-12 still in the Heisman Trophy hunt? Sure, there's been an overreaction against Oregon QB
Marcus Mariota
, sprained knee and all, after the Ducks went down to Stanford and he didn't play well on a big stage. And Arizona losing to UCLA diminished
Ka'Deem Carey
's chances. But what happens if one or both finish strong? You could make an argument that both are the best players at their positions. Difficult to imagine at least one won't get an invitation to New York for the ceremony.
2014 TEAM LEADERS
| TEAM | RUSH | PASS | TOTAL |
| --- | --- | --- | --- |
| Offense | 151 | 292 | 443 |
| TEAM | PF | PA | MARGIN |
| Scoring | 32 | 20 | 12 |