February, 22, 2012
2/22/12
4:06
PM PT
By
Pedro Moura
| ESPNLosAngeles.com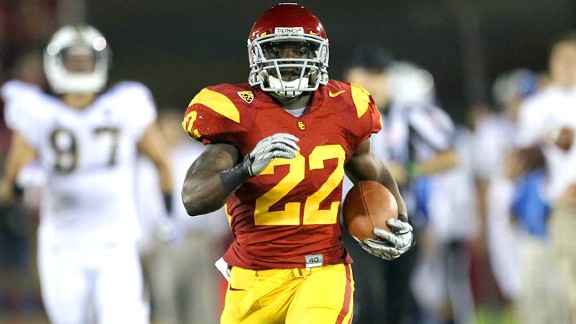 Stephen Dunn/Getty ImagesCurtis McNeal averaged nearly seven yards a carry last season and will be USC's featured back in 2012.
We're doing position-by-position previews in the two weeks leading up to spring practice, breaking down the depth chart for one position group each day, paying special attention to potential things that can change in the spring.
Tuesday, we looked at the quarterbacks. Here's a take on the running backs.
Few realize just how good USC's
Curtis McNeal
was in 2011. The fourth-year junior averaged almost seven yards per carry last season, totaling just over 1,000 rushing yards on just 145 carries for a 6.9 yards per carry average.
How good was that? Put it this way: Only one other player in the NCAA (Missouri's
Henry Josey
) reached even 900 yards with that few carries. McNeal tied for 11th in the country in yards per carry among running backs, and a number of the players in front of him were backups, like Alabama's
Eddie Lacy
and Oklahoma State's
Jeremy Smith
.
If he can come close to replicating that efficiency while taking on true starter's carries in 2012, McNeal should surpass 1,500 yards with ease.
Look at this way: USC ran roughly 375 designed run plays in 12 games last season, not counting sacks. That equates to just over 31 rushes per game. If coach
Lane Kiffin
gives McNeal a reasonable majority of 20 of those 31 in each of the Trojans' 13 games next season, counting a bowl, he'll get 260 carries.
Multiply that by 6.9 and you get 1,794, obviously a lofty goal but not by means out of reach as long as he stays healthy.
That's where
D.J. Morgan
comes in. Last year, Lacy got 95 carries while backing up
Trent Richardson
. To help spell McNeal, USC could give Morgan the same amount and still have another 50 rushes left over to spread between quarterbacks, fullbacks and alternate sources.
And that's what this spring is about, really -- finding who those 50 will go to, or, in other words, who the No. 3 option is. McNeal's No. 1 and Morgan's No. 2, but is
Buck Allen
, the only other running back on the roster, the third? Or is it fullback
Soma Vainuku
?
And, if neither of those two emerge as capable ballcarriers, will it be incoming freshmen
Jahleel Pinner
and
Nelson Agholor
getting cracks at it once they get to USC in the fall?
Check back Thursday for the receivers
.
December, 10, 2011
12/10/11
3:22
PM PT
By
Pedro Moura
| ESPNLosAngeles.com
USC receiver
Robert Woods
was named an ESPN.com All-American on Saturday, one of two pass-catchers in the country to earn such honors.
Woods, a sophomore, finished the 2011 season with 111 catches for 1,292 yards and 15 touchdowns for the Trojans, working out to an average 108 receiving yards per game. He played much of the season bothered by nagging ankle, shoulder and elbow injuries but was still voted one of three finalists for this year's Biletnikoff Award, given annually to the country's best receiver.
He was named alongside Oklahoma State's
Justin Blackmon
in Saturday's
list of the country's best players
. Other offensive players included on this list included quarterback
Andrew Luck
and running backs
Trent Richardson
and
Montee Ball
.
Woods was the only Trojan named an All-American, although transfer
Jarvis Jones
made it as a sophomore linebacker for Georgia. Left tackle
Matt Kalil
was beaten out by Alabama's
Barrett Jones
and Oklahoma State's
Levy Adcock
.
December, 5, 2011
12/05/11
7:20
PM PT
By
Pedro Moura
| ESPNLosAngeles.com
The reason Matt Barkley didn't get chosen as a Heisman Trophy finalist wasn't because of the NCAA sanctions against USC that kept the Trojans out of the Pac-12 Conference championship game and a subsequent bowl game this season.

The reason he's not going to New York, rather, is a lot more simple than that: It's all about Luck, as in Andrew Luck, the Stanford quarterback.

Luck, the Cardinal's junior quarterback, clearly took away a number of votes from Barkley. When you have two similar players in the same region and (1) Player A beat Player B in a head-to-head matchup and (2) Player A also started the year as the nation's most-hyped player, it's hard to expect voters to ditch Player A for Player B.

Player A is Luck. He didn't have a monster year and doesn't appear on track to win the Heisman after all -- Baylor's Robert Griffin III does -- but it's hard to say it's a gross unjustice that voters included him over Barkley on their lists.

Remember, voters include only their top three. Putting Barkley in the top three essentially required disregarding the country's most impressive statistical performance (Griffin), going against the favorite for most of the year (Luck) or ignoring all other positions than quarterback (Trent Richardson, Montee Ball and Tyrann Mathieu).

It'd be interesting to see how many fourth- and fifth-place votes Barkley received. But how much does that mean, really?

More important, many would say, is what Monday's news means to the chance of Barkley coming back for a senior season in 2012. To that, we say this: Very little.

Barkley has known all year he wasn't going to win. It's not as if being voted the fourth-best player was going to suddenly satisfy him so much so that he would then feel comfortable leaving school early.

His decision is not going to come for a while. But we will find out Saturday night just how many votes Barkley did get for the Heisman.
December, 4, 2011
12/04/11
1:06
PM PT
By
Pedro Moura
| ESPNLosAngeles.com
Matt Barkley
isn't going to win the Heisman Trophy. There are too many pieces that would that need to fall in place in too short a time for that happen.
But, examining the numbers from and context of the top six players' performances this season, he really should be going to New York City next week as a Heisman finalist.
Here's why.
There are six players who, as of the start of this weekend, had a chance to be finalists. Four are quarterbacks: Barkley, Stanford's
Andrew Luck
, Baylor's
Robert Griffin III
and Houston's
Case Keenum
. Two are running backs: Wisconsin's
Montee Ball
and Alabama's
Trent Richardson
. Luck and Griffin are locks to go to to the ceremony, as is Richardson.
And that could be it -- there have been just three finalists before. But there can also be up to five, and the question here is whether Barkley has done enough to (1) finish in the top five of the balloting, and (2) finish close enough to the top three in the point system that he earns a complimentary trip to the Big Apple.
Here's the somewhat-crazy thing: Barkley's passing statistics are better than Luck's this season, from touchdowns to interceptions to yards. Luck was slightly better in completion percentage, but not by much. And Barkley's numbers are comparable to Griffin's through the air.
Where Griffin -- not Luck, as is commonly perceived -- jumps past Barkley is on the ground, where Griffin accumulated 600-plus rushing yards and nine touchdowns this season. Luck ran for 153 yards.
Then why does Luck deserve more support than Barkley? Sure, his team went 11-1 this year, and he beat Barkley in a head-to-head matchup at USC. But that game was about as close to an even matchup as you can get, and a Luck pick-six was thisclose to costing the Cardinal the game.
Voters should put Barkley over Luck on their ballots. But most won't, and it hurts both of them that two players with such similar resumes come out of the same region. If Barkley and Luck were from different parts of the U.S., it would be safe to assume that each would pick up almost all of the No. 1 votes in his area.
And that's what's important. Being fourth doesn't get you anything in the final vote, as voters only list their top three. Barkley needs to be a lot of people's third choice to be able to go to New York, because he's not going to get very many first-place votes.
Regardless, it looks like Griffin is going to win right now, and it looks like Luck is going to finish second or third in a close fight with Richardson. Keenum is no longer a factor after his implosion in Houston's loss to Southern Miss on Saturday.
Ball's numbers are impressive, but he doesn't have the national name Richardson or the two quarterbacks have. It's hard to envision many people putting him No. 1 on their ballots -- although he's arguably worthy of that. He's kind of like the Barkley of the running backs.
We'll find out Monday, when the finalist list is released. Voters are turning in their ballots as we speak.
About Barkley, it looks like he'll finish fourth in the country, which, of course, is going to spark talk that he should come back for his senior season as the Heisman favorite. But that's not what this is about.
This is what this is about: USC finished the season ranked fifth in the Associated Press poll. Its quarterback was clearly its best player, and he happened to finish the year on a hot streak for the ages.
That player should be a Heisman finalist.
Barkley should go to New York.
December, 1, 2011
12/01/11
1:21
PM PT
By
Pedro Moura
| ESPNLosAngeles.com
The Heisman Trophy finalist list comes out in four days, with anywhere from 3-5 players expected to be announced as having earned a trip to New York City next weekend for the trophy presentation.

Barkley
Stanford quarterback
Andrew Luck
is expected to be on it, as is Alabama running back
Trent Richardson
and probably Baylor quarterback
Robert Griffin III
. Then there are three other candidates with significant supporting sects of the country whose selection will determine how players end up on the list: Houston quarterback
Case Keenum
, Wisconsin running back
Montee Ball
and USC quarterback
Matt Barkley
.
Barkley indicated Wednesday night that he feels he deserves to be a finalist and would feel somewhat slighted if he didn't make the list. And he brought up his season statistics as a primary reason why.
"I would say pretty disappointed," Barkley told anchor Neil Everett on SportsCenter from Los Angeles when asked what his reaction would be if he didn't get an invite to the Big Apple. "Just looking at numbers, it'll be interesting what happens with that come next week.
"But, like I said, I think we put forth our best foot in terms of the striking performances throughout the year and against big teams like going up to Oregon and beating them. And finishing out 50-0 against UCLA. Things like that."
Barkley, a draft-eligible junior, threw for 3,528 yards, 39 touchdowns and seven interceptions in 2011. He completed over 80 percent of his passes in the Trojans' final two games against Oregon and UCLA, boosting his stock and leading to increased talk of a Heisman campaign.
Before the Oregon game, he had little to no national buzz. But after he led USC to an upset win in Eugene, the school created a highlight video championing him for the Heisman, and he started to find his way into a number of national mock-voting lists.
Barkley said he's long envisioned himself as a Heisman winner. But it sounds as if he'd be content simply being named a finalist.
"It's something I've always dreamed about as a kid," he said. "Just the chance to go to New York would be unbelievable and I think we put forth a good effort this season to be recognized.
"Hopefully something happens."
August, 3, 2011
8/03/11
12:58
PM PT
By
Pedro Moura
| ESPNLosAngeles.com
Only one day (!) remains until fall camp begins for the Trojans. We've been previewing the biggest questions that USC must answer in the month between camp and the season opener. Read the first nine questions here, covering such topics as freshmen on both side of the ball, position switches and recovering from unexpected.
The 10th, and final, question is this: Could junior quarterback Matt Barkley made a legitimate run for the Heisman Trophy in what very well might be his last season as a Trojan in 2011?
It's one of the best off-the-field storylines to follow in sports: the race for the Heisman Trophy. And it's even more interesting than usual for the Trojans and their fans this season, because it's likely that, in Barkley, USC will have a true competitor for the award for the first time in six years.
Barkley's not the favorite. That role goes to Stanford's
Andrew Luck
. But he's probably, at this point, somewhere in the bottom half of the top 10-candidates nationwide, behind Luck, Oregon's
LaMichael James
, Boise State's
Kellen Moore
and the two quarterbacks from the state of Oklahoma,
Landry Jones
and
Brandon Weeden
. Some would argue Auburn's
Michael Dyer
, Alabama's
Trent Richardson
and Oklahoma State's
Justin Blackmon
are also in front of him.
But what would Barkley have to do this season to jump ahead of a few of those guys and make a serious run?
First, USC would need to have a very good, if not great, season. Any less than 10 wins, coupled with the lack of a bowl game, would eliminate him from consideration. He probably needs to lead the Trojans to an 11-1 or 12-0 season to really have a chance. He also needs to bring his interception total down from 12 to fewer than 10 and up his touchdown total at least to 30.
He also needs to have big games in USC's big games and lead an upset over Stanford or Oregon while hanging tough with each of those schools' candidates.
These conditions are demanding, and Barkley would have a much better chance if he were to stay for his senior season because of the bowl-game aspect and the extra year of experience. But that seems unlikely at this point. A good goal for this season, then, is to simply get to New York for the Heisman Trophy presentation as one of four finalists.
The last Trojan to do so was
Reggie Bush
, in 2005, when he won the award with the most votes since
O.J. Simpson
in 1968.
But Bush's honor has since been forfeited.
The last Trojan to win the award who still remains in the record books is
Matt Leinart
in 2004.
As for competition on his own team, Barkley won't have to worry too much about splitting votes with any teammates. The closest thing to another candidate has is sophomore receiver/returner
Robert Woods
, who has nothing more than an extreme outside chance.
Barkley could easily get to New York. Winning the trophy would be a lot more difficult.
Football camp coverage begins Thursday.
2014 TEAM LEADERS
| TEAM | RUSH | PASS | TOTAL |
| --- | --- | --- | --- |
| Offense | 158.2 | 294.6 | 452.8 |
| TEAM | PF | PA | MARGIN |
| Scoring | 35.1 | 23.8 | 11.3 |