April, 2, 2014
Apr 2
3:15
PM PT
USC junior fullback
Jahleel Pinner
hasn't recorded a single carry up to this point in his career, but if the two most recent practice sessions of the spring are any indication, that just might change in the fall.
[+] Enlarge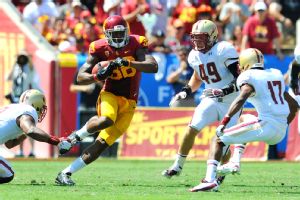 Chris Williams/Icon SMIJahleel Pinner has seven career receptions -- and no rushes -- for the Trojans.
With the running back corps decimated by injuries, Pinner has been relied upon heavily -- both at his normal fullback spot, where, with
Soma Vainuku
sidelined, he has served as the lone scholarship contributor, and at tailback, where he has split reps with
Tre Madden
and walk-on
James Toland
. And to the credit of Pinner, a part-time starter in 2013, he has seized the increased opportunity to make a strong statement with his play -- particularly on Saturday when he put together a string of impressive runs during the team's full-pads workout in the Coliseum.
"You know, Jahleel is a unique player because he is a very smart football player -- he's got a very high football IQ," USC coach Steve Sarkisian said. "On a lot of those runs, he hadn't even carried the ball ever leading up to that Saturday scrimmage, and he had a natural feel for running the ball where the ball was supposed to go, and then taking advantage when our defense was wrong, which is really how the running game works. When the defense is wrong, you have to take advantage of it, and he was in the right spot to do so."
Of course, the fact that Pinner has looked at home toting the ball shouldn't exactly come as a surprise. After all, he did see time at the position -- in addition to fullback -- as a high school standout at Orange County power Mission Viejo in California, amassing more than 1,500 yards on the ground over the course of his final two seasons, despite being hampered by an ankle injury as a senior.
With a rock-solid 5-foot-11, 240-pound frame, however, and a reputation as a punishing blocker, he has made a name for himself exclusively at fullback at USC, where his attributes have proven to be a perfect fit -- both in the Trojans' prior offensive scheme, as well as in Sarkisian's newly installed up-tempo, shotgun-based attack. Throw in the fact that talented tailbacks
Javorius Allen
,
Justin Davis
,
Ty Isaac
and
D.J. Morgan
are all due back in the fold in the future, and a permanent switch from fullback isn't likely to be in the cards.
Still, with the versatility that Pinner has shown this spring, Sarkisian envisions Pinner potentially lining up at tailback on a situational basis for the Trojans in the fall.
"I don't know if he's ever going to be a feature back for us down the road, but he's a guy that we know we can put him in, whether it's in a short-yardage situation, a goal line situation, [or] late to close out a football game," Sarkisian said. "He's a guy that we can have trust in that he can go out and execute the offense from that position."
For Pinner, who has more than enjoyed his time at tailback, that's music to his ears.
"With this offense there's going to be a lot of plays," Pinner said "They're not going to play just one running back all 120 plays you run per game or whatever, so we are going to be rotating backs just like we did last year. So, as long as I keep doing what I'm doing and playing hard, I'm going to get a shot in the games."
And with that prospect of possibly taking on a larger role within the offense spurring him on, Pinner is determined to stay focused on the task at hand, all in an effort to continue in what has already been a productive spring.
"Every day is a golden opportunity here," Pinner said. "I'm just trying to take advantage of every rep I get, and just trying to get better."
March, 27, 2014
Mar 27
10:00
AM PT
LOS ANGELES – The first thought when seeing No. 29 enter Goux Gate and sprint onto USC's practice field is that he must be either a tight end or an H-back.
On the contrary, sophomore
Ty Isaac
is an extremely gifted running back, whose potential is nearly as big as his size, which is easy to pick out in the Trojans' new shotgun formation.
[+] Enlarge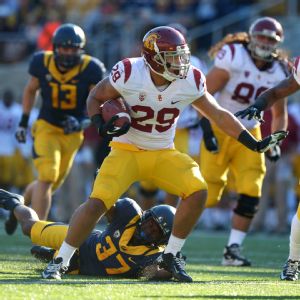 Kirby Lee/USA TODAY SportsTy Isaac rushed for 236 yards and two touchdowns as a freshman in 2013.
A chiseled, 240-pound player at 6-foot-2½, Isaac's physical appearance easily sticks out from other active spring running back teammates
Javorius "Buck" Allen
(6-1, 215) -- the Trojans' 2013 team MVP -- and
Tre Madden
(6-1, 220), the grandson of former Los Angeles Rams running back great Lawrence McCutcheon.
Compared to the competition, Isaac is also a completely different type of ball carrier and provides head coach Steve Sarkisian with unique options. There's no question that once Isaac gets the ball in his hands, squares his pads and generates a head of steam, he's one very difficult strider to bring down. You could say that his potential is as big as his two calves, which are like miniature tree trunks.
Isaac doesn't just run, he rumbles. And don't be deceived: He has the ability to catch the ball out of the backfield and go the distance.
A glimpse into Isaac's promise was illustrated in last season's Royal Purple Las Vegas Bowl, when he ran for 44 yards in eight carries, including a dazzling 17-yard burst of power and speed. Eyebrows were raised even higher with a 35-yard pass reception, as the Trojans went on to a 45-20 rout of Fresno State.
Heading into spring ball with a new head coach, new running backs coach and a new offensive system, it figured that Isaac would use the first week of spring ball to quickly make a statement.
However, Sarkisian said a slight back issue slowed Isaac during that first week of spring practice and put him slightly behind both Allen and Madden.
After a week off to get well, thanks to spring break, Isaac, the former prep All-American out of Shorewood, Ill., and Joliet Catholic Academy, showed no outward signs of the back issue during Tuesday's practice, which allowed him to move at the speed Sarkisian desires.
"It's really fast," said Isaac of the nonstop practice tempo. "For the most part, a lot of this stuff carried over from things we did last year. We're obviously running it at a lot faster pace. Obviously it's different terminology, but all the same plays."
It's this connection of the past and present offensive system that has helped players such as Isaac adjust to the offensive schemes of Sarkisian, but there are some adjustments.
"There's a little bit of similarities from the past," Isaac said. "It's different coming across the quarterback. We didn't do a lot of it last year, so it's a little bit of an adjustment, but it's not a big deal."
Isaac saw considerable action last season as both a backup tailback and a member of the special teams. He appeared in all 14 games, running for 236 yards and averaging 5.9 yards per carry. If there was a highlight to his freshman season, it was at California, when he slashed and gashed the Golden Bears defense for 87 yards on 11 carries, which included two rushing touchdowns (4 and 37 yards).
Isaac's goal is to become a part of the running back rotation for 2014.
"I just feel I can improve overall and can get better," Isaac said. "I feel like I could get better at pass-pro and seeing the field. Obviously being in the shotgun a lot this year gives a different view for a running back."
One of the great fears of Trojans fans was whether this new offense would take away from the historically physical dominance of the Trojans' running game.
Isaac said followers of the Cardinal and Gold can put those fears to rest.
"We're still going to pound teams, run the ball and pass when we have to, but it's all at a way faster pace," Isaac said. "We'll constantly be attacking teams."
There is fresh leadership in first-year running backs coach Johnny Nansen, who came south with Sarkisian from Washington.
"Man, he's a good dude," Isaac said of Nansen. "He's getting us right and I like him a lot. He's just getting us better as a group, teaching us this new playbook, and given us insights."
And if Isaac has anything to do with it, he'll give the Trojans backfield insight into becoming bigger and better, literally and figuratively.
February, 25, 2014
Feb 25
7:15
PM PT
Our look at position groups in the Pac-12 continues.
Arizona:
With
Ka'Deem Carey
off to the NFL, figuring out Arizona's running back situation requires a bit of guesswork. Backups
Daniel Jenkins
and
Kylan Butler
are out of eligibility and rising junior
Jared Baker
tore his ACL in the regular-season finale. That leaves no running backs who had a carry last season. Those competing for carries will be redshirt freshmen
Pierre Cormier
and
Zach Green
, and true freshmen
Jonathan Haden
, an early enrollee, and
Nick Wilson
.
[+] Enlarge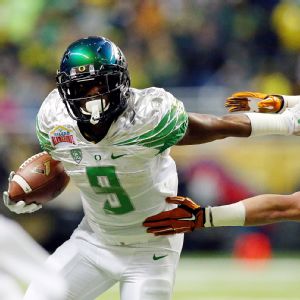 Ronald Martinez/Getty ImagesByron Marshall will be the Pac-12's leading returning rusher in 2014.
Arizona State
: The torch was passed from
Marion Grice
to
D.J. Foster
toward the end of last season, and Foster will have a full offseason to prepare to be the No. 1 guy. He showed impressive flashes in spot playing time in the past two seasons, and ran for 318 yards (6.2 yards per carry) in three starts after Grice was lost to injury.
California:
Much was made about
Brendan Bigelow
's talent during his career in Berkeley, but it never materialized the way many expected it would. He was beaten out by true freshman
Khalfani Muhammad
a year ago, then opted out of his final year of eligibility for a shot at the NFL -- and subsequently was not invited to the combine. Getting a feel for how coach Sonny Dykes would like to use his running backs is tough considering the lopsided nature of most of the games last year, but Muhammad showed all the signs that he would develop into a good Pac-12 running back.
Colorado:
Christian Powell
and
Michael Adkins II
will both be back after combining for 1,097 yards rushing in 2013. With receiver
Paul Richardson
off to the NFL, there's the need for added production on offense, and while coach Mike MacIntyre showed at San Jose State he'd prefer that to come through the air, it could add up to more opportunities for Powell and Adkins.
Oregon
: Does it even matter who the Ducks hand the ball to? Sometimes it doesn't seem like it, but, regardless, Oregon remains loaded with speed and talent at running back.
Byron Marshall
(1,038 yards rushing) and
Thomas Tyner
(711 yards) will both see plenty of carries when quarterback
Marcus Mariota
(715 yards) isn't running on his own. The team does lose
De'Anthony Thomas
, who opted to leave early for the NFL, but Thomas turned into a relative afterthought last season anyway.
Oregon State:
It shouldn't be hard to improve the Beavers' running game after they ranked 115th in the country in rushing yards per game last season. Their top two backs --
Terron Ward
and
Storm Woods
-- return and figure to see more use under new offensive coordinator John Garrett. There was a glimpse of what could be against Boise State in the Sheraton Hawai'i Bowl as the Beavers unleashed a more balanced approach. Woods ran for 107 yards on 16 carries and Ward added 54 yards on nine carries in a comfortable 38-23 victory.
Stanford:
The Cardinal's running back situation is
outlined here in more detail
, but it should be noted that the competition between
Remound Wright
,
Barry J. Sanders
and
Ricky Seale
-- competing to replace
Tyler Gaffney
-- will also include
Kelsey Young
. Young was recruited to Stanford to play running back, but was switched to receiver and is now back at running back. Sanders has the name recognition, but all signs point to Wright getting the first crack at being the primary back. However it plays out, it would be a complete shock if one back was used as much as Gaffney was in 2013 and Stepfan Taylor the two seasons before that.
UCLA
: If things play out the way UCLA coach Jim Mora hopes they will, linebacker
Myles Jack
will be just that … a linebacker. After winning Pac-12 Offensive and Defensive Freshman of the Year, the Bruins would ideally keep him on defense. For that to happen, someone needs to step up. That conversation still includes
Jordon James
and
Paul Perkins
, while
Craig Lee
, a four-star recruit who redshirted last year, also factors into the equation.
[+] Enlarge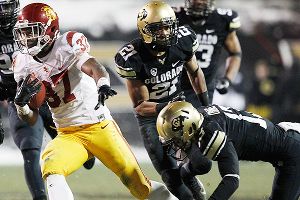 AP Photo/David ZalubowskiBuck Allen will likely head up USC's running back committee next season.
USC
: After watching Bishop Sankey turn into one of the nation's premier backs under the tutelage of new coach Steve Sarkisian, USC's deep stable of running backs has to be intrigued. The Trojans will return four of their top five leading rushers from a year ago --
Javorius "Buck" Allen
,
Tre Madden
,
Justin Davis
,
Ty Isaac
-- when they were predominantly a run-first team. Allen, who was named the team MVP in 2013, figures to get the first crack at being the starter, but that could be just in name only as a
running-back-by-committee scenario seems likely
.
Utah
: Another season, another new offensive coordinator for the Utes. This time it's
Dave Christensen's job
to invoke life in the Utah offense, which will return leading rusher
Bubba Poole
(607 yards) and
Lucky Radley
(284 yards). The Utes averaged just 4.1 yards a carry as a team last year, which is partially to blame for the change from Dennis Erickson to Christensen after just one year.
Washington:
The NFL combine taught us that
Bishop Sankey
might have been the most physically gifted running back in the country last year. It's not as simple as plugging in another guy to replace him, but the Huskies are still in good shape. Senior
Jesse Callier
(48 carries, 213 yards in 2013), who was slated to be the starter before an ACL tear in the season opener in 2012, is intriguing and will compete with fellow senior
Deontae Cooper
(43 carries, 270 yards) and sophomore
Dwayne Washington
(27 carries, 332 yards).
Washington State:
Considering quarterback
Connor Halliday
had three single-game passing totals that were more than leading rusher
Marcus Mason
ran for in entire season (429), any discussion about the Cougars' running game is tough to take seriously. Yes, there will still be running backs on the roster. No, they probably won't combine to run for 1,000 yards as a team.
Previous positions
Quarterback
February, 13, 2014
Feb 13
9:00
AM PT
After the fax machines stopped rolling and the ink was dry on national signing day, USC first-year head coach Steve Sarkisian, when discussing the merits of the 2014 recruiting class, made a point of stating that his staff intentionally did not recruit a running back.
Naturally, given the roster strength of the 2014 running back depth chart, this didn't exactly come as a surprise. But it was recognition that of all those question marks heading into spring ball, the young men who carry the football aren't an issue.
Sarkisian also reminded Trojans followers that despite the change in offensive formations, his philosophy on offense is to first having a power running game complemented by a balanced passing attack.
[+] Enlarge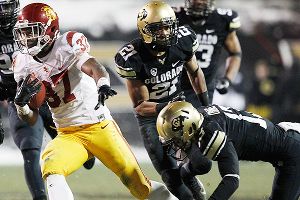 AP Photo/David ZalubowskiBuck Allen is poised to be the leading tailback for USC.
There's no position more identified or glorified in college football than the USC running back, or "tailback" as it is commonly referred. Legendary USC Hall of Fame coach John McKay created the modern era Trojans running game philosophy with the spotlight on the tailback and things haven't significantly changed over the decades.
During McKay's tenure, he believed the best ball carrier should be given the ball repeatedly and justified it with such immortal quotes as "It's [the ball's] not heavy," and "he [the tailback] doesn't belong to a union."
One look at the Trojans' 2014 tailback depth chart and it appears to be a proverbial embarrassment of riches. Of the tailbacks returning, each has already been given the opportunity to carry the ball and has shown through styles of their own that they could probably start for most universities in the country.
About the only thing that has separated this collection of standout tailbacks has been injuries. As one talented tailback went down in 2013, another took his place without much of a hiccup.
Sophomores
Javorius "Buck" Allen
and
Tre Madden
, freshmen
Justin Davis
and
Ty Isaac
, and junior
D.J. Morgan
all return in 2014. About the only thing that separates most them all at this point, besides the brilliance of Allen's second half of the season, is rehabilitation from injuries sustained during last season.
The healthy spotlight returner heading into spring practice is Allen, the 2013 team MVP whose rise to the prestigious heights of a starting USC tailback was both remarkable and heartwarming.
Allen, who seemed buried in Lane Kiffin's pecking order last season, was given a chance when Kiffin was fired after the Arizona State debacle. Ed Orgeron handed over the tailback decisions to former running backs coach Tommie Robinson, who thought Allen was the best option in a recommitted power-oriented offense.
Naturally, Sarkisian hasn't said how he plans to use his assortment of tailbacks. Will it be one featured back like Sarkisian's former All-American at the University of Washington,
Bishop Sankey
, or tailback by committee? This decision will be part of many spring ball questions to be answered, but the truth probably lies with the fact that the actual running back rotation order probably won't be decided until fall practice, when there are more healthy bodies available for scrimmaging.
Unless there is a shocking development in spring, it's likely that junior-to-be Allen, who will probably be named to some preseason All-Pac-12 lists, will head into fall camp as the Trojans No. 1 running back. However, Sarkisian and running backs coach Johnny Nansen need to show some semblance of credibility when they say all positions are open, which should bring out the best in all the available tailbacks in the spring.
And since the Trojans didn't recruit a tailback in the class of 2014, those potential running back recruits for the class of 2015 will also be paying close attention to how Sarkisian and Nansen use their backs this season.
So, the implementation of the new- or old-school philosophy of the USC tailback under Sarkisian is just a plethora of spring handoffs away, and it begs an answer to a tantalizing question: Is Sark a one-tailback, "old school" professor, or is he a multi-tailbacks, "new school" professor when it comes to Tailback U?
November, 14, 2013
11/14/13
12:00
PM PT
LOS ANGELES -- After showing promise in limited action throughout USC's first nine games, freshman tailback
Ty Isaac
received the chance to contribute on a much grander scale this past weekend and responded with a breakout performance.
Thrust into the expanded role when starter
Silas Redd
went out early against California with a knee injury, Isaac was able to get in the flow of a game for the first time as a Trojan, racking up 87 yards and two touchdowns on 11 carries.
[+] Enlarge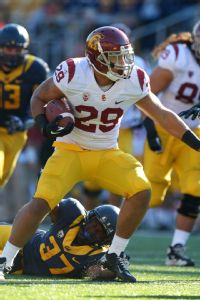 Kirby Lee/USA TODAY SportsFreshman Ty Isaac made his first contributions as a Trojan by scoring his first touchdowns in USC's win over Cal.
"I just kind of got to relax," Isaac said following USC's practice on Tuesday, "and the offensive line was doing a really good job in opening up some holes for me, so everything worked out."
Standing 6-foot-3 and 225 pounds, Isaac gives the Trojans a unique option as a physical back with deceptive speed, and his arrat of talents was on full display against the Golden Bears, with the highlight coming on a thrilling 37-yard touchdown dash in the fourth quarter in which he outraced a host of California defenders.
"Really, I was just trying to get a first down," Isaac said of the long scoring run. "I was able to run in space, and when I saw daylight, I wanted it."
Teaming with the hottest hand in the USC offensive backfield right now,
Javorius Allen
, Isaac helped the Trojans amass 256 yards on the ground in a 62-28 victory.
It was a banner day for players up and down the USC roster, but for Isaac, a Joliet (Ill.) Catholic product whose parents made the trek from Illinois to Berkeley to see him play in person, his attention-grabbing outing was particularly gratifying, especially with the game on national television.
"There were a lot of people texting me, congratulating me … a lot of friends and family from back home," said Isaac, who has accumulated 144 yards on the ground in 2013. "It felt really good."
And with a strong effort now under his belt, there's reason to believe that Isaac's friends and family might have more to cheer about in the future, but he's not about to let his recent success get to his head.
"Definitely for confidence it helps you out, because now you know you can do it in a game against other people," Isaac said, "but it just makes me want to continue to work hard in practice with my teammates."
Isaac's emergence is a boon for a tailback corps that has been hit hard by injuries, although his progression hasn't come without challenges.
Arriving on campus this summer after a storied high school career in which he rushed for a total of 5,305 yards out of a prolific double-wing attack, Isaac had some difficulties early on as he made the switch from wingback to tailback in USC's intricate pro-style scheme.
"It was a shock to the system," Isaac said. "I ran about five plays in high school, and now I've got five different reads on one play, so that was definitely something that I had to adjust to."
Through determination, hard work, and a fair amount of help along the way, Isaac has now made what appears to be a complete transition, and it's had a profound influence on his ability to step in and produce.
"I'm in my playbook and I know my stuff a lot better, so that has had an impact," Isaac said. "I'm a better player all-around, tenfold. Just playing against one of the best defenses in the country every day, it's definitely made me a better player, and then just being around all of these older guys who have helped me out, as well as the coaches."
With the status of Redd and
Tre Madden
still up in the air, all signs point to Isaac being asked to combine with Allen once again to carry a large portion of the load this Saturday, when USC faces No. 4 Stanford at the Coliseum.
An imposing squad featuring an aggressive defense that ranks No. 9 nationally against the run, the Cardinal present a stiff challenge for Isaac and Co. to deal with. But, as he explained, the Trojans have made a concerted effort to avoid getting caught up in the hype this week, instead focusing their efforts on sticking to the game-plan that has helped them compile a record of 4-1 under interim coach Ed Orgeron.
"I've seen them on film, and I respect them as a team," Isaac said. "Obviously, they're a really good, physical team, but at the same time we're going to treat it as another game in the season, and we'll continue to do what we've been doing."
And with the young freshman having now proven himself in a game setting, the Trojans appear to have a new weapon to count on as they look to continue their winning ways this weekend – which is what it's all about for Isaac.
"I just want to keep it rolling, and it's a one-game season, every game," Isaac said. "I could not score another touchdown or gain another yard, as long as we're still winning, I'm good."
October, 30, 2013
10/30/13
1:15
PM PT
Here are 7 freshmen who could play much bigger roles for the Trojans in 2014:
• RB
Ty Isaac
: In his limited action so far in 2013 -- eight carries for 59 yards, a team leading 7.4 yards-per rush -- Isaac has shown that his future is bright. He has excellent size in the range of 6-foot-3 and 225 pounds, plus he has a nice forward lean and pretty good speed.
Silas Redd
will be the only tailback to leave an already crowded rotation but Isaac should be able to quickly carve a niche as a power back with the capability of putting up good numbers.
[+] Enlarge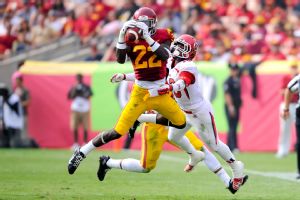 AP Photo/Gus RuelasFreshman safety Leon McQuay III had his first career interception in the Trojans' win over Utah.
• WR
Darreus Rogers
: It's no surprise that Rogers is on this list, considering how injuries have been the only thing to slow him in his brief USC career. He had one catch in the first three games, did not play the next three, and then had 11 catches for 122 yards in the last two games combined when finally healthy. Rogers is a physically strong receiver who will find a lot of success with intermediate routes. If
Marqise Lee
leaves early for the draft, as is widely suspected, look for Rogers to move into the starting role alongside
Nelson Agholor
.
• OL
Jordan Simmons
: Among the USC reserve linemen, Simmons was the one most ready to step in as a major contributor before going down with a knee injury last week that will force him out of the remainder of the year. Assuming he is able to come back healthy for the start of 2014, he could definitely be in the mix for a starting spot depending upon how the rotation shakes out.
• DL
Kenny Bigelow
: There were a lot of expectations on Bigelow to come in and be an immediate contributor as a freshman this season but that just didn't pan out. Bigelow has his moments on the practice field but there are also times when you can see that it was a big leap for him to be at the USC level. The redshirt year should do wonders and chances are Bigelow will be ready to play an expanded role along the line next fall.
• OLB
Jabari Ruffin
: Both of the USC outside linebackers will be graduating this year so chances are good that Ruffin will be filling one of the starting spots next year. Ruffin has been backing up
Devon Kennard
this year and has nine tackles, one sack and a forced fumble. He has also been an active part of special teams.
• CB
Chris Hawkins
: The corner spot has been one of the biggest issues with the defense this year and Hawkins offers the promise of being a good addition to the group in 2014. Hawkins brings good fundamentals to the position and the redshirt year should allow him to add more bulk to his frame.
• S
Leon McQuay III
: There has been a lot of attention paid to fellow freshman safety
Su'a Cravens
-- and justifiably so -- but McQuay has been quietly improving on the practice field and even showed a glimpse of his future against Utah with three tackles and an interception in his first start. McQuay has also shown a real knack in practice for blocking field goals.
October, 17, 2013
10/17/13
8:00
AM PT
It's always a physical battle whenever USC and Notre Dame get together and this year's matchup could be one that is won in the trenches.
For the Trojans on offense, it will be critical to continue a season-long pattern of committing to the run behind an offensive line that is blocking well, even if they don't know exactly who will be available to carry the ball.
[+] Enlarge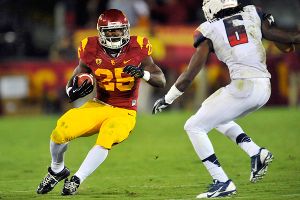 Gary A. Vasquez/USA TODAY SportsRB Silas Redd could be a big weapon for USC in the Trojans' showdown with Notre Dame.
Leading rusher
Tre Madden
has not practiced since suffering a hamstring injury against Arizona and true freshman
Ty Isaac
was also sidelined this week as well.
Fortunately for the Trojans, there are other options.
Justin Davis
has been a true big-play performer, the kind of young back who could shine in a setting like the one he will see in South Bend.
Buck Allen
has also impressed with his tough running style through the early part of the year. But the guy who could end up playing the biggest role -- particularly if Madden cannot go -- is
Silas Redd
. The presence of Redd allows the Trojans to legitimately go five-deep at the tailback spot with the ability to rotate throughout the game.
After suffering a knee injury in spring, Redd was sidelined until last week and it was almost a case of "out of sight, out of mind" as other tailbacks started to shine in his absence. The game against the Wildcats -- particularly the final drive -- was a reminder of just what he can bring to the physical nature of the Trojans' run game. Redd ended the night with 80 yards on 19 carries. but it was his seven straight carries on the game-ending drive that really stood out.
There's little doubt the Irish defensive front is going to be ready for a physical game. Notre Dame features one of the best D-line duos in the country in Stephon Truitt and
Louis Nix III
, who combine to put 680 pounds of force against the Trojans. However, Notre Dame's co-leading tackler, linebacker
Jarrett Grace
, broke his leg in the last game so that will be a big hole to fill. The Irish only give up 122.3 yards per game on the ground while the Trojans come in averaging 200 yard per game so it will be interesting to see which team is able to impose their will in this area.
October, 11, 2013
10/11/13
7:00
AM PT
LOS ANGELES – A look at the positives and negatives from USC's
38-31 victory
over Arizona on Thursday.
THREE UP


1. USC tailbacks:
It's safe to say that USC interim head coach Ed Orgeron wasn't joking when he talked about wanting to get more players involved in the offensive attack. All five available scholarship tailbacks contributed on Thursday, helping the Trojans offense amass 249 rushing yards.
Tre Madden
– who went out in the first half with a hamstring injury – set the tone early, and
Silas Redd
,
Justin Davis
,
Javorius Allen
and
Ty Isaac
each kept it going. Redd, who closed the game out with some crucial runs during a game-clinching fourth-quarter drive, rushed for a team-best 80 yards.
2. USC passing offense:
Offensive coordinator Clay Helton impressed in his first game as the Trojans' play-caller, spreading the ball all over the field while placing an emphasis on establishing the vertical passing game.
Cody Kessler
completed passes to six receivers and threw for 297 yards and two touchdowns. The Bakersfield (Calif.) Centennial graduate completed long, first-quarter touchdown passes to Madden and
Nelson Agholor
, the latter of whom finished with seven grabs for 161 yards and one touchdown. To top things off, USC didn't turn the ball over.
3. J.R. Tavai:
Tavai, who had just two tackles to his credit on the season heading into the game, had a breakout performance. Filling in for
Morgan Breslin
at outside linebacker, he racked up 10 tackles (seven solo), including 3.5 tackles for loss. He was particularly active early on, making eight stops by halftime.
THREE DOWN
1. USC passing defense:
For the second consecutive game, the Trojans defense struggled tremendously in pass coverage. Arizona quarterback
B.J. Denker
entered the matchup by completing just 50 percent of his throws for an average of 111.2 yards per game, yet he managed to look like an All-American against USC, completing 28 of 44 passes for a career-high 363 yards and four touchdowns.
2. Second-half letdown:
The Trojans led 28-10 at halftime and appeared well on their way to a blowout victory, but unable to match the stamina nor the emotionally hyped level of play that they put on display early, they let the Wildcats hang around until the very end. Arizona outscored the Trojans 21-10 in the second half, and the USC defense, in particular, appeared to be physically drained in the fourth quarter, allowing Arizona to drive down the field with ease for touchdowns on the team's final two possessions.
3. Attendance:
The Trojans' first-ever non-Thanksgiving/non-bowl Thursday night game in the Coliseum drew just 64,215, a number that began to shrink dramatically near the end of the third quarter -- just when Arizona started to make the game interesting. On a positive note, those who were in attendance were noticeably enthusiastic and vocal, feeding off the energy of Orgeron and the USC players.
March, 8, 2013
3/08/13
11:43
AM PT
WeAreSC recruiting reporter Blair Angulo answers reader questions in his mailbag every Friday. Have a USC recruiting question of your own? Submit it via Twitter @WeAreSCstaff or @bangulo.
billsb1970:
Blair, it is interesting that we offer out-of-state recruits first and yet other big programs offer the local recruits before the Trojans. Shouldn't the Trojans put a fence around California first?
To continue reading this article you must be an Insider
February, 23, 2013
2/23/13
7:41
PM PT
To say that this past week has been big for
Tre Madden
would be an understatement.
From the Trojans' first players-only passing session of the winter on Tuesday to the first coaches-led conditioning workout on Thursday, the rising redshirt sophomore running back showcased hints of the power and speed that helped make him the story of last spring -- until he went down with an injury in April.
[+] Enlarge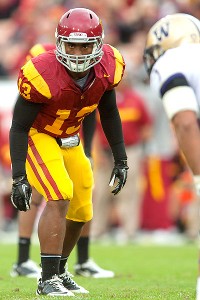 Joe Andras/WeAreSC.comA former linebacker who missed all of 2012 with a torn ACL, Tre Madden is excited to get back on the field as a running back this year.
He suffered a torn anterior cruciate ligament in his left knee that would require surgery, forcing Madden -- who lined up at linebacker as a freshman -- to miss the entire 2012 season.
But after rehabbing and working himself back into shape for the better part of a year, Madden was back in action.
"It feels amazing to be back with the team and running," Madden said. "Running, especially, I appreciate that a lot more now that I went through everything that I did. I really missed being out on the field. It was hard last year to just be on the sideline and watch."
And while Madden already looks good to go as a member of the Trojans' running back corps, every effort is being made to ensure that the former Mission Viejo (Calif.) standout doesn't jump back into the flow of things a little too soon. It's precisely for that reason that he still isn't cleared to participate in the more physical aspects of the upcoming slate of spring practices -- something that isn't likely to change until the start of fall camp.
"I'm cleared for everything but contact, so I'll get out there, catch balls, run routes and get the offense down," Madden said.
Still, after all that he's been through, the fact he's simply taking part in any drills this winter and spring is impressive and reason for optimism when it comes to his potential impact in 2013.
Set to join
Silas Redd
,
D.J. Morgan
,
Javorious Allen
as well as incoming freshmen
Justin Davis
and
Ty Isaac
, Madden figures to be a key component of a much deeper USC running back unit than the 2012 version.
"We've got a lot of guys with specific talents, and we know that our coaches are going to use us to the best of our abilities and help the team," Madden said.
Davis, who is enrolled at USC and taking part in team workouts, has already made a positive impression on Madden.
"He's a great athlete, a hard worker," Madden said. "He doesn't talk too much, but that's good as a freshman. He just wants to learn from everyone and work hard. He just puts his head to work and goes out there."
But not everything has gone smoothly for the USC running backs this offseason. It was less than two weeks ago that they learned of the departure of their position coach, Kennedy Polamalu. And while the loss of one of the most respected members of the staff has affected each member of the unit, Madden is intent on staying focused, and also eager to meet the replacement, who's expected to be named soon.
"We're going to miss Coach Polamalu, but we're not focused on what we're missing -- we're focused on getting ready to meet our new coach on Sunday, and to keep getting out here and working," Madden said.
With that determined mindset, it's no wonder Madden's road to recovery has taken him full circle. And to be sure, no one is more appreciative than he is.
"I'm very thankful," Madden said. "I'm blessed to be able to still play football. It really opened my eyes. I appreciate every play now, every opportunity to work out, to be out here with the team, to be at SC and to be on the field. It's a great opportunity."
February, 6, 2013
2/06/13
10:46
PM PT
On a day that perhaps will be remembered more for the signatures the USC staff didn't secure than the ones it did, an upbeat Lane Kiffin took center stage inside the John McKay Center on Wednesday night to officially announce the Trojans' 2013 signing class.
[+] Enlarge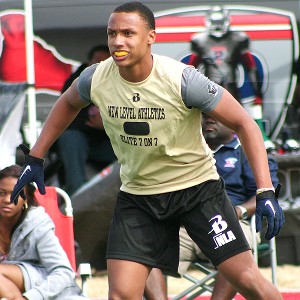 Erik McKinney for ESPN.comTwelve of USC's 13 signees are ranked in the ESPN 300, led by Su'a Cravens at No. 12 overall.
With a total of 13 members comprising the group, it's a class low in numbers but rich in talent, with 12 ranking in the ESPN 300 -- almost all of whom will be counted on to make an immediate contribution on the field for the Trojans.
"A very exciting day for USC football as we welcome 13 new guys into our program," Kiffin said. "We think that these players can come in right away and help us -- all of them. And probably a couple of them will start. Obviously, we have some holes to fill, but they are impact players and players that could have gone anywhere in the country."
Spearheading the class is a standout group of seven players already enrolled in school and set to participate in spring drills in March. They are Elkton (Md.) Eastern Christian Academy defensive lineman
Kenny Bigelow
, Sammamish (Wash.) Skyline quarterback
Max Browne
, Stockton (Calif.) Lincoln running back
Justin Davis
, Murrieta (Calif.) Vista Murrieta safety
Su'a Cravens
, Rancho Cucamonga (Calif.) cornerback
Chris Hawkins
, Seffner (Fla.) Armwood safety
Leon McQuay III
and Carson (Calif.) wide receiver
Darreus Rogers
.
July, 31, 2012
7/31/12
7:30
PM PT
By
Pedro Moura
| ESPNLosAngeles.com
It's funny, in retrospect, that coach Lane Kiffin applied the term "free agency" to his USC Trojans in the summer of 2010.

He was relatively right, of course -- all his opponents were able to freely try to poach his juniors and seniors because of NCAA sanctions, and a few of them successfully did. Defensive end Malik Jackson's move to Tennessee was the most notable at the time.

But if there ever has been a true free-agency period in college athletics, it just ended. What took place the past eight days with former Penn State running back Silas Redd was nothing short of a free-agent frenzy.

Between the time the Nittany Lions' sanctions were announced on the morning of June 23 and Redd's commitment to USC on Tuesday afternoon, Redd was recruited like no other college junior-to-be has ever been recruited, by college coaches around the country and fans, too -- so much so that he deactivated his Twitter account Tuesday morning, hours before he announced his decision.

The whole process actually happened really quickly. It just seemed drawn out because of the circumstances under which it all happened, with both his old school and new school's respective training camps now beginning in less than a week.

But Redd is officially a Trojan now, for at least the upcoming season and potentially the one after that. Where does that leave USC?


May, 15, 2012
5/15/12
3:16
PM PT
By
Pedro Moura
| ESPNLosAngeles.com
Illinois running back
Ty Isaac
, one of the top backfield prospects in the country, committed to USC on Tuesday, giving the Trojans their sixth commitment of the 2013 recruiting season and arguably their most important.
Here's why: Isaac, ranked sixth at his position by ESPNU and 68th overall, is the first top-flight running back prospect to commit to the Trojans since
D.J. Morgan
in the class of 2010. Well, there was
Amir Carlisle
in 2011, but
that ship has sailed
.
Simply enough, USC direly needed a back in this class to provide some actual depth at the position once
Curtis McNeal
leaves. Actually, the Trojans needed two -- and they might get another later this week, when Northern California prospect
Justin Davis
makes his college announcement.
But Isaac's even better than the typical four-star prospect -- at least for USC -- because he's a legitimate big back, one who would ideally work in tandem with Morgan upon his arrival in Los Angeles. The Trojans tried to get one of those under the radar in
Buck Allen
in 2011 but realized this spring he's more of a standard-sized runner than anything else.
At 6-3 and 215 pounds in his junior year of high school in Joliet, Ill., Isaac is definitely a big back.
He becomes the third skill-position player to commit to the Trojans in the last six weeks. Highly-touted quarterback
Max Browne
(Sammamish, Wa./Skyline) committed last month as an early enrollee and receiver
Eldridge Massington
(Mesquite, Tex./West Mesquite) committed earlier this month.
Defensive end
Kylie Fitts
(Redlands, Calif./Redlands East Valley) and cornerback
Chris Hawkins
(Rancho Cucamonga, Calif./Rancho Cucamonga) also committed in April. Defensive tackle
Kenny Bigelow
(Elkton, Md./Eastern Christian) became the first member of the 2013 class when he committed last November.
2013 TEAM LEADERS
| TEAM | RUSH | PASS | TOTAL |
| --- | --- | --- | --- |
| Offense | 174.2 | 218.1 | 392.3 |
| TEAM | PF | PA | MARGIN |
| Scoring | 28.5 | 21.3 | 7.2 |