July, 31, 2014
7/31/14
9:00
AM PT
Our list of the
Top 25 players in the Pac-12
continues.
10. Oregon C Hroniss Grasu
Why he's ranked here:
Grasu is one of three players in the conference -- all from Oregon -- to have been named first-team All-Pac-12 the last two seasons. As a junior in 2013, he was a finalist for the Rimington Trophy, given to the nation's best center, and the undoubted leader of the Ducks' offensive line that blocked for the conference's No. 1 rushing attack. Grasu enters his final year in Eugene having started all 40 games of his career with a chance to leave his mark as one of the Ducks' all-time greats. And as good as Grasu and the line were a year ago, they should be better this year with all five starters back and some talented players behind them who could push for playing time in training camp.
9. Stanford WR Ty Montgomery
2013 stats:
Caught 61 passes for 958 yards and 10 touchdowns, and ranked second nationally averaging 30.3 yards per kickoff return.
Why he's ranked here:
When Montgomery is on the field for Stanford, he's the team's best player. Whether that's as a receiver or kick returner, he's the one guy who has consistently proved he can change a game on any given snap. There's minimal concern he won't be 100 percent for the start of the season due to an arm injury, but Montgomery said Wednesday he's not limited when it comes to running, catching or lifting weights. At 6-foot-2, 220 pounds, with just 4 percent body fat, Montgomery certainly didn't look injured. "When he comes back, he might be the most explosive player in college football, and he's going to touch the ball in every single way possible," Stanford coach David Shaw said at Pac-12 media days. It remains to be seen whether we should take Shaw literally and add punt return duties to Montgomery's other responsibilities, but there have been discussion about that as well. When comparing Montgomery as a receiver to the other two receivers listed below, there's really not much separation -- a solid case can be made to have each of them in front of the other.
8. Arizona State WR Jaelen Strong
2013 stats:
Caught 75 passes for 1,122 yards and seven touchdowns in his first year with ASU.
Why he's ranked here:
Perhaps no one in the conference made as strong an immediate impact as Strong did last year after arriving at ASU from Pierce College in Los Angeles. He eclipsed the 100-yard receiving mark in five of his first six games and finished fourth in the Pac-12 with 1,122 receiving yards. The three players who finished ahead of him -- Oregon State's
Brandin Cooks
, Colorado's
Paul Richardson
and Oregon's
Josh Huff
-- are all off to the NFL. Like Montgomery, Strong is physically imposing and at 6-4, 212 pounds makes a dangerous red zone target for quarterback
Taylor Kelly
. Of the 25 players the Pac-12 blog has deemed the conference's best, Kelly-Strong is the only quarterback-receiver tandem to be included together on the list (you'll see where Kelly lands Friday morning). They're the main reason ASU coach Todd Graham proclaimed at Pac-12 media days that "This will be the best offensive football team that I've ever coached." If Strong makes the kind of jump Cooks made from 2012 to 2013, it shouldn't surprise anyone.
7. USC WR Nelson Agholor
2013 stats:
Caught 56 passes for 918 yards and six touchdowns and also returned kicks (17.5 avg) and punts (19.1 avg)
Why he's ranked here:
On a team that featured 2012 Biletnikoff winner
Marqise Lee
, Agholor was simply the better receiver in 2013 and his value to the Trojans stretched further than that because of how he could impact games as a return man. What Montgomery was to Stanford on kickoff returns, Agholor was for the Trojans on punt returns. He returned two for touchdowns, and his 19.1 average was a new school record and ranked second nationally. With Lee off to the NFL, a second-round pick of the
Jacksonville Jaguars
, Agholor figures to see his receiving numbers improve -- even if that means more attention from opposing defenses. Agholor has developed a reputation for being an NFL-caliber route runner and is among the nation's most dangerous receivers after the catch. ESPN draft analyst Mel Kiper Jr. ranks Agholor as the
No. 3 receiver on his Way-Too-Early Big Board
(one spot behind Strong).
6. Oregon State QB Sean Mannion
2013 stats:
Threw for a Pac-12 record 4,662 yards with 35 touchdowns and 15 interceptions.
Why he's ranked here:
By the time the NFL draft rolls around, Mannion might just end up being the top quarterback on some teams' boards. He's that talented. With 10,436 career passing yards, Mannion already sits at No. 10 on the conference's all-time passing list and, assuming he stays healthy, should have no problem passing
Matt Barkley
's record of 12,327. Mannion admits he had a great relationship with former offensive coordinator Danny Langsdorf, who left to become the quarterbacks coach for the
New York Giants
, but he has already grown under the tutelage of Langsdorf's replacement, John Garrett. "It has been good to get another perspective, another coach to learn from," Mannion said at Pac-12 media days. "It was tough to see [Langsdorf] go, but I think it'll end up being beneficial." Mannion is also the first Oregon State player to be selected team captain three times. Kiper ranked him as the
No. 2 senior NFL quarterback prospect in the country
.
Check out the rest of the rankings here:
Nos. 25-21
,
Nos. 20-16
,
Nos. 16-11
January, 31, 2014
1/31/14
5:30
PM PT
Happy Friday. Welcome to the mailbag.
Follow the Pac-12 blog on Twitter
.
By the way, we will be reviewing the
top-25 list
on Monday, explaining some of our thinking, and looking ahead.
So stay tuned! To the notes!

RidingTheRange from Dallas writes:
Thanks for your Top 25 list
! I enjoy this every year. However, with Top 25 lists, they always encourage witty banter. And here's my suggestion: Where is
Ty Montgomery
? If memory serves me correct,
the KR/PR from Utah was rated last year
. Montgomery was a much more integral part of the Stanford offense (though the offense as a whole was not particularly potent). Any word on where he would actually fall or if there was any debate between the Pac-12 bloggers?
Ted Miller
: I suspect the list last year will be more controversial than this year's. Kevin fired off a first draft to me and Kyle a few weeks ago, and that list stuck pretty well with minimal changes. We also knew the handful of players who would be tops among the "HOW CAN YOU LEAVE OFF [PLAYER X]? YOU HAVE LOST ALL CREDIBILITY!"
Utah's Reggie Dunn ended up at No. 25 last year because he returned four kickoffs for touchdowns, which had never been done before. Yes, it was controversial. To me, the worst omission from the list was
Desmond Trufant
, and we not unfairly took a lot of crud for it. Kevin felt more strongly about Dunn than I did, but I'd also say that setting an NCAA record is pretty darn shiny on a résumé.
Montgomery returned two kicks for touchdowns in 2013 and was the Cardinal's leading receiver, ranking ninth in the Pac-12. You could make a case for him.
But here's what I typically say to folks making the case for another player: Who do you take off our top-25 to make room for Montgomery?
Here's the bottom six:
No. 20
:
Trevor Reilly
, DE/OLB, Utah
No. 21
:
Sean Mannion
, QB, Oregon State
No. 22
:
Austin Seferian-Jenkins
, TE, Washington
No. 23
:
Hroniss Grasu
, C, Oregon
No. 24
:
Josh Huff
, WR, Oregon
No. 25
:
Myles Jack
, LB/RB, UCLA
That's a pretty strong group to break into.
---

Bobby from Phoenix writes:
Carl Bradford
not in the top 25? You guys were very generous to put in Sutton, Grice and Kelly, but I can't imagine a list without Bradford! Rabble rabble rabble!
Ted Miller
: Bradford was one of the top guys who got left out, along with several All-Pac-12 defenders, such as Stanford safety
Ed Reynolds
, Washington defensive end
Hau'oli Kikaha
, USC LBs
Devon Kennard
and
Hayes Pullard
, etc.
I'm surprised more Washington fans aren't griping about leaving out Kikaha, who finished second in the Pac-12 with 13 sacks. We rated him higher than Bradford, who had 8.5 sacks, and I personally found leaving him out one of our toughest calls, in large part because he came back from two knee surgeries this season.
Bradford had a good, but not great, season. In fact, I'm not sure he'd rank better than fifth on the Sun Devils defense this season, behind DT
Will Sutton
, DB
Alden Darby
, CB
Robert Nelson
and LB
Chris Young
.
Further, with all that talent, I do question why the Sun Devils' defense wasn't better, ranking eighth in the Pac-12 in yards per play -- 5.5 -- and seventh in scoring (26.6 ppg).
---

Spencer from Orem, Utah, writes:
I would argue that
Anthony Barr
is better than
Ka'Deem Carey
. I would be interested on your thoughts on why you disagree.
Ted Miller
: You could argue that. I'm sure many folks are guessing that Barr is headed to a better NFL career as a perennial All-Pro.
NFL prospects factor more in my judgments than they do with Kevin. To me, it's a safeguard against getting too googly-eyed about statistics. That said, what separates Carey are his numbers. To quote our review:
"[Carey] ranked second in the nation with 157.1 yards per game. He completed his career by topping 100 yards in 16 consecutive games, a Pac-12 record and a streak that hasn't been accomplished by any other back in a decade. He is Arizona's career rushing leader (4,232 yards) and ranks seventh in Pac-12 history."
Barr had a great season and earned consensus All-American honors, just like Carey. But his best football is in front of him. His numbers -- 10 sacks (No. 3 in the conference) and 20 tackles for a loss (No. 2) -- were good, but not epically good, like Carey's.
Further, I think UCLA's defense wouldn't have collapsed without Barr. If you took Carey away from Arizona, the Wildcats would have lost at least a touchdown from their scoring average of 33.5 and wouldn't have sniffed bowl eligibility.
So that's the distinction.
---

Undeniable Stanford Homer from East "of" Palo Alto writes:
My question is about the top 25 players list for this past season. I understand the issues with rankings vs. grades is same reason why people do rankings over grades -- you get to say 1 player is "better" then another player because of their standing in the rankings. As we all know, the top 10 players are all All-Pac-12 performers, but by ranking them you infer that one is better than the other, causing intrigue and argument (which is both good and bad). What I am wondering is when you compile this list, how do you have eight players better than
David Yankey
, and five players ahead of
Trent Murphy
. The former was the best player on the best team on the best unit in the Pac-12 (hard to argue unit but this question is too long for my explanation already, and hard to argue with Morris but he already had one) and the latter is the best defensive player (depends on if you look at qualitative data, the DPOY by coaches vs. quantitative data, statistics). I know you have reasons why you chose players over these two outstanding athletes but i just would like to hear them.
Ted Miller
: We rated Yankey at No. 8 as the Pac-12's top offensive lineman, despite his playing guard and not tackle. I don't think guards would make the top 10 many years. But Yankey, a unanimous All-American, is a beast.
That said ... I'm not sure he's better than UCLA OG
Xavier Su'a-Filo
, who won the the Morris Trophy over Yankey, an award voted on by opposing defensive players. Yankey got more All-American love, but Su'a-Filo, who ranked 12th, was just as beastly. It will be interesting to see who ends up better in the NFL.
So who do you drop from our top seven in order to boost Yankey? That's a pretty salty group.
Murphy is the most interesting case. The Pac-12 blog named Murphy the conference
Defensive Player of the Year
after the coaches went with Sutton. Why? Murphy ranked second in the nation and first in the Pac-12 with 15 sacks and fourth in the nation and first in the Pac-12 with 23.5 tackles for a loss.
Like Carey, his numbers speak for themselves, as well as his being the best player on the conference's best defense.
So how did he end up rating behind Barr at No. 3? And how do I type this without immediately contradicting my explanation for putting Carey ahead of Barr (epic numbers!)?
We have debated this before
, and I've had what some might call controversial takes. I ranked
Matt Barkley
and
Matt Scott
higher in 2012 than many might have in large part based on the notion of, "If you were drafting Pac-12 players for your team, what would be the selection order?"
That's not specifically about NFL prospects. It's about who you subjectively view as being the best college player.
While I think Murphy was the most
accomplished
defensive player in the Pac-12 this year, I also think Barr was the best defensive player. If I were drafting Pac-12 players for the Ted Miller Super Awesome squad, I'd pick Barr before Murphy.
But would I pick Barr before Carey? I'd rate that a toss-up. Ergo, I fall back to Carey's numbers for our ranking order.
---


Paul from Boise, Idaho, writes:
I'm willing to bet nobody would have guessed that at the end of the year, both
Marqise Lee
and
De'Anthony Thomas
would be left out of the illustrious Pac-12 postseason top 25. It seems every season a team or a top-tier player plays subpar, either because of injury or an underperforming team. Would the blog care to take a gamble and bet on somebody next year that is in danger of underperforming?
Ted Miller
: Injuries are the biggest reason neither Lee nor Thomas made the Top 25, though Thomas was pretty underwhelming much of the year.
There's no way I'd speculate on who might get hurt next fall. That's sort of morbid.
Further, only eight guys will be back next season: 1.
Marcus Mariota
; 8.
Brett Hundley
; 10.
Leonard Williams
; 14.
Taylor Kelly
; 15.
Ifo Ekpre-Olomu
; 21. Sean Mannion; 23. Hroniss Grasu; 25. Myles Jack.
Of that list, the most challenged will be Mannion because he loses No. 4
Brandin Cooks
.
I expect Mannion's passing numbers to go down in any event because I suspect coach Mike Riley will work a lot harder to be more balanced next fall. The key for Mannion is being more efficient and avoiding the mistakes that littered his season's second half.
---

Haggmeez from Cincinnati writes:
Here we are, just one week before national signing day and the Pac-12 has a whopping 35 combined commits in the
ESPN 300
. By contrast, Alabama and LSU have a combined 32 ESPN 300 commits just between the two of them (not including the JC 50). I'm not usually one to buy into recruiting rankings at face value, but the disparity is fairly staggering. Do you think that the Pac-12 is going to be able to continue to keep up with the amount of raw physical talent that is being basically channelled into these southern power programs?
Ted Miller
: Yes.
---

Jack from La Quinta, Calif., writes:
Ted and Kevin, many thanks for your work in keeping the Pac-12 Blog current and interesting. However, I am still smarting over
your season grade of B-plus for Stanford
. Stanford won its division, won the Pac-12 championship and was only defeated by four points in the Rose Bowl by the third-ranked team in the country -- certainly no blowout. But they only deserve a B-plus. I think you place too much emphasis on the postseason -- bowl games, a national championship and ranking the Pac-12 against other conferences. The road to a Pac-12 championship should be your primary emphasis. The rest is gravy. Many Oregon players started looking too far ahead, to a national championship instead of next Saturday's game. Look where they ended up. The Rose Bowl on 1/1/14 was not a worthy goal for Oregon. Your thinking plays a part in influencing players, coaches and fans and your current emphasis is not in the best interest of the sport. I certainly would not give Stanford a solid A for their work. They lost two games on their way to the Pac-12 championship and the Rose Bowl. But, this is no less than an A-minus performance -- unless winning the Pac-12 conference championship is no big deal and is only a stepping stone to more worthy goals.
Ted Miller
: Is this an example of the grade inflation at Stanford that Cal fans are always telling me about?
You meet expectations, you get a B. You want an A? Exceed expectations.
Stanford has become an elite team -- a Pac-12 and national title contender. It's not graded the same as most other teams. It has a smaller margin for error. 11-3 is a good, but not great, season on The Farm these days. That should feel like good news, by the way.
Stanford and Oregon were co-favorites to win the Pac-12. Both Kevin and I picked Stanford to win the Pac-12. By winning the Pac-12, the Cardinal therefore met expectations. If the Cardinal had won the Rose Bowl, they would have received an A-minus.
What are the knocks on Stanford's season?
It lost to two teams it was better than: Utah and USC. And, in a toss-up matchup with Michigan State in the Rose Bowl, it got solidly beaten.
Good, but not great.
No Pac-12 team received an A this year. An "A" for Stanford and Oregon would have been a final top-five ranking and a BCS bowl win. An "A" for, say, Washington State, would have been eight wins, including the Apple Cup, and a bowl victory.
Just like Stanford, Arizona State also got a B-plus, the highest grade any Pac-12 team received from us this year. If the Sun Devils had won their bowl game, they would have received an A-minus. UCLA also got a B-plus. If it had won the South Division and its bowl game, it would have received an A-minus.
The Pac-12 blog doesn't believe in grade inflation. It is a demanding taskmaster. It believes in high standards.
And awesomeness.
---
UCLA Fan from Federal Way, Wash., writes:
I was just wondering why I haven't seen anyone talk about how after it was all said and done, the
four hardest schedules of the year
belonged to Pac-12 teams. Including those four, eight Pac-12 teams were ranked in the top 13 for strength of schedule. There was only one SEC team in the top 13. I haven't heard anyone talk about this, and would like to hear your opinion about what this says about the SEC vs. Pac-12 discussion, among other things.
Ted Miller
: It shows that the Pac-12 was the deepest conference, top to bottom, in the nation. Not sure anybody really disagrees with that. Further, in a year when the Pac-12 did well overall, it means the nine-game conference schedule significantly boosted strength-of-schedule measures.
If this continues to be a pattern going forward, the Pac-12 should do well in the eyes of the selection committee for the four-team college football playoff, which has said it will put an emphasis on strength of schedule.
January, 14, 2014
1/14/14
10:00
AM PT
Today we put a bow on the 2013 season (almost -- a few more review posts are coming up, and then probably a few more after that). But today across the blogosphere, we're categorizing some of the top moments and individuals from the Pac-12 season. These are set in stone and in no way open to argument or interpretation.
Best coach
: Arizona State's Todd Graham was voted as the league's coach of the year by his peers. And it's hard to argue with that, given the fact that the Sun Devils had the best league record and won their division. But you can't discount the job of the L.A. coaches (interim or otherwise). Ed Orgeron did a phenomenal job in relief at USC before Steve Sarkisian was hired, and Jim Mora shepherded his team through a difficult time early.
Best player, offense
:
Ka'Deem Carey
was named the Pac-12 offensive player of the year. And the Pac-12 blog agrees. Certainly, cases can be made for Oregon quarterback
Marcus Mariota
, who was on the Heisman Trophy track before being derailed by a knee injury. And there is the debate between Carey and Washington running back
Bishop Sankey
,
which will rage until the end of days
.
Best player, defense
: The coaches went with Arizona State defensive tackle
Will Sutton
. And there's nothing wrong with that selection. But cases certainly can be made for outside linebackers
Trent Murphy
(Stanford) and
Anthony Barr
(UCLA).
Best moment
: Lots of them. Shocking upsets (see below) and stellar individual performances dusted the landscape of the 2013 Pac-12 season. But in terms of moments that were seared into our memories, it's tough not to think about UCLA's come-from-behind win at Nebraska way back on Sept. 14, following the death of Nick Pasquale. Specifically,
Anthony Jefferson
recovering a red zone fumble and then sprinting off the field to give the ball to Mora, followed by a big hug. It was as authentic and genuine a moment as you'll find in sports.
[+] Enlarge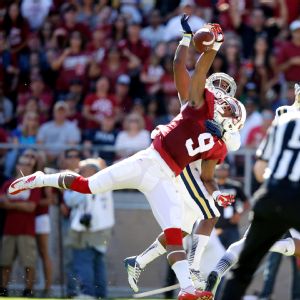 Ezra Shaw/Getty ImagesStanford's Kodi Whitfield had a highlight touchdown grab against UCLA.
Biggest upset
: Take your pick between Utah topping Stanford or Arizona topping Oregon. Both were road losses for the favorites and both shook up the national and league landscape. Granted, Utah's win over Stanford came earlier in the season, and early-season losses are easier to rebound from. Oregon's loss to Arizona came at the end and cost the Ducks all kinds of postseason possibilities.
Best workhorse performance
: It's a tie between Stanford's
Tyler Gaffney
and Carey -- both of whom put in the work in their teams' victories over Oregon. Carey rushed for 206 yards and four touchdowns on 48 carries; Gaffney carried 45 times for 157 yards and a touchdown.
Best play:
One of the most subjective categories, for sure, but
Kodi Whitfield
's
one-handed touchdown catch
against UCLA was nothing short of spectacular. He elevated between two Bruins defenders and backhanded the ball out of the air for a 30-yard touchdown. Something about UCLA-Stanford brings out the one-handed catches. Recall in 2011,
Andrew Luck
hauled in a one-handed catch against the Bruins, and a few plays later,
Coby Fleener
snagged a one-handed dart from Luck for a touchdown.
Best performance, offense
: Again, wildly subjective. Take your pick from
Ty Montgomery
's five-touchdown day against Cal,
Marion Grice
's four touchdowns against USC or Wisconsin, or
Myles Jack
's four touchdowns against Washington.
Brandin Cooks
had a pretty nice day against Cal with his 232 receiving yards. There were games with seven touchdown tosses from Mariota and
Taylor Kelly
.
Connor Halliday
's losing effort against Colorado State was spectacular. In terms of impact, it's hard not to go back to Carey's effort against Oregon.
Best performance, defense
: As in every other category here, plenty to go around. But think way back to Washington State's win over USC.
Damante Horton
had a 70-yard interception return that tied the game at 7-7 in the second quarter. Then, after
Andrew Furney
's 41-yard field goal put the Cougars ahead 10-7 with 3:15 left in the game, Horton picked off
Max Wittek
, which allowed WSU to run out the clock.
November, 25, 2013
11/25/13
6:00
PM PT
Arizona running back
Ka'Deem Carey
has been named the Pac-12 offensive player of the week, along with Arizona State linebacker
Chris Young
, who was named defensive player of the week and UCLA returner
Ishmael Adams
, who was named special teams player of the week.
Here's some more on the trio per the Pac-12's release:
Carey, a junior from Tucson, Ariz., racked up 206 yards on a school-record 48 carries to become the Wildcats' all-time leading rusher with 3,913 career yards as Arizona upset No. 5 Oregon 42-16 on Saturday afternoon in Tucson. His four touchdowns on the day established a new program mark for career touchdowns with 49 while his 45 career rushing touchdowns are also a school record. The 48 carries were the most by an FBS player in a game this season and his string of 14 straight 100-yard rushing games is tied for the longest streak by an FBS player over the past ten seasons. The nation's second-leading rusher (155.9 ypg) earns the conference offensive player of the week honor for the second time this year.

Young, a senior from Seattle, Wash., led an Arizona State defense that limited a potent UCLA offense and squashed a fourth-quarter comeback bid in a 38-33 win over the Bruins at the Rose Bowl on Saturday night as the Sun Devils clinched the Pac-12 South Division title with the victory. He collected a game-leading 13 tackles, including 12 solo, and three sacks for a loss of 27 yards. His two fourth-quarter sacks and game-ending tackle on the Bruins' final two drives secured the win for the Sun Devils, who earned a spot in the Pac-12 Football Championship Game on Dec. 7.

Adams, a sophomore from Woodland Hills, Calif., collected 234 return yards in his first game serving as the return man in the Bruins' 38-33 loss to Arizona State. His efforts in the return game led to three UCLA scores, including a 58-yard return on the Sun Devils' first kickoff of the game to set up a 42-yard scoring pass on the next play and a 49-yard punt return that set up a 48-yard field goal that put the Bruins ahead late in the first quarter.

Also nominated for offensive player of the week honors were quarterbacks Taylor Kelly of Arizona State and Connor Halliday of Washington State; running backs Javorius Allen of USC and Bishop Sankey of Washington; and wide receivers Ty Montgomery of Stanford and Shaq Evans of UCLA. Also nominated for defensive player of the week honors were linebackers Anthony Barr of UCLA and Justin Sagote of Washington State; cornerbacks Shaquille Richardson of Arizona and Marcus Peters of Washington; and defensive end Leonard Williams of USC and free safety Jered Bell of Colorado. Also nominated for special teams player of the week honors was Washington State kicker Andrew Furney and USC fullback/special teams member Soma Vainuku.
November, 25, 2013
11/25/13
11:00
AM PT
Taking stock of Week 13 in the Pac-12:
Team of the week:
Arizona played with near-perfect execution in all three phases while upending No. 5 Oregon
42-16
. While the lead to that game was the Ducks' listless effort, the Wildcats deserve plenty of credit for getting after Oregon and closing the deal with authority. The win certainly thickened the plot for the Territorial Cup on Saturday against the Wildcats good buddies in Tempe.
[+] Enlarge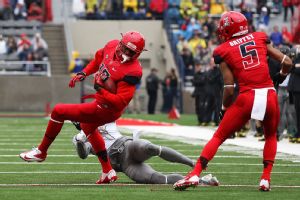 Christian Petersen/Getty ImagesReceiver Samajie Grant (three catches, 38 yards) and the Wildcats jumped all over Oregon early and routed the Ducks.
Best game:
Arizona State looked like it was going to blow out UCLA. Then it looked like it was going to choke in the second half. Yet the Sun Devils pulled themselves together just in time and kept the Bruins out of the end zone on their final two possessions in a
38-33 victory
. The Sun Devils are a Territorial Cup win away from playing host to Stanford in the Pac-12 title game, which could yield the program's first Rose Bowl since the 1996 season.
Biggest play:
UCLA faced a third-and-6 from the Arizona State 7-yard line with five minutes left in the fourth quarter, but QB
Brett Hundley
was sacked by Sun Devils LB
Chris Young
for a loss of 13 yards. Bruins kicker
Ka'imi Fairbairn
, who beat Arizona State with a last-second field goal a year ago, then missed the 38-yard attempt that would have closed the gap to two points.
Offensive standout:
Arizona RB
Ka'Deem Carey
rushed for 206 yards and four TDs on 48 carries in the Wildcats' upset win over Oregon. It was his 14th consecutive 100-yard-plus rushing game, an active streak that now is tied for longest by an FBS player over the past 10 seasons (Jerome Harrison, 2004-05). His 48 carries is a new school record and the most so far this season by any FBS running back. He had just two negative yards. He became Arizona's career rushing leader with 3,913 yards, eclipsing Trung Canidate (1996-99). He also set a new school record for career touchdowns with 49, surpassing Art Luppino (1953-56).
Offensive standout II:
Stanford WR
Ty Montgomery
scored five touchdowns in the Cardinal's blowout
Big Game win
over California. He rushed 31 yards for a score and had TD receptions of 50, 12, 72 and nine yards. He finished with five catches for 160 yards.
Defensive standout:
Arizona State LB Chris Young had three sacks and a game-high 13 tackles (12 solo) in the
Sun Devils' win
at UCLA. The sacks cost the Bruins 27 yards, and two of them came on the Bruins' final two desperation possessions in the fourth quarter.
Defensive standout II:
Washington CB
Marcus Peters
had six tackles, two interceptions, a forced fumble and a fumble recovery in the
Huskies' blowout win
at Oregon State.
[+] Enlarge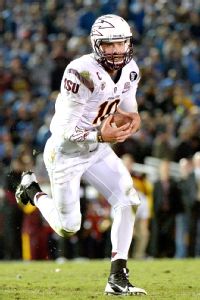 Harry How/Getty ImagesArizona State quarterback Taylor Kelly was 20-of-27 for 225 yards and a touchdown in the Sun Devils' win over UCLA.
Special teams standout:
Washington kicker
Travis Coons
was 2-of-2 on field goals with a long of 44 yards against Oregon State. He also was 9-of-9 on PATs and had three of his four punts killed inside the Beavers 20-yard line.
Smiley face:
The state of Arizona: Both the Wildcats and Sun Devils posted impressive wins on Saturday, thereby making the Territorial Cup as meaningful as it has been in years.
Frowny face:
The state of Oregon: Both the Ducks and Beavers posted embarrassing performances on Saturday, thereby making the Civil War the least meaningful it has been in years.
Thought of the week:
It's great that the Pac-12 is deep. It's great to have nine bowl-eligible teams. But the most important take-away from the conference's late-season swoon in the national picture is this: THE NINE-GAME CONFERENCE SCHEDULE. If the SEC and ACC refuse to play nine conference games, the Pac-12 must -- absolutely must -- revert to an eight-game schedule as we move forward with the four-team playoff. It's simply not fair that on a weekend of major Pac-12 match-ups, most SEC teams are giving themselves a week off with cupcake foes.
Questions for the week:
Will rivalry week produce any upset thunderclaps? If USC beats UCLA, that's a thunderclap because it would make Orgeron a frontrunner to become the Trojans' next permanent coach. If Arizona beats Arizona State, that's a thunderclap because the Wildcats would show they are certainly not yielding state dominance to the surging Sun Devils, who would have a much better shot at the Rose Bowl at home in the Pac-12 title game rather than at Stanford. If Washington State beats Washington, that's a thunderclap because Huskies fans might run out of patiences with Steve Sarkisian. If Oregon State beats Oregon, that's a thunderclap because Ducks fans would seriously start to question first-year coach Mark Helfrich. If Colorado beats Utah, that's a thunderclap because the Buffaloes would eclipse the Utes in the Pac-12 pecking order and make Kyle Whittingham's seat hot. And if Notre Dame beats Stanford, that's a thunderclap because the Fighting Irish would be crowned Pac-12 champions by the court of public opinion after also beating ASU and USC.
November, 24, 2013
11/24/13
6:00
AM PT
Here are the players who earned helmet stickers in the Pac-12 in Week 12:

Ty Montgomery, WR, Stanford:
Montgomery accounted for five touchdowns in the Cardinal's blowout Big Game win over California. He rushed 31 yards for a score and had TD receptions of 50, 12, 72 and nine yards. He finished with five catches for 160 yards.
Ka'Deem Carey, RB, Arizona:
Carey should get a Heisman invitation. He rushed for 206 yards and four TDs on 48 carries in the Wildcats upset win over Oregon. It was his 14th consecutive 100-yard-plus rushing game, an active streak that now is tied for longest by an FBS player over the past 10 seasons (Jerome Harrison, 2004-05). His 48 carries is a new school record and the most so far this season by any FBS running back. He had just two negative yards. He became Arizona's career rushing leader with 3,913 yards, eclipsing Trung Canidate (1996-99). He also set a new school record for career touchdowns with 49, surpassing Art Luppino (1953-56).
Arizona's defense:
The Wildcats, horrible on defense a year ago, held Oregon to its lowest point total -- 16 -- of the season. While the Ducks gained 506 yards, Arizona over and over again, made key plays that stopped them from getting points. No one player stood out, so we're calling it a total-team effort.
Connor Halliday, QB, Washington State:
Halliday passed for 488 yards and four touchdowns in the Cougars' 49-37 win over Utah, which made the Cougars bowl eligible. He completed 39 of 62 passes.
Chris Young, LB, Arizona State:
Young had three sacks and a game-high 13 tackles -- 12 solo -- in the Sun Devils' win at UCLA. The sacks cost the Bruins 27 yards.
Javorius Allen, RB, USC:
Allen rushed for 145 yards on 21 carries and scored three touchdowns in the Trojans win at Colorado. It was his third game in the past four with more than 100 yards rushing. He had 137 yards total in the team's first eight games.
Bishop Sankey, RB, Washington:
Sankey rushed for 179 yards on 23 carries and scored three touchdowns in the blowout win over Oregon State.
October, 15, 2013
10/15/13
4:00
PM PT
Welcome to the second half.
Greg in Salt Lake City writes:
"If you don't like where you are in the Power Rankings, play better." Oh, like maybe beat No. 5 Stanford? Done. Wait, that didn't really help. Utah is a few turnovers away from being undefeated, they get better every week and just beat Stanford. Because
Power Rankings
take the most recent games into account more we should definitely be ahead of Oregon State and Washington -- neither of which has beat a team that is still ranked. I would think a former MWC guy would show a little more respect ;)
Kevin Gemmell
: I appreciate the passion, Greg. I really do. And I particularly appreciate the emoticon wink. And as a former MWC guy, I've followed Utah's rise in that conference and transition to the Pac-12 with great interest.
For the record, it did help. You moved up from seventh to sixth in this week's Power Rankings.
No, you shouldn't be ahead of Oregon State or Washington. You lost to Oregon State. Any way you slice it, the Beavers have more wins and beat you at home. As for Washington, we'll find out more about them this week when the Huskies travel to Arizona State. Washington lost to Stanford on the road by a field goal. You beat Stanford at home by two field goals. Washington's two losses have been to top-five teams. Utah's losses have been to a top 15 team and an unranked team. Plus Utah has had the luxury of not having to go out of state yet.
I think the Stanford win was a critical stepping stone for the Utes, but it's how they follow it up that will be extremely telling.
This isn't the Mountain West where the entire season boils down to one game against TCU. You beat Stanford. Great. Now can you go on the road and beat Arizona? At USC? Can you avenge the beating you took last year from ASU? Can you win at Autzen?
Recall Washington scored two wins over top-10 teams last year, but still finished with seven wins and the season was perceived as unsuccessful. If Utah fails to make it to the postseason, how much does this one win really mean? Not a whole lot. You'll be viewed as the team that just caught Stanford on a bad day on the road rather than a team that is climbing the Pac-12 pecking order.
It was a good win. What's are you going to do with it?
Ducku03 in Eugene writes:
Hey Kevin I've been reading a lot about that Heisman Moment that takes a candidate over the top. It seems to me that all of these moments, the media talks about, are come-from-behind moments that give their team a miraculous win. Isn't it a little unfair to degrade a Heisman campaign just because your team is always ahead in the fourth quarter such as the case for
Marcus Mariota
?
Kevin Gemmell: Aside from "mandatory" and "colonoscopy," there are no two words put together that irk me more than "Heisman" and "moment." It's a sham. A fluke. Just as I railed in last week's mailbag about one play being a determining factor in a game, one moment doesn't, couldn't, shouldn't determine something as important as a Heisman.
I can think of about two dozen Heisman moments for Marcus Mariota already. And, as you noted, none of them involved a come-from-behind victory. That's because he's got his team so far ahead.
I've written a couple of times on the Heisman in recent years. It's a completely
subjective award
that is open to all kinds of interpretation. I don't think that's a bad thing, but I happen to disagree with how some people go about their voting process. That's what makes the Heisman so controversial.
As I noted in 2011
, Andrew Luck had plenty of Heisman moments, they just weren't "traditional" Heisman moments.
I don't think Mariota's campaign will be slowed down if the Ducks don't have a come-from-behind-fourth-quarter win. What he's done so far has been too impressive. Obviously, the Stanford game will be of significance. It will be nationally televised and East Coast voters should stay up to watch.
The whole Heisman exercise has gotten out of hand. It's taken on such a life of its own that it's essentially downgraded the importance of some other awards like the Maxwell and Walter Camp, the Outland and the Rimington. I hate that the metrics aren't there for linemen or defensive players to win it. And the spread offense has completely slanted the playing field in favor of quarterbacks. The whole process feels less like a celebration of greatness and more like, well, a mandatory colonoscopy.
Tommy Trojan in a beach chair on the beach writes
: I know and the USC faithful know how important a win against ND this weekend is for the future of the program and for the rivalry. What does a USC win mean in the world of the Pac-12 down the stretch?
Kevin Gemmell:
In terms of the standings, not a whole lot. In terms of their perception, it's huge. USC's brand has taken a huge hit over the last 12 months. With that comes negative recruiting from other schools and a general uneasy feeling about the state of the program.
But USC is still a brand. And it will endure. Because there are always going to be elite athletes who want to come to USC.
The Trojans aren't out of the South Division hunt yet, but they'll need some help along the way. All they can do is hope to win out and restore the confidence of the fan base and potential future Trojan players. Winning at Notre Dame would be a huge first step toward rebuilding that.
Chris in Foresthill, Calif. writes:
Sonny Dykes is on record that Cal has the prerequisites "location, facilities, weather, academics and access to state-wide and national talent" to be a national championship contender. I don't see it due to the predominance of pro sports in the Bay Area. In three to five years, do you see Cal as a contender, pretender or also-ran?
Kevin Gemmell:
I think what we have right now, this year, with Cal is the perfect storm of a young team adjusting to new schemes, a horrific string of injuries and one of the toughest schedules in the country.
The Bears have been able to move the ball, they just haven't been able to score. I still think the skill position players are really good, they just haven't been able to translate it on the field on Saturdays.
Losing 10 of 11 potential starters on defense doesn't help. Dykes said today that he's never seen this many season-ending injuries in one year in his career.
In three to five years I think Cal should certainly be a mainstay in the postseason. Cal has too many advantages not to, at the very least, be a six-win team. I'm cutting Dykes and Co. some slack simply because of all the dice loaded against them this season. But there are still six opportunities left for progress. And six opportunities for a lot of younger players to get some valuable experience.
Don in Newberg, Ore. writes:
Kevin, Most impressive aspect of the Ducks' win @ Washington? When the season started, there was no argument that Oregon's best three offensive players were Mariota, DAT and Lyerla. They beat the Dawgs without two of those three. That says something.
Kevin Gemmell
: I'd argue that
Ifo Ekpre-Olomu
and
Terrance Mitchell
were right up there in terms of preseason hype. And so far Oregon's secondary has been beastly. I'd say that was the most impressive aspect.
Keith Price
did what he could, but the Ducks held him to his lowest output of the season in terms of yards and touchdowns. His longest pass was 28 yards. His completion percentage was below 60 percent for just the second time this year (the Arizona rain game was his lowest).
For as much as people want to talk about what Oregon is doing on offense -- and full disclosure, I'm one of those guys talking about their offense -- the defense has quietly been one of the best in league. Just as it was quietly one of the best in the league last year, and the year before that. They are allowing a league-low 13.8 points per game and have only allowed four touchdowns in the air. Be impressed with the offense. But don't forget what the guys on the other side of the ball are doing.
Darin in Monterey, Calif. writes:
I have a couple of questions about QBR ratings. Can you explain to me how you get a high QBR rating? Mariotta has an average of 96 or something like that and Mannion only has 82. When Oregon State played Colorado Mannion only recorded a QBR of 61, while scoring 6 TDs. … I understand that Colorado isn't exactly a powerhouse, but Mariotta scored a 96 QBR against Nicholls St. while throwing less touchdowns and about the same pass completions. So, what's the difference?
Kevin Gemmell
: You basically have two different QBR ratings. One is raw QBR, the other is adjusted QBR. Adjusted takes into account the strength of opponent and various other factors.
Essentially, it boils down to how much of a contribution did the quarterback make? What was his completion percentage on first, second or third down? What were the circumstances under which a touchdown was scored?
Here's
the complete guide to the QBR
that fully explains it all. It's a lot to take in, and requires reading it a few times. But once it all settles, you'll start to look at QB stats differently.
Like all stats, it's not a complete representation of the player. But it's, in my opinion, the best statistical measuring stick out there.
Scappoozer in Scappoose, Ore. writes:
I won't say I told you so. I like your coverage of Pac-12 football and a little homerism to boot but you and Ted have never jumped on your potential champions bandwagon the way the SEC bloggers have never wavered over Alabama. You start your article by saying Oregon is the national title contender we thought they were, huh? Last week Ted puts Stanford back to No. 1 in the Power Rankings? Pick a team and stick with them. Win the Decade is soooo sweet. You drank the Washington Kool-aid, yes they are a good team but pupil of the spread was not ready to beat the teacher of the spread. I've said all along Stanford is too slow and it showed, Washington might be better. I just felt like nationally and through voting the rest of the nation were closer to reality than the Pac-12 bloggers I follow. Washington was overrated and you guys always had them ranked too high and they are not ready to compete for a national championship let alone a Pac-12 championship. Our local reporters can't even pronounce our QB's name correctly, it's MARIO-TA. Go Ducks!
Kevin Gemmell:
First off, the "I told you so" doesn't fly with me. I went back through my entire mailbag for the last six months and this is the first note I got from you. But I'm happy to answer it.
Second, I challenge you go to back through the blog and find a single instance where either Ted or I wrote that Washington was ready to compete for a national championship. I'll save you the time. It's not there. Neither of us ever wrote that.
Did Ted and I like Washington coming into the season? Yep. Still do. Did we expect them to be where they are right now? Yep. No shame in losing on the road to Stanford and at home to Oregon.
The Stanford is too slow argument doesn't work, either. Does anyone really think
Ty Montgomery
looked slow the last couple of weeks?
Yes, Ted did put Stanford on top of the Power Rankings last week. As he noted, he and I squabbled over that decision. But since he gets the final byline, he pulled rank. Just as he had
Paul Richardson
at No. 10 in his midseason top 10 player re-ranking. But since I had the final byline, I swapped Richardson out for Montgomery and I pulled rank.
I get it. You're excited about your team. We're excited about them too. Coming into the season, we both felt it was 50-50 with Stanford and Oregon, and our only reservations where the coaching change. It's clear now that Mark Helfrich has done a phenomenal job and the Ducks haven't missed a beat. In fact, they've gotten better.
We've said all season long we thought the Pac-12 had two teams that could challenge for a national championship. Oregon was always one of those teams.
So go ahead and keep being excited for your team and their possible date with the BCS championship game. But don't forget what happened last year when everyone said Stanford was down. All they did was run off 12 straight, beat Oregon in Eugene and win the Rose Bowl.
Be confident. Be excited. Be proud. But don't get cocky until you're holding a crystal ball.
That, my new friend from whom I expect to hear more, you can quote me on.
2014 TEAM LEADERS
| TEAM | RUSH | PASS | TOTAL |
| --- | --- | --- | --- |
| Offense | 158.2 | 294.6 | 452.8 |
| TEAM | PF | PA | MARGIN |
| Scoring | 35.1 | 23.8 | 11.3 |