December, 21, 2013
12/21/13
10:00
AM PT
The Royal Purple Las Vegas Bowl (3:30 p.m. ET, ABC) features No. 20 Fresno State (11-1) against No. 25 USC (9-4). It's one of just two pre-New Year's Day bowls to feature a matchup of two ranked teams.


Who to watch:
The Bulldogs feature the top-ranked passing offense in the country (409.8 yards per game) and a quarterback --
Derek Carr
-- who is the national leader in passing yards (4,866) and touchdowns (48). Carr's favorite target, wide receiver
Davante Adams
, leads the FBS in catches (122) and touchdowns (23). The Trojans led the Pac-12 with the fewest passing yards allowed per game (214.5) and will look to pressure Carr with a strong front that is led by outside linebacker
Devon Kennard
(9 sacks, 13 TFL) and defensive end
Leonard Williams
(6 sacks, 13.5 TFL).
What to watch:
The USC offensive line will play with new starters at center and right guard after injuries to the regular starters against UCLA. That line will look to protect quarterback
Cody Kessler
and give him time to throw to a pair of dangerous receivers in
Marqise Lee
-- who is as healthy as he's been all year -- and
Nelson Agholor
. Fresno State counters with a defense, led by linebacker
Ejiro Ederaine
, that tied for the national lead in sacks (3.25 per game), but it can be vulnerable in the secondary -- the Bulldogs rank No. 116 in the FBS by allowing 277.4 passing yards per game.
Why to watch:
Both teams have something to prove. Fresno State came close to earning a BCS berth and a shot at an undefeated season before a shocking 62-52 loss to San Jose State in the regular-season finale. The Bulldogs would love to finish with a 12th win -- which would set a school record -- especially one that comes against a big-name opponent such as USC. The Trojans, on the other hand, have fought through a tumultuous season that has them playing under their third head coach. The rallying cry in the weeks leading up to the bowl game was the chance to reach 10 wins, an accomplishment that would mean a lot after all this team has gone through. And, as an aside, this game also will offer something of a preview for next year as these two teams will meet to open the 2014 season.

Prediction:
USC 42, Fresno State 40
December, 21, 2013
12/21/13
6:00
AM PT
Here are five things to watch for the USC Trojans (9-4) in the Royal Purple Las Vegas Bowl matchup against Fresno State (11-1) on Saturday (12:30 p.m. PT, ABC):


1. 10 wins:
The talking point that USC players and coaches used a lot over the past two weeks was the desire to get to 10 wins for the season. And the more you think about it, with all this team has gone through, it really would be a notable accomplishment. It's not often a team has three coaches in one season, and the results usually aren't good. If the Trojans can come away with a victory in this game against a quality opponent in Fresno State, it would be a satisfying way for this group to go out.
2. Stop that Carr:
There's a reason the Bulldogs have won 11 games, and it starts with the passing attack. Fresno State is ranked at the top of the national rankings in passing offense, their quarterback
Derek Carr
leads the nation in passing yards and touchdowns, and his top receiver
Davante Adams
tops the rankings in catches and receiving touchdowns. The Trojans – despite early season concerns in the secondary – ended up leading the Pac-12 in passing defense and a big key in this game will be the ability to get pressure up front with
Devon Kennard
and
Leonard Williams
.
3. O-line openings:
The Trojans will be filling two open spots on the offensive line in this game after
Marcus Martin
(center) and
Aundrey Walker
(right guard) went out with injuries against UCLA. Fortunately, the replacements –
Abe Markowitz
and
John Martinez
– are experienced veterans, but they will have a strong test with a Fresno State defense that is tied for the national lead in sacks. It will be critical to give
Cody Kessler
time to throw to
Marqise Lee
– who is finally healthy – and
Nelson Agholor
to take advantage of a secondary that is ranked No. 116 in the nation against the pass.
4. You're not in El Paso anymore:
There has been a lot of talk leading into the game about the motivation factor for the Trojans. Last season, the team appeared to be less than enthused about a Sun Bowl appearance, and it showed in the performance. Fresno State is an opponent that is more than capable of beating the Trojans if there is a repeat of El Paso, but USC players and coaches say that there will be no such lack of enthusiasm for this game. In fact, several players cited a desire to play well for departed interim coach Ed Orgeron as a key factor.
5. Sark Watch:
New USC coach Steve Sarkisian will be in attendance at the game, though he won't be coaching. Regardless, it will be the first opportunity for the returning USC players to show well in front of their new coach, and you never know what can happen when a fresh set of eyes is doing the evaluations. Just ask
Buck Allen
– he was limited to 14 carries in the first five games under Lane Kiffin but played a larger role once Orgeron took over and became the team MVP.
December, 20, 2013
12/20/13
2:30
PM PT
Cody Kessler
promises this year will be different.
For those with last year's Sun Bowl debacle still fresh in their heads, there might be some cause for concern as USC heads into Saturday's Royal Purple Las Vegas Bowl against Fresno State. Motivation, or lack thereof, doomed the Trojans in the 21-7 loss to Georgia Tech. It served as the final "haha" (in the voice of Nelson Muntz) moment for those whose cup was bubbling over with USC schadenfreude in 2012.
Not again, pledges the USC quarterback. Different team. Different chemistry. Different motivation.
[+] Enlarge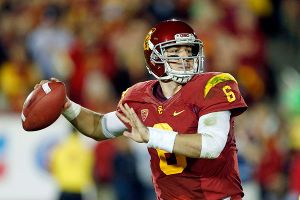 Charles Baus/CSMCody Kessler and the Trojans are on their third head coach this season, but they still have a chance for a 10-win season.
"Obviously last year wasn't the season that we wanted," said Kessler, who only appeared in one game last year and attempted two passes. "It was difficult to see where we finished compared to where we started. A lot of guys weren't into that game. But this season speaks for itself. Getting us to 10 wins puts us in an elite group. We have a chance to finish things off right -- especially for our seniors. These guys have been through everything. Sanctions. Coaching changes. We owe it to them to give it everything we've got to get a win."
Consider Kessler during the first five games, when Lane Kiffin was still the head coach. He was completing 63 percent of his throws, averaging just 166.4 yards per game and had six touchdowns to four interceptions. His raw QBR was 39.9 and his adjusted QBR was 48.9.
Since Kiffin was relieved of his duties and Clay Helton has stepped in to run the team and the offense, there have been significant improvements. He's completing 65 percent of his throws, his yards are up (223.8), his mistakes are down (10 touchdowns to two interceptions) and he's a more efficient quarterback with a raw QBR of 61.8 and an adjusted rating of 70.3.
Part of it has been Helton. Part of it has been the fact that he's got more experience. And part of it was just a change of scenery.
"We've had three head coaches in one season," he says with a gotta-laugh-at-it-attitude. "That's crazy. Coach Helton and I are very close. I'm closer to him than anyone else because he's my position coach. I spend every day with him. We have that connection. I know what he's thinking before he ever calls it.
"But a lot also comes from experience. Playing in tough games like Notre Dame and Oregon State really helped me move forward and feel comfortable. It was hard at first switching between starts because it's tough to establish yourself as a leader. But once I got the job, things started to work out."
He's hopeful things will work out one more time with his friend
Derek Carr
on the other side of the field. Both from Bakersfield, Calif., Kessler and Carr used to train together, so they are friends and familiar with each other's résumés. With 48 touchdowns to just seven interceptions and more than 4,800 yards passing this season, Carr's résumé is a little more polished. But that's not something that concerns Kessler.
"He's a great guy and a great quarterback, but I don't watch a ton of offensive film," he said. "During the game I'll be watching because it's back and forth. If they score, I know we have to go out and score. I know Derek and I know they are capable of putting up a lot of points. Everyone in the country knows that. So we have to eliminate turnovers and finish in the end zone. You can't settle for field goals against these guys."
Of course, another major distraction that they've tried to make a non-distraction has been the presence of new head coach Steve Sarkisian. He replaces popular interim coach Ed Orgeron, who promptly left the program when he wasn't promoted officially to head coach. So far, Kessler said he and his teammates have been fans of Sark's hands-off approach.
"He's been talking to us in team meetings, but we came so far with these coaches and he's letting them finish it out," Kessler said. "He's watching and talking, but his main focus is us getting the 10th win and letting these guys finish it because there was so much time and effort on their part and they deserve it.
"I think he sees how far we've come as a family with these coaches and Sark respects that. I think that says a lot about him. Out of respect for those guys, he wants them to coach us to hopefully what will be that 10th win."
December, 19, 2013
12/19/13
5:30
AM PT
LOS ANGELES – Because of the constantly rehashed circumstances that is their fate in a season that seems like four packed into one, the
USC Trojans
will be looking to end it with a perfect "10" against the
Fresno State Bulldogs
in the 2013 Royal Purple Las Vegas Bowl on Saturday afternoon in Sam Boyd Stadium.
If you're a movie aficionado, when you refer to "10," there is this image of actor Dudley Moore entangled with jaw-dropping actress Bo Derek along with the hypnotic and sensual music of Maurice Ravel's "Bolero" in the background. It was a comedy of sorts, but you never forgot the visuals and the musical score once you saw it on the big screen.
If the Trojans are victorious – and they are favored to do so – it would be bring this most scrutinized team its 10th victory of the season and would allow them to crow like Dudley Moore and finish a most unexpected season with a Bo Derek record. For all its trials and tribulations, a 10-win season would also be the 26th time a USC football team has reached such a celebrated plateau.
In the glorious history of USC football, more often than not, 10 victories is considered the minimum to be cardinal-and-gold acceptable. This team, despite its four losses and unusual circumstances, to say the least, will find itself with its own special identity.
As the Trojans prepare for Saturday's early afternoon kickoff, it seems almost light years since the man with the trademark white visor, sunglasses and oversized play card – not so affectionately referred to as a giant Denny's menu – was calling for bubble screens and a horizontal passing game to end all horizontal passing games.
[+] Enlarge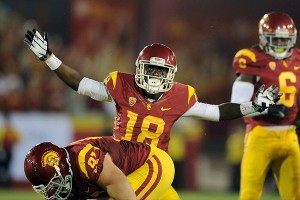 Chris Williams/Icon SMIDion Bailey and the Trojans can win a 10th game in the Royal Purple Las Vegas Bowl, a total that's a benchmark in school history.
Although Lane Kiffin probably should have been given his walking papers after the humiliating Hyundai Sun Bowl loss last New Year's Eve to underdog Georgia Tech in El Paso, USC athletic director Pat Haden eventually pulled the plug in late September on one of the darkest coaching chapters in USC football history.
***
Junior safety
Dion Bailey
: "We've been playing with 30 players and 10 freshmen, so to get to 10 wins will be remarkable."
***
Enter former interim head coach Ed Orgeron, who performed an incredible resuscitation of the football program after Kiffin's early season dismissal. All "The Voice" did was completely turn around the team's personality, give it direction and leadership, a sense of purpose, and an X's and O's philosophy that resulted in a 6-1 Pac-12 record the rest of the way, which included a huge upset of No. 5 Stanford.
Unfortunately for Orgeron, his sense of self-worth and his unification of Trojans nation from players to fans to media was upended when athletic director Haden gave "O" and his team a major awakening by hiring as the new USC head coach Steve Sarkisian, the
Washington Huskies
head coach and a former Trojans assistant with Orgeron under Pete Carroll.
So incensed was the "one heartbeat and one family" Orgeron with Haden's decision, he abruptly resigned, leaving a wake of tears and broken dreams among the Trojans players. Gone but not forgotten, Orgeron will still be in the hearts of the Trojans players taking the field this weekend.
***
Junior defensive tackle
George Uko
: "Ten wins would mean a lot, especially to go through what we've been through and to finish with double digits in victories. We'd like to win it for coach Orgeron."
***
Enter second interim head coach Clay Helton, who had been given the play-calling duties by Orgeron, who instructed Helton to provide a power running game and spread the ball around. The results were stunning, as the Trojans offense came alive as the defense continued to dominate.
Now the folksy southern drawl of Helton and his easygoing personality has the biggest challenge of all, having to motivate the Trojans after the intense, motivational leadership of the strong-willed Orgeron.
This seasonal soap opera recently concluded with the hiring of Sarkisian, who will be in Las Vegas this weekend to view firsthand the nucleus of a team that he is on record as saying is of championship caliber.
***
Junior quarterback
Cody Kessler
: "Like coach Helton told us, there are only so many teams in college football that can get 10 wins, and if we do, we're in an elite group."
***
All of which brings us back to the goal of a 10-win season. Ask any of the current players and they have seemingly have bought into Helton's mantra that 10 wins will forever make them immortal.
And that certainly wouldn't have been predicted for a team that has had more than its allotted time in the proverbial barrel, but a 10-win season would be the type of closure that would even bring a smile to Bo Derek, the original "10."
December, 17, 2013
12/17/13
1:00
PM PT
The Royal Purple Las Vegas Bowl-bound Trojans got a taste of the glitz and glamour of the Strip following the team's practice on Sunday, but it's likely that
Abe Markowitz
never had a clue. Because while many of his teammates took part in a post-workout photo opportunity with a pair of showgirls, the 6-foot-1, 305-pound center/guard was off on the far side of the field getting some extra work in. By the time he made his way toward the exit, all of the commotion had long since ended.
"There's practice and the set schedule of things we do in it every day, but if you have something to work on that isn't in that schedule, you need to make the time and work on it," Markowitz said. "Today, that's what I was doing, and hopefully it helps the team out."
[+] Enlarge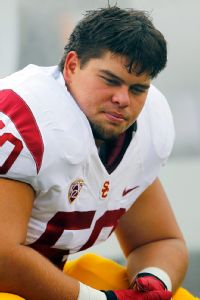 Rich Schultz/Getty ImagesSixth-year senior OL Abe Markowitz, who will play his final game for USC in the Las Vegas Bowl, says "I just want to be remembered as a guy who chased his dream."
It's that blue-collar, no-nonsense work ethic that has served Markowitz well in his long and winding career at USC, as he's shown the consistent ability to step up for his team whenever he's been called upon. And now, with
Marcus Martin
sidelined with a knee injury, the sixth-year senior will see his efforts pay off one last time when he lines up as the Trojans' starting center against Fresno State on Dec. 21.
"I'm trying not to let my emotions get involved in anything," said Markowitz, who will be making the third start of his career, and the first of 2013. "Every game this season, I've prepared like I was a starter -- that's what you do here. That showed, unfortunately, in the UCLA game when Marcus got hurt, and I stepped right in and fulfilled my role for the team. So, this is just another week for me. Maybe in a couple of months when I'm done with my USC experience I can look back and see how special of an experience this was, but right now we're all just locked in."
The Honolulu Punahou product has certainly made his mark for the Trojans, but his career has been anything but conventional.
Markowitz, whose grandfather, Larry, also played football for the Trojans, and whose father, Barry, played across town at UCLA, chose to walk on at USC in 2008 despite holding scholarship offers from the likes of Michigan State and Miami (Ohio). Quickly making a name for himself on the practice field, he was awarded a scholarship in 2010. Ultimately missing that season as well as the next with foot injuries, Markowitz came back to enjoy an extremely productive 2012 campaign, registering two starts and serving a crucial function as a more-than-reliable reserve.
Originally informed following last season that the Trojans no longer had room for him due primarily to an issue involving scholarship limitations stemming from NCAA sanctions, he was close to landing at the University of Hawaii in the offseason before, in a surprise turn of events, he was eventually cleared to rejoin the team at USC in July after gaining a sixth year of eligibility. And while he would no longer be on scholarship, for Markowitz, who had developed deep roots at the university, the simple fact that he was able to remain a Trojan was what counted most
"I love this place and I've definitely enjoyed being here," said Markowitz, who took out a loan to help pay for his final semester of college. "Just being in Southern California, the weather, the culture, my grandparents live here, and I just wanted to finish here."
Markowitz's return also afforded him the opportunity to realize a dream of playing in front of family and friends in his home state when the Trojans took on the Rainbow Warriors in Honolulu in this year's opener. A contest in which he filled in at right guard for a significant portion of the game, it stands out as one of the highlights of his time at USC.
"I got to play a lot in front of my home fans there," said Markowitz, who also participated as a shot putter and discus thrower on the USC track and field program. "My parents were there, old neighbors, people that had really helped me out in high school, and that was really big for me. That was a special thing that I wanted to do, and part of coming back was playing in that game in Hawaii."
And now Markowitz, who is hoping to get a shot at the NFL, is on the cusp of finishing his USC career off in fitting style when the Trojans take on the Bulldogs in less than a week. And while he's determined to do everything he can leading up to the contest to ensure that he's prepared, when it comes to the long-term, it's safe to say that his legacy is already set in stone.
"I just want to be remembered as a guy who chased his dream," Markowitz said. "I've had my few opportunities, and this is my last one. I want kids to know that if they want to chase their dream of walking on some place, then they should do that, because as long as you have the work ethic, and you surround yourself with people that believe in your dream, you can achieve whatever you want."
December, 11, 2013
12/11/13
9:00
AM PT
We continue our look at each of the Pac-12's opponents during the bowl season.
Royal Purple Las Vegas Bowl
Las Vegas, Dec. 21, 12:30 PT, ABC
USC (9-4) vs. Fresno State (11-1)

Fresno State Bulldogs
Coach
: Tim DeRuyter (second year)
Record
: 11-1, 7-1 Mountain West
Combined opponents' record
: 62-83 (.427)
Common opponents
: Utah State. Fresno State beat Utah State 24-17 on Dec. 7, USC beat Utah State 17-14 on Sept. 21 (the final USC victory for Lane Kiffin). Fresno State was scheduled to play Colorado, but the game was canceled due to flooding in Boulder.
Leading passer
:
Derek Carr
, 424-605 (70.1 percent) for 4,866 yards with 48 touchdowns and seven interceptions.
Leading rusher
:
Josh Quezada
, 153-787 (5.1 per carry), six touchdowns.
Leading receiver
:
Davante Adams
, 122-1,645, 23 touchdowns.
Leading tackler
:
Karl Mickelsen
, 88.
What to know:
By now we all know that Fresno State was one bad defensive performance away from probably being a BCS buster. It was the
San Jose State Spartans
who did the busting when they knocked off the Bulldogs 62-52 last month.
Whenever a job is open in an AQ conference, DeRuyter's name gets thrown out there. USC, meanwhile, has undergone a bit of a coaching change, if you hadn't heard.
There wasn't a lot of quality competition on Fresno State's schedule, which is one of the reasons it never cracked the top 15. In fact, its only game against a team from an AQ conference was a 52-51 overtime win over Rutgers in the season opener. Then the Bulldogs played FCS Cal Poly and their game against Colorado was canceled.
A victory legitimizes everything they have done this year. A victory for USC means wounds are starting to heal.
Key matchup
: Carr's passing numbers are insane. And while we can argue the quality of the defenses he faced, he still has to throw it and someone still has to catch it. This sets up an intriguing showdown between Carr, his receivers and USC's pass defense, which was No. 1 in the Pac-12 and holds opponents to 214.5 yards per game and quarterbacks to a 57.3 completion percentage. The Trojans have yielded only 18 touchdowns through the air and tied for second in the conference with 16 interceptions.
December, 8, 2013
12/08/13
8:50
PM PT
Dec. 21, 3:30 p.m. ET, Las Vegas (ABC)
USC TROJANS BREAKDOWN
It's fair to say that probably no team in the nation dealt with more drama than USC this year. How many teams can say they've had four head coaches since August?
[+] Enlarge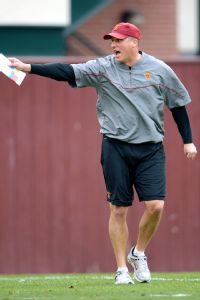 Kirby Lee/USA TODAY SportsOffensive coordinator Clay Helton will step in as head coach for the Trojans in their bowl game.
Lane Kiffin started the season on one of the nation's hottest seats, and that seat melted at Arizona State during a 62-41 defeat that dropped the Trojans to 3-2 on the year and 0-2 in the Pac-12. Kiffin was fired at LAX by athletic director Pat Haden, and Ed Orgeron took over as interim coach. He beat Arizona in his debut, lost 14-10 at Notre Dame, then rolled off five consecutive victories.
At that point, many saw Orgeron as a serious candidate to take over the job full time. But his chances were doused when the Trojans were whipped 35-14 at home against archrival UCLA. When Haden told Orgeron he wouldn't get the job, he promptly resigned, and offensive coordinator Clay Helton will lead the Trojans in their bowl game.
On Dec. 2, news broke that Washington coach Steve Sarkisian, a former USC assistant under Pete Carroll, would be the Trojans' next coach.
This was a far better team after Kiffin's termination, in large part because the offense got better with Helton calling plays instead of Kiffin. A unit that managed just seven points in a home loss to Washington State with Kiffin calling plays averaged 30 points per game during its 6-2 stretch under Orgeron.
The biggest win was a 20-17 takedown of then-No. 4 Stanford. But the Trojans' biggest strength is defense. Coordinator Clancy Pendergast's unit ranked among the nation's top 25 in scoring, total and rushing defense.

vs.

FRESNO STATE BULLDOGS BREAKDOWN
[+] Enlarge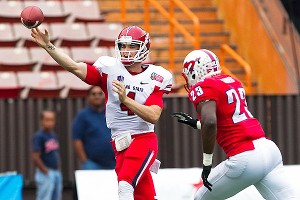 Marco Garcia/USA TODAY SportsDerek Carr has 48 TD passes and just seven interceptions in 2013.
Fresno State was just a couple of plays from an undefeated season and a BCS bowl berth, but a 62-52 loss at San Jose State -- the college football season's ultimate offensive barn burner -- ended those hopes. The Bulldogs therefore had to settle for a Mountain West Conference title and a Las Vegas Bowl berth opposite USC.
The story with the Bulldogs was offense, and the leader of that offense was one of the best quarterbacks in the country in
Derek Carr
, who led the nation with 405.5 yards passing per game, 39 yards more than anyone else. Carr threw for 4,866 yards and 48 touchdowns with just seven interceptions.
The Bulldogs still have something to prove in their bowl game because their pillow-soft scheduled was ridiculed most of the year. It featured an overtime win over Rutgers to open the season and victories over Boise State and Utah State that secured the conference crown. In terms of quality foes, that was about it.
2014 TEAM LEADERS
| TEAM | RUSH | PASS | TOTAL |
| --- | --- | --- | --- |
| Offense | 158.2 | 294.6 | 452.8 |
| TEAM | PF | PA | MARGIN |
| Scoring | 35.1 | 23.8 | 11.3 |