September, 22, 2012
9/22/12
6:43
PM PT
It was over when:
T.J. McDonald
intercepted a
Zach Maynard
pass at the Trojans' 7-yard line late in the third quarter. The score was 17-9 and California was driving, but McDonald stepped right in front of the Maynard pass and thwarted the Golden Bears' scoring opportunity. The Trojans promptly drove the length of the field for a field goal to go up 20-9.


Game ball goes to:
Khaled Holmes
. The USC center didn't play last week due to an ankle injury, and the Trojans' offense struggled in his absence. In this game, USC was without starting left guard
Marcus Martin
and the left tackle spot had a rotation between
Aundrey Walker
and
Max Tuerk
, but with Holmes back in the lineup the offense settled down and put up 488 total yards, including 296 on the ground.
Silas Redd
had 21 carries for 158 yards and a touchdown, while
Curtis McNeal
gained 115 yards on 10 carries.
Stat of the game:
The Cal offense was able to gain only 250 yards of total offense in the game -- 77 rushing and 173 passing. For an offense that had seen so many explosive plays last week against Ohio State, the Bears' longest play from scrimmage today was 17 yards, and they averaged 2.1 yards per rush.
What we learned from USC:
The Trojans responded from a tough loss on the road to Stanford in proper fashion with a solid victory at home. Despite the lofty offensive numbers, the Trojans could have scored a lot more, as they had three turnovers. But it's a win USC will take as it moves to the bye week.
What we learned from Cal:
The Bears were hoping to build upon the momentum of a strong out-of-conference showing last week but were reminded of the reality of where things stand in the Pac-12. This was their ninth straight loss to USC as they were able to muster only three field goals. Of course, that could be considered a positive for the Bears after struggling so much in the kicking game against Ohio State.
September, 22, 2012
9/22/12
6:16
PM PT
Stat of half:
293 total yards
The Trojans have been fairly balanced with 158 rushing yards and 135 passing yards and actually had passed the 300-yard mark of total offense for the half before
Matt Barkley
stumbled for a loss on USC's final play of the half. To contrast, California has 98 yards of total offense.


Player of the half:
USC's defensive line
The Trojans have been able to put good pressure on Cal quarterback
Zach Maynard
and have three sacks by three different players (
Wes Horton
,
Morgan Breslin
and
George Uko
).
What's working:
USC run game
Curtis McNeal
has gone over the 100-yard mark for the fifth time in his career (he has six carries for 113 yards) and
Silas Redd
added a 33-yard touchdown run.
What's not working:
Passing game precision
It's not like the Trojans are having a bad day throwing the football, but it could be a lot better. Barkley has thrown two interceptions and both
Robert Woods
and
Marqise Lee
have dropped catchable long passes -- the one to Lee would have likely gone for a touchdown.
September, 21, 2012
9/21/12
11:22
PM PT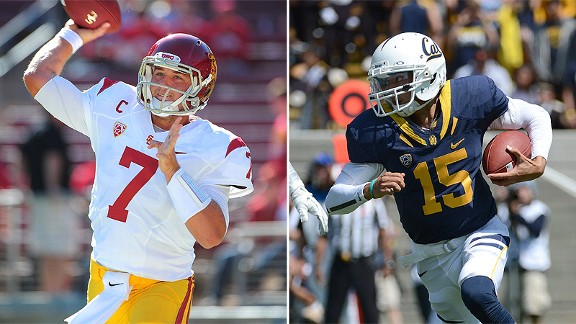 Kyle Terada/US PresswireUSC's Matt Barkley and Cal's Zach Maynard are both aiming to get back to winning on Saturday.
California's visit to USC on Saturday features two quarterbacks looking for redemption. Bears QB
Zach Maynard
wants to redeem himself for a three-interception performance in last season's 30-9 loss to the Trojans.
And Trojans QB
Matt Barkley
? He's looking to redeem a more recent performance.
You might have heard: The then-No. 2 Trojans went down 21-14 at Stanford last weekend, with Barkley throwing a pair of interceptions and no touchdown passes while getting sacked four times.
You could make a case it was the worst performance of his career, but he had a lot of help. Or, rather, little of it. His offensive line was overwhelmed by the Cardinal, so he had no support from a running game and little time to pass. A Stanford defender seemed to be in his face just about every play.
"No matter how great the quarterback is, that will affect you," USC coach Lane Kiffin said.
You also might be able to at least partially excuse Maynard for his woeful performance against the Trojans last year. Cal rushed for just 35 yards -- 1.3 yards per carry -- amid a flurry of five total turnovers.
And Maynard is not the same QB he was last year. In fact, at sixth in the Pac-12, he ranks just one spot behind Barkley in pass efficiency at present.
"I think he feels the speed of the game a little bit better," Cal coach Jeff Tedford said when asked about how Maynard is different this season. "I think he manages the game better."
USC has won eight straight against California, the Bears last winning a triple-overtime classic in 2003. They haven't won in Los Angeles since 2000. And just about all of those games were much like last year: Blowouts.
There is pressure on Tedford as the Bears try to avoid a 1-3 start. Many fans in Berkeley are frustrated with the recent mediocre turn of the program. And there is pressure on Kiffin as he tries to right a team that a week ago was viewed as the top potential foil for the SEC to win a seventh consecutive national title. Kiffin showed his stress this week when he stomped out of a post-practice news conference, apparently peeved over an innocuous question.
Health -- the improving variety -- is notable for each. It appears the Trojans will get back starting center
Khaled Holmes
, who sat out the Stanford loss with an ankle injury. Cal certainly should benefit from the potential return of right tackle
Matt Summers-Gavin
, tight end
Richard Rodgers
and defensive end
Mustafa Jalil
.
While Cal's recent history in this rivalry, particularly on the road, isn't good, the Trojans shouldn't feel safe by any stretch. The Bears showed they can go toe-to-toe on the road with an A-list foe at Ohio State last weekend, a game that included a breakout performance from speedy RB
Brendan Bigelow
. Further, the Bears have a tough front seven, particularly if Jalil is indeed ready to go.
If it's close, it will be interesting to see how things might stack up at kicker. USC's
Alex Wood
, the Trojans' backup, has yet to be allowed to attempt a field goal, while Cal's
Vincenzo D'Amato
missed all three of his attempts last weekend.
September, 19, 2012
9/19/12
8:00
PM PT
By
Pedro Moura
| ESPNLosAngeles.com
LOS ANGELES -- After
USC
beat
Cal
30-9 last year in San Francisco, former Trojans linebacker Chris Galippo memorably said that Bears quarterback
Zach Maynard
"just telegraphed the heck out of his passes" while throwing three interceptions and playing generally poor football.
Well, he's not telegraphing them anymore.
Maynard, a left-handed senior, has demonstrated significant improvement through three games this season, completing 67 percent of his passes as compared to 57 percent last year and improving his quarterback rating roughly 20 percent. He has thrown only two picks in 90 attempts after throwing those three in just 43 attempts against the Trojans last year.
USC linebacker
Dion Bailey
, who had two of those picks in 2011 in a breakout game, said this week that Maynard is no longer the easy-to-read signal-caller he once was.
"He's a completely different quarterback," Bailey said Wednesday after reviewing tape from Cal's nonconference games. "He's more composed, seems like he's got a year more mature, a year better in his accuracy and decision-making."
Cal coach Jeff Tedford, who recruited Maynard out of Buffalo after he started there in 2009, has been similarly impressed. Maynard did nearly lead the Bears to a road victory over Ohio State last weekend and completed 70 percent of his passes in the process, with only one interception in 37 attempts.
"He's really grown," Tedford said on a conference call Tuesday. "Last year, early in the year, we struggled a little bit with just management of the game and turning the football over and speed of the game."
Tedford said Maynard started to improve in the latter half of last season -- his final two regular-season games were his top two of the year. And he has carried that over into 2012.
He'll need to carry it over to the Coliseum on Saturday for Cal to upset USC, who are once again heavy favorites despite losing to Stanford last week.
"He just continues to grow each week and I think he's more comfortable with the offense, comfortable with the speed of the game and protecting the football," Tedford said of Maynard. "He needs to continue to do that against a very athletic, tough USC defense."
August, 13, 2012
8/13/12
2:09
PM PT
By
Pedro Moura
| ESPNLosAngeles.com
Here's the sixth post in our 'film study' series.
Every other day from now until Aug. 25, we're watching one of the games USC played last season and putting up a set of pertinent-to-this-year notes, going of course in chronological order from the Minnesota season opener to the UCLA season finale. At the end, we'll have one last post with our overall takeaways from the re-watching. By then, it'll be the week of this year's opener.
We've already done USC's 19-17 win over Minnesota, 23-14 win over Utah, 38-17 win over Syracuse, 44-23 loss to Arizona State and 48-41 win over Arizona. Here, now, are our five notes — four big things and a bunch of little ones — from USC's 30-9 win over Cal on October 13, 2011, which marked the halfway point of last season.
Bailey's best
He got a little lucky, but
Dion Bailey
played smart ball in creating three turnovers in this game. He forced a fumble from
Keenan Allen
on Cal's fourth play of the game to get the Trojans good field position, then prevented a Bear touchdown at the end of the second quarter with a leaping end-zone interception.
In the fourth, when
Zach Maynard
was leading a little Cal run, Bailey calmly stayed the course in his zone coverage and seized on the opportunity when the ball headed toward him.
Two things of note: We've wondered why Bailey got so many offseason honors compared to his teammate
Hayes Pullard
when it appeared as if Pullard was better than Bailey in each of the first five games of the Trojans' 2011 season. This game serves as an answer in its own right -- there aren't many collegiate defenders capable of creating three takeaways in a single game.
And the other thing: Bailey showed how aware he is when he came up with the pick in the end zone. Instead of trying to make a break for it, he calmly kneeled to give the Trojans a touchback.
Part of Bailey's effectiveness also had to do with the fact that there was an actual pass rush from USC in this game. That wasn't the case very often for the Trojans before this point.
October, 14, 2011
10/14/11
6:31
AM PT
By
Pedro Moura
| ESPNLosAngeles.com
SAN FRANCISCO -- Asked after the game how he thought he performed in USC's 30-9 win over Cal at AT&T Park on Thursday night, Trojans quarterback
Matt Barkley
cut right to the chase.
"Alright," Barkley said. "Just alright.
"Not good enough to win big games, but always stuff to improve on."
That tells the majority of the story right there. Barkley wasn't terrible -- it's hard to be terrible at the college level if you don't throw a pick. But he wasn't good, either -- completing only 19-of-35 passes for a 54 percent completion percentage, his worst rate in a win since November 2009 against Arizona State. He didn't have a game worse than 53 percent all last season.
Barkley knows the meaning of what happened in the San Francisco Giants' stadium Thursday night. He knows that, while the Trojans won comfortably over Cal, they may actually have regressed on offense heading into what could end up being the most important game of their season. He knows that another 54 percent clip against the Irish in eight days will almost certainly mean a Notre Dame win in South Bend.
That's sort of the short-story-told-long of his initial comment, and that's why he was so perturbed about the way he played.
"When you play football, you play to win," Barkley said Thursday. "If we're winning, I'm fine with that.
"But we just can't let mistakes happen over and over again against better teams because then that will hurt us. We really have to get it more fine-tuned."
Unlike earlier points this season, most of the mistakes this week were his. The offensive line wasn't great, no, but it's not going to get any better than it was Thursday. And there were only one or two notable dropped passes from receivers as opposed to the usual four or five.
The biggest errors: two overthrows of
Robert Woods
, both on deep balls for what would probably have been touchdowns and at least would have been 40-yard gainers. There were also some uncharacteristically off passes to other options, too, making for a quite-bad quarterback day all-around combined with Cal's
Zach Maynard
's poor play.
Altogether, it just wasn't very impressive. And Barkley didn't even remember the best throw he made all game afterward, the 39-yard scoring pass to
Marqise Lee
.
"Little things were off," Barkley said by way of explaining went wrong. "Some plays I would throw downfield to a receiver who was tight and then the X receiver wound up wide open on the other side and he could have scored or different things where I put a little too much air under it or not enough or I had to step one way or the other and it threw the timing off on the play."
Asked for his own evaluation of Barkley's play Thursday, Kiffin deferred to his signal-caller and captain, but it was clear he wasn't overly pleased either.
The two men often see eye to eye, and, although it's going to go unsaid in public, they both know that he needs to be better to beat (1) Notre Dame this upcoming week and (2) Stanford the next week.
October, 13, 2011
10/13/11
9:27
PM PT
By
Pedro Moura
| ESPNLosAngeles.com
PASSING ATTACK
Despite Cal's well-examined secondary issues heading into the game,
Matt Barkley
was never able to pick apart the Bears' defensive backs. USC's best pass plays were more a result of impressive moves by
Marqise Lee
than anything else. And this was
Robert Woods
' worst game of 2011.
RUSHING ATTACK
Curtis McNeal
was great, but he didn't make as much of an impact as he could have because he didn't get any carries until the second quarter.
Marc Tyler
had his second straight subpar game;
George Farmer
and the other running backs were non-factors.
IN THE TRENCHES
USC's offensive line was just average. The defensive line got more pressure than it has over the last few weeks, and Cal quarterback
Zach Maynard
was definitely forced into making some throws he didn't want to make. But the Trojans still have to produce more sacks.
DEFENSE
USC produced five turnovers in this game after forcing five in the first five games. Maybe it's on a slight curve, but that's pretty much an automatic 'A.' And the Trojans' run defense was very, very good against a solid runner in Cal's
Isi Sofele
.
SPECIAL TEAMS
Andre Heidari
continues to impress as a freshman kicker, moving his numbers to 10-of-11 on field-goal attempts for the season with his three conversions Thursday.
USC's coverage units were fine apart from
Marvin Jones
' 37-yard punt return in the third, which kick-started Cal.
COACHING
Defensive play-calling was the best it's been all season, and a lot of the offensive decisions made sense. But
Lane Kiffin
's decision to go for it on fourth down on USC's first drive could have cost the Trojans against a better team. Why play
Amir Carlisle
again?
October, 12, 2011
10/12/11
11:46
PM PT
By
Pedro Moura
| ESPNLosAngeles.com
1. Fresh legs: This should be the freshest USC team you see all season long, what with the bye week and all. Will that make a difference come game time? Only time will tell, but Lane Kiffin made a point of not running this team super-hard over the past few days. Monday's and Tuesday's practices were both no-pads, and the Trojans really did everything they could to get as many guys healthy as possible for the toughest three-week stretch of the season that begins Thursday with Cal, Notre Dame and Stanford. The Bears, for what it's worth, played a Thursday night game a week ago and had a full week to recover from that debacle.

2. The 3-4 defense: Cal, coached defensively by former NFL coordinator Clancy Pendergast is the first 3-4 team the Trojans will play this season and the Bears' strength defensively is in their stout defensive line and playmaking linebacking corps. But the Bears don't stick to the traditional 3-4 -- from what USC has seen on film over the last week and a half, they actually mix it up an inordinate amount and do everything they can to confuse offenses. What will the defensive front do against a suspect USC offensive line? That's your biggest worry heading into this game if you're a Trojan fan. Three out of five guys on the line have never faced a 3-4 defense in college, which is certainly cause for concern.

3. George Farmer: He's been the talk of the town this week at USC practice and all over the conference, really, with out-of-town reporters phoning in to Kiffin's conference call Tuesday just to ask about Farmer and his progress. It's not very likely his play will change the outcome of Thursday's game, but it'll be fun to pay attention to, nonetheless. And there's always the potential that, as Kiffin and his staff are quite clearly hoping for, Farmer breaks one of his first touches off for a big gain and gives USC an early boost against the Bears. Here's the thing: Cal doesn't really know anything about Farmer's running style in the backfield. There's no film of him ever having played the position, unless the Bears somehow hacked South L.A. Pop Warner footage from six or seven years ago.

4. Select reserves: USC would be dramatically helped if two players were able to suit up on Thursday: linebacker Lamar Dawson (ankle) and cornerback Torin Harris (shoulder). Neither guy has participated fully in practice this week but both could conceivably play; Kiffin called both game-time decisions on Tuesday. Dawson's key because he allows Chris Galippo, the starting middle linebacker, to stay fresh and play a better all-around game. Harris is important because the Trojans need three dependable corners available so that they can use a nickel defense, which they didn't do a single time when he was out against Arizona.

5. The receiving duos: A week ago, when Cal played Oregon on ESPN on that Thursday night, the broadcast team of Rece Davis and Jesse Palmer agreed that the Bears' pass-catching tandem of Keenan Allen and Marvin Jones was the best in the Pac-12 conference. Naturally, Kiffin took offense to that, and he brought it up to the media over the weekend while seeming to believe that his own duo of Robert Woods and Marqise Lee is better. The stats are similar, with Woods-Lee ahead by seven catches but Allen-Jones ahead by 39 yards; thus, the best way to prove which one's indeed better than the other is, of course, on the gridiron on Thursday. USC quarterback Matt Barkley and Cal quarterback Zach Maynard will likely throw the majority of balls in the direction of one of those four players.
October, 9, 2011
10/09/11
7:25
AM PT
By
Pedro Moura
| ESPNLosAngeles.com
USC's struggles over the last few years of Pac-12 play don't really apply to the California Bears.

Jeff Tedford's squads, while consistently solid nationally and often a force in the conference, have just not been an issue for the Trojans of late. In 2008, USC shut down Cal's offense entirely and won 17-3. In 2009, the Trojans blew the Bears out, 30-3, in a game dedicated to Stafon Johnson, who had dropped a bench-press bar on his throat in the week leading up to it. And, last year, at the Coliseum, USC led 42-0 at halftime before pulling away with a comfortable 48-14 win.

Going back further, the Trojans haven't lost to Cal since a triple-overtime game in Berkeley in 2003, a game in which future Super Bowl-winner Aaron Rodgers was replaced in the second half becaise of poor play. The 2011 Bears starting signal-caller, Zach Maynard, has been replaced by a backup, Allan Bridgford, twice this season. But those appearances came later in the game, in one case because of an injury and in the other because of a blowout.

Maynard, a Buffalo transfer, has proven to have well-developed chemistry with his top two receivers in Keenan Allen and Marvin Jones. Running back Isi Sofele stepped right in for Shane Vereen, who left to the NFL, but the Bears defense has been the primary issue at fault for the team's 3-2 start.

Cal was 3-0 at first, after a trio of non-conference games. But Keith Price and Washington found a way to beat the Bears last month in Seattle, and then the Bears again struggled to keep up with Oregon last week in Eugene. The latest problem is the pass defense, especially now, with top corner Marc Anthony out for the foreseeable future and a true freshman, Stefan McClure, in for him.

With how much trouble USC's quarterback-receiver tandem of Matt Barkley and Robert Woods has caused some better defenses so far this year, it's not hard to imagine a situation where Woods surpasses 200 receiving yards on Thursday at AT&T Park.

Cal's run defense allowed a ton of yards (239) to Oregon's LaMichael James on Thursday, but that's not indicative of its normal play. Washington running back Chris Polk gained three yards a carry against the Bears in that Huskies win, and Fresno State's Robbie Rouse and Colorado's Rodney Stewart both ran the ball poorly earlier this year, too.

A Marc Tyler-dominated day is not likely for USC in what promises to be an unusual environment at AT&T Park, where only a handful of Trojans have played a football game previously.

A Barkley-to-Woods one is.
September, 27, 2011
9/27/11
9:25
AM PT
By
Pedro Moura
| ESPNLosAngeles.com
It's not a winning streak or a losing streak -- yet.
But it's a streak all the same, and it began Saturday against Arizona State, when Sun Devils quarterback
Brock Osweiler
tore up the Trojans defense, rendering their pass irrelevant and their secondary ineffective.

From now on, USC's going to face a lot of Osweiler-quality quarterbacks this season. The Pac-12 is, for all intents and purposes, a quarterback's conference. And the Trojans are going to be challenged in the same ways that Osweiler tested them in Tempe.
"We're gonna hit a streak," Trojans coach
Lane Kiffin
said this week. "We're going to have to get better in what we're doing."
That streak begins Saturday with Arizona, a 12:30 p.m. game at the Coliseum. Wildcats quarterback
Nick Foles
' numbers have been spectacular so far this season, the Michigan State transfer throwing for 10 touchdowns and no interceptions with a completion percentage higher than 70 percent.
After Foles, the Trojans will face Cal and quarterback
Zach Maynard
, whose numbers are strikingly similar to
Matt Barkley
's this year aside from a weaker completion percentage. Then comes Notre Dame and
Tommy Rees
, who beat USC last year, and Stanford and
Andrew Luck
.
2014 TEAM LEADERS
| TEAM | RUSH | PASS | TOTAL |
| --- | --- | --- | --- |
| Offense | 158.2 | 294.6 | 452.8 |
| TEAM | PF | PA | MARGIN |
| Scoring | 35.1 | 23.8 | 11.3 |