September, 19, 2014
Sep 19
11:08
AM PT
Facing the
Los Angeles Angels
' Triple-A lineup Thursday (all the starters rested after the Angels clinched the AL West title Wednesday night),
Felix Hernandez
crushed: 7 IP, 3 H, 0 R, 2 BB, 11 K. He lowered his ERA to 2.07.
And he didn't get the win. The Mariners did
finally capture the victory
when
Logan Morrison
hit a three-run homer in the ninth, but Hernandez was left with a no-decision.
That's now three no-decisions this season for Hernandez in games in which he allowed zero runs, on top of four no-decisions and a loss when he allowed one run. Plus two no-decisions and two losses when he allowed two runs. You get the idea: The Mariners don't score many runs for their King.
[+] Enlarge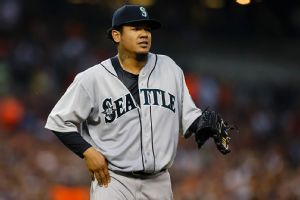 Rick Osentoski/USA TODAY SportsWhat more can Felix Hernandez do? (Maybe his run support would improve if they let pitchers hit in the American League.)
From ESPN Stats & Info: This was the 16th time in his career that Hernandez has fanned 10 or more batters, allowed zero earned runs and did not receive the win. The pitchers with the most such games over the past 100 years:
Nolan Ryan: 19
Chris Short: 18
Vida Blue: 17
Felix Hernandez: 16
Jake Peavy
: 16
Sam McDowell: 16
Bob Veale: 16
Also, from ESPN Stats & Info: The Mariners have scored three runs or fewer in more than half of his career starts. Highest percentages since 1969:
Jon Matlack: 54.1 percent (172 of 318)
Steve Rogers: 52.7 percent (207 of 393)
Felix Hernandez: 52.5 percent (158 of 301)
Mike Scott: 52.1 percent (166 of 319)
Nolan Ryan: 51.7 percent (390 of 754)
Interesting list. Matlack spent his best years in the 1970s with some mediocre Mets clubs, pitching in Shea Stadium, a low run-scoring environment. In 1974, he tossed seven shutouts and still went just 13-15. He then finished with some bad Rangers teams in the late '70s and early '80s. Rogers pitched his entire career with the Expos from 1973 to 1985. They were well above .500 from 1979 to 1985, so a lot of those games must have come early in his career. He led the NL in losses in 1974 (even though he was an All-Star that year) and 1976, when he had a 3.21 ERA. Scott and Ryan both pitched in the Astrodome, where runs were hard to come by. Ryan spent a lot of years in Anaheim, another pitchers' park, and he had some awful offenses behind him in his early Angels seasons. He went 19-16 in 1972 for a team that averaged just 2.93 runs per game, an offense that makes the 2014 Mariners look like the 1927 Yankees.
Then we have
Jeff Samardzija
of the A's. On Wednesday, he tossed eight scoreless innings, left with a slim 1-0 lead and then saw
Sean Doolittle
cough up the lead in the ninth. He's now 6-12 despite a 2.98 ERA. You know how many pitchers have ever started 30 games, had an ERA below 3.00 and won six or fewer games? One! Some poor sap named Fred Glade for the 1905 St. Louis Browns. His nickname: Lucky.
(Actually, Glade wasn't
some poor sap
. He came from a wealthy family who owned a milling business that would eventually become part of ConAgra.)
Samardzija has allowed zero runs five times this year -- twice with the A's, three times with the Cubs -- and has received a no-decision each time. He's allowed one run five times and is just 2-0 in those games.
Going back to 1969, here are the pitchers with the most starts in a season of allowing no runs without getting the win:
Dustin Hermanson
, 1997: 6 (33.1 IP)
Roger Clemens
, 2005: 6 (40 IP)
Clayton Kershaw
, 2009: 6 (38.2 IP)
Jimmy Key, 1985: 5 (27 IP)
Chris Young
, 2007: 5 (25 IP)
Jeff Samardzija, 2014: 5 (35 IP)
Samardzija has eight games where he allowed no runs or one run and failed to get a win. Since 1969, two pitchers have had nine such games in a season: Kershaw in 2009 and Jose DeLeon in 1991. (Felix also has eight such games this year.)
Talk about two unlucky pitchers.
And yet we still hear some people talk about how there is an "art" to winning games.
Sure, it's called pitching well and getting run support.
September, 19, 2014
Sep 19
10:00
AM PT
The Rangers begin their final road series of the season, a three-game set against the
Los Angeles Angels
. The Rangers have struggled badly against the Angels this season, going 3-13.
Here's a preview:
What's up with the Angels?
There's little drama going on with the newly crowned AL West champions. However, RF
Josh Hamilton
has been shut down after dealing with sharp, stabbing pains in his chest and right rib cage. Hamilton's status for the postseason is uncertain. No matter, the Angels are 2 ½ games ahead of Baltimore for the best record in baseball and are assured of at least home-field advantage in the ALDS. Expect the Angels to sit their regulars in the final days of the regular season.

What's up with the Rangers?
They're playing spoiler and have won a season-high six consecutive games. During this stretch, the Rangers have messed up the playoff hopes of Atlanta and now Oakland, which is barely holding onto the second wild card spot in the AL. During this six-game win streak, opponents are hitting just .217 and the pitchers have a 2.00 ERA. In Thursday's win over the Athletics, 3B
Adrian Beltre
became the all-time career hits leader for players from the Dominican Republic with 2,591.
The Battle for No. 1:
The Rangers have a nice win streak going that is not only boosting confidence in the clubhouse, but could also help Tim Bogar's case to become the full-time manager next season. Despite their recent success, the Rangers still hold the worst record in baseball at 60-92, 2 ½ games back of Arizona and Colorado (62-91).
The pitching matchups:
Friday: RHP
Lisalverto Bonilla
(1-0, 4.66) vs. LHP
Hector Santiago
(5-8, 3.55). Saturday:
Colby Lewis
(10-13, 5.12) vs. RHP
Jered Weaver
(17-8, 3.50). Sunday: RHP
Nick Tepesch
(5-10, 4.47) vs. RHP
Cory Rasmus
(3-1, 2.57).
September, 18, 2014
Sep 18
10:25
PM PT
Associated Press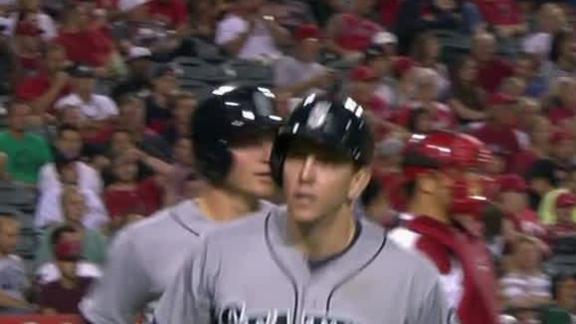 ANAHEIM, Calif. -- Logan Morrison hit a three-run homer with two outs in the ninth inning that broke a scoreless tie, and the Seattle Mariners boosted their wild-card hopes with a 3-1 victory over the Los Angeles Angels on Thursday night.
With just their third win in nine games, the Mariners pulled within one game of the slumping Oakland Athletics for the second AL wild-card spot.
Mariners ace Felix Hernandez struck out 11 during seven innings of three-hit ball while getting no decision.
Seattle awoke from 17 consecutive scoreless innings with a clutch ninth-inning burst against Kevin Jepsen (0-2).
Wade LeBlanc pitched three-hit ball into the sixth inning for the major league-leading Angels, who scratched ace Jered Weaver and fielded a lineup of reserves a day after clinching the AL West title.
Tom Wilhelmsen (3-2) escaped a bases-loaded jam of his own making in the eighth.
Fernando Rodney allowed Hank Conger's homer in the ninth before finishing his 46th save.
September, 18, 2014
Sep 18
7:23
PM PT
ESPN.com news services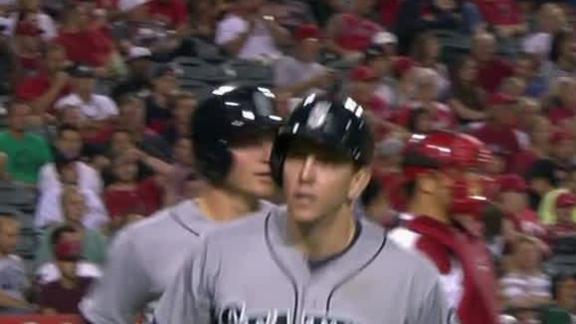 Los Angeles Angels outfielder Josh Hamilton has been shut down due to a sharp, stabbing pain in his chest and right rib cage and his availability for the playoffs is in question.
Hamilton, 33, played Tuesday night after missing 11 games due to a shoulder injury, but was unable to go on Wednesday as the Angels wrapped up the AL West title with a 5-0 win over the Mariners.
Hamilton, who said this latest injury makes it hard for him to take deep breaths, said he started to feel the pain on Monday, and it got worse when he played on Tuesday.
"I don't know what to tell you as far as long term, short term or whatever," Hamilton told the newspaper before Thursday night's game against Seattle. "But I'm going to do whatever I need to do to get back on the field."
Hamilton is hitting .263 with 10 home runs and 44 RBIs in 89 games this season.
September, 18, 2014
Sep 18
1:01
AM PT
ANAHEIM, Calif. -- The
Los Angeles Angels
knew a long time ago this day would come.
The 95 baseballs affixed to the wall of their clubhouse for every game they have won this season guaranteed it would happen sooner or later.
[+] Enlarge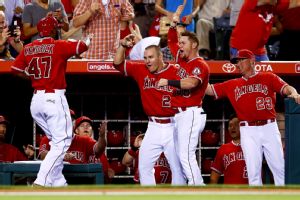 Jeff Gross/Getty ImagesMike Trout, second from left, congratulates Howie Kendrick after scoring a run Wednesday. The Angels clinched the AL West, sending Trout to the playoffs for the first time.
The 18 games they won over the past 22 all but cemented it would be the former rather than the latter.
In the end, the Angels were finally able to celebrate their first AL West Division title since 2009 after huddling around the television sets in their clubhouse, watching the
Texas Rangers
' improbable six-run ninth inning comeback win over the Oakland A's to seal the championship.
It was, of course, the Rangers and the A's over the past four seasons that ruled the division the Angels controlled from 2004 to 2009, winning the AL West five times in six years. A lot has changed over the past four years. The Angels went from a small-ball team to big-league spenders that were in the mix for every big name free agent, winning their fair share of battles by adding
Albert Pujols
,
Josh Hamilton
and
C.J. Wilson
.
With those big names and big contracts came big expectations that they failed to match over the past four years. But along the way they added young players who would turn into young stars who would eventually outshine their overpaid teammates.
And no player has shined brighter over the past three seasons for the Angels than
Mike Trout
, who was selected with the 25th pick in the 2009 draft when he was only 17 and the team was a postseason regular. Five years later, Trout closed his eyes tight as champagne was poured over his head. He was in left field attempting to high-five every Angels fan who reached out of the stands.
"I can't explain it, it's an unbelievable feeling," Trout said as he wiped champagne out of his eyes. "It feels awesome. I'm speechless."
While Trout, who turned 23 last month, is already regarded as the most talented player in baseball, he has picked the brains of older players since he came into the league. He has been talking to Pujols for the past three seasons about playing in the postseason. This year he has added Pujols' former teammate with
St. Louis Cardinals
,
David Freese
, to the conversation. Freese was the World Series MVP in 2011.
"I picked their brains every once in a while," Trout said. "Albert has been there and Freese has been there. They'll lead us the right way. It gives us all in the clubhouse an edge."
Pujols, 34, was expected to be the leader of the Angels on and off the field after signing a 10-year, $254 million contract following the 2011 World Series victory, but he understood quickly the Angels have something special in Trout. As Trout enjoyed his first champagne celebration, Pujols smiled from afar.
"Trout is a special player," Pujols said. "I said it over the last couple of years. Players like Trout don't come around often; maybe once every 30 or 40 years. This city is really blessed to see a young player like Trout and hopefully he wins the MVP this year. I'm pretty sure we're going to continue to talk, but I'm going to make sure he understands that this is just a little taste of what's better for us in the future when we hopefully get to a World Series and win it."
September, 17, 2014
Sep 17
9:59
PM PT
Associated Press
ANAHEIM, Calif. -- C.J. Wilson pitched seven dominant innings of one-hit ball, C.J. Cron hit a three-run homer and the Los Angeles Angels shut out the Seattle Mariners 5-0 and clinched the AL West title when the A's lost to the Rangers 6-1 an hour later Wednesday night.
Los Angeles clinched its first AL West title since 2009.
Howie Kendrick sparked the Angels' five-run rally in the seventh by scoring from first base when Chris Denorfia misplayed David Freese's single to right for an error.
Los Angeles' surge broke up a pitchers' duel between Wilson and Seattle rookie James Paxton, who traded zeros until the seventh.
September, 17, 2014
Sep 17
5:39
PM PT
By
ESPN Stats & Information
The Mariners and Angels will square off in Game 3 of a four-game series tonight at Angel Stadium of Anaheim (10 p.m. ET on ESPN/WatchESPN).
After a blowout 13-2 victory Tuesday, Seattle enters the night one game behind the Tigers for the last AL wild-card spot while sporting an American League-best 43-29 record on the road.
Conversely, the Angels are an MLB-best 49-25 at home, and after already clinching a playoff spot Monday, they can officially lock up the AL West with a win.
M's masterful on the mound
The Mariners enter this series with a 3.02 team ERA, best in MLB. The last team to finish a season with a team ERA 3.00 or lower was the 1989 Dodgers (2.95). Barring a pitching collapse in the team's last 12 games, the Mariners will finish with the lowest team ERA in team history.
Rookie under the radar
They have a good chance of maintaining that trend with rookie southpaw
James Paxton
taking the hill, who is 9-2 with a 1.73 earned run average in his 14 games to date. The Elias Sports Bureau notes that since 1913 (first season earned runs were tracked), only two other pitchers have won at least 10 of their first 15 career starts while recording an ERA below 2.00 -- Tiny Bonham for the Yankees in 1940-1941 and Cal Eldred for the Brewers in 1991-1992.
Paxton will look for continued success with his curveball, a pitch he throws 18 percent of the time, which opponents have hit just .163 off this season. This may come in handy considering the Angels are batting .220 all season against curveballs, compared with .279 off fastballs, which Paxton throws 67 percent of the time.
Halo history
With a win, Los Angeles would grab its ninth division title and sixth for Mike Scioscia. It's been a banner season, as the Angels' current winning percentage of .624 would be their highest in franchise history. The Halos are also poised to have one of their biggest positive turnarounds from one season to the next, already having won 16 more games than they did in 2013, which is good for the second-best swing in team history (excluding years following labor stoppages).
Trying to right the ship
Southpaw C.J. Wilson toes the rubber tonight featuring a 4.61 ERA, his highest since becoming a starting pitcher full-time in 2010. His highest line-drive and walk rates since 2010 have contributed to his struggles.
Quick Hitters
•
Robinson Canó
has 55 multihit games this season, second-most in the American League.
• Seattle's OPS against lefties is .656, 22 points higher than it is against righties.
•
Josh Hamilton
is swinging at the first pitch at a lower rate than he had in any of the last five seasons, 39 percent of the time. He's batting .346 on those pitches.
September, 16, 2014
Sep 16
10:44
PM PT
Associated Press
ANAHEIM, Calif. -- Mike Zunino's two-run double keyed a four-run fifth inning and the Seattle Mariners climbed within a game of the second AL wild-card spot by routing the Los Angeles Angels 13-2 on Tuesday night.
The Mariners haven't been to the postseason since 2001, when they won 116 games under manager Lou Piniella and tied the major league mark set by the 1906 Chicago Cubs.
One night after becoming the first team in the majors to secure a playoff trip, the Angels lost for only the fourth time in 21 games. But their magic number for clinching the AL West went down to two because of Oakland's 6-3 loss to Texas.
The Athletics still lead the wild-card race by a game over Kansas City, which has a one-game edge on the Mariners for the final postseason berth in the AL.
September, 16, 2014
Sep 16
3:56
PM PT
ESPN.com news services
[+] Enlarge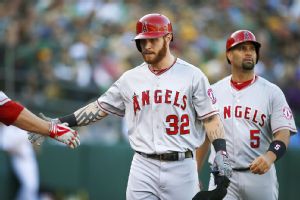 AP Photo/Tony AvelarJosh Hamilton and Albert Pujols are back in the lineup for the first-place Angels.
Albert Pujols was in the Los Angeles Angels' lineup Tuesday one day after leaving a game early with a cramp in his left hamstring and so was Josh Hamilton, who is returning after missing 11 games with a shoulder injury.
Matt Shoemaker, meanwhile, was expected to miss at least one turn in the rotation because of a mild strain on his left side.
Angels manager Mike Scioscia revealed the injury updates Tuesday, one day after his team became the first in the majors to clinch a playoff spot this season.
Pujols is playing first base and batting third while Hamilton is batting sixth as the designated hitter Tuesday against the Seattle Mariners.
On Monday night, Pujols wrote off the cramp to dehydration on another hot day in Orange County, and had said he expected to play Tuesday.
Hamilton is returning a day earlier than expected. On Monday, manager Mike Scioscia said he considered Hamilton's workout a "breakthrough" and had expected him to return as the DH on Wednesday night.
September, 15, 2014
Sep 15
10:14
PM PT
Associated Press
ANAHEIM, Calif. -- The Los Angeles Angels became the first team in the major leagues to clinch a playoff spot on Monday night, with Matt Shoemaker pitching five-hit ball into the eighth inning of an 8-1 victory over the Seattle Mariners.
David Freese and Brennan Boesch homered for the big league-leading Angels (94-56), who reduced their magic number to three in the AL West race with their 11th victory in 12 games. Los Angeles is assured of at least a wild card berth in its first postseason since 2009.
Albert Pujols left the game in the third inning with a left hamstring cramp after hitting a three-run double off Hisashi Iwakuma (14-8) for Los Angeles' first runs.
The Mariners (80-69) dropped two games behind Kansas City for the second AL wild card spot with their fifth loss in six games.
September, 15, 2014
Sep 15
8:31
PM PT
ESPN.com news services
[+] Enlarge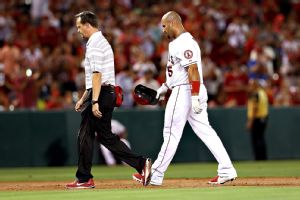 Stephen Dunn/Getty ImagesAlbert Pujols left in the third inning with a hamstring cramp. He said he expects to play Tuesday.
ANAHEIM, Calif. -- Albert Pujols left the Los Angeles Angels' 8-1 win Monday night over the Mariners with a cramp in his left hamstring that he developed while running out a bases-clearing double.
Pujols left in the third inning after his three-run drive down the left-field line.
Pujols wrote off the cramp to dehydration on another hot day in Orange County, and he expects to play Tuesday.
"I knew right away it was a cramp,'' Pujols told reporters. "It has been really hot the last couple of days and you can put as much fluids in your body as you can, but at the end of the day, you can't ignore the weather.''
The three-time National League MVP held the back of his left leg as he slowly jogged to second base while Mike Trout slid under the cutoff man's throw at home.
After manager Mike Scioscia and the Angels' training staff checked on him, Pujols left the field walking smoothly.