Slow down, Hideki
March, 13, 2010
3/13/10
12:06
PM PT
SURPRISE, Ariz. --
Hideki Matsui
didn't need a translator.
He had just scored from first base on
Kendry Morales's
triple in the Angels Cactus League game against the Chicago White Sox Friday, putting his surgically repaired knees to a stiff test. It may have been a little early in the spring for that kind of exertion. Matsui was in just his second spring game and he still hasn't played an inning in the outfield.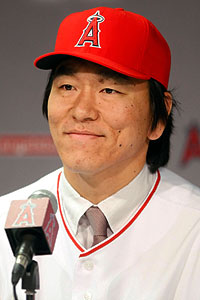 Jeff Gross/Getty Images
Hideki Matsui.
"I can't tell you what he said when he came in the clubhouse," Manager
Mike Scioscia
said. "It was funny."
Reporters badgered Scioscia to reveal Matsui's words, but he steadfastly refused. And it likely wasn't printable on a family website anyway.
The Angels still have no idea whether Matsui will be able to contribute anything with his glove, but Scioscia insists his knees won't affect his offense. Matsui hasn't played in the outfield since 2008.
"There's no trepidation for Hideki doing things now as far as in the batter's box or running the bases," Scioscia said. "Eventually, we'll cross that line and see if he can get out and play a little outfield."
Matsui was back at designated hitter for the Angels' Saturday game against the Kansas City Royals.