March, 3, 2015
Mar 3
7:04
AM PT
March, 2, 2015
Mar 2
10:08
PM PT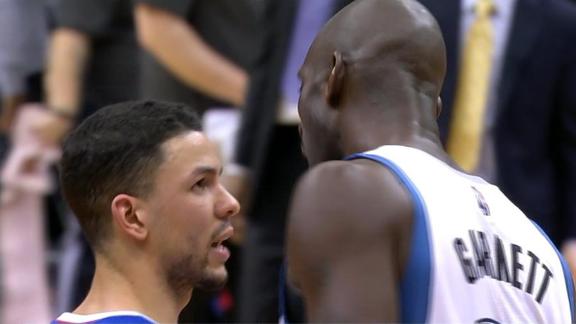 MINNEAPOLIS - Although Doc Rivers and Kevin Garnett showered each other with praise before Monday's game between the Clippers and Timberwolves, Austin Rivers wasn't as complimentary late in the fourth quarter, when both players received double technicals for jawing at each other.
With 3:23 left in the game and the Clippers leading the Minnesota Timberwolves 102-97, Rivers looked like he intentionally bumped Garnett as he walked back to the Clippers bench. Garnett then elbowed him and pointed at him, and Rivers got in Garnett's face before both were given a technical foul.
"I thought Austin should have punched him, personally," Doc Rivers said with a smile after the game.
Austin Rivers, however, wasn't smiling and sported a welt on his forehead that he said came as a result of a Garnett elbow earlier in the game.
"He elbowed me in my head, and that's not going to fly, really," Rivers said. "I have all the respect in the world for him. He's one of the best players to ever play the game, but at the end of the day, I'm a man just like he is, and that's all there is to it."
Rivers said Garnett was physical with him the entire game before they both received technicals in the fourth quarter.
"I let it go, and then we went and I didn't have the ball, and he just hit me in my stomach and knocked the wind [out of me], and Chris [Paul] threw me the ball, and I wasn't prepared for it because I had just lost my wind, and I threw it back to him," he said. "The play went on and just because I bumped him a little bit, he turned around and did all that stuff."
When asked if he bumped Garnett intentionally, Rivers said, "I was walking to my bench, and he was in my way, and I wasn't moving."
March, 2, 2015
Mar 2
9:57
PM PT
MINNEAPOLIS -- Doc Rivers was hoping for the other storybook ending.
You know, the one in which he would be reunited with
Kevin Garnett
in Los Angeles with the Clippers and they would chase another championship together.
But even Rivers has to admit that his alternate ending wasn't nearly as good as the one that eventually led Garnett back to Minneapolis where his career started 20 years ago.
[+] Enlarge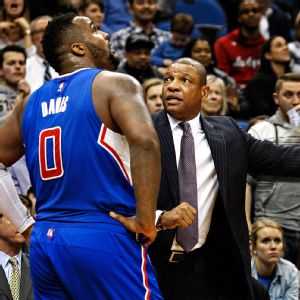 Bruce Kluckhohn/USA TODAY SportsDoc Rivers would have loved to coach Kevin Garnett again but call's KG's return to Minnesota "awesome."
"I would've loved for him to come to the Clippers and go for another one, but even me, who's competitive as hell, has to say that Kevin Garnett ended up in the perfect spot," the Clippers coach said.
"This is awesome; not only just him returning home, but him in his role of teaching."
The championship that Rivers and Garnett won together with the
Boston Celtics
in 2008 and the one they nearly won together in 2010 will always bond them together. They almost had a reunion when Rivers was traded to the Clippers two years ago for a first-round pick in this year's draft. One of the initial incarnations of the deal included a side deal that had the Clippers sending
DeAndre Jordan
and a first-round pick to the Celtics for Garnett, contingent on the Rivers deal going through.
It was a side deal then-commissioner David Stern nixed because such side deals violate league rules. In fact, the NBA banned the Celtics and Clippers from making a deal of any kind for one year as a precautionary measure. By the time the moratorium was over, almost all of the players Rivers coached in Boston were scattered throughout the league.
"I couldn't be a part of that," Rivers said of the trade talks two years ago. "I would be negotiating against myself. That was a tough one. I literally had to stay out. I kept hearing what the Clippers wanted and what the Celtics wanted, and I had to stay out."
Rivers now says he wanted to keep Jordan and not trade him for Garnett, but it's hard to imagine Garnett being included in the original deal if that was the case. Either way, it has worked out for the Clippers with the 26-year-old Jordan entering his prime while the 38-year-old Garnett plays the final games of his career.
"From Day 1 I wanted the team that I saw," Rivers said. "Not a new team, especially with DJ's youth."
Rivers, however, does have a strong affinity for the players and coaches he won a championship with in Boston. He said winning a title causes a blood transfusion between everyone involved, making you brothers for life, a line he first heard from Bill Parcells. He signed Glen "Big Baby" Davis after last season's trade deadline, unsuccessfully went after
Paul Pierce
this offseason, and held out hope he could get Garnett,
Kendrick Perkins
or Ray Allen to join him at various times this season.
"I don't know if I was optimistic," Rivers said of getting Garnett this season in a possible buyout situation. "I didn't think they would ever do a buyout. They're in the playoff race and it didn't make a lot of sense to me even though everywhere I read and heard said we were going to get him."
Garnett, who owns a home in Malibu, California, wasn't against joining the Clippers and Rivers. But when the opportunity arose to return to Minneapolis and end his career where it started, it made too much sense.
"Doc had a huge impact on my career, leaving here, teaching us -- all the guys I joined in Boston -- teaching us the true meaning of teamwork, teammates, having some self-pride, playing for the next guy," Garnett said. "It was a great time in my life, times I'll never forget. Monumental times, some of the best times of my basketball career. He's a great teacher, great motivator. It was a great time in my life."
Garnett knows those times cannot be replicated as he tries to do something different with a young team and his former coach, Flip Saunders.
"I know Kevin has great respect and loves Doc as I do, but I think Kevin looked at it and said, 'I want to have an impact in an organization,'" Saunders said. "Having been here, he thought coming back here he could continue having a huge impact in the organization. I think that, more than everything, was the direction he wanted to go."
Rivers and Garnett were never able to reunite after leaving Boston two years ago but that doesn't mean Garnett hasn't had an impact on what Rivers is doing with the Clippers.
"I took a lot from him," Rivers said. "I always think that I took more from him than he took from me. He was good before he got to me. He didn't need me. I just loved his professionalism. I'm sure what he's doing with those young guys, they're starting to realize. I'm sure they probably thought it was fake, like no one could be this intense, no one could be this professional, no one could be this bought in to their team.
"I think playing with them they're going to all learn that [it's not fake]. It's really neat. I thought in Boston he changed our culture. He literally changed our culture. You look at all the things he stands for and he follows through on those things."
March, 2, 2015
Mar 2
7:50
PM PT
MINNEAPOLIS -- Before Monday's game against the
Minnesota Timberwolves
, the
Los Angeles Clippers
received some good news.
Blake Griffin
had started running full-tilt and his conditioning and cardio were actually better than they were before he underwent surgery three weeks ago to treat a staph infection.
If things continue to progress this week as they have, there's an outside chance Griffin could be back in time for Sunday's game against the
Golden State Warriors
.
The Clippers also got some good news in coming back from seven points down -- they were up by 18 in the first half -- to defeat the Timberwolves 110-105, their seventh win in 10 games without Griffin.
Sandwiched in between, however, the Clippers discovered they would have to deal with two more injuries when they return home.
Matt Barnes
was ruled out of Monday's game with a right calf strain he suffered on Sunday and
Jamal Crawford
missed the second half after suffering a right calf contusion in the first half. Both players will be re-evaluated when the team returns to Los Angeles on Tuesday. To make things worse, J.J. Redick, who had 18 points, was ejected in the fourth quarter for arguing with an official, forcing Doc Rivers to play
Hedo Turkoglu
,
Austin Rivers
,
Dahntay Jones
and Jordan Hamilton, who started in place of Barnes, at the end of the game.
Chris Paul
and
DeAndre Jordan
once again led the Clippers as Paul finished with 26 points and 14 assists and Jordan had 12 points and 18 rebounds. The play of Jordan has not only kept the Clippers afloat but has actually improved their position in the West standings with Griffin out.
"I think right now they're the best players at their respective positions with the way they've been playing," Wolves coach Flip Saunders said. "Jordan has just been phenomenal with rebounding and everything he's doing and another thing he's doing is he's become probably the best screen setter in the league, whether it's getting J.J. Redick open or getting Chris Paul open. He's bought into the system. I look at Paul now and he's playing like he was when he was the MVP. Those guys are carrying them and their role players are playing extremely well off those guys."
March, 2, 2015
Mar 2
7:48
PM PT
Associated Press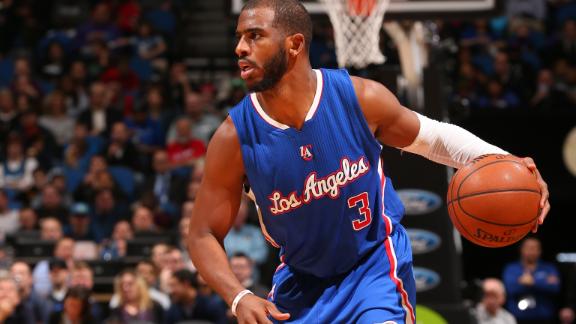 MINNEAPOLIS -- Chris Paul had 26 points and 14 assists, and the Los Angeles Clippers allowed only one field goal in the fourth quarter to outlast the Minnesota Timberwolves for a 110-105 victory Monday night.
J.J. Redick scored 18 points before getting ejected in the fourth and DeAndre Jordan had 12 points and 18 rebounds, his ninth straight game with at least 15 boards. Glen Davis scored 12 points off the bench to help the Clippers get their seventh win in nine games.
Ricky Rubio had 18 points, 12 rebounds and 11 assists for the Timberwolves, who were missing starters Nikola Pekovic and Kevin Martin. Minnesota went 1 for 14 in the fourth quarter.
Gary Neal had 19 points and nine rebounds, but missed a forced 3-pointer with 9.3 seconds to go that would have tied the game.
March, 2, 2015
Mar 2
6:46
PM PT
MINNEAPOLIS -- Los Angeles Clippers guard Jamal Crawford suffered a right calf contusion in the first half of Monday's 110-105 win over the Minnesota Timberwolves and was sidelined for the rest of the night.
Crawford suffered the injury in the second quarter but played through it to score nine points, including a 3-pointer with 38 seconds left before halftime.
Crawford, who is averaging 16.5 points, 2.5 assists and 2.0 rebounds this season, had scored at least 15 points as a reserve in 10 consecutive games heading into Monday's, a streak that dated back to Feb. 2. It was the longest such streak of Crawford's career, the longest in the NBA this season and the longest by any Clipper since 1985-86.
The Clippers were already playing without Matt Barnes, who suffered a strained right hamstring in Sunday's game against the Chicago Bulls. Both players will be reevaluated when the team returns to Los Angeles on Tuesday.
March, 2, 2015
Mar 2
5:33
PM PT
MINNEAPOLIS - Los Angeles Clippers forward Blake Griffin, who has been out the past three weeks after having a staph infection removed from his right elbow, has been running "full-tilt" and could be back by the end of the week, coach Doc Rivers said Monday.
"I know he's running and sweating and going full-tilt now," Rivers said. "That's good. I'm not sure what that means, not being there, but I know he's working, and that's all you can hope for. It's a good sign."
When Rivers was asked if Griffin was able to return to basketball activities, he said, "Yeah, I think so -- shooting."
Rivers said he didn't know when Griffin would be back. Asked if Sunday's game against the Golden State Warriors was a possibility, which would be four weeks since Griffin was sidelined, Rivers said, "I guess it's possible."
A team source said Griffin had not begun shooting yet but would this week and cautioned that a return Sunday would be "wildly optimistic," even though his conditioning is back to normal. A more likely target would be the following week.
Clippers forward Matt Barnes missed Monday's game against the Minnesota Timberwolves with a strained right hamstring suffered during Sunday's game against the Chicago Bulls. Jordan Hamilton, who was signed to a 10-contract last week, started in Barnes' place.
March, 1, 2015
Mar 1
4:34
PM PT
CHICAGO --
DeAndre Jordan
has gotten over being snubbed as an All-Star, but Doc Rivers said it would be a crime worthy of an investigation if he was also snubbed for the defensive player of the year award.
In fact, if Jordan was able to post better offensive numbers, there's no reason in Rivers' eyes he shouldn't be part of the MVP conversation.
"He's clearly the defensive player of the year," Rivers said Sunday. "If anybody else gets that award, we need to have an investigation. … What he's doing defensively, if he was doing that offensively, he would be recognized as the MVP or one of them, but because it's defense, no one notices."
Jordan started his 300th consecutive game on Sunday, the longest active streak in the NBA, but it wasn't until
Blake Griffin
was sidelined with a staph infection in his right elbow three weeks ago that Jordan received the attention Rivers felt was long overdue for the Clippers' 26-year-old center.
"He gets every rebound," Rivers said. "And when he doesn't get it, it takes two guys to keep him off and allows the other guys to get rebounds. He's clearly very important for us."
In the Clippers'
96-86 win
over the
Chicago Bulls
Sunday, Jordan had nine points and 26 rebounds. It was his eighth straight game with at least 15 rebounds, which is the longest streak of any player in the NBA this season. Jordan's first game in March simply built on a career-best month of February, during which he averaged 16 points and 17.2 rebounds, becoming one of only three players since the 1985-86 season to average those numbers in a single month.
"You start to take him for granted. I know I do,"
Chris Paul
said. "There's times where I have to sit back and realize I've never a played a game as a Clipper without him. As much as I'm on him sometimes, it's because I trust him and believe in him. I know I take him for granted. I couldn't imagine playing without him."
Jordan currently leads the NBA in field goal percentage (72.0) and rebounds per game (14.2) and ranks third in blocks per game (2.3). His field goal percentage is the second-highest single-season mark in NBA history, and only six players since 1985-86 have averaged at least 14.2 rebounds for a full season. In the Clippers' win over the
Memphis Grizzlies
on Friday, Jordan recorded 15 points, 22 rebounds, 3 assists, 3 blocks and 2 steals in 41 minutes to become one of only three players (
Dwight Howard
and
David Robinson
) since 1985-86 to reach those totals in as few minutes played.
When the Clippers went 13-6 while Paul was down last season, Griffin catapulted his way into the MVP conversation, finishing third behind
Kevin Durant
and
LeBron James
. The Clippers have now won six of their past eight without Griffin, including wins over
Dallas
,
Houston
,
San Antonio
, Memphis and Chicago, and Paul is now getting more MVP recognition.
The one constant during both of their absences, however, has been Jordan. The fact that the Clippers have been able to weather the storm and actually improve their place in the standings while their star has been out is a direct result of Jordan's stabilizing influence on defense.
"There's nobody like him in our league," Paul said. "To do what he does every night at that size -- and he's young, too.
"You look at the stat sheet and you don't see how many times
Aaron Brooks
didn't drive because D.J. was there or how many shots where guys went up and they passed it. That doesn't show up on the stat sheet."
Over the past eight games without Griffin, Jordan has averaged 17.2 points and 20.5 rebounds per game and the Clippers have gone 6-2 and moved up to fifth in the West.
"It doesn't change anything for me," Jordan said. "It doesn't matter. They [voters] don't like big guys. It's fine."
Jordan has even found a way to survive the increased amount of intentional fouls he gets late in games. He hit four of eight free throws in the fourth quarter on Sunday as the Clippers' lead went from three to eight before Chicago stopped fouling.
On Friday, he made four trips to the line in a 53-second span late in the fourth quarter and converted five of his eight attempts, extending the Clippers' lead by three points. Since Feb. 11, Jordan has increased the Clippers' lead in four of the six instances in which he has been intentionally fouled on two or more consecutive possessions. The Clippers are 9-0 in the nine career games in which Jordan has tallied 14 or more free throw attempts.
"I know it's going to happen throughout the rest of the season and the playoffs," Jordan said. "I can't run away from it. I just have to continue practicing my free throws. I know it's going to come. Whenever I see someone running full speed at me, I know it's about to start, but it's nothing I shy away from."
When Rivers became the Clippers coach, he said his expectation was for Jordan to become the defensive player of the year. It seemed like a lofty and almost unrealistic goal at the time but one that now is not only attainable but should be a lock, in Rivers' opinion.
"I would definitely be excited about that," Jordan said of winning the award. "It's definitely an individual goal of mine, but the ultimate goal is to win a championship. I'll just let my play do the talking."
March, 1, 2015
Mar 1
1:11
PM PT
Associated Press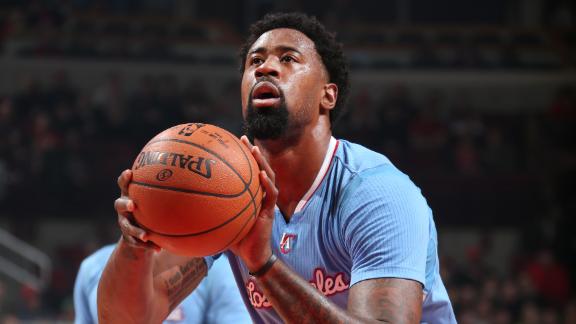 CHICAGO -- DeAndre Jordan had 26 rebounds and Chris Paul scored 28 points Sunday, leading the Los Angeles Clippers to a 96-86 victory over the Chicago Bulls.
Los Angeles trailed 86-85 when Jamal Crawford made a 3-pointer with 8:02 left. The Clippers never trailed the rest of the way. After a scoreless first half, Crawford scored 16 points in the final two quarters.
The Clippers extended their winning streak to five in a row in Chicago, the longest in franchise history. They haven't lost there since Dec. 17, 2008.
Bulls rookie reserve Nikola Mirotic scored a career-high 29 points. He accounted for all but one of his team's 17 points in the fourth quarter. Brooks finished with 14 points and Joakim Noah had 13 points and 11 rebounds.
The Clippers improved to 2-1 on their four-game road trip. The Bulls lost for the third time in their last 10 games.