March, 26, 2015
Mar 26
1:17
PM PT
Associated Press
LOS ANGELES -- The woman who recorded Donald Sterling's racially offensive remarks says she loved him and called him her hubby, but they never had a romance.
V. Stiviano testified Thursday in Los Angeles Superior Court in her effort to retain more than $3.5 million the billionaire's wife says he lavished on Stiviano.
Stiviano says she and Sterling vacationed together in Dubai, Paris and Las Vegas, but she never got more intimate than puckering up next to him in photos.
Stiviano says she hates Shelly Sterling, who she described as the evil witch of the west.
Shelly Sterling is seeking money she claims is community property that she and her husband amassed over a 60-year marriage.
Stiviano says Sterling bought her cars and helped her buy a house, but she couldn't provide specific dollar figures.
March, 26, 2015
Mar 26
7:04
AM PT
ESPN.com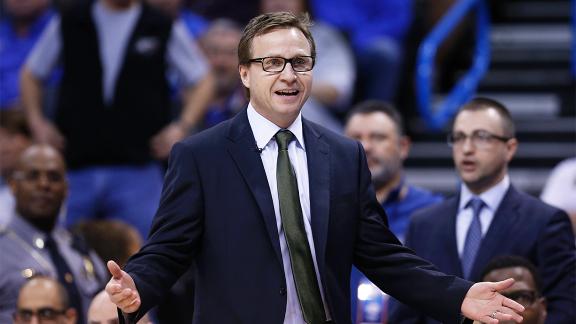 March, 25, 2015
Mar 25
9:11
PM PT
NEW YORK -- Doc Rivers doesn't allow his assistant coaches to speak to reporters.
In an effort to maintain one public voice, every request to speak to Los Angeles Clippers assistant coaches is quickly declined. Rivers made an exception on Wednesday.
Before the Clippers took on the New York Knicks at Madison Square Garden, Rivers stepped aside to let Mike Woodson take the spotlight with the media. After the Clippers blew out the Knicks 111-80, Rivers suddenly came down with a "stomach ache," allowing Woodson to address reporters again.
Woodson was fired as the Knicks coach last April after Phil Jackson took control as team president. Woodson guided the Knicks to a 54-win regular season and a division title in 2012-13, in addition to their first playoff series win in 13 seasons, but the team's 37-45 record last season fell well short of expectations.
Then again, 37 wins would be a massive improvement over the 14-57 Knicks, who not only have the worst record in the league but are nearing the end of the worst season in franchise history. At least the Knicks ended last season on a 15-6 run and missed the playoffs by one game.
[+] Enlarge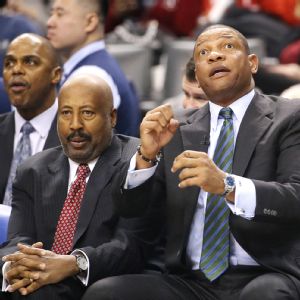 Tom Szczerbowski/USA TODAY SportsTwo season removed from leading the Knicks to a 54-win season, Mike Woodson returned to New York as Doc Rivers' assistant.
Woodson said that if he were still coach of the Knicks he wouldn't have changed the roster. Shortly after Jackson fired Woodson, he traded Tyson Chandler and Raymond Felton to Dallas for a package centered around Jose Calderon.
That trade hasn't worked out well for Jackson, as the Knicks are well on their way to the first 60-loss season in franchise history.
"Had I stayed on board I probably would have pushed to keep Tyson and keep that core group together because that's what won the 54 games two years ago," Woodson said. "But people change and you've got to live with it and it's what it is."
Woodson, however, wasn't in any mood to gloat at the current state of the Knicks even after they let him go last year.
"I've kind of moved on," Woodson said. "Two years ago was a great run for our ball club and a lot of things have changed since then. All I can say is that I wish them nothing but the best, and I truly mean that when I say that. I don't wish losing on anybody as a coach, as a general manager, president, Mr. [James] Dolan especially, who gave me an opportunity to come here and coach. So I'm just happy I'm in the position I'm in to be able to continue to coach."
Woodson deflected questions about Rivers giving him a platform to speak before and after the game on Wednesday saying, "This is not about me, this is about the Clippers and the fine team that Doc put together."
Clippers players said Woodson's homecoming to New York did mean something to them.
"Absolutely, we're all sticking up for each other," Griffin said. "It was probably not how everybody wanted it to end here. So, it's good to get wins like this to help support guys and get rest for everyone."
Chris Paul smiled when he learned Woodson addressed reporters postgame instead of Rivers. "Woody is an amazing guy. He's a great coach. I've enjoyed playing for him," Paul said. "Obviously, we're family here. He's with us. Obviously it was an unfortunate situation here in New York. So, it was good to get this win."
About three months after being let go by the Knicks, Woodson joined Rivers' staff in Los Angeles after Alvin Gentry left for Golden State and Tyronn Lue left for Cleveland. Rivers and Woodson had never coached on the same staff, but just two years ago Woodson eliminated Rivers' Celtics in the first round of the playoffs.
"Things change quickly," Rivers said. "I'd love Woody to still be coaching. He is, but with me. He's a head coach, and he'll be a head coach again. We know that. Things have changed here. They had to make a decision. You do. If you're building in the right direction, you keep building. If not, you try to tear it up and get it right. I think that's what they're doing and that's what they're going through. It was probably the right decision."
While Woodson believed he deserved to keep his job, he knew Jackson was going in a new direction when he took over. He was going to bring in his coach -- Derek Fisher -- and take the team in a new direction. That direction hasn't been a positive one in the short-term but Woodson doesn't hold any ill will toward Jackson for what he did.
"I think when Phil came in, he had his mind made up based on what he wanted to do, and I can respect that," Woodson said. "There's nothing I can say bad about Phil. Phil has had a hell of a career as a coach and he had other ideas in terms of the direction he wanted to go, and I respect that."
As Woodson spoke to the assembled New York media, calling individuals out by name as he did ushers and security guards he walked past at the arena, he still smiled when talking about the 2012-13 season. His tenure with the team didn't go as planned but that season will go down as not only his best but the best the Knicks have had in more than a decade.
"I'm not going to downplay what we did," Woodson said. "I mean, I'm pretty happy about our play and the style of play we had here. It's not easy winning 54 games in this league and the fact that along with Glen Grunwald and Mr. Dolan to put a solid group together that year ... you can't take anything away from that team. That team was very competitive and won a lot of games for us."
Woodson is used to experiencing disappointment after success. He finished his six-year run as the Atlanta Hawks coach by leading them to three straight playoffs and was fired after a 53-win season and a berth in the conference semifinals, the best season the franchise had enjoyed before this season.
"I had an opportunity here and I didn't get it done, I guess, so I had to move on," Woodson said. "I'm happy as hell to be in L.A. with Doc, a friend of mine who I've known for many, many years. He's given me an opportunity to help him try to get the Clippers to the [NBA] Finals and perhaps win a title. That's what it's all about.
"It was a good three years for me. I was blessed to be able to come in here and get an opportunity. This is where I was drafted and played my rookie year and to be able to circle back and be given an opportunity to be a head coach of the team, it was fantastic. I just tried to make the most of it and sometimes things work out and sometimes they don't. I have no hard feelings toward anybody in New York. I mean, it was a good run."
As much fun as Woodson is having this season in Los Angeles, his goal is to become a head coach again, perhaps as early as next season.
"Absolutely," Woodson said if he wants to be a head coach. "I'll push in that direction one day. We'll figure it out and see if I'm able to get back in the driver's seat again."
Ian Begley of ESPN New York contributed to this report
March, 25, 2015
Mar 25
6:39
PM PT
Associated Press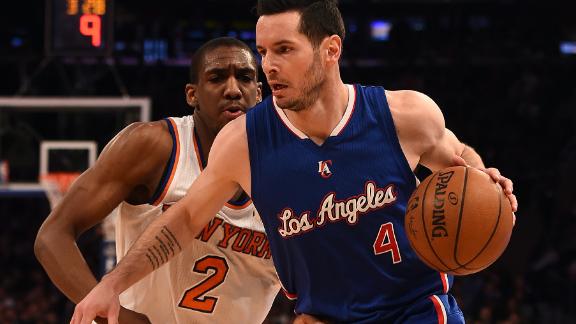 NEW YORK -- DeAndre Jordan raised the NBA's best shooting percentage above 71 percent by making all seven shots and scoring 14 points, and the Los Angeles Clippers pounded the New York Knicks 111-80 on Wednesday night.
Shooting all night from either right at or above the rim -- and once right on top of Jason Smith -- Jordan hiked his season average to .713, which would be second only to Wilt Chamberlain's .727 in 1972-73.
Chris Paul added 11 points and 16 assists for the Clippers, who won their fifth straight and improved the fourth-best record in the Western Conference to 47-25. Austin Rivers scored 21 points in 19 minutes off the bench.
The only negative for Jordan was grabbing only 10 rebounds -- the Clipper starters played less than 30 minutes -- to end his streak of games with at least 14 rebounds at 19.
March, 25, 2015
Mar 25
6:30
PM PT
NEW YORK -- The game was over before halftime.
As the Los Angeles Clippers walked off the court at Madison Square Garden on Wednesday after two quarters, they looked up at the scoreboard and literally laughed at what they saw: Clippers 63, Knicks 33.
Both teams were required to play two more quarters, but there was really no need other than to watch the Clippers' lead balloon to 40 in the second half as the scoreboard showed D-list celebrities pretending to enjoy the action from their courtside seats.
The Clippers ended up with a 111-80 victory, the team's largest win at Madison Square Garden, almost doubling the previous high of 17, which was set in 1996.
It was understandable to expect the Clippers to start their three-game East Coast road trip with a win, but even they had to be slightly surprised at how easy it came by the end of the second quarter.
Every Clippers starter scored in double figures, and Austin Rivers scored a game-high 21 points off the bench.
Scenes from "Teenage Mutant Nina Turtles 2" were being filmed during the game, and on Thursday, DeAndre Jordan, Matt Barnes, J.J. Redick, Spencer Hawes and coach Doc Rivers are expected back at Madison Square Garden to film on-court scenes for the movie.
One can only hope those scenes against extras will be more competitive than Wednesday's game against the Knicks.
March, 25, 2015
Mar 25
12:09
PM PT
Associated Press
LOS ANGELES -- Recordings that cost Donald Sterling ownership of the Los Angeles Clippers could cost the woman he was dating the fortune in gifts he lavished on her.
Snippets of the conversations recorded by V. Stiviano were played Wednesday as a lawyer for Sterling's wife, Shelly, explained why the former girlfriend should return more than $3.6 million the billionaire gave her in gifts that included a duplex, Ferrari, jewelry and designer clothes.
Stiviano manipulated and deceived the 80-year-old to give away community property that belongs to Shelly Sterling, his wife of nearly 60 years, attorney Pierce O'Donnell said in Los Angeles Superior Court.
"She defrauded him, and I feel that she is not entitled to any of these gifts or whatever they call them," Shelly Sterling later testified. "She's been very, very nasty to me, and she's been mean to my husband."
The trial brought the Sterlings and Stiviano together in one courtroom about a year after the recording of Donald Sterling telling Stiviano not to publicly associate with black people led to a bizarre series of events culminating with his lifetime ban from the NBA and the record $2 billion sale of the team.
Other conversations recorded on her cellphone show Stiviano conniving with Sterling to cover up the source of the money he gave her for the Spanish duplex near Beverly Hills.
"I don't want anybody to take anything away from me," she said in one recording.
Donald Sterling, at times confused and combative, denied having an affair with V. Stiviano, as his wife alleged, and described her as an "ex-friend" who hadn't contributed "50 cents" to the $1.8 million duplex now in her name.
March, 25, 2015
Mar 25
1:22
PM PT
By
Andrew Han
| ESPNLosAngeles.com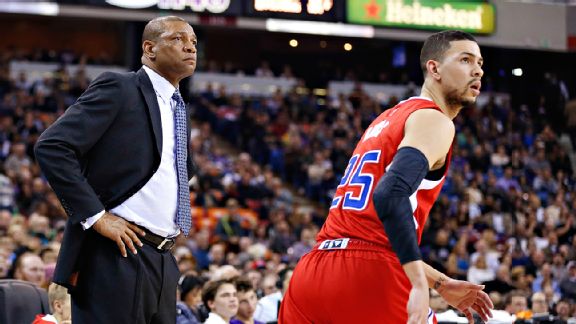 Kelley L Cox/USA TODAY SportsThe Clippers can still contend, but Doc the GM hasn't made things easier this season on Doc the coach.
Doc Rivers doesn't have to build a contender -- Rivers himself was supposed to be the missing piece -- he just has to maintain it. That's the privilege allowed by a roster featuring two top-10 players near the peak of their powers. That's the luxury of carrying at least the fourth-most efficient lineup by net rating each of the past two seasons.
So when Rivers, now in his second season as team president, consistently reaffirms "I like our team" because they're capable of playing at a higher level than last season, he's right; the core has a season under its belt, and the starters plus a sprinkling of Jamal Crawford have scorched defenses.
But when Rivers says they've played worse than they have last season, he's also right. The struggles of the bench have been the haunting issue for the Clippers all season. All of their offseason value acquisitions have underachieved (a strategy not dissimilar to the previous offseason, when the essential difference was Darren Collison wildly overachieving), and the objectives set out for Los Angeles reserves seem to be more about maintaining a pleasant work environment than production off the bench.
Managing expectations has been the story for this front office since the demise of the Sterling regime. The practice facility was top-notch and top players were well-compensated, but basketball operations were left to languish; there was no analytics department previously, no dedicated salary-cap manager. Much of the staff is new and still figuring out how they fit together, even more so with the installation of Rivers' proxies in Kevin Eastman and Dave Wohl to share the day-to-day general manager duties with Gary Sacks (the lone survivor of Shelly Sterling's sale stipulations after son-in-law Eric Miller left before the season began). That's how gaffes like unknowingly hard-capping themselves occurs; the head of the office is focused on playbook strategy and scouting, not salary accounting and regression analysis. As a result, it's been a season of half-measures, backtracking and indecision.
Take, for example, the arrivals for two recent roster additions: Austin Rivers and Jordan Hamilton. In the case of Austin Rivers, the number of mistakes that needed to be hastily corrected to acquire him is startling: It required the admission that Jordan Farmar and Chris Douglas-Roberts were incompatible for this team, that using the bi-annual exception on Farmar -- which contributed to the Clippers' hard cap and thus the trading away of Jared Dudley and a first-round pick -- was a mistake. That's a lot of errors to own up to in quick succession.
Taking a low-risk flyer on a struggling lottery pick who was once the top high school prospect in the nation is a reasonable proposition. Even if said prospect is the son of the coach and carries perception issues of nepotism. The Clippers are a team sorely in need of players that can be developed.
But pair that with the decision to move another asset in Reggie Bullock and a second-round pick to the Phoenix Suns -- primarily because Doc & Co. were acquainted with GM Ryan McDonough from their Boston days -- well, now at the very least it becomes a justifiable decision executed poorly.
The eternal optimist will consider the acquisitions of Austin Rivers and former first-round pick Jordan Hamilton as a glimmer of hope, though. At least these weren't aged journeymen staving off retirement, overseas duty in China or both.
The front office flirted with three recent draftees who were at least well-regarded prep prospects if not collegiately (Quincy Miller and Darius Miller being the other two), eventually settling on Hamilton, and that method of thinking runs directly counter to the social-media punchline of Rivers preferring veterans that peaked in 2009. And even then, after announcing intentions to sign Darius Miller to a 10-day contract, the Clippers reversed course and brought good locker-room presence Dahntay Jones. Why? After deciding to try Miller out, they discovered he was not at a satisfactory fitness level, a factoid that would seem like a part of basic due diligence.
It's a common tactic of the "smart" teams: cycle through young, underachieving prospects. Is it the player? Was it the fit? Is it something their particular organization could address? Danny Green, the former second-round pick who fell out of the league -- that the Spurs waived multiple times -- before catching on and becoming an elite 3-and-D guard, is the most famous recent example.
Players like Green are much more the exception than the rule, though. And if the draft is like playing the lottery, then plucking a player who has slipped through the cracks is like hoping someone couldn't be bothered to cash a winning ticket: profit can be discovered, but not without a lot of effort.
Which leaves Doc speaking out of both sides of his mouth. He likes his team, but he's rummaging through castoffs in search of a contributor. His starters play with the urgency of a title window closing at any moment, but he casts the bench with players just happy to be around. And the Clippers keep winning. They're still third in Hollinger's Power Ranking, still second in Pythagorean Winning Percentage.
Being innovative is hard. And who needs to do things the hard way when you're as talent-rich as the Clippers?
Andrew Han is an editor at ESPN.com. Follow him @andrewthehan.
March, 25, 2015
Mar 25
6:39
AM PT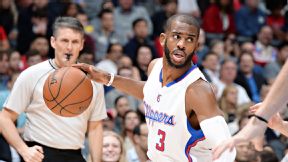 Andrew D. Bernstein/NBAE/Getty ImagesThe Chris Paul-led Clippers will be returning to China in October.
NEW YORK -- The Los Angeles Clippers will play the Charlotte Hornets twice during the preseason this October in China, the NBA announced Wednesday.
The Clippers and Hornets will play the NBA's first game in Shenzhen when they meet Oct. 11 at the Shenzhen Universiade Center. They then will meet in Shanghai on Oct. 14 at the Mercedes-Benz Arena.
The games in China will be part of NBA Global Games 2015.
"Basketball is more popular than ever, and Global Games China 2015 is part of our ongoing commitment to growing the game in the world's most populous nation," commissioner Adam Silver said in a statement. "These games will not only bring the excitement of NBA action directly to Chinese fans, but will also provide the league another opportunity to experience the rich history and culture of China."
This will be the Clippers' second trip to China, following games in Beijing and Shanghai in 2012.
"Returning to China to participate in the NBA Global Games China is another important step in establishing the Clippers as a first-class international franchise," Clippers owner Steve Ballmer said. "We are looking forward to representing Los Angeles and the NBA as we bring our exciting brand of basketball to all of our fans in China."
Following NBA Global Games China 2015, the NBA will have played 20 games in Greater China since 2004.
March, 25, 2015
Mar 25
6:06
AM PT
ESPN.com