April, 23, 2015
Apr 23
5:17
PM PT
Associated Press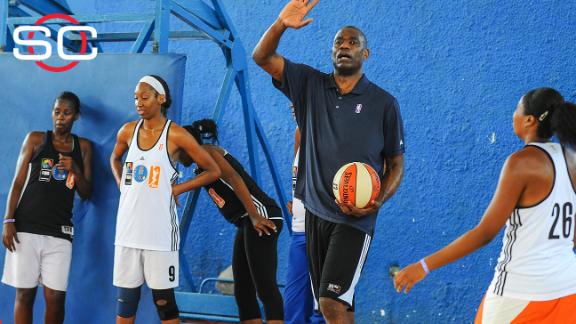 HAVANA -- Basketball great Dikembe Mutombo sank baskets from seemingly every position on the court Thursday as a half-dozen Cuban players watched admiringly on the first day of an NBA training camp aimed at boosting the game's popularity on the communist-run island following the declaration of detente between Washington and Havana.
The flags of Cuba and the United States flew at the Havana university where the four-day camp began Thursday.
Steve Nash, a former MVP, and Mutumbo, a Hall of Fame inductee, were joined by former WNBA player Ticha Penicheiro and NBA coaches in teaching the more than 100 athletes in attendance.
"As you know, basketball is a sport that can connect people, give them a bridge for cultural change," Mutumbo said. "I'm glad that we're about to build this bridge that will help so many young men and women here in Cuba to develop the game of basketball."
The NBA is the first U.S. professional league to visit Cuba since the detente announcement. Basketball is arguably fourth most-popular sport, after baseball, boxing and soccer.
Cuba's men's team finished third in the 1972 Olympics and its women's teams dominate International Basketball Federation (FIBA) play in Latin America, but basketball has been one of the Cuban sports hardest-hit by players' departures for other countries. It's widely perceived to be at a historic low point on a national level.
That doesn't deter thousands of young Cubans from taking to street courts and abandoned lots to race between improvised hoops mounted on posts or even trees. The NBA and FIBA plan to renovate three courts as part of the four-day event.
"Our job is to expand our game globally," Mutumbo said. "It's a very historical trip."
After he and Mutombo coached players on a series of skills, Nash lauded the Cubans as talented but lacking international experience.
April, 23, 2015
Apr 23
6:22
PM PT
By ESPN Stats and Information Group
ESPNLosAngeles.com

On April 23, 1989, Kareem Abdul-Jabbar played in the final regular season game of his Hall of Fame career, as the Los Angeles Lakers defeated Seattle, 121-117. Abdul-Jabbar scored 10 points and finished his career with an NBA record 38,387 points.
April, 23, 2015
Apr 23
4:24
PM PT
By Matt Walks, ESPN.com
ESPNLosAngeles.com
Archive
Ned Dishman/NBAE /Getty Images
So, you're saying there's a chance?
As the postseason marches on, teams watching from home are already looking ahead to draft day.
Hollinger's Playoff Odds, which is designed to calculate teams' chances of clinching a playoff spot, also calculates the lottery odds of those teams that didn't make the cut.
Here is the full table of lottery odds, from this season's relentless losers to teams that fell just shy of the No. 8 seed.
---
For more on how the system works and what it means, see
Hollinger's explanation
.
April, 22, 2015
Apr 22
6:00
AM PT
ESPN Insider's Chad Ford and Kevin Pelton return to provide the kind of discussions that are happening in front offices around the NBA -- where scouts and statistical experts are breaking down NBA draft prospects using their "eyes, ears and numbers."
Kevin Pelton: Well, Chad, the NBA's regular season is in the books and the 14 teams that missed the playoffs are looking ahead to the NBA draft lottery. Last week, I previewed their offseasons in my Roster Reload series. Over the next few weeks, we'll take a look at the biggest need I identified for each team in reverse order of finish and how they might be able to fill it in the draft.
Here's a look at the needs and potential draft solutions for the four worst teams this season: the Timberwolves, Knicks, 76ers and Lakers.
April, 17, 2015
Apr 17
3:34
PM PT
Associated Press
NEW YORK -- The Indiana Pacers have won a tiebreaker with the Utah Jazz, giving them slightly better odds at winning the draft lottery.
Both teams finished with 38-44 records. The Pacers have a 0.8 percent chance at the top pick, and the Jazz have a 0.7 percent chance.
Three other ties were broken Friday, all among teams who made the playoffs.
Dallas (50-32) beat Chicago for the No. 21 spot.
Memphis (55-27) beat San Antonio at No. 25.
Houston (56-26) beat the Los Angeles Clippers at No. 27 -- although neither team is keeping the pick. The Rockets' goes to the Lakers, while the Boston Celtics get the Clippers'.
The lottery will be held May 19 to set the top 14 selections. The remainder of the first round is determined by records.
April, 17, 2015
Apr 17
1:10
PM PT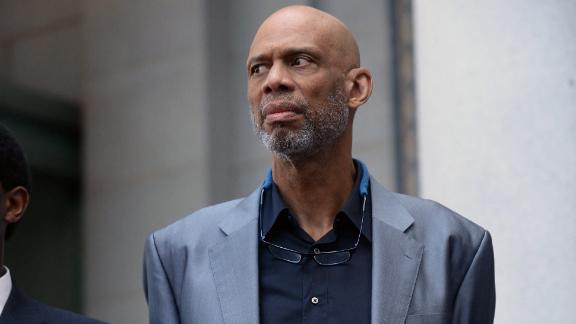 Kareem Abdul-Jabbar, the NBA's all-time leading scorer, is expected to make a full recovery after undergoing quadruple coronary bypass surgery on his 68th birthday Thursday at the Ronald Reagan UCLA Medical Center, the UCLA Health System announced in a statement Friday.
Abdul-Jabbar was admitted there this week with cardiovascular disease.
Dr. Richard Shemin, UCLA's chief of cardiac surgery, performed the operation.
"At this time, Abdul-Jabbar would like to thank his surgical team and the medical staff at UCLA, his alma mater, for the excellent care he has received," the statement read.
"He is looking forward to getting back to his normal activities soon. He asks that you keep him in your thoughts and, most importantly, cherish and live each day to its fullest."
During his 20-year NBA career, Abdul-Jabbar was a six-time MVP, six-time NBA champion and 19-time All-Star. He is the NBA's all-time leading scorer with 38,387 points.
He was drafted first overall by the Milwaukee Bucks in 1969 and played six seasons with them before being traded in 1975 to the Los Angeles Lakers, where in his 14 seasons in purple and gold he further established himself as one of the most dominant players in the history of the game.
April, 17, 2015
Apr 17
6:36
PM PT
By ESPN Stats and Information Group
ESPNLosAngeles.com

On April 17, 1999, Utah Jazz point guard John Stockton recorded 13,000 career assists when he passed to Karl Malone for a jumper in a 109-93 win over the Los Angeles Lakers.
Stockton would finish his career with an all-time time record 15,806 assists. Andre Miller of the Sacramento Kings leads all active players with 8,437.
April, 17, 2015
Apr 17
8:00
AM PT
As teams complete their seasons, ESPN Insider's NBA team will take a look at the offseason picture and priorities for all 30 teams. Below, Kevin Pelton offers a snapshot of the Los Angeles Lakers.
To continue reading this article you must be an Insider
April, 16, 2015
Apr 16
9:18
PM PT

By Baxter Holmes
ESPNLosAngeles.com
Archive
EL SEGUNDO, Calif. -- This season, the Los Angeles Lakers find themselves near the bottom of the standings, in the same company as the Philadelphia 76ers, a fellow historic franchise that's rebuilding.
However, the teams are taking very different paths that they hope will lead them back to contending status. The Lakers prefer acquiring top-flight talent through free agency and trades while the 76ers are trying to do so through the draft, specifically by constructing a non-competitive roster that gives them a poor enough record that could result in a high lottery pick.
[+] Enlarge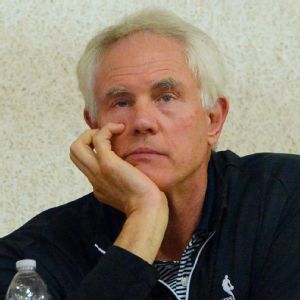 Jayne Kamin-Oncea/USA TODAY SportsGM Mitch Kupchak believes tanking to get a better draft pick is "bad karma."
The 76ers' rebuilding approach is one of the most aggressive and controversial in professional sports -- and Lakers general manager Mitch Kupchak doesn't appear to be much of a fan.
"I still don't understand what they're doing," Kupchak said Thursday at the Lakers' practice facility, where the team conducted exit interviews after its 2014-15 season ended the day before.
Kupchak made his remarks when a reporter asked about the Lakers' philosophy toward rebuilding and how it compared to, say, the 76ers, whose plan, while bold, appears rather clear for all to see.
"Can you explain it to me, if it's so clear?" Kupchak asked, seemingly half-joking.
Kupchak told ESPN.com earlier this season that he's very much against the idea of losing in order to ultimately land a top draft pick.
"Our feeling is, you can't manipulate [the system]," Kupchak said last November. "It's bad karma."
The Lakers rarely find themselves in position to acquire promising players through the draft, as this May 19 will mark only their fourth draft lottery appearance since it was introduced in 1985.
But this past season, they clinched the league's fourth-worst record and have a 37.9 percent chance of landing a top-three pick and an 11.9 percent chance of landing the top overall pick. However, if the Lakers fall out of the top five, their pick goes to the 76ers as part of the Steve Nash trade.
In regards to the Lakers' philosophy for rebuilding, Kupchak said, "Our basic philosophy is to use the three tools available to us -- that's the ability to make a trade, the draft and cap room during the offseason. There's no way to etch a plan in stone that you know you can execute. You don't know who's going to be in the draft and we don't know which free agents are going to be free agents.
"A lot of them don't have to declare until June 30. All you can do is set yourself up. We feel that we are set up to take advantage of all three of those ways to improve the team."