July, 10, 2014
Jul 10
2:20
PM PT
By
Ian Begley
and
Fred Katz
| ESPN.com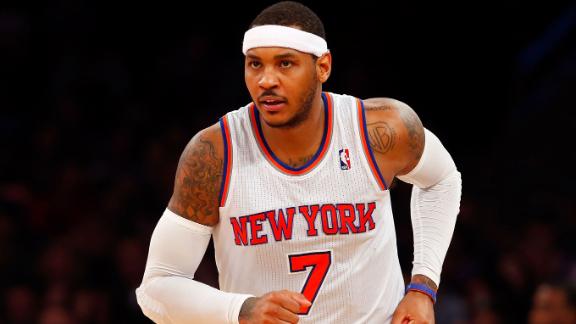 New York Knicks president Phil Jackson said Thursday that he hasn't heard from free agent Carmelo Anthony in recent days but remained confident that the All-Star forward would re-sign with the Knicks.
Jackson's optimism stems in part from the rapport he's established with Anthony through the Knicks' meetings with the free agent forward.
"I felt really good about my conversation with Melo," Jackson said. "We really struck a chord. The two of us, I think, feel really passionately about what we're trying to get accomplished. It's his ability to stay, be patient, lead and watch us develop a winner. There's no instantaneous winner that we think is going to happen to the Knicks right now, but we're going to be a lot better."
Jackson said the Knicks have made five different contract offers to Anthony, one of which is believed to be a maximum deal of $129 million over five years.
Anthony's agent, Leon Rose, told ESPN.com on Wednesday afternoon that his client "hasn't made a decision yet."
"No decision yet," another source said. "Still up in air."
Anthony visited the Chicago Bulls, Dallas Mavericks, Houston Rockets and Los Angeles Lakers last week in addition to meeting with Jackson and the Knicks in Los Angeles.
July, 9, 2014
Jul 9
8:46
PM PT

By Dave McMenamin
ESPNLosAngeles.com
Archive
ISLA VISTA, Calif. -- Maybe
Kobe Bryant
was just having a particularly bad day and didn't really mean it. Maybe things have truly changed in the
Los Angeles Lakers
' organization in the past four months.
Whatever the case, Bryant sounded vastly different Wednesday when he talked about the relationship between Lakers president Jeanie Buss and her brother, Lakers executive vice president of player personnel Jim Buss, than he did when he referred to them during his news conference in March to announce he would be missing the final 18 games of the season because of his left knee injury.
[+] Enlarge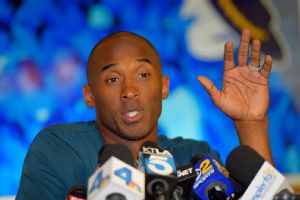 AP Photo/Mark J. TerrillKobe Bryant seems to have a positive outlook about the Lakers' future, including how Jim Buss and Jeanie Buss are running the team lately.
First, a refresher of his previous comments, when he challenged the direction in which the franchise was heading:
"I think we have to start at the top in terms of the culture of our team," Bryant said. "What kind of culture do we want to have? What kind of system do we want to have? How do we want to play? It starts there. And from there, you can start building out your team accordingly."
Bryant wasn't finished.
"You got to start with Jim," Bryant said. "You got to start with Jim and Jeanie and how that relationship plays out. It starts there and having a clear direction and clear authority. And then it goes down to the coaching staff and what Mike [D'Antoni] is going to do, what they're going to do with Mike, and it goes from there. It's got to start at the top."
Bryant's words were prophetic. Just about six weeks after that news conference, D'Antoni resigned, accepting a buyout worth approximately half of the $4 million he was owed for next season.
And as the calendar creeped into the second week of July, Bryant on Wednesday expressed a renewed faith in the Buss siblings who are running the only professional team he has ever known.
"I am," Bryant confirmed when asked if he was confident in the members of the Buss family leading the Lakers. "I know Jim and Jeanie are on the same page. They're ready to go. They both understand what they need to do individually and how that works together as a unit to turn this organization around. I think you'll see some changes that really fall in line with the history and the culture of the organization. You're seeing James [Worthy] at the draft, and so forth and so on. You start seeing some of the legends from Laker past being around a lot more to make sure that that culture continues to exist."
Yes, it was a downright sunny Bryant on Wednesday, speaking to a throng of reporters during a news conference at the start of his eighth annual youth basketball academy on the campus of UC Santa Barbara.
Then again, Bryant is the same guy who back in 2011 said he truly believed the Lakers would become the first team to come back from an 0-3 series deficit to beat the
Dallas Mavericks
in the playoffs. He considers himself the eternal optimist.
But he's also a cutthroat competitor.
It's easy for him to have confidence right now. There are still infinite possibilities of what the Lakers can do with their free-agency dollars.
But where will that confidence level check in if the Lakers don't look anywhere close to a championship contender next season?
That's when his faith in the Buss family will truly be shown.
July, 9, 2014
Jul 9
5:58
PM PT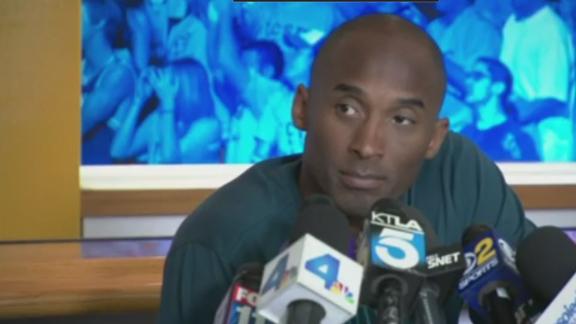 ISLA VISTA, Calif. -- It remains to be seen who the Los Angeles Lakers will land in free agency this summer. There's also that pesky question of who they'll hire to be their coach. Kobe Bryant provided a clear vision of how he would like to see the team filled out, however.
All that salary-cap space the Lakers lined up in anticipation of some of the league's brightest talents hitting the market? Start by bringing in Carmelo Anthony.
"I would love to play with him," Bryant said Wednesday at the start of his eighth annual youth basketball academy on the campus of the University of California, Santa Barbara. "We've really clicked since 2008, and I would love to see him out here [in Los Angeles]."
As for who he would like to see roaming the sidelines next season? Look no further than Byron Scott.
"He was my rookie mentor when I first came into the league," Bryant said of Scott before endorsing the former Showtime-era Lakers great for the job. "So I had to do things like get his doughnuts and run errands for him and things like that. We've had a tremendously close relationship throughout the years. So, obviously I know him extremely well. He knows me extremely well. I've always been a fan of his."
Bryant also is a fan of how the Lakers have approached free agency this offseason, no matter how it plays out from here. Even if Anthony chooses to stay in New York and even if LeBron James decides on Miami, Cleveland or someplace else other than L.A., Bryant said his team put its best foot forward.
"The organization, if God forbid we end up with absolutely nothing, it's not for a lack of effort," Bryant said. "So, that's something that I would be extremely proud of. You put forth the effort, you give it your best shot, but you can't [close the deal], what can you do? You just go from there, and then it's on me to go out there and do my best to try to help us win."
It was a change of tune for Bryant since his diatribe in March when he challenged management and said he had "not one lick" of patience for the Lakers to be built back into a championship contender.
"They're going for it," Bryant said of the Lakers' attempt to land both Anthony and James in free agency. "There's no ifs ands or buts about it; they're being extremely aggressive and they have solid concepts and plans to be able to get it done. They're pulling out all the stops to ensure that we put on a contender on the floor next year. That's all you can ask for. Same thing that they ask of me: When I step out on the court, they expect me to play my heart out. Right? To prepare and to give it my best shot. Sometimes it doesn't always work out the way you want it to, but at least the intention and the commitment was there."
Bryant has been part of the Lakers' recruitment process but has taken a more subtle approach.
"[Have] I read Og Mandino to get ready for this free-agency pitch?" Bryant joked, referring to the author of the best-selling book "The Greatest Salesman in the World." "Honestly, no. It's really just about what we have and the flexibility that we have and the market that we have. Because of rules and regulations, obviously the players would be leaving some financial stability on the table, but with that being said, you can only speak to the strengths that you have as an organization. And the strengths that we have are the flexibility, the market and the track record. A proven track record. So, that's what you stick to."
Bryant realizes the direction the Lakers chose to pursue -- waiting for the big fish to make up their minds -- came with the consequence of missing out on lower-profile free agents who reached agreements with competing teams in the past week and a half, but he said the approach was "worth the wait."
"We have several options," Bryant said. "Obviously depending on the timing of this process, it affects some of those. You have a plan that's flexible, but you have a Plan A and a Plan B. But some of the Plan B is affected by the timing of Plan A. So, you just kind of plan it out and wait and see what happens and respond from there."
If Plan A is Anthony or James or both, what is Plan B?
"Plan B is a solid plan," Bryant said. "You just have to play the waiting game a little bit and see how things shake out."
Bryant said landing Anthony certainly would improve the Lakers' chances of retaining Pau Gasol
July, 9, 2014
Jul 9
5:09
PM PT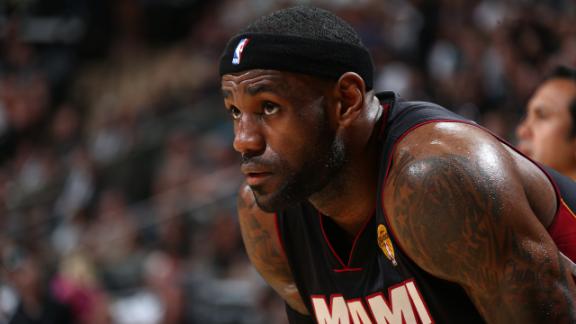 LeBron James was in attendance again Thursday at his basketball camp in Las Vegas, but had yet to announce a decision about where he will play next season.
James was joined at the LeBron James Skills Academy by his Heat teammate of four years, Dwyane Wade, who also is a free agent. The two were spotted chatting and watching a pickup game together.
There is no timetable for James' decision, but with him reportedly planning to attend the World Cup final Sunday in Brazil, a decision before then seems likely.
James and his agent, Rich Paul, met with Miami Heat officials for more than an hour Wednesday afternoon in Las Vegas, sources told ESPN.com.
James and Paul are done meeting with teams, according to sources close to the situation. James now will talk with his family and make his choice.
If James does choose to leave the Heat, free agent Chris Bosh will sign with the Houston Rockets, sources said. James not rushing to make a choice could put a time squeeze on Bosh. Though he hopes to remain with the Heat along with James, sources said, Bosh has secured a backup offer for four years and $88 million from the Rockets.
The Rockets' position, however, got more complicated on Wednesday when restricted free agent Chandler Parsons signed a three-year offer from the Mavericks for more than $45 million, which Houston has three days to match.
July, 9, 2014
Jul 9
3:46
PM PT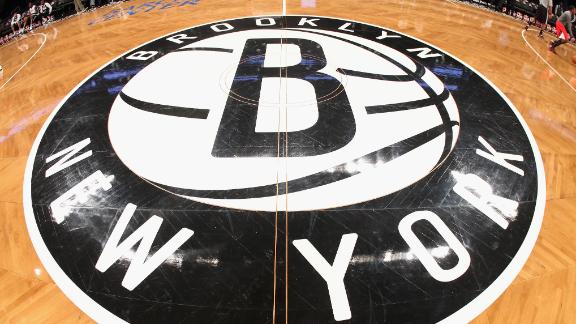 The Brooklyn Nets will pay a record $90.57 million in luxury taxes for the 2013-14 season, sources told ESPN.com.
The NBA released its audit to teams ahead of the start of the new fiscal year at midnight Wednesday and revealed the numbers, including the Nets' penalty for splurging after trading for Paul Pierce and Kevin Garnett last year. In all, the Nets paid more than $197 million in salaries and luxury taxes this past season. Only three other teams had paid more than $90 million in total tax since its inception in 2001.
As part of the memo, the new salary cap was set at $63.065 million, a 7.5 percent increase from last season. That is slightly less than the $63.2 million estimation teams had been using. Revenues were $4.5 billion, up 5.3 percent from last year. The NBA also made an early projection of $66 million for the 2015-16 salary cap.
The new luxury tax line will be $76.8 million, a 7.1 percent increase from last season's $71.7 million. The luxury tax was estimated to increase to $80 million for the 2015-16 season.
Maximum salaries have gone up, as well. The new values are $14.7 for players with 0-6 years of experience, $17.7 for players with 7-9 years experience and $20.6 for players with 10 or more years in the league. LeBron James' max would be $20.6 million under those terms.
Overall, there were five luxury tax payers. The New York Knicks
July, 9, 2014
Jul 9
9:00
AM PT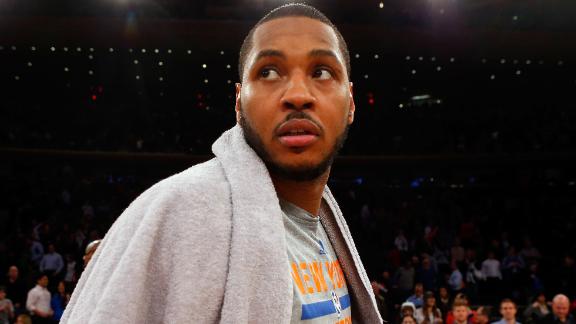 A number of rival teams increasingly believe that New York Knicks star Carmelo Anthony plans to hold off on announcing any decision about his future until LeBron James reveals where he'll be playing next season, according to sources close to the process.
Sources told ESPN.com that Anthony, whose decision was widely expected before a resolution to James' situation when free agency began, has kept the Knicks, Los Angeles Lakers and other suitors waiting at least in part to see where James goes and whether there would be any option to join his close friend.
Sources say that the Knicks thought they'd know by Monday if Anthony was prepared to commit to new team president Phil Jackson for the long term or sign with the Lakers instead. The Knicks can offer Anthony a five-year maximum deal valued at $129 million, with the Lakers' max offer topping out at $96 million over four years.
The Lakers' pitch to Anthony included a conversation with Hall of Famer Magic Johnson, according to ESPN. Johnson called from his European vacation because, as one source put it, "He will always be a Laker. If he was in town, he'd have been in the meeting."
Los Angeles is determined to wait on James and Anthony before moving on in its pursuit of other free agents. James and Anthony are the Lakers' main targets, but with each passing day, the franchise gets antsy about potentially missing on other free-agent targets such as Pau Gasol and Trevor Ariza.
Anthony has gone as silent as James with free agency now more than a week old, sparking the belief that he's waiting to see if there is a viable opportunity for the two stars to team up.
"He wants to see what LeBron does," one source with knowledge of Anthony's thinking told ESPN. "But he can't wait forever."
The Knicks have tried to maintain their long-held confidence that Anthony will stay in New York, sources said, but the delay has definitely frayed some nerves, with no indication as of Wednesday morning when either Anthony or James plan to make their decisions known.
Anthony held meetings last week with Chicago, Houston, Dallas and the Lakers before granting last word to the Knicks on his interview tour. But there's been a strong belief over the past few days that the 30-year-old is likely to choose between New York and Los Angeles, both cities in which his family is very comfortable.
Anthony's hope of going where James goes, meanwhile, would appear to depend on Chris Bosh
July, 8, 2014
Jul 8
5:37
PM PT
By
Ian Begley
| ESPNNewYork.com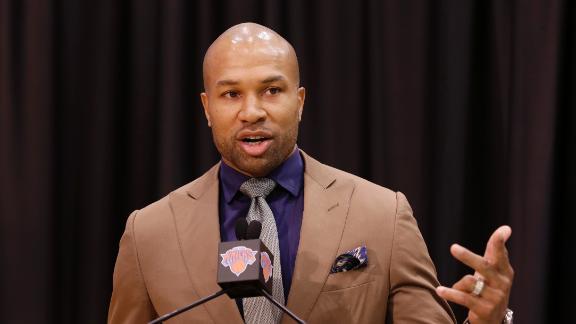 One of Carmelo Anthony's goals in free agency is to put himself in position to compete for an NBA championship.
That would appear to be one knock against the New York Knicks' pursuit of Anthony. The Knicks won just 37 games with Anthony last season.
But Knicks head coach Derek Fisher said Tuesday that he has assured Anthony that the Knicks will be "a better basketball team" than they were last season, according to published reports.
Fisher, team president Phil Jackson and general manager Steve Mills met with Anthony and his representatives in Los Angeles last Thursday to offer their sales pitch to the free agent.
Fisher, speaking in Las Vegas at the team's summer league practice on Tuesday, said he gathered during the meeting that one of Anthony's top priorities is to put himself in a winning situation. And the first-year coach made it clear to Anthony that he felt the Knicks could turn things around in 2014-15.
"He wants to win, wants to be successful," Fisher told reporters of Anthony. "The time I had the visit with him I just shared with him we'll be a better basketball team because we'll play the game a better way, play as a team, play with a system and format to allow the game to be easier for him for him and his teammates.
"I'm not sure if it hit home,'' Fisher added. "I guess we'll find out. Hopefully we'll find out soon."
July, 8, 2014
Jul 8
2:39
PM PT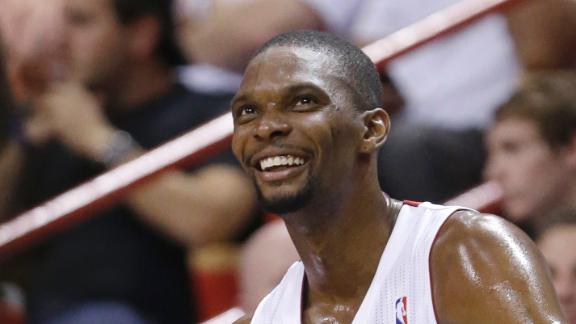 LeBron James and Pat Riley will have their long-awaited face-to-face meeting Wednesday in Las Vegas, according to league sources.
James is in Las Vegas for his annual basketball camp, the LeBron James Skills Academy, and Riley has flown in for the meeting.
Riley, who sold James on leaving Cleveland to join Dwyane Wade and Chris Bosh in Miami four years ago, will try to keep James from leaving the Heat this summer.
In an effort to beef up a Heat roster that James said needs "to improve at every position," Riley reached agreements to sign center/forward Josh McRoberts and forward Danny Granger on Monday.
The meeting with Riley on Wednesday is believed to be the first meeting James has participated in since opting out of the final two years and $42 million of his Heat contract.
James's agent, Rich Paul, met with or spoke with officials from the Mavericks, Rockets, Suns, Cavaliers and Lakers last week, but James was not present.
The four-time MVP told The Associated Press he had "no complaints" when asked how free agency was going on Tuesday.
A person close to the situation told The Associated Press that James and Wade worked out together in Las Vegas on Tuesday morning. The person spoke on condition of anonymity because no one has publicly released James' itinerary.
The Associated Press contributed to this report.
July, 8, 2014
Jul 8
2:05
PM PT
Associated Press
LAS VEGAS -- LeBron James worked out and had a meeting agenda Tuesday.
In another summer of NBA Free Agent Frenziness, if James knows where he will be playing next season, he still isn't saying.
Asked by The Associated Press how free agency was going when his afternoon meeting agenda was apparently complete, the four-time MVP said "no complaints." He offered a quick greeting, and provided no hints of anything -- including when his next "Decision" will be known -- before leaving with a wave.
The entire exchange lasted about eight seconds. James, who has been relatively quiet while weighing his options, never broke stride.
He was upstairs in an exclusive part of a Las Vegas hotel Tuesday, holding court for a little more than three hours before emerging in the lobby, walking toward his assembled brain trust -- including longtime manager Maverick Carter and Nike representatives, a sponsor of the LeBron James Skills Academy he'll be hosting in Las Vegas starting Wednesday -- and got whisked away.
James is expected to meet with Miami Heat President Pat Riley before making a final decision on his NBA future, and a person close to the situation said that meeting had not happened as of Tuesday afternoon. The person spoke to The Associated Press on condition of anonymity because no one has publicly announced the date of the meeting.
Some of James' representatives have met with several teams, including the Cleveland Cavaliers.
After filming a TV commercial in Coral Gables, Florida on Monday, James flew to Las Vegas, which was planned because of his academy. Later this week, he's expected to travel to Brazil to the World Cup final.
July, 8, 2014
Jul 8
12:30
PM PT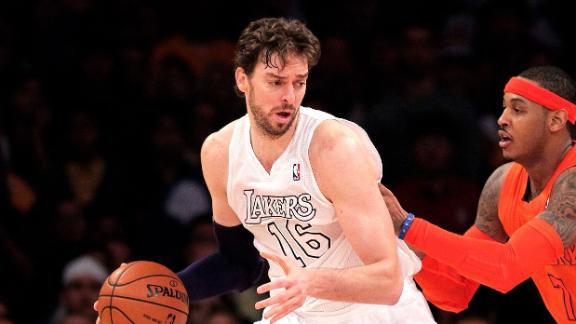 Oklahoma City Thunder coach Scott Brooks met with coveted free agent Pau Gasol in Southern California on Monday, multiple league sources told ESPNLosAngeles.com, but the team quietly considers it a "long shot" to acquire him.
It was the latest in a series of pitches to Gasol by members of the Thunder organization. The courtship began last week with a phone conversation between general manager Sam Presti and the two-time NBA champion on Tuesday, followed up by a tag-team face-to-face appeal from Kevin Durant and Russell Westbrook on Wednesday.
Despite the Thunder's persistence in trying to persuade the 34-year old Spaniard to play alongside his Spanish national squad teammate in Serge Ibaka and the reigning MVP in Durant, a league source told ESPNLosAngeles.com on Tuesday that Oklahoma City considers acquiring Gasol a "long shot."
Oklahoma City is limited to roughly $5 million in spending cash under the luxury-tax line to offer Gasol, but had hoped its position as a championship contender -- coming off a Western Conference finals appearance in the spring -- would speak to Gasol more than money.
During Gasol's meeting with Brooks, according to a league source, the 13-year veteran peppered Brooks with questions about the quality of life in Oklahoma City and wondered aloud about leaving a culturally diverse city like Los Angeles for middle America.
July, 7, 2014
Jul 7
2:18
PM PT

By Dave McMenamin
ESPNLosAngeles.com
Archive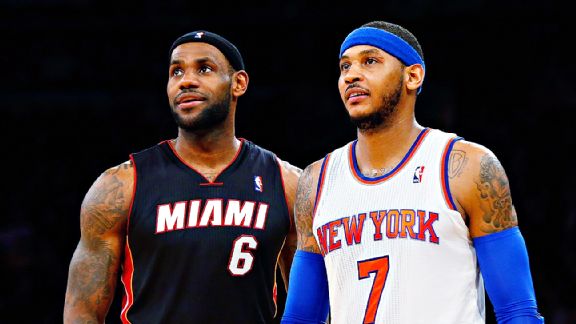 Jim McIsaac/Getty Images
EL SEGUNDO, Calif. -- While the
Los Angeles Lakers
tried to move forward with actual basketball Monday, gathering their group of summer league invitees for the first of a handful of practices before summer league tips off in Las Vegas on Friday, there's still a lot of waiting going on.
Rookie
Julius Randle
, medically cleared by a foot specialist last week to play on his right foot without any further surgical procedures, is waiting to sign his contract before he can participate in the summer league games.
"We'll see," Randle said when asked if he would be suiting up for the Lakers first game against the
Toronto Raptors
on Friday. "It's kind of really out of my hands right now. I'm ready to play whenever, but it's not really in my hands right now."
The Lakers, of course, are waiting to actually ink Randle to his rookie deal as long as they are pursuing
Carmelo Anthony
and
LeBron James
, because they want to keep as much cap space open as possible to facilitate the deals.
ESPN writer and salary cap expert Larry Coon explained the Lakers' reasoning in an email to ESPNLosAngles.com:
"Free agents, first round draft picks and exceptions have 'cap holds' which are used to account for the money that is expected to be spent, reducing the amount the team can spend on other teams' free agents. As the Lakers' first round draft pick (and number seven overall), Julius Randle has a cap hold on the Lakers' books for $2.497,800. If the Lakers were to make a free agent offer to, say, Carmelo Anthony, they can't offer him any of the money that's in Randle's cap hold -- it's set aside for Randle.

"The amount of Randle's cap hold is determined by the league salary scale, however teams can sign their first round picks for up to 120 percent of the scale amount, which means Randle will be eligible to sign for up to $2,997,360. High draft picks almost always sign for the full amount for which they are eligible. As soon as Randle signs his contract, his cap hold goes away and is replaced with his actual salary -- so instead of counting approximately $2.5 million on the Lakers' books, he will count nearly $3 million.

"So when a team like the Lakers is chasing free agents, it makes sense to delay the signing of their first round draft picks. If the Lakers were to sign Randle first (assuming he will get the full 120%, which is a near certainty), they would have approximately $500,000 less to offer a free agent."
Lakers point guard
Kendall Marshall
has also had his patience tested. He's on a non-guaranteed contract for next season worth approximately $915,000. Despite starting 45 games last season for L.A. after being plucked from the D-League, he will be playing on the Lakers' summer league team.
"I feel like I still have a lot to prove," Marshall said of the summer league assignment. "For some reason, there's always a reason why I'm successful or why I'm not successful. So I kind of need to put that doubt to rest and just go out there and prove I can play."