October, 23, 2014
Oct 23
8:43
PM PT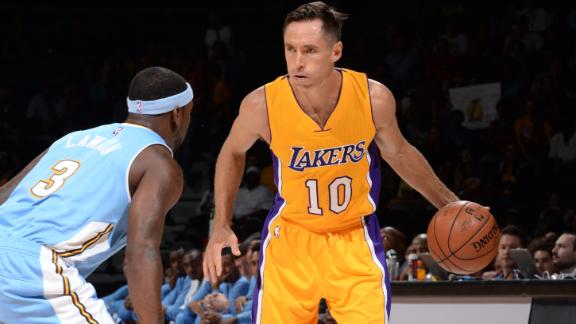 Steve Nash has back and nerve problems that will sideline him for the 2014-15 season, and now Kobe Bryant's contract is no longer a leading candidate for What's Wrong With The Lakers.
Bryant looks as if he can still drop 20 points a night this season. That might not be commensurate with the production expected from the highest salary in the league ($23.5 million), but the cost/stats ratio won't be as bad as the steady stream of blank numbers that will accompany Nash's $9.7 million. Nash will make more than Pau Gasol ($7 million), Shaun Livingston ($5 million) and Spencer Hawes ($5 million) and the same as Luol Deng, to name just a few free agents who moved this season. Any of them would have been more helpful than even the 2012-13 version of Nash.
So Nash's salary looms as the bigger albatross, unless ... the Lakers use his expiring contract as a trade chip. That could turn Nash's contract from a detriment into a referendum on the mindset of the Lakers.
Teams only seek expiring contracts when they want to move long-term commitments that no longer appeal to them. For the Lakers to take two years or more of a contract back it would imply they were no longer committed to clearing as much cap space as possible in 2016. It might even mean they acknowledged they no longer view themselves as the top shoppers who can have their choice of free agents.