July, 2, 2015
Jul 2
8:45
PM PT
ESPN.com news services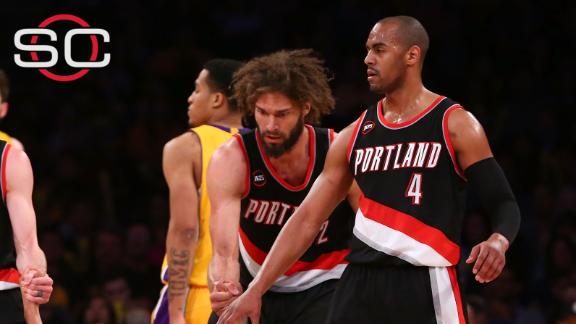 Free-agent center Robin Lopez has picked the New York Knicks over the Los Angeles Lakers, sources told ESPN.com's Marc Stein, and will sign with the Knicks as long as DeAndre Jordan, as expected, chooses the Los Angeles Clippers or Dallas Mavericks and not the Knicks.
If Lopez ends up in New York, he'll be the second free agent picked up by Phil Jackson and the Knicks in the 2015 offseason. Earlier Thursday, New York agreed to a two-year, $16 million contract with Arron Afflalo.
Lopez is known as a strong defender and rebounder, two areas in which the 17-win Knicks struggled last season. The 7-foot center averaged 8.7 rebounds per 36 minutes last season, including 4.2 on the offensive end.
The Knicks met earlier Thursday with Jordan. The team had not been informed of Jordan's decision as of early Friday morning, but, prior to the meeting, sources told ESPNNewYork.com's Ian Begley that the Knicks remained a long shot to sign Jordan.
New York also had a meeting scheduled with free agent LaMarcus Aldridge
July, 2, 2015
Jul 2
7:15
PM PT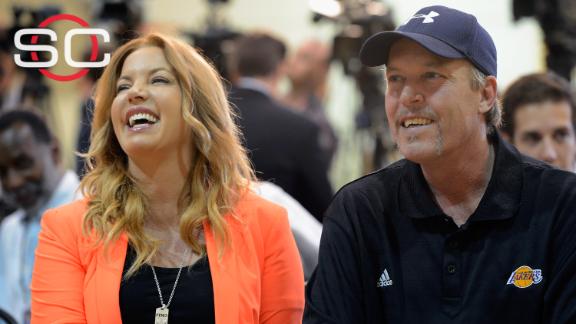 Los Angeles Lakers president Jeanie Buss has said before that the team is rebuilding under a deadline. Specifically, she has said, the Lakers need to make a deep run in the playoffs within three years or her brother Jim will step down from his post as president of basketball operations.
Asked about that deadline in a radio appearance with KPCC on Thursday, Jeanie Buss reiterated that timeline is still in place and that if the Lakers don't reach their goals by then, she's ready for change.
"Yeah, absolutely," Buss said. "This is my job. I'm part-owner of the team, but I'm also the president. The Buss family is the majority owner but we have other partners as well who are also shareholders, and I have an obligation to them. Would I make those changes? Yes. My brother understands that we have to continue to strive for greatness, and I think he would be the first one to feel that he would need to step down if he can't get us to that point."
She explained the circumstances surrounding that timeline.
"Well, I asked my brother, how long until we're back into contention? And when I say 'contention,' that means past the second round, so either the Western Conference finals or the NBA Finals," she said. "And he told me that it would take three years to rebuild it. So we've just finished Year 1 of that three-year [plan]. So we have two more years until he feels that we'll be back into going past the second round in the playoffs."
How would she evaluate how her brother has fared in his role thus far?
July, 2, 2015
Jul 2
4:56
PM PT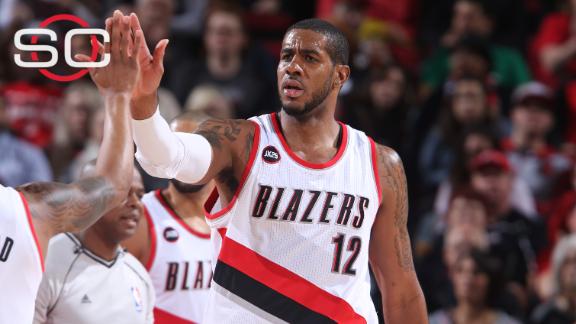 The Los Angeles Lakers got a second chance to impress their top free-agent target, LaMarcus Aldridge, on Thursday night in a meeting that lasted about 90 minutes and focused entirely on basketball, sources told ESPN.
The Lakers had requested the second meeting after being informed that their first presentation to the star power forward had been coolly received because it focused too much on off-the-court business and marketing opportunities in Los Angeles for one of the NBA's glamour franchises and not enough on how the team planned to use Aldridge on the court.
One source with knowledge of both meetings said it took more than an hour before the Lakers laid out a vision for rebuilding their roster and how Aldridge fit into that in the first meeting. The presentation also was wholly lacking in analytics, which appeared even worse after the analytics-minded Houston Rockets followed them into the room Tuesday night.
After getting feedback on Aldridge's reaction to their presentation, the Lakers requested and were granted a second meeting Thursday night. One source said they made a point of apologizing to the 29-year-old Aldridge for not giving a more well-rounded presentation and thanking him for giving them a second chance. In addition to general manager Mitch Kupchak and coach Byron Scott, they brought assistant coach Mark Madsen to the presentation. Madsen is the liaison between the coaching staff and the franchise's analytics staff.
July, 2, 2015
Jul 2
4:15
PM PT
ESPN NBA analyst Tom Penn joins Ryen Russillo to discuss the Los Angeles Lakers' strategy in free agency, whether the New York Knicks or Lakers are more attractive to free agents, and the impact of the salary cap increase.
Penn explains why the Lakers aren't attractive to free agents this summer. "They don't have much to offer, other than being in L.A.," Penn said.
"The Lakers sales pitch has to be a two-year sales pitch," stated Penn, who thinks the Lakers are a more appealing situation than the Knicks.
"Kobe's only under contract for one season. And then, he will be back but it will be at a much reduced rate I would think," Penn noted. "They will have room to build around, plus L.A. has D'Angelo (Russell) and Julius Randle."
The Knicks, on the other hand, are locked into a big contract with Carmelo Anthony for four more years.
For more, click to listen on desktop or on your mobile device.
July, 2, 2015
Jul 2
12:25
PM PT
Associated Press
Ed Davis is leaving Los Angeles for the Portland Trail Blazers. Now, like most of the rest of the league, he's waiting for LaMarcus Aldridge to make a decision and determine just how big Davis' role will be in his new home.
Davis agreed to terms on a three-year, $20 million deal with the Blazers on Thursday, agent David Bauman of Relativity Sports said.
The 25-year-old Davis was the 13th overall pick by the Toronto Raptors in 2010, but he has bounced around the league for his first five seasons. He spent two and a half seasons in Toronto and another season and a half in Memphis before signing a two-year deal with the Lakers last summer that allowed him to opt out after his first year.
Davis averaged 8.3 points and 7.6 rebounds in just over 23 minutes per game with the Lakers, a productive stint especially for a player making under $1 million. He's getting a hefty raise to go to Portland, but he won't know exactly what his role will be with the Blazers until Aldridge decides where he will sign.
If the All-Star power forward chooses to remain in Portland, Davis will be a valuable and versatile piece off the bench for a Blazers roster that is in flux. Nicolas Batum was traded to Charlotte, free agent Wesley Matthews is unlikely to return and new faces including Gerald Henderson and Mason Plumlee have arrived to change things up.
If Aldridge chooses to leave Portland for one of the many teams courting him, Davis could slide into the spot in the starting lineup that Aldridge vacates. Davis has never averaged more than 25 minutes per game in his first five NBA seasons, but starting in a group that includes point guard Damian Lillard
July, 2, 2015
Jul 2
8:16
AM PT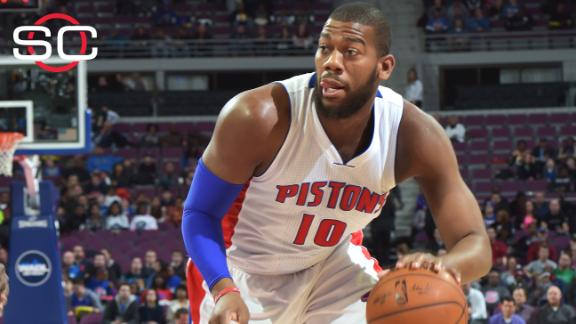 The Milwaukee Bucks got bigger Thursday, agreeing to terms with free-agent center Greg Monroe, agent David Falk said.
Monroe spurned the New York Knicks among other teams by agreeing to terms with the Bucks on a three-year maximum deal worth approximately $50 million with a player option for the final year, sources told ESPN.
Yahoo! Sports reported the agreement earlier Thursday.
The 25-year-old Monroe joins a promising young nucleus in Milwaukee that features Giannis Antetokounmpo (age 20), Jabari Parker (20), Khris Middleton (23) and Michael Carter-Williams (23).
Monroe, the 6-foot-11 big man out of Georgetown, was linked to the Knicks as a primary free-agent target because of his ability to score, rebound and pass and his potential fit in the triangle offense. Monroe's decision to join the Bucks is a blow for New York, which is looking to add more talent around star Carmelo Anthony.
The Los Angeles Lakers and Portland Trail Blazers also reportedly met with Monroe this week.
Falk, Monroe's agent, said all four teams offered his client a maximum deal but Monroe chose the Bucks because he believes they have the best chance at making the playoffs immediately.
NBA free agency started Wednesday, but teams can't officially sign players until July 9.
Monroe immediately gives the Bucks an offensive and rebounding presence inside.
According to ESPN Stats & Information, he was one of five players (along with DeMarcus Cousins
July, 1, 2015
Jul 1
6:51
PM PT

By Baxter Holmes
ESPNLosAngeles.com
Archive
In the wake of reports that LaMarcus Aldridge will not be signing with the Lakers after their meeting with the free-agent power forward late Tuesday did not go well, the team has deleted a tweet from its verified Twitter account aimed at recruiting Aldridge. The specific tweet showed a photo of musician Adam Levine holding an Aldridge Lakers jersey.
Team president Jeanie Buss has also deleted a tweet from her verified account, aimed at recruiting Aldridge. That tweet showed a photo with the hashtag "#LAtoLA"
Aldridge, the Lakers' top free-agent target, was underwhelmed with Tuesday night's meeting, a source told ESPN's Chris Broussard, saying that the presentation focused too much on the off-the-court amenities of life in Los Angeles and not enough on basketball.
A source told the Los Angeles Times that Aldridge has crossed the Lakers off his list of potential destinations, but Aldridge's representation tweeted Wednesday that Aldridge had "not made any decisions yet. All reports to the contrary are false & he looks forward to sharing his plans soon."