April, 16, 2014
Apr 16
3:04
PM PT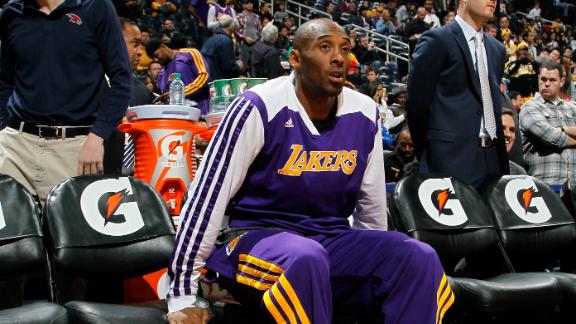 Kobe Bryant has been cleared to resume running and shooting and will begin an intense, six-month training program next week upon his return from a short family trip to Europe, sources with knowledge of the situation told ESPN.
Bryant has been ramping up his activity level in recent weeks as he continues to recover from a fracture in his left knee suffered during the Lakers' victory Dec. 17 at Memphis, just six games into his return from a ruptured Achilles.
While he is in Europe, Bryant will visit the clinic in Germany where he had the platelet-rich plasma treatment known as Orthokineon on his knee, according to a source.
The visit to the clinic is a check-up to ensure all is structurally sound with his knee before he resumes intense training.
Bryant has rarely traveled with the team or appeared in public since, preferring to focus on his rehabilitation instead of a team wrapping up the worst season in Lakers history. He vented his frustrations with the team's struggles when he was declared out for the season in mid-March. He made his feelings known on Twitter on Wednesday:
S*** season. Flush it. Forget it #amnesia Next Season will be epic #blackout #bussfam

- Kobe Bryant (@kobebryant) April 16, 2014
April, 16, 2014
Apr 16
10:36
AM PT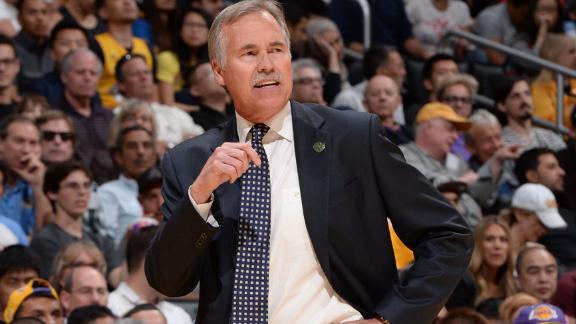 SAN ANTONIO -- The Los Angeles Lakers play their final game of the worst season in franchise history on Wednesday against the San Antonio Spurs. Will it also be the final game of Mike D'Antoni's tenure with the team?
The coach says his future is still undetermined.
"The next step will be to sit down with Jim [Buss] and all them and Mitch [Kupchak] at the end of the year and talk things out, see where things are," D'Antoni said after shootaround Wednesday morning.
D'Antoni is scheduled to have his exit interview with team management Friday. He has one year remaining on his contract worth $4 million, plus the Lakers have an option for the following season. Kupchak, the team's general manager, told USA Today last week that no decision has been made about retaining D'Antoni.
"No. No," Kupchak said. "In fact, I told Jimmy, let's get to the end [of the] season, take some time off ... then review the season."
While Kupchak preached patience, D'Antoni said he was unaware of any extended timeline for a decision on his fate.
"We haven't talked," D'Antoni said. "So that will be done in the next couple days and then we'll just see."
Guard Nick Young, who has the inauspicious distinction of being the team's leading scorer in such a lackluster year, said D'Antoni didn't have a chance to succeed.
"I think he handled everything well," Young said. "He came in on a bad situation -- getting picked over Phil Jackson. He already had a target on his back. So I think he handled all that well. From the boos and 'Fire D'Antoni!' I think he still comes in here with a smile and you can't ask for nothing more from Mike D'Antoni."
No matter what happens against the Spurs, the Lakers (26-55) have already assured themselves the worst season in the 66-year history of the franchise. When asked what he would remember about the season, D'Antoni replied, "Nothing," in deadpan fashion before elaborating.
"You forge individual relationships that have been great," D'Antoni said. "Watching Robert [Sacre]
April, 16, 2014
Apr 16
9:55
AM PT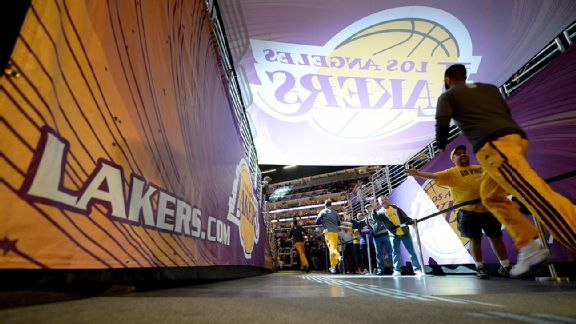 Noah Graham/NBAE/Getty ImagesWith their dreadful season all but over, the Los Angeles Lakers now must face the long road ahead.
Pau Gasol has been in a bad way for the past few weeks. Vertigo might seem like a fancy word for dizzy, but anyone who has ever suffered from it knows the truth.
It's scary. Up is sideways. Down is backward. After an hour, all you want is to make the spinning stop.
"It feels like you're seasick," Gasol said on his walk out of Staples Center after a recent game, "like you're floating in a cloud."
His eyes were glassy. Staying upright wasn't easy. A security guard walked with him, just to make sure.
There is a clarity that forms in desperate moments like this, a distillation of what matters and what doesn't. After the worst season in Los Angeles Lakers history, one that's left everyone in the franchise and the city feeling as dizzy as Gasol, this feels like one of those moments.
The Lakers have missed the playoffs just three times in the past 30 years, but they've never bottomed out with as little to build back up with as this season.
"Things didn't work out," Gasol said as he stopped for a moment to steady himself. "It's not just about talent sometimes. It's about getting your pieces to work together in one direction and having good chemistry, and obviously it didn't happen.
"I'm not big on thinking on what if. Things happen, and then you just move on."
How the Lakers do that, how they move on and use this moment, will set the course of their future for years to come.
April, 15, 2014
Apr 15
8:28
PM PT
April, 15, 2014
Apr 15
6:22
PM PT
Associated Press
MINNEAPOLIS -- As the clock ticks down on the Minnesota Timberwolves' regular season finale on Wednesday night, one of the most quietly successful coaching careers the NBA has ever seen could be coming to a close right with it.
Over the past quarter century, Rick Adelman has won more than 1,000 games, developed an innovative offense that influences everyone from Gregg Popovich to Erik Spoelstra and developed a reputation as a master of exploiting opponents' weaknesses while maximizing the talents on his own roster.
But as his 23rd season draws to a close, it does so with everyone involved -- a coach who wanted to make one last playoff push, a franchise hoping to convince its star player not to abandon it, a fan base worn down by mediocrity -- left wanting more.
The "coaching lifer," as Popovich describes Adelman, who has always been able to come up with right answers to basketball problems has been frustrated like never before by an inability to squeeze more out of a talented but flawed team.
"This year it just seems like we have a good game, and then it could be from one half to the next half," Adelman said recently.
"That's been the hard part, trusting what's going to come. It's just been a very difficult year. I don't think I've ever really experienced (this)."
Adelman's contract has a mutual option included for the final season, meaning either side can opt out of the deal. Adelman will turn 68 in June and the contract calls for a decision to be made no later than two weeks after the season ends.
April, 15, 2014
Apr 15
1:02
PM PT
April, 15, 2014
Apr 15
12:05
PM PT
Associated Press
INDEPENDENCE, Ohio -- Luol Deng has never once forgotten home.
He has spent much of his adult life trying to give back to his native South Sudan, the war-torn African nation the Cavaliers forward and his family fled when he was a young boy.
And while Deng's contributions have touched many, he knows the work will never end.
"I wish I could wake up tomorrow and nobody needs help," Deng said. "But we all know that's not going to happen. I'm just happy to be in the position that I'm in to be able to do the things that I'm able to do."
On Tuesday, Deng was commended for his compassion and dedication when he was named the winner of the J. Walter Kennedy Citizenship Award, presented annually to an NBA player, coach or trainer by the Professional Basketball Writers Association for outstanding community service.
Deng has had a long commitment to philanthropic work in South Sudan, which gained independence in 2011 but has been ravaged by ethnic violence. The two-time All-Star, who came to Cleveland in a trade from Chicago in January, recently recorded a public service announcement for EnoughProject.org, urging peace in his homeland.
In a video directed at the nation's youth, Deng says, "Look around you, and reach out. Make peace among those who are fighting. Forgive one another and encourage others to forgive. Build trust with people who fear each other. You are young, and if you are wise, you will build bridges with people your age that will last a lifetime."
The video is a small sample of Deng's attempts to help others.
April, 14, 2014
Apr 14
11:30
PM PT
SALT LAKE CITY -- After he has already coached the
Los Angeles Lakers
through their worst season in the 66-year history of the franchise, you have to believe Mike D'Antoni wasn't searching for another way to tick off fans Monday.
Intentional or not, there was more to D'Antoni's accomplishment of snapping a seven-game Lakers losing streak with a 119-104 win against the lowly
Utah Jazz
. He also put himself firmly in the crosshairs with a faction of the purple and gold faithful who care only about the Lakers' draft position at this point, rather than chasing meaningless wins to close out the season.
[+] Enlarge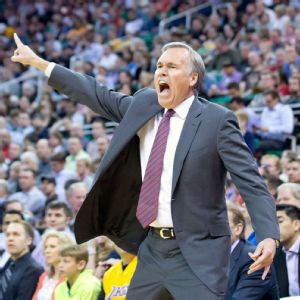 Russ Isabella/USA TODAY SportsAs uncertain as coach Mike D'Antoni was about the Lakers' lottery chances, his job is to win games, not to lose them to potentially improve a draft pick.
"What are you going to tell them? 'Don't play hard'?" D'Antoni said when asked whether the subject had been broached with his team before playing an equally abysmal Utah team. "That's not right."
If D'Antoni had stopped talking right there, he could have been spared the ire from the fan base, as the unexpected win would have been chalked up to
Nick Young
(who hit the 40-point plateau for the second time in eight games) and big nights from
Jodie Meeks
(23 points),
Jordan Hill
(21 points) and
Kendall Marshall
(15 assists).
But D'Antoni didn't stop there, of course.
He continued his answer to reveal that he didn't know exactly what was at stake for the Lakers, who went into the night with a 25-55 record, playing against a Jazz team that was 24-56.
"They played hard, and I think, if I'm not mistaken, it's the same number of pingpong balls, right?" D'Antoni said. "They flip a coin, or something."
Turns out, he was mistaken. The Lakers went into the night with the sixth-worst record in the league. A loss to the Jazz would have put them in a tie for fifth with Utah, with the Lakers owning the tiebreaker as the worse team -- should the Jazz close out the season with a loss in Minnesota and L.A. finish things out with a loss in San Antonio -- because Utah would have won the season series 3-1.
A reporter informed D'Antoni that the win by the Lakers actually cemented the Jazz with a worse record and thus better lottery chances.
"I mean, you kind of hate that," D'Antoni responded, realizing what the win did to the potential draft order. "But, I thought we had the same rank."
Another reporter chimed in to tell D'Antoni that if the Lakers had lost to Utah, the coach would have been correct.
"Oh, I didn't know that," D'Antoni said. "Oh, OK. That's all right; we're going to beat San Antonio, anyway. So, it's all for naught."
In a way, D'Antoni's ignorance in this case shouldn't matter. His job is to coach the team to wins in the present. It is not to manipulate the outcomes of games to try to land better talent in the draft and potentially secure more wins in the future.
And, as D'Antoni pointed out, the Lakers could always beat the Spurs on Wednesday with Gregg Popovich resting his starters and make the win against the Jazz a moot point. Or the
Boston Celtics
could always beat the
Washington Wizards
in their last game and, coupled with a Lakers loss to San Antonio, create a coin-flip scenario to determine who gets the No. 5 position.
The logic will be lost on some fans, for sure. When things are as bad as they are right now for believers accustomed to championship or bust, they'll latch on to whatever they can as an outlet for their frustrations. Plus, D'Antoni didn't do himself any favors when he said earlier in the season that fans who were discouraged by the Lakers' struggles should "find another team to root for."
Combine all that with a less-than-ringing endorsement from
Kobe Bryant
and repeated head butts with
Pau Gasol
-- two guys who, unlike D'Antoni, have delivered titles to L.A. -- and it's no surprise some of the faithful will choose to ignore that D'Antoni gets paid to win games, not to know about draft scenarios should the Lakers lose.
Besides, it's called a "lottery" for a reason. Even if the Lakers finish with the sixth-worst record, it doesn't mean they can't vault into the top three when the pingpong balls are picked. It also doesn't mean they'll even get the sixth pick, because they could move down to a worse draft position with bad luck.
And no draft is the same. But it's important to remember an example such as
Damian Lillard
going No. 6 to Portland in 2012 when
Thomas Robinson
went No. 5 to Sacramento. Of course,
Chris Kaman
was No. 6 in 2003 when
Dwyane Wade
was No. 5, too.
But the biggest takeaway from Monday shouldn't be D'Antoni putting his foot in his mouth or the Lakers hurting their supposed chances in something that comes down to luck in the end, anyway.
It was about a Lakers team showing a shred of pride with last place in the Western Conference on the line.
"The basketball gods [made it happen]," Young said. "We needed a night like this. Just the energy. We came in here, we knew it was going to be a battle. It was a way to say, 'Who wants to be the last-place team in the West?'
"And we went out there, we were making shots and jumping around as a team. We had fun together."
April, 14, 2014
Apr 14
8:34
PM PT
Associated Press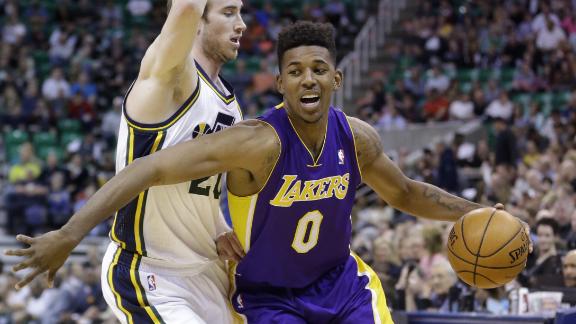 SALT LAKE CITY -- Nick Young scored a season-high 41 points and helped the Los Angeles Lakers snap a seven-game losing streak with a 119-104 victory against the Utah Jazz on Monday night.
Jodie Meeks had 23 points and Jordan Hill added 21 for Lakers, who had only eight healthy players.
Alec Burks scored 22 points and Gordon Hayward had 21 points for Utah. Enes Kanter had 19 points and 12 rebounds and Trey Burke chipped in 17 for the Jazz, who have lost 10 of 11 games.
The game was tied at 86 after the third quarter, and then the Lakers found their range. Los Angeles outscored the Jazz 33-18 and the Utah players heard a mix of cheers and boos as the clock expired in their last home game of the season.
April, 14, 2014
Apr 14
8:32
PM PT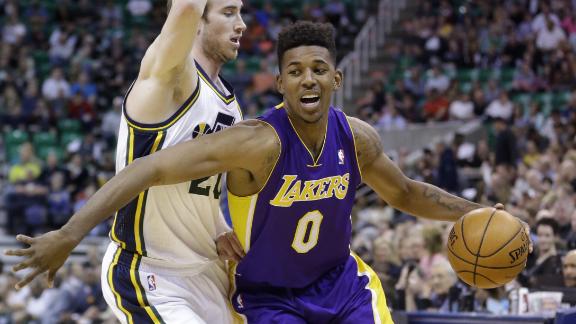 SALT LAKE CITY -- Not that it should be much of a surprise by now, but the
Los Angeles Lakers
proved on Monday that they just couldn't get things right this season.
When they needed to win in the early part of the season, they were terrible at it, becoming the first team in the league to be eliminated from postseason contention with 16 games left to play.
When they needed to lose late in order to help their draft standing, they proved equally bad, pulling out spoiler wins against the
Phoenix Suns
and
New York Knicks
to hurt those team's playoff chances.
Nothing summed up the backward season more than what happened in Salt Lake City, however. The Lakers were up against a
Utah Jazz
team they will be battling for ping-pong positioning next month and, all of the sudden, they looked like world beaters.
There was
Nick Young
making seemingly everything he put up there, setting a season high with 41 points.
There was
Jordan Hill
causing fans to once again scratch their heads and wonder why he ever fell out of the rotation, scoring 21 points on 10-for-13 shooting.
There was
Jodie Meeks
playing like the true professional he's groomed himself to be, dropping in 23 points of his own.
There was
Kendall Marshall
dishing out 15 assists and giving the team something to think about when it comes to making him an offer this offseason.
But through it all, there was the Lakers' draft chances for next season taking a hit, which is really what matters at this point.
How it happened:
The Lakers fell down by as many as 13 points in the first half, but used a 19-2 run to close out the second quarter to take a 57-51 lead into intermission. The Jazz tied it back up 86-86 heading into the fourth. L.A. blew Utah's doors off in the final frame, with Young scoring 17 points in the quarter.
What it means:
The Lakers promised they hadn't given up on things and were playing for each other, and for pride. Apparently they weren't lying.
Hits:
The Lakers shot 54.9 percent as a team.
Misses:
The Lakers' lottery positioning took a hit on Monday as L.A. could have vaulted below Utah to the No. 5 spot, but instead pretty much cemented its place at No. 6.
Stat of the game:
18. The Jazz had 18 turnovers leading to 29 points for the Lakers.
Up next:
There's just one game left in this forgettable season for the Lakers. They travel to Texas to play the
San Antonio Spurs
on Wednesday in a game where Gregg Popovich is sure to rest his key players -- with the No. 1 record in the league and home court throughout the playoffs already locked up for the silver and black.
April, 14, 2014
Apr 14
8:06
PM PT
SALT LAKE CITY -- The
Los Angeles Lakers
came into Monday's game against the
Utah Jazz
sporting an 0-7 record in the month of April and riding a slump that has accounted for nine losses in their past 10 games overall.
With such a precipitous slide seemingly impossible to reverse this late in the season, one could hardly blame Lakers coach Mike D'Antoni if he chose to hit the ejection seat on the season with two games left to go.
[+] Enlarge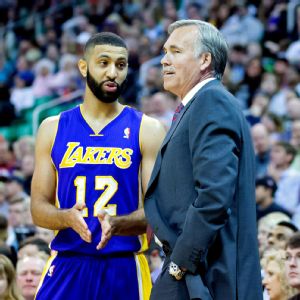 Russ Isabella/USA TODAY SportsDon't expect coach Mike D'Antoni to offer his overview of the 2013-14 Lakers or thoughts on job security until after Wednesday's season finale.
However, no matter how meaningless the Lakers' (25-56) game against Utah (24-56) was, other than in the context of draft lottery positioning implications, D'Antoni swore his group was still engaged.
"We want to win," D'Antoni said before the game. "It would be unprofessional not to try to do it. That's not right for these guys. We want to compete. Hopefully we can get it."
Keeping that mindset, D'Antoni refused to offer a final evaluation on the season or reveal his thoughts about his job security for next season until Monday's game against Utah and Wednesday's game against San Antonio were in the books.
"Thursday, we got exit meetings," D'Antoni said, not extending his offseason thoughts past the middle of this week. "So, there you go, I'm to Thursday. Then I've got Easter coming up. I'm going to do that. Then after that, I don't know, guys. We'll see what happens."
D'Antoni has one year remaining on his contract with the Lakers, set to pay him $4 million. The Lakers have a team option on D'Antoni for the following season, as well.
While D'Antoni's coaching seat has gotten a little warm over the past several months, he still has more security than most of his players. Eleven of the 15 players on the Lakers' roster are on expiring deals.
Nick Young
is likely to opt out of his $1.2 million deal for next season, which would bring L.A.'s free agent pool up to a dozen.
"It's our jobs just to play as hard as we can, as long as we can and finish the year off," D'Antoni said. "Come September, I don't think that's going to make a whole big difference when you have a new team out there. But it makes a big difference to that individual guy and you can read into how they are. If they can't find energy or find the will to play now, why would they do it later on?"
Even though D'Antoni took a positive outlook when claiming there's still something left to play for, he admitted the reality that no one on the Lakers should feel too accomplished for what they have done this season.
"I don't think there's any credit to be given," D'Antoni said. "We've only won 25 games, so you can't give credit. Guys have been working hard. OK, you can [note] that. Some of them have gotten better. Yeah, OK. But there's no credit to being in a bad season.
"Now, having said that, I think some guys have stepped up. They've been put in a horrific situation that for a lot of them, there's just no solution. They've been put into roles that are not right for them. I think they've responded as well as they could, but I think a lot of them have tried to do their job as best they can."
D'Antoni tried to maintain a cheery front, but there's no denying the season has taken a toll on him as well.
When asked if he could focus on any of the little victories the Lakers had achieved this season for solace, he responded, flatly, "No."
When asked if he has taken up any off-court activities this season as an escape to protect his sanity amid all the losses, he replied, "What sanity?"
When asked if it was better to finish off a rough season like this on the road rather than at home, D'Antoni corrected the reporter: "A season like this? I think you have the question all wrong. It's better to finish."
While the record books will show the 2013-14 Lakers as the worst team in the 66-year history of the franchise, D'Antoni is reserving judgment.
"Again guys, I sound like a broken record, but these guys are good guys," D'Antoni said. "We just come to work every day. We try to do our best. We try to give them the best that we can give them. Don't worry about the noise. It is what it is and go through it and try to get to the next layer. It's our job to do that. It's their job to play as hard as they can.
"Our job is to coach as hard as we can and then at the end, it's just, 'OK, it went that way.' And you pick it up or you move on or you do something. But the assessment comes after the fact, not now."
April, 14, 2014
Apr 14
6:54
PM PT
SALT LAKE CITY -- After visiting with foot specialist Dr. Kenneth Hunt of Stanford University on Monday, it was determined
Los Angeles Lakers
guard
Kent Bazemore
will require surgery on the torn tendon in his right foot, according to a team spokesman.
Bazemore, who is not with the Lakers on their final two-game road trip, will undergo the surgery on Wednesday at Stanford University Medical Center.
[+] Enlarge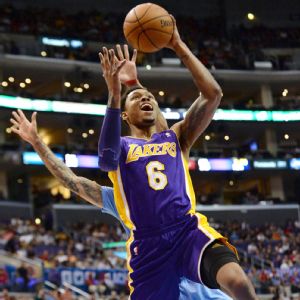 Noah Graham/NBAE via Getty Images Surgery is slated Wednesday to correct the torn tendon in Kent Bazemore's right foot. He should be fully recovered by June.
The second-year veteran is expected to be fully recovered from the surgery by June, according to a league source.
Bazemore has missed the Lakers' past four games after falling to the floor in the second quarter of a 120-97 loss to the
Los Angeles Clippers
, saying after the game that he "felt a pop" in his right foot.
The 6-foot-5, 201-pound swingman classified it as an "overuse injury."
Bazemore averaged 28 minutes per game in 23 appearances with the Lakers after being acquired from the
Golden State Warriors
at the trade deadline in a deal for
Steve Blake
. He had been playing only 6.1 minutes per game with Golden State.
He made the most of his opportunity with the Lakers, averaging 13.1 points, 3.3 rebounds, 3.1 assists and 1.3 steals.
Bazemore is set to become a free agent this summer, however the Lakers can make him a restricted free agent by extending a $1.1 million qualifying offer.
Bazemore is one of four Lakers players -- along with
Kobe Bryant
(left knee),
Pau Gasol
(vertigo) and
Xavier Henry
(left wrist and right knee) -- to have his season prematurely shut down because of injuries.
That number could rise to six as
Steve Nash
(hamstring) missed his third straight game Monday and
Chris Kaman
(right calf strain) missed his seventh straight game.
"Not tonight, but we still got one more," Lakers coach Mike D'Antoni said of Nash and Kaman's availability before the Lakers' game against the
Utah Jazz
on Monday. "I doubt it. I would say I don't think so."
The Lakers finish out the season Wednesday at the
San Antonio Spurs
.