May, 31, 2016
May 31
10:02
PM PT
May, 30, 2016
May 30
3:49
PM PT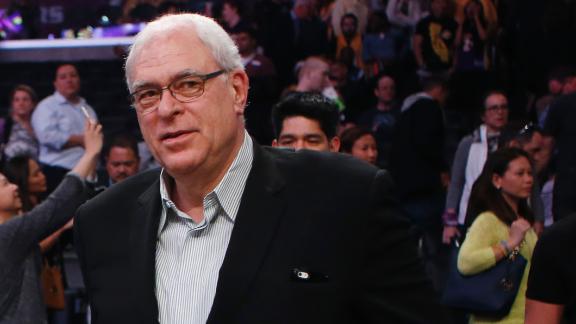 Los Angeles Lakers co-owner Jeanie Buss says that Phil Jackson, her fiancé and the president of the Knicks, will not be leaving New York to rejoin the Lakers.
"No. To visit, yes ... but in terms of basketball, he's committed to New York for many years," Buss said Monday on ESPN Radio's Beadle and Shelburne Show. "He's building something there. He has a mission, he's on that journey to get the team back to where he believes it can be and it will be. He's a former Knick ... he loves New York, he loves the fans, he wants to make them proud.
"In terms of the Lakers, we have a front office. They're putting together a team ... they have a vision. I'm excited to see what the future holds for us. So, to answer your question ... no, there's no plans for Phil to come back here."
Jackson has three seasons remaining on his five-year deal with the Knicks. Speculation about Jackson's potential return to Los Angeles will likely continue because his contract contains an opt-out clause after the 2016-17 season, according to ESPN's Chris Broussard.
New York has won just 48 games over the past two seasons of Jackson's presidency, but Jackson and the Knicks hope to build a contender around rookie Kristaps Porzingis and veteran Carmelo Anthony. The club is expected to announce Jeff Hornacek as its next head coach some time this week. Hornacek will be the second head coach Jackson has hired (a total that doesn't include 2015-16 interim coach Kurt Rambis and 2013-14 head coach Mike Woodson, whom Jackson fired).
May, 28, 2016
May 28
10:26
AM PT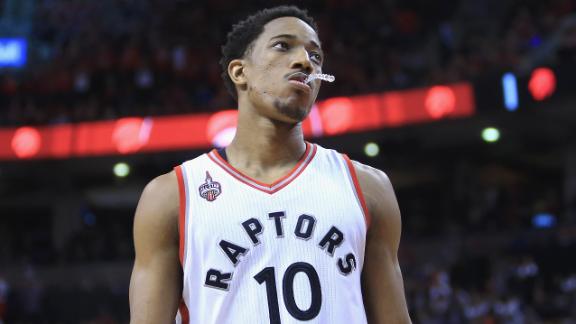 TORONTO -- DeMar DeRozan expressed a desire to stay with the Toronto Raptors one day after his team was eliminated from the playoffs.
DeRozan, who will become an unrestricted free agent July 1, has been with the Raptors for his entire career. He was asked specifically if he can find a better situation than Toronto
"I don't think so," DeRozan said Saturday. "My mindset has always been Toronto. I've always preached it. I was passionate about it when we were losing, when we were terrible. I said I was going to stick through this whole thing, and I want to be that guy who brings this organization to where it is now. I definitely don't want to switch that up after we win."
DeRozan, a two-time All-Star who averaged 23.5 points per game during the regular season, has been linked to his hometown Los Angeles Lakers, who could be one of several teams to offer him a maximum contract starting at $25 million annually.
Per collective bargaining rules, the Raptors will be able to offer DeRozan up to five years at around $145 million, whereas other teams will be able to offer him up to four years at around $107 million. Toronto general manager Masai Ujiri will address the media early next week.
"I grew up in L.A. That's my home. There's not a part of L.A. I haven't seen," said DeRozan, who attended Compton High School and USC before being selected No. 9 overall by Toronto in the 2009 NBA draft. "I don't get caught up into it. I let whoever comes up with that say what they want to say.
"The only thing appealing to me is the things I've done in this organization and the things that can be done here. And that's always been my mindset since I've been here."
This is not the first time DeRozan has made his hopes known.
May, 27, 2016
May 27
12:03
PM PT
We asked Ben Alamar, ESPN's director of sports analytics, to figure out the most famous athletes in the world. Using a formula that combines athlete paychecks - salary and endorsements - with social media fan base and Google search popularity, he ranked the world's 100 most famous athletes. Here is the ESPN World Fame 100.
---
IT'S GOOD TO BE: Flush enough to commute to and from work via helicopter, as Kobe Bryant often did when his Los Angeles Lakers played home games at Staples Center.
May, 26, 2016
May 26
8:36
PM PT
Every year ESPN attends individual workouts for prospects as they prepare for the NBA draft.
Last Friday I filed a report from Chicago and New York on Brandon Ingram, Jamal Murray, Thon Maker, Wade Baldwin and others.
This week, I saw Buddy Hield, Kris Dunn, Marquese Chriss, Henry Ellenson, Jakob Poeltl and Tyler Ulis and talked to NBA scouts and GMs.
Here's what I've learned so far.
---
Buddy Hield, SG, Sr., Oklahoma
May, 26, 2016
May 26
4:29
PM PT
Associated Press
LOS ANGELES -- Khloe Kardashian is once again seeking to end her marriage to former NBA player Lamar Odom.
Court records in Los Angeles show Kardashian filed for divorce Thursday, citing irreconcilable differences.
The reality TV star and Odom married in September 2009, and she filed to divorce him in December 2013, which she still lists as their date of separation. The divorce was never finalized, and Kardashian withdrew the petition after Odom was found unconscious at a Nevada brothel last year. She cited Odom's medical condition as one reason to withdraw the divorce.
Odom was hospitalized in critical condition in Las Vegas in October 2015 after he was found unconscious with cocaine and other drugs in his system. After months of recovery, he returned to the public eye in February at a Kanye West fashion show.
The divorce filing states Kardashian and Odom have a prenuptial agreement. They have no children together.
Odom played most of his NBA career with the Los Angeles Lakers and Clippers.
May, 24, 2016
May 24
4:11
PM PT
Associated Press
LOS ANGELES -- Kermit Washington, a former NBA player who notoriously gave a bone-breaking face punch to the Houston Rockets' Rudy Tomjanovich during a 1977 Lakers game, has been arrested by federal agents.
Washington was arrested on a warrant Tuesday in Los Angeles. It's unknown if he has a lawyer.
Officials would not discuss the arrest, but they have set a news conference for Wednesday in Kansas City, Missouri.
That's where football Hall of Famer Ron Mix pleaded guilty Monday to filing false tax returns.
Authorities say Mix, a San Diego-area lawyer, paid someone to refer clients to him in return for donations to the charity Contact Project Africa.
Prosecutors say Mix paid $155,000, but the money went into his associate's pocket.
Washington founded the charity, which is no longer functioning.
May, 21, 2016
May 21
5:49
PM PT
ESPN.com news services
Hyoung Chang/The Denver Post/Getty ImagesThe last time Brian Shaw was on an NBA bench, he was the head coach of the Nuggets.
Brian Shaw will join the Los Angeles Lakers coaching staff as Luke Walton's associate head coach, sources told ESPN.
A former Lakers assistant under Phil Jackson, Shaw previously was the head coach of the Denver Nuggets, but he was fired in the middle of the past season. He compiled a 56-85 record in less than two seasons at the helm.
Like Walton, Shaw is a former Lakers player who moved to the bench following his playing career. Walton played for the Lakers during Shaw's time as an assistant with the franchise, and the team won two titles during that span.
Shaw has also served as an assistant coach with the Indiana Pacers.