March, 25, 2015
Mar 25
9:00
PM PT
ESPN.com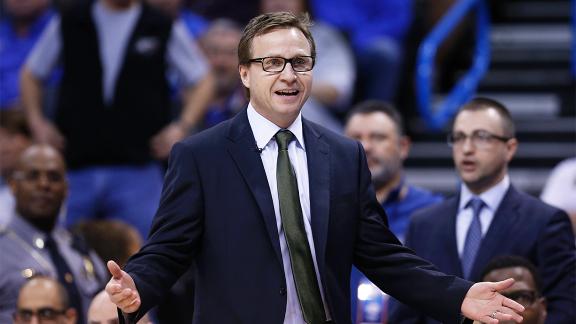 March, 25, 2015
Mar 25
7:51
PM PT
Associated Press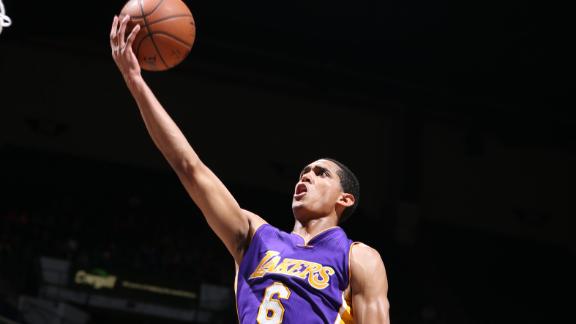 MINNEAPOLIS -- Jordan Clarkson hit two free throws with 0.3 seconds left in overtime to send the Los Angeles Lakers over the Minnesota Timberwolves, 101-99 on Wednesday night.
Clarkson scored eight points in overtime and finished with 20. Jeremy Lin added 19 points for the Lakers, who snapped a five-game road losing streak and won for the second time in three games.
Andrew Wiggins had 27 points for Minnesota.
Chase Budinger scored 22 and sent the game into overtime with a 3-pointer with 6.6 seconds left in regulation as the Timberwolves erased a 13-point, second-half deficit.
March, 25, 2015
Mar 25
3:33
PM PT
OKLAHOMA CITY -- Though it would end up just another loss in a trying season, the Los Angeles Lakers made history in Wednesday's game against the Oklahoma City Thunder.
The duo of Jordan Clarkson and Jeremy Lin became the first-ever Asian-American starting backcourt in the NBA.
"Proud to make history tonight with [Jordan Clarkson]," Lin wrote in a caption of a photo of him and Clarkson on his Instagram account."First ever starting Asian-American backcourt in the NBA!! Proud of rook for that 30-piece too! #asianinvasion#halfasiancounts"
Clarkson scored a career-high 30 points in the 127-117 loss to the Thunder, and Lin scored 19 points. Each guard added seven assists.
March, 25, 2015
Mar 25
6:18
AM PT
Associated Press
CANTU, Italy -- Former NBA All-Star Metta World Peace has signed for Italian team Pallacanestro Cantu for the remainder of the season.
After a series of teasing tweets from the 35-year-old World Peace -- such as "whatever you can do I Cantu better" -- Cantu confirmed the news, calling it "the coup of the century."
World Peace, who changed his name from Ron Artest, was playing for the Sichuan Blue Whales in the Chinese Basketball Association after a long NBA career that included stints with the Chicago Bulls, Indiana Pacers, Sacramento Kings, Houston Rockets, Los Angeles Lakers and New York Knicks.
"When Daniele (sporting director Daniele Della Fiori) told me about the possibility of signing Metta World Peace, I thought that this could be the right shock to boost the squad at a crucial time in our season," Cantu president Anna Cremascoli said. "Metta will bring a wave of enthusiasm to the whole of Italian basketball and not just to Cantu."
World Peace, 35, averaged 19 points and six rebounds in 15 games for Sichuan -- where he also changed his name to "The Panda's Friend" -- but with the Chinese season over, he has turned to Italy.
World Peace won the NBA title in 2010 with the Lakers, where he also spent a season with Darius Johnson-Odom, who has been at Cantu since August.
"I'm happy, obviously," Johnson-Odom said. "I've spoken to Metta on the phone and he's very excited about this new adventure. I'm sure he will give us a great contribution, because we're talking about an absolute champion."
March, 25, 2015
Mar 25
6:09
AM PT
ESPN.com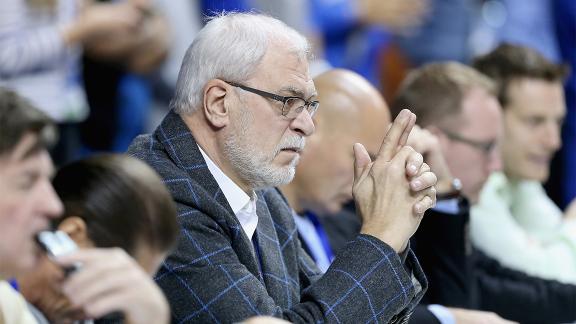 March, 24, 2015
Mar 24
8:58
PM PT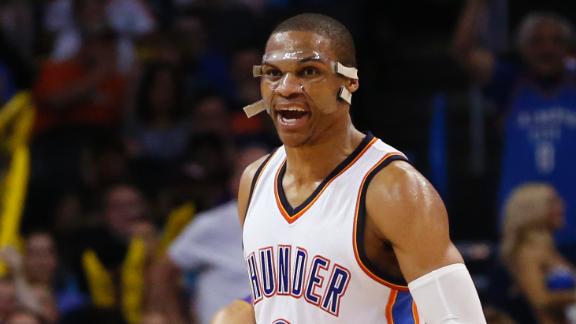 OKLAHOMA CITY -- Of course Jordan Clarkson was pumped up to face Russell Westbrook, the human fireball who is burning ridiculously white hot at the moment.
Clarkson didn't hide that fact either after scoring a career-high 30 points in the Los Angeles Lakers 127-117 loss to the Oklahoma City Thunder at Chesapeake Energy Arena.
"It's always motivation to go against somebody that everybody talks about," Clarkson said.
[+] Enlarge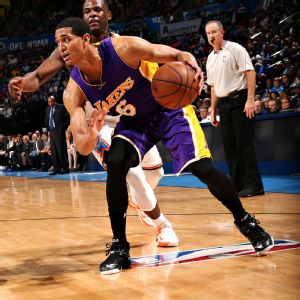 Layne Murdoch/NBAE/Getty ImagesRookie Jordan Clarkson scored a career-high 30 points on Tuesday against the Thunder.
It's worth noting that Clarkson didn't exactly win the battle. Westbrook scored 27 points and had 11 assists. And he probably would've notched another triple-double had he not been on the bench during the entire fourth quarter when the Thunder were comfortably ahead.
Still, Clarkson was clearly as aggressive as he has been in any game so far -- no mere coincidence since he was playing against arguably the most aggressive player in the NBA.
"I've just got to learn to put that into everybody when I go out there and step on the floor," said Clarkson, who was 12-of-19 from the floor, including 2-of-3 from deep.
Clarkson's performance was another promising step for the second-round draft pick out of Missouri who continues to impress the team and fans -- and perhaps giving credence to the idea that he could be a solid player for the Lakers moving forward.
"He's doing a great job for us," said Lakers assistant Paul Pressey, the team's acting head coach while Byron Scott remains in Southern California to attend funeral services for his mother.
"The growth for him has been very good with guys going down with injuries, allowing him to play a little more. It is just a great opportunity for him to improve his game. He knows how to put the ball in the hole and we are trying to get him to be a facilitator."
Clarkson added seven assists, along with a career-high three blocks (including one on Westbrook), and he paired well in the backcourt with Jeremy Lin, who finished with 19 points and seven assists.
March, 24, 2015
Mar 24
7:28
PM PT
Associated Press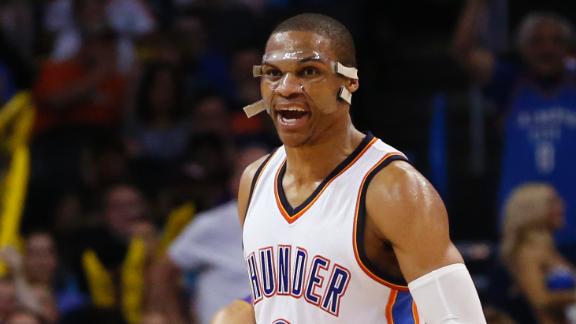 OKLAHOMA CITY -- NBA scoring leader Russell Westbrook poured in 27 points and added 11 assists and Enes Kanter contributed 25 points and 16 rebounds as the Thunder beat the Lakers 127-117 on Tuesday night for their fourth straight victory.
Kanter had a double-double in the first quarter with 15 points and 10 rebounds as Oklahoma City raced out to a 37-27 lead.
After trailing by 15 at the half, the Lakers closed to 70-61 before Westbrook scored twice in 15 seconds on his way to 14 third-quarter points.
The Thunder led 100-88 after three and played reserves most of the fourth quarter.
Jordan Clarkson scored 30 for the Lakers, who lost for the 10th time in their last 12 games.
March, 24, 2015
Mar 24
7:26
PM PT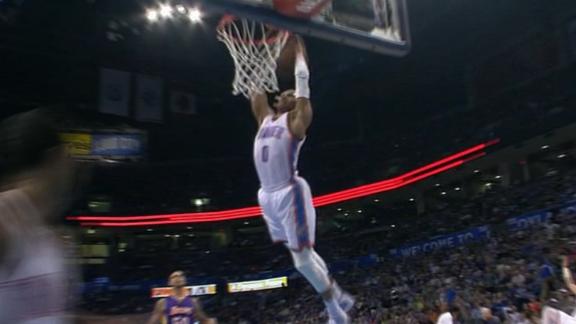 OKLAHOMA CITY -- Kevin Durant remained on the sideline, but the Oklahoma City Thunder didn't miss him much Tuesday.
Even without their star, the Thunder still had more than enough firepower to torch the Los Angeles Lakers 127-117 at Chesapeake Energy Arena.
Thunder star Russell Westbrook picked up the slack, finishing with 27 points, 11 assists and two rebounds, and the Thunder hit the 100-point barrier in the third quarter, demolishing a Lakers' defense that was pretty much absent from tipoff on.
Thunder forward Enes Kanter also chipped in with 25 points and 16 rebounds.
At 18-51, the Lakers, who have lost 10 of their past 12 games, are now four losses from their most losses in franchise history, a record that they set last season.
They have 12 games remaining this season.
Top player: Westbrook failed to notch his 10th triple-double of the season, but he didn't play in the fourth quarter either. He played 30 minutes and hit 9-of-17 from the field, including a pair of 3-pointers. He hit seven of his eight free-throws. There were also plenty of fast-break highlights and a couple thunderous slams sprinkled in there.
Top Laker: Lakers rookie point guard Jordan Clarkson was clearly pretty jazzed to face Westbrook, and the second-round pick out of Missouri responded with his best game of the season: a career-high 30 points, seven assists, two rebounds and three blocks in 36 minutes. He hit 12-of-19 from the field.
Stat of the night: The Thunder held a 66-58 edge in points in the paint after crushing the Lakers on the glass, 49-28.
Notes: After scoring a season-high 29 points in Sunday's win against the Philadelphia 76ers, Lakers guard Jeremy Lin moved back into the starting lineup. He finished with 19 points and seven assists. ... The Lakers are looking to develop young players the rest of the way, which meant forwards Carlos Boozer and Jordan Hill both received a healthy scratch. ... Lakers assistant Paul Pressey was the team's acting head coach in place of Byron Scott, who remained in Southern California to attend funeral services for his mother.
Up next: The Lakers continue a five-game road trip in Minnesota, where they'll face the Timberwolves on Wednesday. Pressey will coach the Lakers in that game.
March, 24, 2015
Mar 24
7:13
PM PT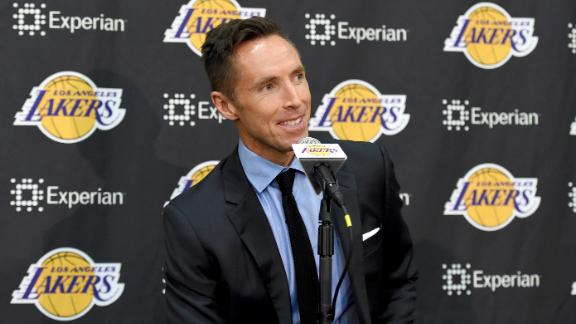 EL SEGUNDO, Calif. -- Steve Nash has known since October that he'd played his final NBA game. His body simply couldn't bounce back anymore.
He trained as hard as ever, felt great in training camp and in his first preseason game. Then he woke up the next morning and felt every single one of his 19 seasons in the NBA.
"I really thought I was going to get through the year," Nash said Tuesday at a news conference at the Lakers training facility to announce his retirement from the NBA. "I did everything I possibly could. I think I was in as a good a shape as anybody through training camp. But when I woke up that next morning and was a mess, that's when I really started thinking long and hard of what I'm really capable of this year.
"In the end, it became pretty clear and the decision was sort of made for me. I just wasn't going to be able to sustain it. I wouldn't be able to help the team this year."
Nash said he took about 10 days to think through his options. He met with Lakers general manager Mitch Kupchak, leaned on his family and friends and tried to look honestly and deeply into his soul before deciding if this really was the end. Looking back on it now, he said he probably knew for a while that it was, but he needed to exhaust every possible option before he could be at peace with the decision.
"I think [Lakers trainer] Gary Vitti, who I became close to while I was here, and the doctors probably gave me a nudge and a hint a few times that I pretended to ignore or pretended to miss," Nash said of accepting the reality that his body simply couldn't withstand the rigors of the NBA anymore.
"But I wouldn't feel as clear or in full acceptance of this if I would've backed out at any time before I did."
Nash, 41, officially announced his retirement on Sunday in a letter to fans on the Players Tribune