November, 30, 2015
Nov 30
1:28
PM PT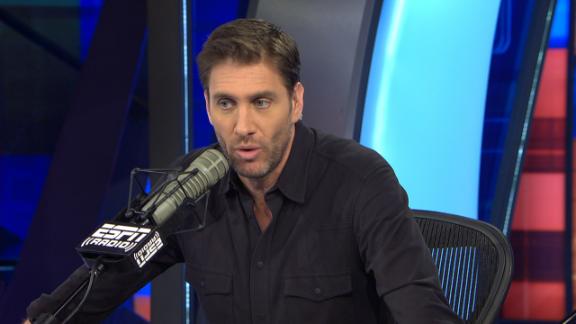 Oklahoma City Thunder forward Kevin Durant says he "idolized" Kobe Bryant as a player growing up, adding that he was angry at the media for their treatment of the Los Angeles Lakers star.
"I did idolize Kobe Bryant. I studied him, wanted to be like him," Durant said Monday at a shootaround in Atlanta. "He was our Michael Jordan.
"I've been disappointed this year because you guys [the media] treated him like s---. He's a legend, and all I hear is about how bad he's playing, how bad he's shooting and it's time for him to hang it up. You guys treated one of our legends like s---, and I didn't really like it. So hopefully now you can start being nice to him now that he decided to retire after this year."
Bryant, 37, announced Sunday that he is retiring at the end of the season. He is coming off injuries that have limited him to 54 games since the beginning of the 2013-14 season and has seen a steep decline in production.
Responding to social media backlash to his comments, particularly the part about media coverage, Durant said his point was noting the negativity around Bryant, rather than appreciating the accomplishments of a legend on his way out.
"I understand [the media] have to write about the game. Of course I understand that," Durant told ESPN.com. "Kobe hasn't played well, and his team hasn't played well, but did we expect that from them? You did say he was the 93rd-best player in the league, you did have the Lakers as the worst team in the West, but it seems like everybody is happy that he's going out like this. Every game he's played on TV is about how terrible he looks, every article the next day is about how he should retire and give it up. Just killing him.
"I never hear about the Finals MVPs, the accolades. They did it for [former Yankee] Derek Jeter, they will do it for Tim Duncan
November, 30, 2015
Nov 30
9:26
AM PT
November, 30, 2015
Nov 30
10:16
AM PT

By Chris Forsberg
ESPNLosAngeles.com
Archive
Los Angeles Lakers star Kobe Bryant announced Sunday that the 2015-16 campaign will indeed be his final NBA season. Despite all the speculation about Bryant's future, the news still came as a surprise to some in the Boston Celtics locker room.
"That sucks," Celtics guard Isaiah Thomas said when informed of Bryant's announcement. "I'm definitely going to try to get his jersey before he calls it quits. He's the best player in my era. The game will miss him. He's one of the best players ever. Dang. That's my favorite player, so that hurts."
Bryant's announcement means that Dec. 30 will be his 23rd and final appearance at TD Garden, and Boston's visit to Los Angeles on April 3 will be his 45th and final game against the Celtics.
With that in mind, here's a quick list of the five most memorable Bryant/Boston moments that sprang to mind after his announcement (and feel free to add your own in the comments section):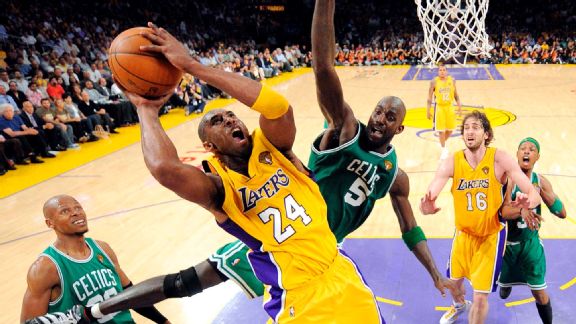 AP Photo/Mark J. TerrillKobe Bryant trying to score against the Celtics in the 2010 NBA Finals.
• Bryant's pre-draft workout: The Celtics owned the No. 6 pick in the 1996 draft and brought in Bryant for a pre-draft workout. Even Bryant has joked about his brief time in green (posting pictures of him with Celtics legend Dennis Johnson). Bryant, a lifelong Lakers fan, said he initially balked at working out for Boston. "They said, 'What do you mean, no?'" Bryant said. "I was such a Lakers fan and I just hated the Celtics. They said, 'C'mon now, you have to do this.' So I asked them, 'But do I have to wear all that green stuff?'" Bryant later admitted that Johnson was "awesome" and that he enjoyed his visit. "I had a great time. It was just getting past all that gawd-awful green stuff."
• Sweetest win: Game 7 of 2010 Finals: Bryant didn't have a particularly efficient shooting night, finishing 6-for-24. But he put up 23 points, grabbed 15 rebounds and aided the Lakers' second-half rally to defeat a Celtics squad that squandered two chances to capture its 18th title. Boston fans cringed watching Bill Russell deliver the Finals MVP trophy to Bryant, who called his fifth championship the "sweetest" of his career because it came against the Lakers' rivals.
• Toughest defeat: Game 6 of 2008 Finals: If the 2010 Finals were among Bryant's best basketball memories, the 2008 Finals will rank among his most forgettable -- especially Game 6, when Bryant labored through a 7-for-22 shooting night and the Celtics cruised to a 131-92 victory to end the series. Bryant later noted it was "one of the lowest moments of my career."
• Bryant's game-winner in 2010: Bryant scored 40-plus points against the Celtics on five different occasions. His performance in a January visit in 2007 was otherworldly (43 points on 25 shots). But one of the most memorable performances from this vantage point was Bryant's fade-away winner over Ray Allen in Jan. 2010. Bryant stared down the Boston bench after the shot and it set up the epic 2010 Finals battle.
• Breakfast with Rondo: Last December, Celtics point guard Rajon Rondo was spotted having breakfast with Bryant during the Lakers' lone visit to Boston. The two players had a mutual admiration with Bryant noting, "From what I understand, he's an a--hole, like me," to which Rondo responded, "That's a great compliment, coming from Kobe. I feel the same way about him." The Lakers could have recruited free agent Rondo this summer, but elected to draft a point guard instead.
November, 30, 2015
Nov 30
6:50
AM PT
November, 29, 2015
Nov 29
5:09
PM PT
By
NBA Insiders
| ESPN.com
Kobe Bryant made it official Sunday Night -- the 2015-16 NBA season will be his last. Our panel of Insiders assesses where Kobe ranks among NBA and L.A. legends, analyzes his greatest strengths and weakness and shares favorite memories.
---
1. Where does Kobe rank historically among the NBA's greatest players?