February, 27, 2015
Feb 27
10:05
PM PT
Associated Press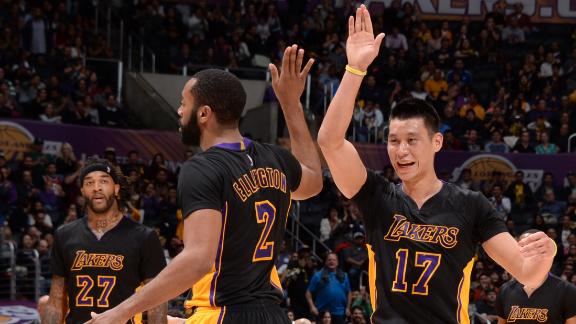 February, 27, 2015
Feb 27
9:59
PM PT

By Justin Verrier
ESPNLosAngeles.com
Archive
LOS ANGELES -- Big Game
Wayne Ellington
?
After missing all six of his attempts from the field through the first three quarters, the journeyman guard came alive in the fourth, shooting 6-for-7 and scoring all 14 of his points to rally the
Los Angeles Lakers
past the
Milwaukee Bucks
, 101-93, at Staples Center on Friday night.
The victory is the third in a row for the 16-41 Lakers, who have strung together three consecutive wins one other time this season and two or more wins in a row only four other times.
Down seven points after three quarters, the Lakers stormed back midway through the fourth, ultimately pulling ahead on an Ellington driving layup with 6:01 to play.
The Bucks threatened late, pulling to within one with just under five minutes to play, but a big Ellington 3-pointer stretched the lead to four and the Lakers never looked back.
Ellington also finished the game with six rebounds, five assists and two steals.
Jordan Hill
and
Jeremy Lin
each chipped in 14 points, and
Ed Davis
had a near-double-double (eight points, nine rebounds).
Clarkson still schoolin' (because Clarkson is also a college, you see):
Jordan Clarkson
continued to provide a glimmer of hope in an otherwise morose Lakers season. One game after scoring a career-high 22 points to lift the Lakers over the
Utah Jazz
, the rookie guard finished with a team-high 16 points on 7-for-9 shooting, five assists and four rebounds in 30 minutes, most of which coming through the first three quarters.
Swag out:
Nick Young
missed his second consecutive game because of a left knee injury. Young, who is shooting a career-low 36.6 percent from the field this season, noticed swelling in the knee the morning after Sunday's jubilation-inducing home victory over the
Boston Celtics
. He was originally listed as questionable heading into Friday's game but was ultimately unable to go.
Up next:
The Lakers stay at Staples Center for a nationally televised date with the surging
Oklahoma City Thunder
, winners of nine of their 11 games in February heading into Friday's games, on Sunday (3:30 p.m. PT, ESPN).
February, 26, 2015
Feb 26
12:00
AM PT
By ESPNLosAngeles.com
ESPNLosAngeles.com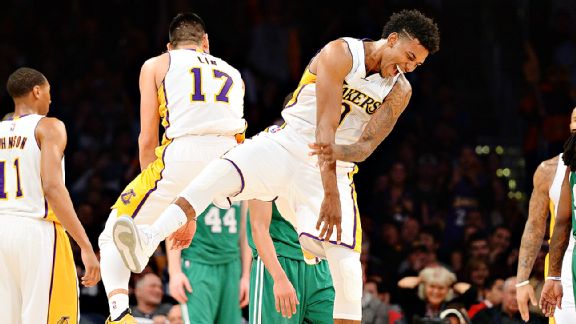 Jayne Kamin-Oncea/USA TODAY SportsThe Lakers were happy to beat the Celtics, but a postgame celebration rubbed some the wrong way.
---
Each week, ESPN.com Lakers beat writer Baxter Holmes, along with ESPN.com NBA writers Ramona Shelburne and Arash Markazi, will weigh in on three questions that are on the minds of Los Angeles Lakers followers.
1. Are Kobe Bryant and Byron Scott right to criticize the Lakers' postgame celebration against the Celtics?
Holmes:
Absolutely. Even though the Lakers haven't had much to celebrate this season, some of them acted like clowns after that game, hence all the reaction once footage of said reaction went viral. I know times are tough and it was a hard-fought overtime win against their biggest rival, but they're still professionals. Act like you've been there.

Shelburne:
Yes. Everyone gets that it has been a tough season and they were excited about getting a win. But it's just not a good look for guys on a team this bad to be celebrating as if they won something meaningful. This isn't some young team like the 76ers. This is a team with veteran players who have been around in the NBA and should know better.
Markazi:
Yes. I didn't see any problem with it, but Kobe and Byron have won multiple championships with the Lakers, and if they thought it was embarrassing, then they have every right to say so. I see where they are coming from. You've lost seven straight and 16 of 17 -- don't act as if you've won a championship after beating a below-.500 team at home in overtime.
---
2. Kobe told Bill Simmons he's not planning to retire after next season. If that happens, do you think he'll remain with the Lakers?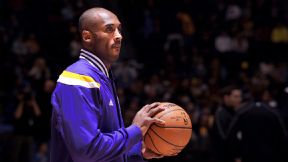 Bart Young/NBAE/Getty ImagesIf Kobe Bryant decides to keep playing after next season, will it be with the Lakers?
Holmes:
I can't imagine Kobe playing anywhere else. I think he'll be a Laker for life. The more interesting question to me is what happens if Kobe decides he wants to play beyond next season. Would the Lakers ever tell him no thanks or ask him to take less money? It'll be interesting, no doubt.
Shelburne:
Yes. And I don't think that's exactly what he told Bill Simmons. He just refuted that he'd made a decision about retiring next year, as was being erroneously interpreted by some people. He could still retire after next season, he just hasn't decided yet.
Markazi:
Yes. I think he retires with the Lakers. I think Kobe will eventually decide to retire after next season, but he's not ready to make that decision yet and isn't looking for a Derek Jeter-like farewell tour.
---
3. Which Laker are you most excited to see develop the rest of the season?
Holmes:
Jordan Clarkson
is the only one who really comes to mind. With
Ronnie Price
out for the season following elbow surgery, the Lakers' point guard depth is slimmed even further, so it comes down to Clarkson and
Jeremy Lin
to fill that role. Clarkson has looked more and more comfortable with time, and he should get plenty of it down the stretch.
Shelburne:
It's a toss-up between Clarkson and
Tarik Black
. I don't know how good either player is yet. Are they future starters in the NBA or future bench players? Could they be even better than that? I also want to see how
Ryan Kelly
develops. He has a chance to be a good stretch-4 in this league, but I think we've concluded he can't really be effective as a small forward.
Markazi:
Clarkson. He might not be the long-term solution at point guard, but he has shown he can be a solid role player and reserve on a contending team.
February, 25, 2015
Feb 25
8:42
PM PT
Associated Press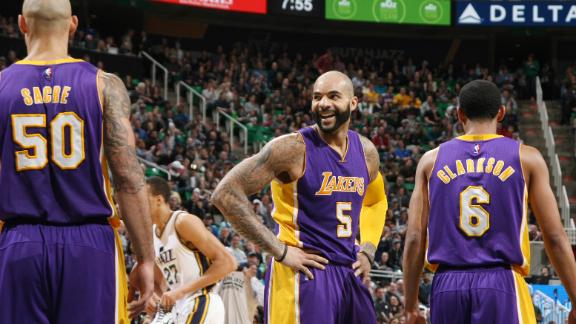 SALT LAKE CITY -- Jordan Clarkson scored a career-high 22 points and the Los Angeles Lakers erased a double-digit lead for a 100-97 comeback win over the Utah Jazz on Wednesday night.
The Lakers used a 10-0 run late in the fourth quarter to take their first lead at 90-88. The Jazz failed to gets stops down the stretch and couldn't score on the offensive end.
Utah jumped out to a 10-point, first-quarter lead, but the Lakers chipped away behind Clarkson and Carlos Boozer before tying the game at 59 in the third quarter. The Jazz led 88-80 when the Lakers went on their final run.
Gordon Hayward scored 20 for the Jazz, and Elijah Millsap finished with a career-high 17.
Jordan Hill scored 16 for the Lakers, while Wayne Ellington had 15 points and 10 rebounds.
February, 24, 2015
Feb 24
3:23
PM PT
EL SEGUNDO, Calif. -- Los Angeles Lakers coach Byron Scott said he was "angry" and "very disappointed" with how some of his players boisterously celebrated Sunday night after an overtime win against the rival Boston Celtics at Staples Center.
Scott said he wasn't aware how some Lakers -- largely guard Nick Young, forward Jordan Hill and forward Carlos Boozer -- acted on camera during on-court interviews after the win until he saw footage of it that aired Monday night on ABC's "Jimmy Kimmel Live!"
Kimmel played a clip of those players' reactions for injured star Lakers guard Kobe Bryant, who was a guest on the show, and afterward Bryant sat there stone-faced and silent.
Scott said he did the same when he saw the same footage.
"Kobe's reaction was pretty much my reaction when I was watching it," Scott said after practice Tuesday at the Lakers' facility. "I was just shaking my head like, 'I can't believe this.' "
Scott said he showed his players the footage Tuesday morning and "just told them that I was disappointed in it. That's not us as Lakers. That's not how we act. It showed a lack of professionalism."
Scott said he didn't discipline any players and believes the matter is resolved after addressing his players.
"As a coach of this team I was very disappointed," he said. "That's not how I act, win or losses. I want our guys to know that."
February, 24, 2015
Feb 24
2:50
PM PT
Associated Press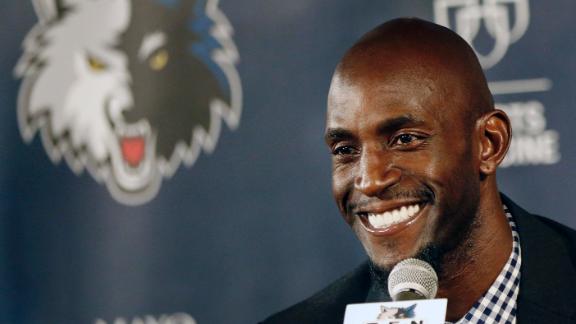 MINNEAPOLIS -- Kevin Garnett never wanted to leave Minnesota when the Timberwolves traded him to Boston nearly eight years ago, never wanted to jump from a sinking Celtics ship before Paul Pierce convinced him to follow him to Brooklyn two years ago.
And he sure didn't feel great about uprooting his family in the middle of a season when the prospects first arose to return to his beloved 'Sota last week.
Sitting at his Malibu home over the All-Star break, the only true superstar in Wolves history thought long and hard about what that move would mean. He thought about mentoring Ricky Rubio and Andrew Wiggins.
He thought about going back to the state where he was drafted and where he met his wife, setting down roots and one day following stars such as Michael Jordan and Magic Johnson into ownership. He thought about restoring a relationship with a franchise that was tattered when he was traded.
He was born in South Carolina, became a high school sensation in the Chicago area and a champion in Boston.
But for him, Minnesota will always be home. And in the end, that lure and the possibility of a much greater role down the road proved too great to resist.
"It's perfect," Garnett said on Tuesday at a re-introductory news conference that came five days after he was acquired from Brooklyn in a trade. "If you have a story, this is a fairy tale. This is a perfect ending to it. This is how you want to do it."
For Garnett, it actually may be the beginning.
February, 24, 2015
Feb 24
2:33
PM PT
[+] Enlarge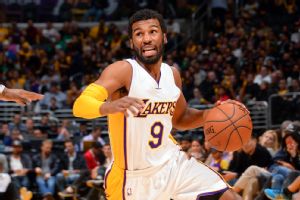 Andrew D. Bernstein/NBAE/Getty ImagesRonnie Price's season is over after surgery to remove a bone spur in his elbow.
EL SEGUNDO, Calif. -- Los Angeles Lakers backup point guard Ronnie Price will miss 6 to 8 weeks after undergoing surgery Wednesday to remove a bone spur in his right elbow.
Lakers coach Byron Scott told reporters after practice at their facility Tuesday that Price would miss the remainder of the season after undergoing the procedure. The Lakers regular season ends April 15.
The surgery was performed by Dr. Neal ElAttrache of the Kerlan-Jobe Orthopaedic Clinic.
Price played in 43 games for the Lakers this season, starting 20 of them before moving back to the bench so Scott could give more minutes to rookie Jordan Clarkson.
Price averaged 5.1 points, 1.6 rebounds, 3.8 assists and 1.6 steals in 22.8 minutes per game and was considered to be the Lakers' top perimeter defender. He signed with the Lakers as a free agent in September.
February, 24, 2015
Feb 24
11:37
AM PT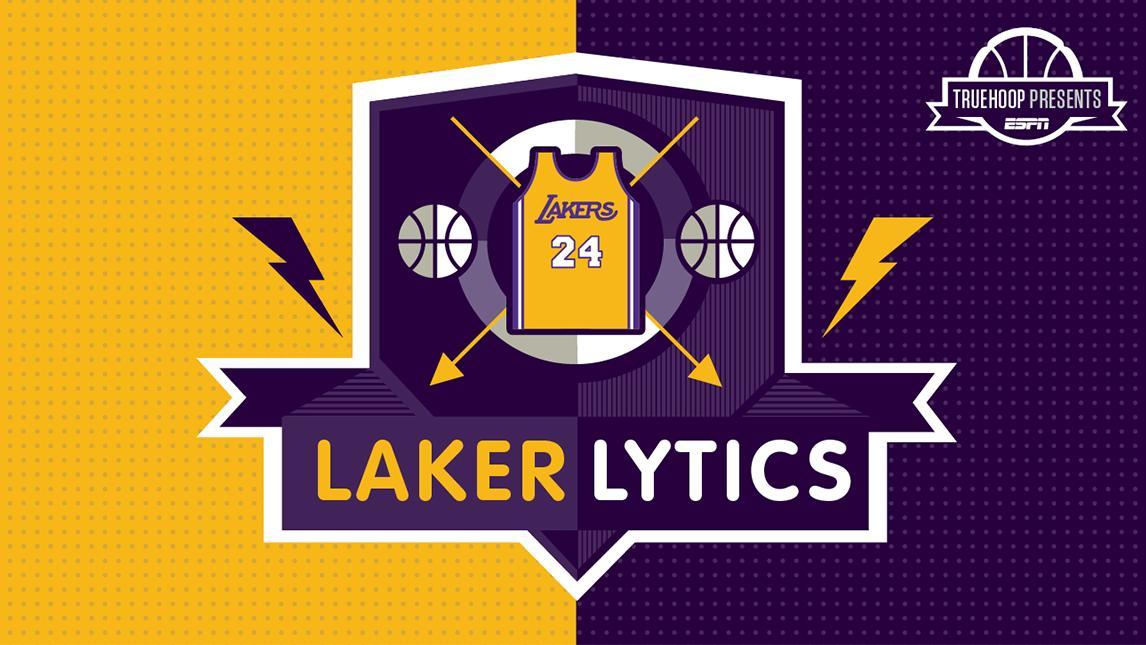 Jeremy Lin remembers the packet. The Houston Rockets distributed it at season's end, an ocean of personalized data slimmed down to a few pages. It showed that the point guard was one of the NBA's best at driving and making plays at the rim, but that he also struggled shooting from the left wing and 3-pointers off the dribble.
"Things like that, I didn't know," Lin said. It helped shape his offseason training regimen.
Lin is savvy on the subject, one he has been interested in dating back to his playing days at Harvard. He said his agent even doubles as a personal analytics assistant. "I'm not going to overreact to some numbers," Lin said. "I want to know what they are, though."
The franchise catered to Lin's interests well. The Rockets are not only considered to be one of the NBA's most aggressive teams in the field, but also, perhaps, in any sport on any level.
On the other end of the spectrum, there's the team the Rockets traded Lin to last offseason, the Los Angeles Lakers.
"[Byron Scott] told us a couple stats," Lin said, "but I don't know if they're necessarily that deep into analytics. They were stats about our efficiency when we score in pick-and-rolls versus isolations and some defensive numbers. But besides that, I haven't seen that much."
He's not alone. Although teams guard the inner workings of their analytics operations as if they were protecting nuclear missile launch codes, there's almost no public and little private information about what -- if anything -- the Lakers have done or are doing on this front.