June, 29, 2015
Jun 29
6:50
PM PT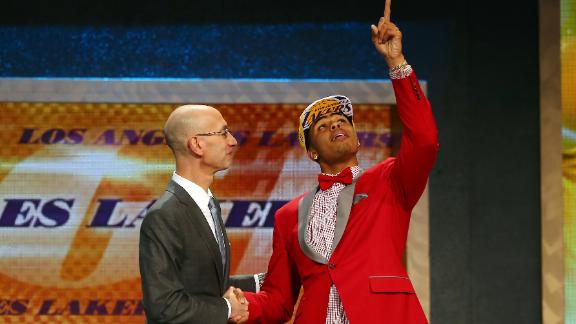 EL SEGUNDO, Calif. -- A half hour before D'Angelo Russell was introduced to local media at the Los Angeles Lakers' practice facility here Monday, the team's No. 2 overall pick in last week's draft stood in the second-floor office of team president Jeanie Buss.
There, the former Ohio State standout marveled at the 10 Larry O'Brien Championship trophies lining her window that overlooks the practice court, each one from a title the organization has won since it moved to Los Angeles.
The promising 19-year-old guard stared at them, touched them and posed for pictures alongside them, at one point stretching his nearly 6-foot-10 wingspan across seven of the glistening gold trophies as he smiled for the cameras.
"I've never seen the trophy," he told ESPN.com. "The big guy that everybody wants to play for, I've never seen it. Never touched it. So I wanted to take advantage of it. It's something that I definitely want to be apart of -- getting a new one up there. There's room."
Winning a title is an annual expectation for the storied franchise, and there are already equally enormous expectations for Russell, the team's highest draft pick since taking James Worthy No. 1 overall in 1982.
When Russell was drafted, Lakers coach Byron Scott said Russell had the potential to be a "superstar" and mentioned him in the same breath as Magic Johnson (whom Scott played alongside) and Chris Paul (whom Scott has coached).
And when Lakers general manager Mitch Kupchak called Russell on the night he was drafted, Kupchak referenced the retired jerseys hanging in the Lakers' facility and said he hoped Russell would one day join them.
Indeed, there's pressure on Russell to not only live up to the hype but to help the franchise rebound after missing the playoffs each of the last two seasons and finishing a franchise-worst 21-61 last season.
Russell, the team's most dynamic point guard since Johnson, feels the pressure, too.
"Definitely," he said. "It's a whirlwind. These guys aren't used to losing, so for them to pick me and pick these other guys, you know they're ready to start the rebuilding process over. We don't know how much Kobe [Bryant] has left in the tank, but he's a part of it. He's a leader of it. For us to learn under him and all these young guys we have, it's something that can really get going quick."
Russell comprises a young core that includes fellow first-round pick Larry Nance Jr.